News: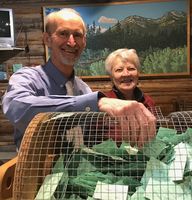 Dr. Greg Rice drawing a winning ticket as Raffle Co-chair, Susan Castaneda looks on.

Heritage Museum announces holiday raffle winners (posted 12/25/2021)
The Heritage Museum
The Libby Heritage Museum Holiday Raffle winning tickets were drawn by Dr. Rice recently. Janet Ihrke won the $400 cash First Prize donated by Edward Jones Investments. She generously donated $200 of the prize money to the Museum. Second Prize, four $25 gift certificates to The Shed, donated by The Shed, was won by Jessica Svendsbye.

Pend Oreille Shores in Hope, Idaho once again generously donated 2 separate 3-Night Getaways at Pend Oreille Shores Resort. These 2 Getaways were offered on Facebook as Silent Auctions. Congratulations to high bidders Marty Powell and Laurie Mari.

The Heritage Museum is grateful for the community's support of these fundraisers. Canceling the Holiday Bazaar two years in a row due to Covid has put a strain on the Museum's finances. The Heritage Museum volunteers look forward to a healthy and prosperous 2022 and wish the same for all!

Click on this link for more pictures.

Related Links:
www.libbyheritagemuseum.org The Heritage Museum, Libby, Montana

---
Fish & Wildlife Commission adopts clarification to Muzzleloader Heritage Season Regulations (posted 10/31/2021)
Montana Fish, Wildlife & Parks
HELENA, MONTANA – The Fish and Wildlife Commission adopted a clarification to the muzzleloader heritage hunting season for deer and elk. The commission approved the regulations for the season at its meeting on Aug. 20.

The clarification states that any unused license-permit valid on the last day of the general season (i.e., Nov. 28, 2021) would be valid during the muzzleloader heritage season (Dec. 11 to 19, 2021).

The nine-day season was established when House Bill 242 was passed in the 2021 Legislative Session. The season begins on the second Saturday following the end of the regular season. At its Aug. 20 meeting, the commission adopted the following regulations, most of which are based on language from the statute:
A person may take a deer or elk with a license or permit that is valid on the last day of the general hunting season.

Hunters can use plain lead projectiles and a muzzleloading rifle that is charged with loose black powder, loose pyrodex or an equivalent loose black powder substitute and ignited by a flintlock, wheel lock, matchlock or percussion mechanism using a percussion or musket cap.

The muzzleloading rifle must be a minimum of .45 caliber and may not have more than two barrels.

During the muzzleloader heritage season, hunters may not use a muzzleloading rifle that requires insertion of a cap or primer into the open breech of the barrel (inline), is capable of being loaded from the breech, or is mounted with an optical magnification device.

Use of preprepared paper or metallic cartridges, sabots, gas checks or other similar power and range-enhancing manufactured loads that enclose the projectile from the rifling or bore of the firearm is also prohibited.

For more information on hunting in Montana, visit fwp.mt.gov/hunt.

---
Commission adjusts Wolf Trapping, Snaring Season, Regulations (posted 10/31/2021)
Montana Fish, Wildlife & Parks
HELENA, MONTANA – Looking to minimize the possibility of non-target capture of lynx and grizzly bears, the Montana Fish and Wildlife Commission made some changes to wolf trapping and snaring regulations for the 2021 season at its meeting Thursday (Oct 29, 2021).

The changes more clearly identify occupied grizzly bear habitat and adjust season dates for wolf trapping and snaring in these areas. The default opening day in areas likely to have grizzly bears will be Dec. 31. However, this date could move earlier if the department determines most grizzly bears are denned for the winter. Outside of these areas the wolf trapping and snaring season will begin Nov. 29, the earliest date identified in state law for wolf trapping seasons.

Additionally, the commission gave the department the flexibility to adjust the opening of wolf trapping and snaring by wolf management unit (WMU), or an aggregation of WMUs, based on conditions on the ground.

The commission also closed snaring for wolves on public land within Lynx Protection Zones. These zones have long been established in Montana trapping regulations and are generally in the greater Yellowstone area and northwest Montana.

Grizzly bears and lynx in Montana are both federally protected under the Endangered Species Act.

All other parts of the wolf hunting and trapping regulations approved by the commission in August remain in place. This includes the wolf harvest thresholds set by FWP administrative region and totaling 450 statewide. The thresholds are intended to allow the commission opportunity to potentially adjust regulations during the season based on wolf harvest by hunters and trappers.

The changes will be reflected in the online version of the wolf hunting and trapping regulations soon.

---
Grizzly bear captured south of Libby (posted 10/28/2021)
Additional trapping underway for more bears
Montana Fish, Wildlife & Parks
LIBBY, MONTANA - Bear specialists with Montana Fish, Wildlife & Parks and the U.S. Fish and Wildlife Service captured a grizzly bear south of Libby on Thursday and are setting traps for any additional bears that may be seeking food sources near residential areas.

On Oct. 28, FWP and USFWS captured a bear that was seeking human-related attractants near Parmenter Creek Road. The adult male is being moved to a remote area in the southern Cabinet Mountains. Camera footage identified additional bears in the area that were getting into human-related attractants. Bear managers set a trap on Oct. 28 in an effort to capture any additional bears.

Bears are actively seeking available food sources in preparation for winter denning. The best way to avoid attracting a bear onto private property is remove or secure food attractants. If a bear does not receive a food reward, it is far less likely to show up in the first place or return. Bears that gain rewards from human food sources can become food conditioned, which means they lose their natural foraging ability and pose an increased risk to human safety. Food rewards can also lead wildlife to become habituated to people, another increased risk to human safety. Both food conditioning and habituation often lead to euthanizing an animal for safety reasons. The most attractants are garbage, pet and livestock food, and fruit trees, but also compost, gardens, outdoor food cookers, and beehives. In the spring, bird feeders are a common attractant as well.

Bear spray is a highly effective, non-lethal bear deterrent.

Serious injuries caused by bears are rare, but the potential for conflict always exists.

For more information about bears, visit https://fwp.mt.gov/conservation/species/bear

---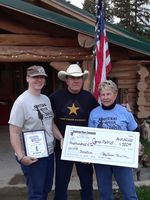 Kootenai River Stampede donates to Camp Patriot program (posted 10/9/2021)
Helping disabled military veterans
Kootenai River Stampede PRCA Rodeo media release
As a 501c3 organization and in an effort to "give back to the community" as a whole and the military veterans who have given much to protect our Country in particular, The Kootenai River Stampede PRCA Rodeo is committed to supporting the military in various capacities. On September 30, a check was presented to Micah Clark of the Camp Patriot program by Secretary/Treasurer Trisha Davis-Stacy and President Patty Rambo. The funds will be used to fly a disabled veteran to partake in a Camp Patriot event in the near future.

Camp Patriot, also a 501c3 nonprofit organization headquartered in the Yaak, Montana, dedicates its efforts to take combat wounded and disabled veterans on outdoor adventures and provide outdoor recreational therapy. Several memorable Camp Patriot treks have involved successful 14,411-foot accents by wounded and disabled veterans up to the summit of Mount Rainier in Washington State. A video presentation of one of these challenging feats can be viewed on the CP website at www.camppatriot.org
.
.
---
Libby Real Estate – Oct. 1, 2021 (posted 10/9/2021)
Alice Hayes, Team Hayes Realtors LLC
2021 has continued as a 'wild' year - but with the 'rush to buy' in Montana, our Inventory of Listings is at an all-time low! We are looking for Listings to share with our Buyers. If you have considered selling your home, we would like to visit with you and give you some ideas of how we can help. And you never know - we just might have a very qualified buyer or buyers 'waiting in the wings'! Fall has arrived - warm days, cool evenings, beautiful fall colors - such a pretty time of the year!

How has the Market been in 2021?
1/1/2021 - 09/30/2021 Real Estate figures were:
194 Residential SALES:
128 Libby; 48 Troy; 18 Yaak

141 Land SALES:
67 Libby; 61 Troy; 13 Yaak

11 Comm/Multi-Family SALES:
7 Libby; 2 Troy; 2 Yaak

44 Residential PENDING:
27 Libby; 15 Troy; 2 Yaak

38 Land PENDING:
22 Libby; 13 Troy; 3 Yaak

2 Comm/Multi-Family PENDING:
1 Libby; 1 Troy

51 Residential ACTIVES:
30 Libby; 15 Troy; 6 Yaak

63 Land ACTIVES:
35 in Libby; 24 in Troy; 4 in Yaak

16 Comm/Multi-Fam ACTIVES:
12 Libby; 4 Troy; 0 Yaak

Interest Rates are truly amazing! Now could be a great time to purchase.
As of 09/30/2021 -
Conforming & FHA Loans: Per Quicken
30-Year Fixed: Interest/3.01%; APR/3.361%
15-Year Fixed: Interest/2.28%; APR/2.811%

TEAM HAYES REALTORS LLC
417 MINERAL AVE, SUITE 1
IN THE MINERAL PLAZA
LIBBY, MONTANA
OFFICE #: 406-293-2725
(Alice) 406-293-8364
(Jim) 406-293-1926
Email:
alice@alicehayes.com
jim@alicehayes.com
Website: www.teamhayesrealtors.com

---
Sunburst Arts brings music to Eureka (posted 10/9/2021)
Sunburst's series is held at the Lincoln County High School auditorium in Eureka. Shows begin at 7:00 pm. Tickets are available at the door. Season passes and Patron packages are available at the door or purchased in advance at the Sunburst office. For information, call 406-297-0197 or visit https://www.sunburstarts.org/. Single tickets are $15/person. Students 18 years and younger or adults 90 or older are admitted for free. Season tickets are $60/person. The Patron package ($175) includes two season tickets.

October 14, 2021 America's Sweethearts
This trio is remarkable and happens to be some of the greatest talent New York City has ever seen. They bring their sweet harmonies and toe tapping numbers to Montana from the Big Apple. What a way to open Sunburst's 23rd concert season! Don't miss an opportunity to hear songs from the 40s through the 60s.
Read more here

November 19, 2021 Junior
This band caught our attention the first time we heard it and we knew these musicians would be a big hit for the Tobacco Valley audience. Their sound speaks to us of today and of Montana with a mixture of instruments and vocals you will surely enjoy.
Hear them here - YouTube

December 4: Missoula Children's Theatre presentation of "The Emperor's New Clothes" Auditions by local youth grades 1-12 will be on Monday, November 29th at the LCHS auditorium. Rehearsals will be during the week and there will be two public performances on Saturday, December 4th.

January 23, 2022 Bridge & Wolak
Michael Bridge (accordions & piano) and Kornel Wolak (clarinet & piano) form an acclaimed musical duo, who integrate traditional acoustic instruments with 21st century digital technology. They perform their own unique repertoire of classical, world and jazz fusion. Sunburst is pleased to welcome these international musicians to our community's stage.
www.bridgewolak.com

March 25, 2022 Dee-Dee Darby-Duffin Band
Dee-Dee and her band are hot with just the right mixture of blues and jazz with a few sweet notes thrown in to make this the perfect concert for March. Recognized for her strong voice as well as her performance, Dee-Dee Darby-Duffin gives a show that is everything you could possibly hope for - and more.
www.deedeedarbyduffin.com

April 22, 2022 Dolce Canto
Dolce Canto performs exceptional and diverse choral music with artistry and sensitivity. This Missoula-based eighteen-member choir shares its enthusiasm of sacred and secular music representing various historical periods and musical styles. The perfect finale to our 23rd season.
Listen here

---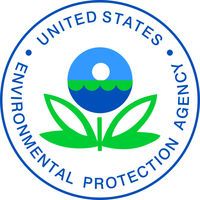 EPA deletes portion of Libby, Montana Superfund site from National Priorities List (posted 9/18/2021)
Deletion reflects continued cleanup progress at site
US. Environmental Protection Agency
LIBBY, MONTANA - On September 14, 2021, the U.S. Environmental Protection Agency (EPA) announced the deletion of a portion of the Libby Asbestos Superfund site in Libby, Mont. from EPA's National Priorities List (NPL).  EPA and the Montana Department of Environmental Quality have determined that all cleanup activities required for deletion are complete at Operable Unit 8 (OU8) of the site. 

"This is the third operable unit deletion at the Libby Asbestos Superfund site in three years, a milestone that demonstrates the progress EPA and our partners have made in the cleanup and restoration of properties in Libby," said Betsy Smidinger, Director of EPA Region 8's Superfund and Emergency Management Division.

The Libby Asbestos Superfund site was placed on EPA's NPL in 2002 due to high levels of Libby Amphibole asbestos in and around the communities of Libby and Troy. The site is divided into eight Operable Units. Operable Unit 8 of the site is comprised of roadways and highways in and between the towns of Libby and Troy, including U.S. Highway 2, MT Highway 37 and country roads.

EPA is deleting OU8 based on a determination that no further remediation action is needed to protect human health and the environment. The area will continue to be subject to operation and maintenance activities, including regular reviews to ensure protectiveness of the remedy. EPA will continue to address contamination concerns at the remaining Operable Units of the Libby Asbestos site, including the former mine site.

For more information about the Libby Superfund site, visit: https://www.epa.gov/superfund/libby-asbestos

---
Libby lies in the northwest corner of Montana and is nestled in a valley carved by the Kootenai River on the flank of the majestic Cabinet Mountain Range and Wilderness Area. Today about 2,800 people live within Libby proper. The main industries are lumber and wood products, mining, tourism and recreation. The movies "The River Wild" and "Always" were filmed here. Contact the Libby Chamber of Commerce for brochures, info on lodging and events, general area information, and contact information for local businesses and services.
SUMMER
When the weather warms and the mountain snows melt away, the Kootenai National Forest comes alive with over 2.2 million acres of public land as a playground. Mountain trails and lakes open up, beautiful wildflowers come in bloom, and wildlife have their young. Libby is the basecamp for the Cabinet Mountains Wilderness Area, 90-mile long Lake Koocanusa, the Northwest Peaks Scenic Area, and the Ten Lakes Scenic Area. There is good access to most of the Forest and plenty of room to get away from it all!
WINTER
Winter in Montana means snow, and lots of it! For those who love to play in the deep powder, the Libby area offers tremendous winter fun. Turner Mountain Ski Area, located just 22 miles from Libby, offers challenging downhill skiing with a beautiful view. Their slogan is "steep, deep and cheap", and Turner definitely lives up to that. It's still fairly undiscovered, so you can escape the crowds and get the cheapest lift tickets around. For those who love snowmobiling, there are hundreds of miles of backcountry roads to sled on in the Kootenai National Forest. Cross-country skiers and ice fishermen also can find solitude on a lake and miles of quiet forest trails to enjoy the outdoors. Those who are a bit on the wild and crazy side will love the antics of the Libby Polar Bear Club. Members take winter-time "swims" in frigid Libby Creek every Sunday from October to April. Plungers have ranged in age from 3 to 61. As long as the ice can be broken on the creek, if it has formed, the group will take their plunge, no matter the temperature.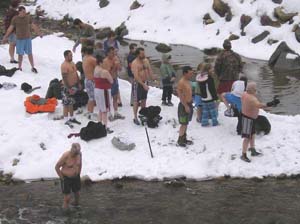 These people must be craaaazzzzzy!
Libby Polar Bear Club