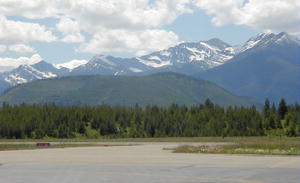 The Libby general aviation airport is approximately seven miles south of the town of Libby in Lincoln County, Montana. This facility is open to the public, and there is no landing fee.

The airport elevation is 2,601 feet and is rated as B-II (large by State Aviation Standards. It has a 5,000 foot long, 75 foot wide asphalt runway with a connecting paved taxiway which is 200 foot x 35 foot. The paved apron is 10,000 square yards with hangars and 15 tie downs. Facilities at the airport include a lighted beacon, segmented circle and wind cone, MIRL, PAPI on both ends.

Services:
Jet fuel sales
Major repairs
Phone on field
Charter flights
Flight instruction
Courtesy car

Lodging and meals are located in Libby. Land use around the airport is primarily agricultural to the north, south and west, and to the east there is terrain obstruction.

Businesses providing services at the Libby Airport: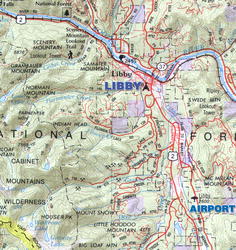 Mountain West Flying Service
5136 Farm to Market Rd
Libby, MT 59923-9504
Phone: (406)293-9776 or (406)293-4947
Services: Airport management, fuel, flight school/flight training, aircraft rentals, aircraft maintenance, public telephone, pilot lounge/snooze room, restrooms
Montana Float Company
P.O. Box 854
Libby, MT 59923
Phone: (406)293-9026
Fax: (406)293-7295
email: don@montanafloat.com
Web page: http://www.montanafloat.com/
Services: Aircraft modifications, manufacturing and developing float planes, other aircraft-related business.
For more information on the web about Libby Airport:
http://www.airnav.com/airport/S59