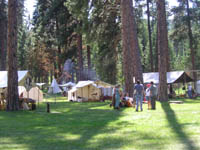 Note, some black powder events may be rescheduled if fire danger becomes high and prohibits them.
The Two Rivers Rendezvous is held each July at the Fawn Creek Campground near the Fisher River east of Libby.
Camping available in primitive, modern tent and "tin teepee" areas. Visitors and spectators welcome, need not dress in period clothing. This is a family event. Children welcome. There will be youth events and prizes awarded.
What is a Rendezvous? During the fur trade era of the early 1800s in the Rocky Mountain west, this was an annual gathering during the summer when the working fur trappers gathered to trade in the pelts they had trapped in exchange for supplies and monetary payment. This was a huge industry in the early 1800s, all focused on trapping beaver to supply beaver felt to make fashionable beaver tophats for people in the east and Europe. The fur trappers of the early west explored the west and helped locate and open the critical routes and passes that were later used by Oregon Trail emigrants to travel from the east to settle in California, Oregon and Washington.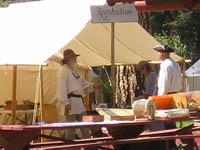 The location for the original annual rendezvous gatherings varied from year to year, with the location for the next year's rendezvous set and announced at the previous one. Fur trappers and Native American Indians from various tribes traveled from all over to meet the supply trains and trade for goods. Rendezvous was held during the summer, the "off-season" for fur trapping, and typically lasted several weeks. The days were filled with socialization, trading, making new business deals, games, races, gambling, drinking and much more.
Today, many people still enjoy reliving the lifestyle of the mountain man. Modern buckskinners, or mountain men, sometimes spend lifetimes learning about how the rugged mountain men of the 1800s. These rugged individuals lived and travelled extensively through what is Montana, Wyoming, Idaho, Utah and Colorado. These men lived in extremely primitive conditions in a wild and unsettled land. They faced danger on a daily basis from the elements, horse and gun accidents, wild animal attacks, injuries, attacks by hostile indian groups and rival trappers competing for furs. Their main work was done in the dead of winter when the animal's pelts were the thickest and worth the most money. It was an extremely hard life that tested men's physical strength and courage constantly.
According to the organizers of the Two Rivers Rendezvous, "Modern day rendezvous are as varied as the folks who put them on. Some are shooting matches in traditional garb. Others go much further with activities for the whole family, games, trade shows, contests of skill and luck with camping and dress of the period from 1800 to 1840. You don't need a full set of buckskins to fit in, a calico shirt and canvas pants work just fine for the men with traditional prairie dresses for the women." Participants in the primitive camping area are expected to dress in period clothes with era-authentic equipment and style.
---
2018 Two Rivers Rendezvous fees TBA
ALL CAMPS will pay a $_____ fee.
$_____ per shooter plus blanket prize for each shooter.
Traders - voluntary donations accepted.
Food vendor on site.
Raffle drawings on site date TBA


__________________________

Dry Camp - Bring your own drinking water!
Non-potable water available.
Separate Primitive and Modern Camping areas.
Fire bucket & shovel required.
Open fires will be restricted.
Be prepared to shoot early in the day due to fire restrictions.
Directions: From Libby, go north on Highway 37 for 14 miles. Just after crossing the Fisher/Kootenai River bridge, take a right and continue for another 8 miles. Watch for the Fawn Creek Campground sign on your right. Enter the gate and follow your nose! Separate Primitive and Modern Camps. See above for restrictions!
For more Rendezvous information:
Kootenai Muzzleloaders
PO Box 460
Libby, MT 59923
Dave Windom, 406-283-1916, dwindom@rocketmail.com

Mark Morain, 406-293-8239, mmorain@frontiernet.net

Gary Beal, 406 295 5271, go.ex@hotmail.com

---
For area iniformation:
Libby Chamber of Commerce
P.O. Box 704
905 W. 9th
Libby, MT 59923
406-293-4167
www.libbychamber.org
libbyacc@libbychamber.org
Photos by Maggie Craig, LibbyMT.com
General Schedule
Thursday:
Camp opens
Friday & Saturday:
Rifle, Pistol, Smoothbore, Hawk & Knife, Primitive Archery trails
Sunday:
Awards
Raffle drawing
Load from the pouch
patch round ball
open single sights
Single shot pistols only
Points for period dress
NO SMOKING OR ALCOHOL ANYWHERE ON ANY TRAIL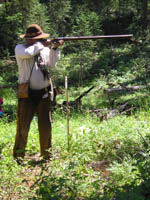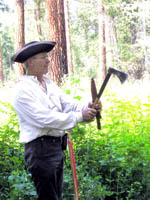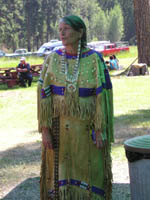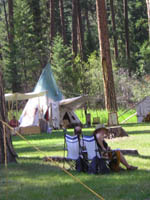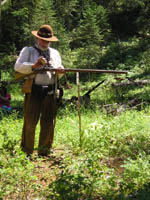 More Rendezvous Photos
(courtesy Brokenrod)