News:
Final Biological Opinion issued for Montanore project (posted 4/4/14)
No jeopardy to T&E species in area around project
Duane Williams, KLCB-KTNY Radio
March 31, 2014, the U.S. Fish and Wildlife Service (USFWS) issued the Final Biological Opinion for the Montanore Silver-Copper Project located at Libby. Issuance of the Final Biological Opinion is a major milestone toward completing the permitting of the Montanore project.

The USFWS concluded in the Biological Opinion the project poses no jeopardy to endangered or threatened species protection of the grizzly bear, bull trout and other species in the area around the project.

A preliminary economic assessment completed and filed in Canada in 2011 demonstrated a mine permitted to operate at up to 20,000 tons per day, operating initially at 12,500 tons per day, for at least 15 years.

The Montanore project is estimated to employ up to 500 people during the construction phase and 350 people permanently for the life of the mine, and would make a significant contribution to the economy of the region which currently has an unemployment rate of 20%, the highest in Montana. The mine will have a profound effect on schools, medical facilities, and infrastructure.
By Duane Williams, KLCB-KTNY Radio, e-mail: klcb@frontiernet.net, www.klcb-ktny.com.

Related Links:
Permitting for the Montanore Project moves forward; Final Draft Biological Opinions Issued Mines Management media release

---
Amtrak changes Libby passenger train schedule (posted 4/4/14)
To arrive three hours earlier in morning
Duane Williams, KLCB-KTNY Radio
The Amtrak East-bound Empire Builder will be arriving at the Libby Depot three hours earlier than its usual time of 5:30am. It will now arrive at 2:30am as a result of increasing Burlington Northern Santa Fe freight traffic, namely oil trains from North Dakota heading west. The increased freight traffic has caused the Empire Builder to be late and off-schedule for most of the winter. The new schedule is effective April 15th.

The West bound will change schedule as well, by about an hour later, arriving about 12 midnight.

The change is temporary, projected to be back to its regular timetable by sometime in June.

The Empire Builder has traditionally has the reputation of being the most on-time train in the Amtrak system.
________________________________________________

By Duane Williams, KLCB-KTNY Radio, e-mail: klcb@frontiernet.net, www.klcb-ktny.com.

---
Easter Eggstravaganza Egg Hunt April 19th (posted 4/4/14)
Libby Christian Church invites everyone to their Easter Eggstravaganza Egg Hunt on Saturday, April 19th from 11AM to Noon at the Church, 100 Kootenai River Road. The event is for kids ages 1 through 11. There will be prizes, candy and thousands of eggs!

The Church also invites everyone to their Easter Sunday Worship on Sunday, April 20th at 8:30 an 10:45AM and Easter's Story through Scripture and Worship from 9:45-10:30AM.

For more information call 406-293-3747 or go to www.libbychristianchurch.com.

---
Upcoming events in Libby
April 5: 2014 Nordicfest Coronation Dinner and Dans
VFW Community Room, Libby
Doors open at 6. Dinner at 7.
Tickets available at Libby Chamber, Venture Inn, Printing Press and Western News. Dinner music by Lee Tonner and Ann Mason. Dance the night away with the Yaaktastics! For more info call 406-334-1156.

May 17: 16th Annual Kootenai Kiwanis Family Day in the Park
Lots of fun for the whole family. Vendors with free games and prizes. Free hotdogs, chips and juice.

September 12,13 & 14: Libby Nordicfest
"Be Our Guest at the 30th Fest"
Huge Parade, Bunad Parade, craft show, art show, quilt show.
Kootenai Karacter's Production, free outdoor entertainment and nightly entertainment at the Dome Theater and the VFW.

For more information call Pamela Peppenger at 406-334-1156 or at the Libby Chamber 406-293-4167.

---
Safari Rifle Challenge World Championships in Libby July 13 (posted 3/20/24)
The Safari Rifle Challenge will be held in Libby on Sunday, July 13, 2014. The shoot will be at the Libby Shooting Sports Complex on Farm to Market Rd. across from the Libby Airport from 8 AM to 3PM.

The Event: This is a family-oriented shoot at life size and moving targets. It is designed to simulate events encountered on an African safari. Targets will be scored and times will be announced, but since there are no valuable prizes, you will be shooting purely for the glory of sport and not much else! Participants will be expected to cheerfully help with reset of targets, powering the moving targets and any other menial labor that may be necessary for the greater good. Shooters must pre-register. There is a $20 participation fee which will entitle you to a commemorative t-shirt and a BBQ lunch.

The Guns: This is a big bore, dangerous game rifle shoot. Essentially .375/9.3 caliber or larger, single shot, bolt action or double rifles. If you have a double rifle in a diameter smaller than .375/9.3, but capable of taking big game, then bring it! If you have a lever gun that shoots 405/45-70/450 caliber magnum rounds, then you are welcome to bring that also. Single shot, double barrel, or bolt action 10/12/20 gauge guns firing single lead balls or slugs will also be allowed. Sorry, but no "big bore" AR's and no pump or auto shotguns. This is all about fun and practice, so bring what you have and let's shoot! You will need about 30 rounds.

ABSOLUTELY NO LIGHT LOADS!

The Rules: All guns will be placed on the shooting bench with actions open. When it is your turn to shoot, you will be directed to get your rifle by the range master. SAFETY AND MUZZLE CONTROL ARE NON-NEGOTIABLE! The start position will generally be low ready with a round in the chamber, finger off the trigger and the safety on, unless otherwise directed by range staff. A range master "PH" will stay beside you at all times while on the course. On most stages, there will be a limited amount of ammunition allowed in your gun when starting the stage, extra rounds will have to be loaded from the belt, pocket, butt stock etc. We reserve the right to change the course of fire based on our disposition, your disposition, untimely demise of the targets, comments from the peanut gallery, weather, or whatever other factors may be present. All distances are approximate and subject to change due to apparent degree of ease or difficulty.

The Course of fire: Shooting positions will vary from standing on your hind legs and shooting offhand, to kneeling or seated. Frequently it will be a combination of positions. Some stages may require the use of shooting sticks which will be provided. Many stages will require you to fire at a target, move to another spot, reload and fire at a different target. All movement will be done with an empty gun and all reloading will be done once you are safely at the next shooting position. If you have any physical issues that preclude a certain activity, we will cheerfully accommodate you.

The 10-stage course is specifically designed to NOT favor any particular style of rifle or sight system. Distances will vary between 5 and 75+ yards. Targets will vary from life-size broadside buffalo and elephant to clay birds, water jugs and potatoes.

Location: Libby Shooting Sports Complex on Farm to Market Rd. across from the Libby Airport.

Time: Shooting starts at 8 am SHARP! Please arrive early to check in and get set up. Remember to bring chairs and sunscreen.

After the shoot is concluded we invite family and friends (responsible children?) to try some of the different stages with their non-safari caliber rifles. This will continue until we run out of ammo, destroy all of the targets, become physically exhausted, or simply get thrown off the range due to darkness!

Please call Jay at 406-293-4451 or email safaririflechallenge@yahoo.com to sign up or request more information.

P.S. There will be a number of vendors on site including Montana Rifle Company who will once again have a large display of their rifles available to test fire and Skinner Sights will have on display their line of fine aperture sights. Please visit their websites at http://montanarifleco.com and http://www.skinnersights.com/index.html

DIRECTIONS:
From Libby: Take US Hwy 2 west about 3 miles from town (towards Kalispell). As the highway starts up a steep hill in front of you, watch for Bowker Rd at the bottom of the hill on your LEFT side. Take Bowker 100 yards to the intersection with State Rd 482 (Farm to Market rd). Turn RIGHT on 482 and go 3.5 miles to the range which will be on your left. If you get to the airport you have just passed the range.

From Kalispell- HWY 2: From the south end on Hwy 2 traveling north, turn RIGHT on Bowker which is at the base of the steep hill entering Libby. Take Bowker 100 yards to the intersection with State Rd 482 (Farm to Market Rd). Turn RIGHT on 482 and go 3.5 miles to the range which will be on your left. If you get to the airport, you have just passed the range.

Related Links:
2013 shoot
2012 shoot
2011 shoot

---
Kootenai Highland Gathering Celtic Games July 18 – 20, 2014 (posted 3/20/14)
The Kootenai Highland Gathering Celtic Games will be held near Libby July 18 – 20, 2014. The event will be at the Riverbend Restaurant, just past mile marker 13 on Hwy 37 thirteen miles northeast of Libby.

The competition is open to Lads & Lassies of all ages and experience. Men, women, teens, beginner, novice on up to the folks working on their national 'points'. There will also be games for the wee ones. This event is sanctioned by the Scottish American Athletes Association (SAAA).

Spectators welcome. Bring a lawn chair and enjoy the games, music and fun. There will be live music, pipers, dancers, and food and vendors available. General admission is $8, Seniors & Military $5, and Kids 10 & under free.

Participants are encouraged to register early at: www.saaa-national.org. Click on Kootenai Highland Gathering under 'Upcoming Events.'

Tentative Schedule of Events
Friday Evening, July 18
Vendors open at 5pm
Music
Nice Legs Contest
Ceiledh (Kay-Lee) rowdy dance

Saturday, July 19
Admission: General $8, Seniors & Military $5 and Kids 10 & under free

8-9am Athletes Registration
9-5 Vendors open
9am Games begin
Noon *Break for Opening Ceremonies*
Grand Entry of Clans and Pipers
Singing of Anthems (American, Scottish, Irish, Canadian & Norwegian)
Introduction of Clans
12:30pm Games resume
1pm Kids games begin (10 & under free)
5:30'ish Closing Ceremonies & Military Tribute

Sunday, July 20
Primitive Games (Bow, Spear, Battle Axe, Hand on Hand Combat etc…)
GAMES INCLUDE:
Caber Toss
Haggis Hurling
Heavy Weight Over Bar
Light Weight Over Bar
Stone Put
Sheaf Toss
Hammer Throw
Weight Throw

Treasure Mountain Manhood Stone. $5 move the stone and earn your patch.

DIRECTORS
Angie McLaury 406-291-0825
Tammy Blackburn 406-293-4536
Dee Teske 406-293-6598
Jamie Murray 406-293-6865
---
Healthy Discoveries Health Fair April 5th in Libby (posted 3/14/14)
Sponsored by Cabinet Peaks Medical Center
The Cabinet Peaks Medical Center Health Fair will be held on Saturday, April 5th from 9:30AM to 12:30PM at the Libby Memorial Center.

The Healthy Discoveries Fair celebrates health and wellness with the community by providing reduced cost and free screenings, as well as a variety of activities and interactive informational exhibits for the whole family.

Laboratory vouchers are available only at the fair. The first 200 attendees will receive free lab vouchers. Additional fairgoers may purchase discounted tests.

For more information, contact Kate Stephens 406-283-7140 or kstep@cabinetpeaks.org.

---
Libby lies in the northwest corner of Montana and is nestled in a valley carved by the Kootenai River on the flank of the majestic Cabinet Mountain Range and Wilderness Area. Today about 2,800 people live within Libby proper. The main industries are lumber and wood products, mining, tourism and recreation. The movies "The River Wild" and "Always" were filmed here. Contact the Libby Chamber of Commerce for brochures, info on lodging and events, general area information, and contact information for local businesses and services.
SUMMER
When the weather warms and the mountain snows melt away, the Kootenai National Forest comes alive with over 2.2 million acres of public land as a playground. Mountain trails and lakes open up, beautiful wildflowers come in bloom, and wildlife have their young. Libby is the basecamp for the Cabinet Mountains Wilderness Area, 90-mile long Lake Koocanusa, the Northwest Peaks Scenic Area, and the Ten Lakes Scenic Area. There is good access to most of the Forest and plenty of room to get away from it all!
WINTER
Winter in Montana means snow, and lots of it! For those who love to play in the deep powder, the Libby area offers tremendous winter fun. Turner Mountain Ski Area, located just 22 miles from Libby, offers challenging downhill skiing with a beautiful view. Their slogan is "steep, deep and cheap", and Turner definitely lives up to that. It's still fairly undiscovered, so you can escape the crowds and get the cheapest lift tickets around. For those who love snowmobiling, there are hundreds of miles of backcountry roads to sled on in the Kootenai National Forest. Cross-country skiers and ice fishermen also can find solitude on a lake and miles of quiet forest trails to enjoy the outdoors. Those who are a bit on the wild and crazy side will love the antics of the Libby Polar Bear Club. Members take winter-time "swims" in frigid Libby Creek every Sunday from October to April. Plungers have ranged in age from 3 to 61. As long as the ice can be broken on the creek, if it has formed, the group will take their plunge, no matter the temperature.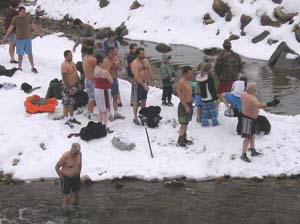 These people must be craaaazzzzzy!
Libby Polar Bear Club