News: Quilt display at The Heritage Museum (posted 5/30/2023)
The Heritage Museum's Tower Gallery is featuring a display of quilts by the Kootenai Valley Quilt Guild through the end of the month. Some are for sale, with a portion of the price going to the Museum.

Beginning July 1st, artwork by local artists will be shown. We are hoping to include a few new artists this year. If you are interested in showing your art, please contact Laurie at the Museum, 406-293-7521 or heritagemuseum@frontier.com.

Photography will be displayed from early August through the end of the season.

Related Links:
www.libbyheritagemuseum.com


---
Public meeting about MT 37 Bridge Preservation project April 27 in Eureka (posted 4/21/2023)
Planned improvements on 11 bridges between Libby and Eureka
Montana Department of Transportation
The Montana Department of Transportation (MDT) and Forsgren Associates are inviting the public to learn more about planned improvements on 11 bridges on Montana Highway 37 (MT 37) between Libby and Eureka.

An in-person open house will be held on Thursday, April 27, at Lincoln County High School, 340 9th Street in Eureka. The public is invited to stop by anytime between 4:30 and 6:30 p.m. Project staff members will be available to share information about the needed bridge repairs and anticipated construction activities, and answer questions from the public.

Two virtual open houses will be held online via Zoom on Tuesday, April 25, from Noon to 1 p.m. and from 6 to 7 p.m. To register for a virtual open house and learn more, visit the project website at: mdt.mt.gov/pubinvolve/mt37bridge.

These online events are an opportunity for the public who are unable to attend the in-person open house to learn more about the planned bridge repairs and ask questions. Both virtual open houses will provide identical information.

In 2020, MDT and Forsgren Associates evaluated the 11 bridges, developed preliminary plans to rehabilitate them, and presented them to the public. Forsgren Associates then refined the engineering designs and plans for construction. The final designs for improvements will be shared at the open houses for public input.

"These bridges were built between 1959 and 1974 and are in need of repairs and some routine maintenance to keep them up to standard," said DeWayne Wilson, MDT Missoula District Bridge Engineer. "The MDT Bridge Bureau inspects Montana's bridges on a regular basis and these bridges are safe to drive on. The recommended repairs will keep them functional for many years to come."

Once design plans are finalized, these bridges will be eligible for construction. Construction could begin as early as 2024 dependent on the availability of funding.

Questions and comments can be sent to Brandon Coates, Public Involvement Manager, by email at brandon@rbci.net or by phone at 406-465-3350.

The Department of Transportation will make reasonable accommodations for persons with disabilities who wish to participate in the MT 37 Bridge Preservation public meetings or need an alternative accessible format of this notice. If you require an accommodation, contact the Department of Transportation no later than April 20, 2023, to advise us of the nature of the accommodation that you need. Please contact Matt Maze, Office of Civil Rights, P.O. Box 201001, Helena, Montana 59620; telephone 406-444-5416; Montana Relay 711; facsimile 406-444-7243; or e-mail to mmaze@mt.gov.



---
Rockfall Stability Project starting on US Highway 2 (posted 4/21/2023)
MDT announces road work near Libby this summer
Montana Department of Transportation
The Montana Department of Transportation (MDT), in partnership with Hi-Tech Rockfall, announces a maintenance project occurring 12 miles west of Libby on US Highway 2 (US 2) this summer 2023. Construction will include rock scaling and installation of rockfall mitigation structures.

Traffic control will be present, and drivers will be directed to one lane through the work zone area. Construction will take place for a few weeks. Updates will be provided as work approaches.

The purpose of this project is to enhance roadway safety features by repairing the existing rockfall structure and removing potentially hazardous, unstable rock material. In addition, work will include cleaning out the roadside ditch.

"Preventative and proactive maintenance projects like this not only extend the life of the roadway, but they also protect the folks driving through," John Schmidt, MDT Missoula District Construction Engineer, said. "We appreciate everyone's patience during road work. This project is expected to be short." Drivers can anticipate 10 – 15 minutes of delay when traveling through the work zone.

Those with questions are encouraged to reach out to Becca MacLean at becca@bigskypublicrelations.com or call the project hotline at 406-207-4484. The project team will also be providing text message updates. Anyone can register for these announcements. To sign up for text updates, text US2SLOPES to 41411. Message and data rates may apply. Message frequency may vary. Text STOP to cancel. Texting alerts are not managed by MDT and may have different privacy and security policies. For more information, see https://smstc.us/t41411/.

---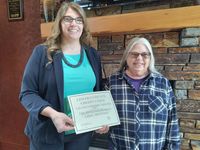 Lincoln County Credit Union becomes a Lifetime Partner to The Heritage Museum (posted 4/1/2023)
Maggie Harmon (right), Membership Chair for The Heritage Museum, presented a Lifetime Partner Membership Certificate to Lindsay Beaty (left), President at Lincoln County Credit Union.

The Museum's membership drive is currently underway. Your membership shows that you support The Heritage Museum's mission to preserve and interpret the history of the area. If you are interested in becoming a member, please contact the Museum at heritagemuseum@frontier.com or call 406-293-7521, or visit their website www.libbyheritagemuseum.org.

---
Libby High School Class of 1963 60-Year Reunion Sept. 16 (posted 3/22/2023)
Libby High School Class of 1963 is having their 60-year reunion September 16th, 2023, at the Venture Inn, Libby. For more information, call Jackie Ruckman Swanson at 406-293-8851.
---
2023 Kootenai River Stampede - PRCA Rodeo in Libby July 28 & 29, 2023 (posted 3/22/2023)
Formerly known as the Kootenai River Rodeo, the Kootenai River Stampede celebrates 20 years and continues to be Libby's summer tradition. With great entertainment for the whole family, people of all ages will enjoy watching the professional cowboys compete to win! This year's event will be Friday and Saturday, July 28 & 29th at J. Neils Park.

Professional Rodeo Cowboys Association (PRCA) events include saddle bronc riding, steer wrestling, team roping, tie down roping, bareback riding, bull riding, ladies breakaway roping and ladies barrel racing. There will be a beer garden, food vendors, craft vendors, and kids events (boot scramble and calf scramble)

2023 KRS PRCA Rodeo tickets are for sale online at www.rodeoticket.com or at local ticket outlets.
Ticket prices are:
Adults: $17 presale, $20 at gate
Veterans/Seniors 60 and up: $12 presale, $15 at gate
Youth 7-15 years old: $12 presale, $15 at gate
6 and under: free

Contact Info:
Kootenai River Stampede
PO Box 1473
Libby, MT 59923
krslibbymt@gmail.com

Find more information on their Facebook page:
https://www.facebook.com/kootenairiverstampede/

---
Sunburst Arts presents performances in Eureka (posted 2/23/2023)
Below are upcoming presentations in Eureka by Sunburst Arts and Entertainment.

Men of Worth come back to Eureka on Friday, March 10, the fourth concert in this year's Sunburst Arts series. Irish and Scottish tunes. 7PM, Lincoln County High School Auditorium in Eureka, Montana. $15 adults. Students for free.

Jâca is a clarinet and guitar duo that combines classical and world music to bring an adventurous, passionate, and completely original musical style to the stage. This is the final concert in Sunburst's 24th annual Performing Arts Series. Tuesday, April 18, 7pm at the Lincoln County High School Auditorium. Tickets at the door, $15 adults. Students for free.

"The 25th Annual Putnam County Spelling Bee" is the next Broadway musical that incredible group of young people are presenting. Two shows. Comedy with lots of great music. UPDATE: The new dates for the Spelling Bee are Friday and Saturday, April 7 & 8, 2023. See their Facebook page for latest updates. Tickets available at the door. Lincoln County High School Auditorium.

For more information, find them online at www.sunburstarts.org
---
Libby lies in the northwest corner of Montana and is nestled in a valley carved by the Kootenai River on the flank of the majestic Cabinet Mountain Range and Wilderness Area. Today about 2,800 people live within Libby proper. The main industries are lumber and wood products, mining, tourism and recreation. The movies "The River Wild" and "Always" were filmed here. Contact the Libby Chamber of Commerce for brochures, info on lodging and events, general area information, and contact information for local businesses and services.
SUMMER
When the weather warms and the mountain snows melt away, the Kootenai National Forest comes alive with over 2.2 million acres of public land as a playground. Mountain trails and lakes open up, beautiful wildflowers come in bloom, and wildlife have their young. Libby is the basecamp for the Cabinet Mountains Wilderness Area, 90-mile long Lake Koocanusa, the Northwest Peaks Scenic Area, and the Ten Lakes Scenic Area. There is good access to most of the Forest and plenty of room to get away from it all!
WINTER
Winter in Montana means snow, and lots of it! For those who love to play in the deep powder, the Libby area offers tremendous winter fun. Turner Mountain Ski Area, located just 22 miles from Libby, offers challenging downhill skiing with a beautiful view. Their slogan is "steep, deep and cheap", and Turner definitely lives up to that. It's still fairly undiscovered, so you can escape the crowds and get the cheapest lift tickets around. For those who love snowmobiling, there are hundreds of miles of backcountry roads to sled on in the Kootenai National Forest. Cross-country skiers and ice fishermen also can find solitude on a lake and miles of quiet forest trails to enjoy the outdoors. Those who are a bit on the wild and crazy side will love the antics of the Libby Polar Bear Club. Members take winter-time "swims" in frigid Libby Creek every Sunday from October to April. Plungers have ranged in age from 3 to 61. As long as the ice can be broken on the creek, if it has formed, the group will take their plunge, no matter the temperature.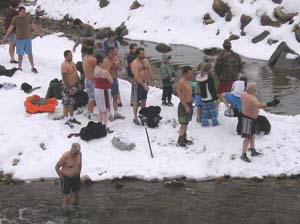 These people must be craaaazzzzzy!
Libby Polar Bear Club