News:
Brews for Benefits Aug. 16 to help Heritage Museum (posted 8/14/18)
Brews to benefit Museumís Model T Fords
On Thursday, August 16th from 5-8 PM, Cabinet Mountain Brewery will host a Brews for Benefits fundraiser for The Heritage Museum's Model T's. $1 from every beer sold will go to the Accessioned Vehicle Fund which pays for restoration, repairs, maintenance and insurance on the Museum's collection of vehicles which include a 1918 Model T Touring Car, a 1926 Model T Roadster, a 1926 Model T Coupe and a 1927 Model T Touring Car. Two of these cars will be parked at the brewery during the event. Enjoy a brew and some conversation with others who appreciate these vintage vehicles.

Related Links:
www.libbyheritagemuseum.com

---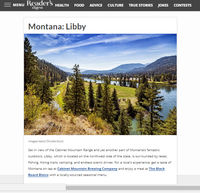 Charming Libby, Montana

Libby, Most Charming Small Town in Montana (posted 8/14/18)
According to Reader's Digest
Readerís Digest posted a story under the Travel section of their website on "The Most Charming Small Town in Every State." Libby was selected as the Most Charming Small Town for Montana. "Youíll find the heart of America in these small-town gems lost in time. Add them to your must-visit list now," said author Lyn Mettler.

"Set in view of the Cabinet Mountain Range and yet another part of Montanaís fantastic outdoors, Libby, which is located on the northwest side of the state, Libby is surrounded by lakes, fishing, hiking trails, camping, and endless scenic drives. For a localís experience, get a taste of Montana on tap at Cabinet Mountain Brewing Company and enjoy a meal at The Black Board Bistro with a locally-sourced seasonal menu."

Click on this link for their complete list of Most Charming Towns:
https://www.rd.com/advice/travel/most-charming-small-towns-in-every-state/

---
2/163rd Cavalry Reunion Sept. 14-16, 2018 (posted 7/20/18)
In Kalispell
There will be a reunion of the 2/163rd Cavalry that drilled in Libby back in the 1990s and before. The event will be held at the Elks Club in Kalispell, Montana Friday, Saturday and Sunday, September 14-16, 2018.

Cost: $40.00 cover charge (Spouse is Free)
Price includes choice of Cap)

Schedule:
Friday, September 14, 2018
4:00 PM: Sign In begins. No host bar opens (closes at 11:00 PM)
Saturday, September 15, 2018:
4:00 PM: Sign In continues. No host bar opens (Closes at 11:00 PM)
There will be a Disk Jockey for the evening hours and on Saturday evening there will be a catered snack bar. Kalispell has a variety of sights to see, with your choice of restaurants, breweries for an afternoon lunch, shops in Kalispell/Whitefish/Columbia Falls. Glacier National Park is a short drive away, visit Whitefish Lake or Flathead Lake, rafting trips out of West Glacier or a short trip up the Gondola on Big Mountain. There are a variety of options of your choosing.

Click on this link for a flyer about the event: 2/163rd Cavalry Reunion (PDF)

Organizers are asking for a response ASAP or may be forced to cancel this event.
Go to the following website for information. www.2163cav.org
Organizers need your help in spreading the word Ė so pass it on Ė "Thanks"

For questions or concerns please contact one of the following:
Denny Eickert: Cell: 406-439-4671, Home: 406-495-0211, Email: eickert52@live.com
Doug LaCroix: Cell: 406-270-8583, Email: djlacroix1954@yahoo.com
Marty Malesich: Cell: 406-660-1352, Home: 406-683-2777, Email: mrmalesich@bresnan.net
Mike LaSorte: Cell: 406-407-3440, Email: saber6@centurylink.net
Don Bogut: Cell: 406-249-3095, Email: dbogut@hotmail.com

---
Grizzly bear identified in attack on woman near Libby (posted 6/22/18)
Montana Fish, Wildlife & Parks
The Montana Fish, Wildlife & Parks Wildlife Human Attack Response Team (WHART) has completed its investigation into the bear attack that occurred last month in the Poorman Creek Drainage of the Cabinet Mountains south of Libby, Montana.

At approximately 11 a.m. on May 17, 2018, an adult woman working as a field assistant for the U.S. Fish & Wildlife Service on a grizzly bear research project sustained serious injuries after surprising an adult male grizzly bear. During the attack, the victim managed to deploy bear spray, which deterred the animal and forced it to flee the area.

The attack, described by investigators as a surprise defensive encounter, occurred after the victim walked within 11-12 feet of the bear. Neither the bear nor the victim could likely see or hear each other due to environmental factors and noise resulting from nearby high-water runoff and rain and wind, according to WHART Lead Investigator Brian Sommers. The bear was in front of and to the left of the woman prior to the attack.

Following the attack, the victim activated her Garmin inReach Global Satellite device that sent out an emergency notification. She walked approximately 2 miles from the scene to her vehicle and drove an additional 3 miles before encountering another vehicle, which transported her to an ambulance. Along U.S. Highway 2, ALERT Air Ambulance arrived and transported her to Kalispell Regional Medical Center.

DNA analysis of hair collected in the investigation identified the bear as a 24-year-old male grizzly bear that was previously captured in 2005 as part of a research project. The bear has spent its entire life in the Cabinet-Yaak Ecosystem and is one of the original grizzly bears in the ecosystem, according to Wayne Kasworm, U.S. Fish and Wildlife Service Grizzly Bear Biologist and team leader for grizzly bear recovery in the Cabinet-Yaak Ecosystem. The grizzly bear is not an augmentation bear.

Over the years, this bear has left numerous hair samples on scratch and rub sites throughout the ecosystem, which spans approximately 2,600 square miles across the Yaak Valley and the Cabinet and Purcell mountain ranges of northwest Montana and northern Idaho. The ecosystem is home to a relatively small population of grizzly bears estimated at 53 bears.

The WHART investigation included on-site visits, victim interviews, evidence collection and analysis.

---
Libby lies in the northwest corner of Montana and is nestled in a valley carved by the Kootenai River on the flank of the majestic Cabinet Mountain Range and Wilderness Area. Today about 2,800 people live within Libby proper. The main industries are lumber and wood products, mining, tourism and recreation. The movies "The River Wild" and "Always" were filmed here. Contact the Libby Chamber of Commerce for brochures, info on lodging and events, general area information, and contact information for local businesses and services.
SUMMER
When the weather warms and the mountain snows melt away, the Kootenai National Forest comes alive with over 2.2 million acres of public land as a playground. Mountain trails and lakes open up, beautiful wildflowers come in bloom, and wildlife have their young. Libby is the basecamp for the Cabinet Mountains Wilderness Area, 90-mile long Lake Koocanusa, the Northwest Peaks Scenic Area, and the Ten Lakes Scenic Area. There is good access to most of the Forest and plenty of room to get away from it all!
WINTER
Winter in Montana means snow, and lots of it! For those who love to play in the deep powder, the Libby area offers tremendous winter fun. Turner Mountain Ski Area, located just 22 miles from Libby, offers challenging downhill skiing with a beautiful view. Their slogan is "steep, deep and cheap", and Turner definitely lives up to that. It's still fairly undiscovered, so you can escape the crowds and get the cheapest lift tickets around. For those who love snowmobiling, there are hundreds of miles of backcountry roads to sled on in the Kootenai National Forest. Cross-country skiers and ice fishermen also can find solitude on a lake and miles of quiet forest trails to enjoy the outdoors. Those who are a bit on the wild and crazy side will love the antics of the Libby Polar Bear Club. Members take winter-time "swims" in frigid Libby Creek every Sunday from October to April. Plungers have ranged in age from 3 to 61. As long as the ice can be broken on the creek, if it has formed, the group will take their plunge, no matter the temperature.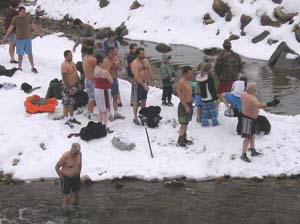 These people must be craaaazzzzzy!
Libby Polar Bear Club