News: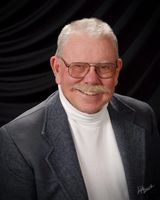 Jim Shadle, Lemonade on the Lawn July 27

Lemonade on the Lawn July 27 in Libby (posted 7/24/16)
Back by popular demand, Jim Shadle will be leading the audience through a variety of word puzzles at Lemonade on the Lawn on Wednesday, July 27 at noon in front of the Libby Branch of the Lincoln County Library at 220 West 6th. Sponsored by Libby Friends of the Library, this particular Wednesday will be based on the popular NPR's Weekend Edition Sunday.

Since 1987, Will Shortz, the crossword editor of the New York Times, has challenged listeners to word puzzles over the radio. To get your brain warmed up before the 27th, consider this puzzle. The last three letters are the first three letters of the synonym --
1. Ample 2. Eating 3. Total 4. Flabbergast.

For this activity, Jim Shadle will play the host. Jim moved to Libby in 1978 to continue his career with the US Forest Service. His engaging personality has led him to serve as the master of ceremonies for many community events including Treasure Tones performances, Nordicfest concerts, the Irish Fair, WINGS talent shows and banquets for the hospital foundation.

Lunch can be purchased for $5 or you are welcome to bring your own. On the menu will be a ham or turkey croissant sandwich. As always, lemonade, a cookie and the program are free of charge.

---
Play with Purpose Soccer Clinic Aug. 10 in Libby (posted 7/24/16)
The Play with Purpose Soccer Clinic will be held on Wednesday, August 10th at J Neils Park from 9am to 12:30PM. The clinic is open to kids age 4 years through 4th grade. There will be a BBQ lunch following at Libby Christian Church. Transportation is available to church after clinic. Cost is $5 per player. Visit libbychristianchurch.com events page to download a registration form or stop by the Libby Christian Church office. For more information contact Matt Warner at 406-293-3747.

---
Upcoming events in Libby (posted 7/18/19)
Libby Christian Church
July 25-28: Swimming Lessons for babies-4th grade and a special class on basic life saving skills for 5th grade on up. Cost is $15 for 4 days.

Saturday, August 27, 2016: 2nd Annual Kootenai Valley Triathlon
Last year over 70 people registered and the spectators, as well as the athletes, had a great time.
Pedal, Paddle, Run. Join the FUN!!!

For more information and to register visit libbychristianchurch.com/Events or call 406-293-3747.

---
FWP makes decision to proceed with Dunn Creek Bank Stabilization Project (posted 7/12/16)
To reduce bank erosion and limit instream sediment
Montana Fish, Wildlife & Parks (FWP), Region One, has completed an environmental assessment (EA) for the Dunn Creek Bank Stabilization Project for the purpose of reducing bank erosion and limiting instream sediment from the single largest eroding bank within the Dunn Creek watershed, and increasing habitat diversity for resident trout in Dunn Creek. The project is located on Dunn Creek, approximately 15 miles northeast of the city of Libby, Montana.

The draft was out for a 30-day public review through July 9, 2016, with no comment received. Due to the urgent need to reduce sediment in Dunn Creek, it is recommended that the proposed project be implemented as soon as possible. No changes were made to the draft EA; therefore, the draft will become the final document. Copies of the decision notice are available at the FWP office, 490 N. Meridian Rd., Kalispell; Montana State Library, 1515 E 6th Ave., Helena; FWP State Headquarters, 1420 E 6th Ave., Helena; the FWP website and available for viewing at local libraries.

Contact person: Fisheries Biologist Jim Dunnigan, (406) 293-5590, X 224, or email to jdunnigan@mt.gov.

---
Montana Governor encourages extra caution due to heightened wildfire risk (posted 6/29/16)
Governor Steve Bullock office media release
HELENA, MT – Governor Steve Bullock encourages Montanans to take extra precautions with fireworks, campfires and other outdoor activities during their Independence Day celebrations.

"The recent high temperatures and dry conditions have elevated the wildfire danger across the state, particularly in the southeast portion of the state; where conditions are extremely dry. These conditions coupled with fireworks and increasing summer recreation have put firefighters on heightened alert," Bullock said. "One careless spark could ignite the next wildfire."

Firefighting agencies across Montana dedicate themselves to keeping communities safe from wildfires but it takes everyone working together. Bullock stressed, "We all have an important role in preventing wildfires to ensure we keep Montana green."

Montanans are reminded that fireworks are prohibited on all state and federal lands, and present a wildfire risk wherever there is dry vegetation. Bullock also reminded recreationists to never leave a campfire or barbecue unattended, check tow chains to assure they are not dragging, and remember that vehicles parked or driving in tall vegetation can start a fire. "By using our 'One Less Spark, One Less Wildfire' motto we can celebrate our independence while being fire-safe," Bullock said.

Firefighters are already in action across Montana with the recent Moser Dome Road Fire near Laurel, Yates 2 Fire in Carter County and pervious fires in Rosebud County and Powder River County. Central and western Montana is also keeping busy with initial attack on new starts. Crews are working hard to put out these fires before they grow in size. Montana's fire activity coupled with major fires burning in California, Arizona, South Dakota, Colorado, Wyoming, Utah, and Alaska, is putting a demand on firefighting resources across the West.

Contact your local fire department for information on any local fire restrictions.
---
Forest Service releases draft revised plans (posted 6/3/16)
Flathead National Forest
On June 3rd, the U.S. Department of Agriculture Forest Service released the draft revised land and resource management plan (draft forest plan) and draft environmental impact statement (DEIS) for the Flathead National Forest for public review and comment. In addition to the effects of the draft forest plan, the DEIS includes the environmental consequences of the proposed forest plan amendments to incorporate habitat management direction for grizzly bears for the Helena-Lewis & Clark, Lolo, and Kootenai National Forests. Written and electronic comments will be accepted for 120 days.

Today's publication of a Notice of Availability of the draft documents in the Federal Register begins the public comment period on both the draft forest plan, amendments and DEIS. A total of two open houses are scheduled in Kalispell and Missoula during the 120-day comment period. These open houses are intended as an opportunity to visit with individual planning team members and review maps of management area allocations by alternatives. The location and schedule of these open houses will be publicized in local newspapers and can be found on the Flathead National Forest website at: www.fs.usda.gov/goto/flathead/fpr. The draft documents are available for review and comment online.

Comments may be submitted via email to flatheadplanrevision@fs.fed.us, via facsimile to (406) 758-5379 or in writing to: Flathead National Forest Supervisor's Office, Attn: Forest Plan Revision, 650 Wolfpack Way, Kalispell, MT., 59901 The Forest Service will carefully review the comments on the draft Forest Plan, Amendments and DEIS. There will also be an objection process for any unresolved concerns prior to the final decision.

For additional information, please contact Joe Krueger, Project Manager, at (406)-758-5243, or jkrueger@fs.fed.us.

---
Libby lies in the northwest corner of Montana and is nestled in a valley carved by the Kootenai River on the flank of the majestic Cabinet Mountain Range and Wilderness Area. Today about 2,800 people live within Libby proper. The main industries are lumber and wood products, mining, tourism and recreation. The movies "The River Wild" and "Always" were filmed here. Contact the Libby Chamber of Commerce for brochures, info on lodging and events, general area information, and contact information for local businesses and services.
SUMMER
When the weather warms and the mountain snows melt away, the Kootenai National Forest comes alive with over 2.2 million acres of public land as a playground. Mountain trails and lakes open up, beautiful wildflowers come in bloom, and wildlife have their young. Libby is the basecamp for the Cabinet Mountains Wilderness Area, 90-mile long Lake Koocanusa, the Northwest Peaks Scenic Area, and the Ten Lakes Scenic Area. There is good access to most of the Forest and plenty of room to get away from it all!
WINTER
Winter in Montana means snow, and lots of it! For those who love to play in the deep powder, the Libby area offers tremendous winter fun. Turner Mountain Ski Area, located just 22 miles from Libby, offers challenging downhill skiing with a beautiful view. Their slogan is "steep, deep and cheap", and Turner definitely lives up to that. It's still fairly undiscovered, so you can escape the crowds and get the cheapest lift tickets around. For those who love snowmobiling, there are hundreds of miles of backcountry roads to sled on in the Kootenai National Forest. Cross-country skiers and ice fishermen also can find solitude on a lake and miles of quiet forest trails to enjoy the outdoors. Those who are a bit on the wild and crazy side will love the antics of the Libby Polar Bear Club. Members take winter-time "swims" in frigid Libby Creek every Sunday from October to April. Plungers have ranged in age from 3 to 61. As long as the ice can be broken on the creek, if it has formed, the group will take their plunge, no matter the temperature.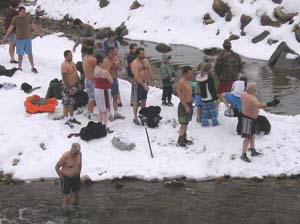 These people must be craaaazzzzzy!
Libby Polar Bear Club