News:
Koocanusa Water Quality public meeting Nov. 12 in Libby (posted 11/12/19)
Update: The Selenium meeting in Libby on Nov. 12 will begin at 5:00PM.
There will be a public meeting / informational panel about Selenium in Lake Koocanusa on Tuesday, November 12 in Libby at the KW Maki Theater, at 6pm (note updated time change to 5:00PM). Additional meeting on Wednesday, November 13 in Eureka at the High School, at 6pm.

---
How Is Libby, Troy, Yaak's Real Estate Market in 2019? (posted 10/30/19)
Guest article by Alice Hayes, Loveless Realty
January 1, 2019 – October 1, 2019 Current RE figures were:
SALES & PENDINGS:
126 Residential SALES:
80 in Libby; 40 in Troy; 6 in Yaak

71 Land SALES:
38 in Libby; 25 in Troy; 8 in Yaak

5 Commercial/Multi-Family SALES:
4 in Libby; 1 in Troy

35 Residential PENDING:
25 in Libby; 10 in Troy

14 Land PENDING:
10 in Libby; 4 in Troy

1 Commercial/M-Family PENDING:
1 in Libby

ACTIVE LISTINGS:
115 Residential ACTIVES:
52 in Libby; 44 in Troy; 15 Yaak

199 Land ACTIVES:
105 in Libby; 79 in Troy; 15 in Yaak

22 Comm/Multi-Fam ACTIVE:
17 in Libby; 3 in Troy; 2 in Yaak

What Were the Price Ranges of SOLDS Homes so far in 2019?
10K - $150,000 = 52 Sales
151K - $250,000 = 36 Sales
251K - $500,000 = 36 Sales
501K - $800,000 = 1 Sales
801K - $1,500,000 = 1

Interest Rates Are Good— NOW Could be a Great Time to Purchase
As of 10/1/2019 Conforming & FHA Loans: per Quicken
30-Year Fixed: Interest = 3.99 %; APR= 4.247%
15-Year Fixed: Interest = 3.5 %; APR= 3.948%

2019 has been Super busy. We have been able to help many people move to their new home, move out of their old home, sell their land, buy new land, or even move to a new town. But, there have been others who are still looking to sell their home or land or looking to buy that 'just right home' or 'perfect piece of land'.

Our Inventory of Homes is in rather short supply and we are looking for more options to offer buyers. If you've 'toyed' with the idea of selling –we would enjoy visiting with you about how we can be of help.

Contact:
Cell #'s:
(Alice) 406-293-8364
(Jim) 406-293-1926
Texts:
(Alice) 406-293-8364
Emails:
alice@alicehayes.com
jim@alicehayes.com
Website:
www.alicehayes.com

---
2019 Turkey Dash Nov. 23 in Libby (posted 10/30/19)
The 2019 Turkey Dash will be held on Saturday, November 23rd. This is a 5K family fun run/walk that starts at the Pure North Athletic Center, 952 E Spruce St in Libby at 10:00 a.m.

The main purpose of this fun run is to raise funds that are shared by two local non-profit organizations. Each year half of the proceeds are given to the Libby Food Pantry which is doubled by the Town Pump Charitable Foundation's Food Bank Fundraiser. The other recipient this year is Kootenai Pets for Life.

If you would like to be a sponsor of this event, please note the sponsorship deadline is November 7th. This gives organizers enough time to get sponsor's name in the 'swag bag' and, depending on sponsorship level, names on promotional banners and t-shirts.

There is a discount for early bird registrations by November 16th. Participants can register anytime, even the day of the Dash.

Run registration forms can be picked up at: Helen's Jewelry, Pure North Athletic Center, and Studio B in Libby, and on the Pure North Athletic Club's Facebook page.

For questions and more information, contact Dani Gordon at 406-291-7076.

Click here for 2019 Turkey Dash registration form

---
Big game harvest slightly below average (posted 10/30/19)
General deer and elk hunting season runs through Dec. 1
Montana Fish, Wildlife & Parks
Montana renewed a time-honored tradition with the start of the general big game hunting season.

Montana Fish, Wildlife & Parks reported nearly 2,700 hunters and 240 harvested animals at its five check stations across northwest Montana (Region 1). The overall number of hunters and harvested deer are slightly below average compared to recent opening weekends. The number of harvested elk was slightly above last year's total. Check stations in Olney, Libby (Canoe Gulch), and Thompson Falls saw more hunters and more harvested white-tailed deer than last year.

"Regionwide, elk harvest was slightly better than last year for opening weekend. Our overall white-tailed deer harvest was lower than it has been for the last few years. After three years of moderate-to-low white-tailed deer recruitment, this wasn't surprising, but we expect the harvest to improve as the season progresses," FWP Region 1 Wildlife Manager Neil Anderson said.

The counts at the hunter check stations represent a sampling of the harvest and do not represent the complete number of animals taken. Hunters must stop at all check stations that they pass, even if they have not harvested any animals. The general big game season runs through Sunday, Dec. 1.

FWP reminds hunters to review the regulations for specific rules in each hunting district.

There is a change in the antlerless hunts in hunting districts 122 and 130 this year. General hunters can no longer harvest antlerless white-tailed deer the first week or the last week of the season in those hunting districts, regardless of land ownership. Youth 12-15 years old and those with a permit to hunt from the vehicle are still allowed to harvest an antlerless whitetail in those hunting districts. Only B license holders can harvest antlerless deer in those districts.

Hunters are reminded that mule deer buck hunting in the North Fisher portion of Hunting District 103 near Libby is permit-only. See legal description in regulations and legal district booklet.

Elk hunting is brow-tined bull only in Region 1. Spike elk are not legal game.

FWP has detected chronic wasting disease in white-tailed deer in the Libby area, and hunters need to be aware of the Libby CWD Management Zone, which includes portions of HDs 100, 103 and 104. All deer, elk and moose harvested within the Libby CWD Management Zone must be checked and sampled within three days of harvest.

During general big game season, the Libby Special CWD Hunt Sampling Station, located at the Montana Department of Transportation shop on US Hwy 2, mile marker 35, will be open every day from 11 a.m. – 1½ hours after sunset. Hunters are only required to stop at the Sampling Station if they harvested an animal.

FWP issued 600 antlerless white-tailed deer licenses that are only eligible within the Libby CWD Management Zone during the archery and general deer seasons.

For more information about CWD, visit fwp.mt.gov/cwd.

Hunters are reminded to "Be Bear Aware" and properly store food and carcasses. Hunters should avoid hanging carcasses near houses or garages. Carcasses must be suspended at least 10 feet above the ground and 4 feet out from any upright support. Hunters are encouraged to carry bear spray and know how to use it. More food storage and safety information are available on the FWP website, fwp.mt.gov. Residents can call Montana Fish, Wildlife & Parks regional office for more information. In northwest Montana, call (406) 752-5501.

---
EPA deletes Superfund sites in Region 8 (posted 10/30/19)
Includes part of Libby asbestos site
On October 29, 2019, the U.S. Environmental Protection Agency (EPA) announced that in Fiscal Year (FY) 2019 the agency deleted all or part of four sites from Superfund's National Priorities List (NPL) in EPA Region 8, benefitting communities in Colorado, Montana, Utah and Wyoming. These actions contributed to a total of 27 deletions achieved across the nation, the largest number in a single year since FY 2001. This represents the third year in a row that EPA has significantly increased the number of sites deleted from the NPL, helping communities move forward in reusing and redeveloping the land by making it clear that cleanup is complete.

"EPA remains focused on making the Superfund process more effective and efficient as we work to serve our communities and secure public health and the environment," said EPA Regional Administrator Gregory Sopkin. "The deletions we finalized this year in Colorado, Montana, Utah and Wyoming are important milestones. They provide closure to communities with sites that have been the subject of years of investigation and cleanup actions."

EPA deletes sites or parts of sites from the NPL when no further cleanup is required to protect human health or the environment. Years, and sometimes decades, of complex investigation and cleanup work has gone into getting these sites to where they are today. This important milestone indicates to communities that cleanup is complete and that sites are protective of human health and the environment.

While EPA encourages site reuse throughout the cleanup process, deletions from the NPL can help revitalize communities and promote economic growth by signaling to potential developers and financial institutions that cleanup is complete. Over the past several years, the agency has focused on streamlining the deletion process and increasing the number of opportunities to demonstrate to communities that cleanup is complete.

For example, in FY 2017 EPA doubled the number of full and partial sites deleted over the previous fiscal year with a total of six sites and then significantly increased the total number of deletions to 22 in FY 2018 and 27 in FY 2019.

The agency's FY 2019 deletions in Region 8 include two full sites and parts of two more sites.
The 2 sites EPA completely deleted from the NPL in Region 8 are:
• Intermountain Waste Oil Refinery in Bountiful, Utah
• Mystery Bridge Rd/U.S. Highway 20 in Evansville, Wyoming
The 2 sites EPA partially deleted in Region 8 are:
• Libby Asbestos in Libby, Montana (https://cumulis.epa.gov/supercpad/cursites/csitinfo.cfm?id
• Vasquez Boulevard and I-70 in Denver, Colorado

Additional information about EPA's NPL deletions can be viewed at
https://www.epa.gov/superfund/deleted-national-priorities-list-npl-sites-state

The Superfund Task Force Accomplishments can be viewed at https://www.epa.gov/superfund/superfund-task-force-recommendations-and-accomplishments

To search for information about these and other NPL sites, please visit https://www.epa.gov/superfund/search-superfund-sites-where-you-live

---
Grizzly Bears moved from Libby, Bigfork areas (posted 10/21/19)
Landowners asked to reduce, secure food attractants to avoid wildlife conflicts
Montana Fish, Wildlife & Parks
Montana Fish, Wildlife & Parks personnel moved grizzly bears from separate areas of northwest Montana after the bears attempted to access food sources.

On Oct. 11, FWP captured a 460-pound adult male grizzly bear on private property on Bear Creek Road south of Libby. The bear had attempted to get into a barn by tearing at outside wall boards. FWP moved the bear to a remote location near Poorman Creek in the Cabinet Mountains on Oct. 12 after consulting the U.S. Forest Service, the U.S. Fish and Wildlife Service, and in accordance with Interagency Grizzly Bear Committee guidelines. The bear was fitted with a tracking collar.

On Oct. 7-8, FWP captured an adult female grizzly bear and then a female cub of the year after the bears broke into chicken coops off South Ferndale Drive near Bigfork. FWP moved the bears Oct. 9 to a remote section near the Spotted Bear River after consulting the U.S. Forest Service, the U.S. Fish and Wildlife Service, and in accordance with Interagency Grizzly Bear Committee guidelines. The bears were fit with tracking collars.

FWP is monitoring increased bear activity across northwest Montana, and personnel are actively working to reduce conflicts in collaboration with landowners.

Residents are encouraged to report bear activity as soon as possible. To report grizzly bear activity in the greater Flathead Valley, call FWP wildlife management specialists at (406) 250-1265. To report black bear activity in the greater Flathead Valley, call (406) 250-0062). To report bear activity in the Cabinet-Yaak area, call (406) 291-1320.

Montana is bear country with populations of grizzly and black bears. Residents are asked to remove or secure food attractants such as garbage and bird feeders and bird seed. Chicken and livestock should be properly secured with electric fencing or inside a closed shed with a door. Recreationists are urged to "Be Bear Aware" and follow precautionary steps and tips to prevent conflicts, such as carrying bear spray.

More safety information is available on the Montana Fish, Wildlife & Parks website, fwp.mt.gov.

---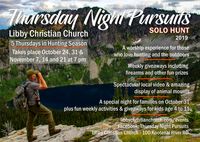 Thursday Night Pursuits Solo Hunt 2019 (posted 10/21/19)
Libby Christian Church is offering a worship experience for those who like hunting and the outdoors. It will take place on five Thursdays during hunting season: October 24 and 31, and November 7, 14 and 21, at 7:00PM. Weekly giveaways of firearms and other fun prizes. There will be a local video and display of animal mounts. Libby Christian Church is located at 100 Kootenai River Road. For more information visit www.libbychristianchurch.com/events.

---
Memorial Service for Elaine Martin Nov. 2 (posted 10/17/19)
A memorial service will be held for Elaine Martin on Saturday, November 2, 2019 at 11:00 at Libby Church of God, 1007 Utah Ave. Light lunch to follow for family and friends. Memorials are suggested to American Cancer Society.

---
Illegally introduced Walleyes discovered in Upper Thompson Lake (posted 10/17/19)
Montana Fish, Wildlife & Parks
Montana Fish, Wildlife & Parks biologists found two walleyes in Upper Thompson Lake last week during a routine fisheries survey. This is the first documented detection of the predacious non-native fish in Lincoln County and is an illegal introduction.

FWP staff set a pair of nets Oct. 8 in the upper section of Upper Thompson Lake, a popular fishery that is part of the Thompson Chain of Lakes west of Marion along U.S. Highway 2. Each net caught a single walleye. Both fish were female and measured 18 and 21 inches, respectively.

FWP will begin an initial investigation, including follow-up surveys to understand the potential walleye distribution and population size.

Biologists collected otoliths, fin clips and scales from the two fish for additional research. Otolith analysis will be performed to determine whether the captured walleyes were born in the lake.

Anglers cannot move any live fish from the water in which the fish are caught. Illegal introductions can have significantly negative impacts on lakes and rivers. They can often lead to lost recreational fishing opportunities, as well as collapsing fisheries and altering food webs.

Anyone with possible information on the walleyes in Upper Thompson Lake are encouraged to call 1-800-TIP MONT. Callers do not need to identify themselves and may be eligible for a cash reward. Anglers should report additional sightings of walleye to FWP at (406) 752-5501.

Moving live fish from one body of water to another is a crime. There are important reasons for this law:

- Introduced fish may compete with native or already established species.
- Introduced fish may behave differently in a new habitat -- they may not improve and are likely to harm the fishery.
- Introduced fish may hybridize (interbreed) with established species.
- Introduced fish may carry and spread new diseases and parasites.
- Introduced fish may actually alter the existing habitat.

Illegal introductions can raise management costs by requiring planting more or larger fish or even chemical rehabilitation to maintain or restore the fishery. The result is less fishing opportunity and higher costs for anglers.

---
Public comment sought for Thompson Chain of Lakes Forestry Project (posted 10/10/19)
Deadline for public comment is Nov. 9, 2019
Montana State Parks
Montana State Parks is seeking public comment on a draft Environmental Assessment (EA) for a proposed Forest Management Project at Thompson Chain of Lakes State Park and Logan State Park near Libby, Montana.

Comments will be accepted through Saturday, November 9, 2019 at 5pm.

The proposed project would address forest health issues and hazard trees in developed areas within the complex. In addition to improving the forest health, the forest management project would increase public safety, reduce hazardous fuels in case of wildfires, and enhance wildlife habitat.

For more proposal details, a full copy of the Thompson Chain of Lakes Forest Management Project draft environmental assessment is available at stateparks.mt.gov and click "Public Comments & Notices".

Or by direct link here: http://stateparks.mt.gov/news/publicNotices/environmental-assessments/pn_0098.html

A public comment period will be open for 30 days and comments will be accepted through Saturday, November 9, 2019 at 5pm. To comment visit stateparks.mt.gov and click "Public Comments & Notices" or email to dbennetts@mt.gov.

The public may also send written comments to:
FWP Region One
Attn: Thompson Chain of Lakes Forest Management Project – Parks Division
1409 North Meridian Road
Kalispell, MT 59901

For questions about the draft EA and/or the public comment process, contact Dave Bennetts, Park Manager, at (406) 751-4590 or dbennetts@mt.gov.

---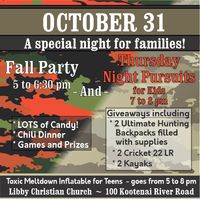 Halloween Party at Libby Christian Church Oct. 31 (posted 10/8/19)
Everyone is invited to bring the family to the Libby Christian Church, 100 Kootenai River Road, on Thursday, October 31st for Halloween fun. They will be having a Fall Party from 5:00 to 6:30PM and Pursuits for Kids from 7:00 to 8:00PM. There will be candy, games and prizes for the kids. A chili dinner will be available. Special giveaway prizes include two hunting backpacks filled with supplies, two kayaks, and two Cricket 22LR.

---
Data and findings released from Kootenai River sampling effort (posted 10/8/19)
Water quality and fish tissue results show elevated levels of selenium and nitrates associated with upstream sources
U.S. Environmental Protection Agency
On Sept. 23, 2019, the U.S. Environmental Protection Agency (EPA), in cooperation with the U.S. Geological Survey (USGS), released the results of a water quality study indicating elevated levels of selenium in water and fish, and elevated nitrates in water, in the Kootenai River associated with upstream sources in Canada's Elk Valley and Lake Koocanusa.

The study, part of a collaborative effort between federal, state and tribal agencies to assess the Kootenai River watershed, is based on water chemistry and fish tissue samples taken on the river in Montana and Idaho from immediately below Libby Dam to the Canadian border. Data contributing to the study were collected by USGS, the states of Idaho and Montana, and the Kootenai Tribe of Idaho.

"These data indicate upstream activities may be affecting water quality and aquatic resources in Montana and Idaho," said EPA Regional Administrator Gregory Sopkin. "The results, particularly selenium impacts to fish, underscore the need for a more detailed understanding of water quality and continued collaboration to protect Lake Koocanusa and the Kootenai River."

EPA has long been engaged in efforts to address water quality impacts to Lake Koocanusa, which straddles the border of British Columbia, Canada and the state of Montana. Selenium and nitrate concentrations entering the lake from British Columbia's Elk River have been increasing since data collection began several decades ago. EPA initiated this study in 2018 to address questions posed by state and tribal partners and to better understand the presence, sources and movement of selenium and nutrients in the Kootenai River watershed downstream of Libby Dam. USGS led the EPA funded study, in collaboration with EPA, state and tribal partners. EPA conducted the fish tissue analysis.

Results
The sampling results released today show elevated selenium levels in some of the 142 fish evaluated in the study, with levels in some mountain whitefish eggs exceeding EPA's recommended criterion of 15.1 ug/L, the level at which fish reproduction may be harmed. Six of eight mountain whitefish exceeded the EPA criterion. In addition, one redside shiner exceeded EPA's whole-body criterion for selenium.

Selenium concentrations in water were elevated above background levels but did not exceed EPA recommended criteria for selenium in flowing waters. Selenium was not detected in water samples from Kootenai River tributaries unaffected by discharge from Lake Koocanusa, indicating that the source is the discharge of mine-related constituents from the lake. Nitrate was detected in water immediately below Libby Dam at nearly three times the concentrations observed in previous samples collected from 2000-2004, and significantly higher than those found on the tributaries. Previous studies show that most of the selenium and nitrate in Lake Koocanusa originates from coal mining in the Elk Valley.

Communities and tribes in Montana and Idaho depend upon good water quality and healthy fisheries. EPA's study indicates that the Kootenai River is being impacted by upstream mining in British Columbia and points to the need for continued monitoring to assess Kootenai River health and to track future trends. EPA is sharing the results of this study with our state, tribal and international partners, and will continue to support the development of information and measures to protect water quality.

Fish tissue samples were also analyzed for mercury, which can be harmful to people who consume fish. Mercury concentrations were generally below EPA fish tissue criteria for methyl mercury except for three northern pikeminnow. Tribes and state agencies will consider whether fish advisories are appropriate.

Background
EPA issued revised national criteria recommendations in 2016 for selenium in water and fish. The Montana Department of Environmental Quality (MDEQ) is currently working with the British Columbia Ministry of Environment and Climate Change Strategies and other parties, including EPA, to develop site-specific water quality criteria for selenium in Lake Koocanusa. MDEQ expects to submit revised selenium criteria to EPA for review next year. Montana also plans to adopt EPA-recommended selenium criteria for the Kootenai River below Libby Dam. Idaho has water quality standards for selenium in the Kootenai River that are consistent with EPA's 2016 recommendations.

For more information, visit: https://doi.org/10.5066/P9YYVV7R
---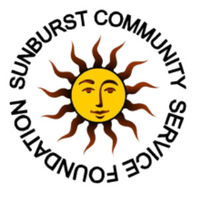 Sunburst Community Foundation 2019-2020 series

Sunburst's 21st Annual Performing Art Series for 2019-2020 season in Eureka (posted 9/11/19)
The 2019-20 series will feature five concerts offering a spectrum of sounds from country to Creole to a wild group from London.

Tickets are $15/adult, or get 5 for $60 by purchasing a season pass. Season passes may be purchased at the door or at the Sunburst office in Eureka Tues-Thurs from 10-3 pm.

All performances are held at the Lincoln County High School Auditorium in Eureka and begin at 7:00 PM. Students 18 years and younger & individuals 90 or over enjoy free admission. We encourage the whole family to attend this special concert series.

September 17, 2019: Sunburst volunteers do Community Soup Night at the Senior Center All are welcome to come enjoy delicious homemade food and live music. 4-7pm

September 26, 2019: Jessica Lynne
A powerfully authentic performer, capable of engaging a diverse range of audiences. This is country music for the people who say they "don't usually like country!" i Internationally touring, Nashville recording artist Jessica Lynne moved to the U.S. from Denmark in 2010 and immediately took the Pacific Northwest by storm. Compared to luminaries like Dolly Parton and Miranda Lambert, she has already played legendary stages such as the Gorge Amphitheater, the Oregon Jamboree, and the Triple Door, in addition to taking top honors as the Washington State Winner of the Texaco Country Showdown. With her latest Nashville recording "Catch Me If You Can," which is supported by national distribution, it is clear we can expect big things from Jessica Lynne.

October 21-26, 2019: Missoula Children's Theatre presents 'Johnny Appleseed!'
The Missoula Children's Theatre (MCT), the nation's largest touring children's theatre, has been touring extensively for more than 40 years now from Montana to Japan, and will visit nearly 1,200 communities this year with up to 44 teams of Tour Actor/Directors. A tour team arrives in a given town with a set, lights, costumes, props and make-up, everything it takes to put on a play...except the cast. The team holds an open audition and casts 50-60 local students to perform in the production. The show is rehearsed throughout the week and two public performances are presented on Saturday. All MCT shows are original adaptations of classic children's stories and fairytales . . . a twist on the classic stories that you know and love. Also included in the residency are three enrichment workshops presented by the Tour Actor/Directors. Creativity, social skills, goal achievement, communication skills and self-esteem are all characteristics that are attained through the participation in this unique, educational project. MCT's mission is the development of lifeskills in children through participation in the performing arts.

October 31, 2019: Dennis Stroughmatt and l'Esprit Creole
Returning to Eureka! If you heard them a few years back, you know how hot these guys are. Bringing funky Creole music to the LCHS stage on Halloween. What better way to celebrate! There will also be a prize for the best costume in the audience!

November 8, 2019: Toast of the Town!
Sunburst hosts one of its most-beloved annual fundraisers at Four Corners restaurant with an evening that includes mouth-watering hors-d'oeuvres, wine-tasting, excellent conversation, and a silent auction full of surprising treasures. Best of all, each year a local potter makes cups just for the event! Each attendee receives a handmade ceramic cup to keep, and a complimentary drink to make your toasts with. If you'd like to donate an item for our silent auction, we are gratefully accepting these at this time. 5:30-9 pm

November 16, 2019: Mari Black and Ensemble
The best fiddle band both sides of the Atlantic! Winner of Scotland's Glenfiddich Fiddle Champion, two time winner of the Maritime Fiddle Champion and US Scottish Fiddle Champion - Mari Black is truly astounding. Don't miss this awesome concert or the fiddle workshops Mari will be giving in Eureka.

February 28, 2020: Naomi Moon Siegel
Naomi brought her jazz trombone to Montana to try some country living, and the mountain air made her sound even better. Fusing melodies with fantastical soundscapes and tight grooves, Naomi plays an indie-folk/pop/jazz that transcends genre. Tickets are $15/adult, or get 5 for $60 by purchasing a season pass!

April 10, 2020: Stringfever!
"Classy musicianship, comedy timing, and a contemporary sound" describe this wild and crazy bunch of musicians from London who travel all over the world entertaining audiences with their talented electric string quartet. This is a fantastic, fun show you have to see to believe - a great way to finish up our 21st Performing Arts Series

Related Links:
Sunburst Community Foundation Facebook page

---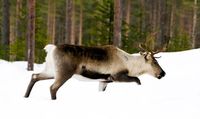 Stock photo courtesy Montana Fish, Wildlife & Parks

Rare Caribou sightings reported in Northwest Montana (posted 11/5/18)
Montana FWP working with wildlife biologists in British Columbia
Montana Fish, Wildlife & Parks
Montana Fish, Wildlife & Parks regional staff have received reports of a rare sight in northwest Montana.

Residents have recently documented sightings of woodland caribou near the U.S.-Canada border. The multiple sightings include the potential for a bull and a cow in separate locations.

Caribou, members of the deer family, are native to northwest Montana but have almost completely disappeared from the contiguous United States over the last half century.

Woodland caribou herds once stretched from central British Columbia to Idaho, Montana and Washington. The decline in population is largely attributed to high mortality linked to habitat fragmentation, alteration, loss of old growth forest, and subsequent predation impacts. Woodland caribou are now protected in the United States and British Columbia.

Caribou have been known to roam from the Selkirk and Purcell mountain ranges in southern B.C into Montana, Idaho and Washington but the occurrences have become increasingly rare.

Caribou are similar in size to mule deer but have different coloration, large round hooves and unique antlers. Even cow caribou can have visible small antlers.

"There are three weeks left of big-game hunting season in Montana. Hunters are reminded to be sure of their target and beyond," said Neil Anderson, FWP Region 1 wildlife manager.

After confirming reports of the recent sightings, Montana FWP contacted wildlife biologists in British Columbia and informed them of the sightings. FWP will continue to work closely with partners in British Columbia on the conservation of the species.

---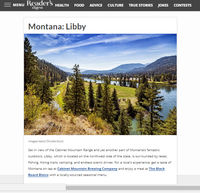 Charming Libby, Montana

Libby, Most Charming Small Town in Montana (posted 8/14/18)
According to Reader's Digest
Reader's Digest posted a story under the Travel section of their website on "The Most Charming Small Town in Every State." Libby was selected as the Most Charming Small Town for Montana. "You'll find the heart of America in these small-town gems lost in time. Add them to your must-visit list now," said author Lyn Mettler.

"Set in view of the Cabinet Mountain Range and yet another part of Montana's fantastic outdoors, Libby, which is located on the northwest side of the state, Libby is surrounded by lakes, fishing, hiking trails, camping, and endless scenic drives. For a local's experience, get a taste of Montana on tap at Cabinet Mountain Brewing Company and enjoy a meal at The Black Board Bistro with a locally-sourced seasonal menu."

Click on this link for their complete list of Most Charming Towns:
https://www.rd.com/advice/travel/most-charming-small-towns-in-every-state/

---
Libby lies in the northwest corner of Montana and is nestled in a valley carved by the Kootenai River on the flank of the majestic Cabinet Mountain Range and Wilderness Area. Today about 2,800 people live within Libby proper. The main industries are lumber and wood products, mining, tourism and recreation. The movies "The River Wild" and "Always" were filmed here. Contact the Libby Chamber of Commerce for brochures, info on lodging and events, general area information, and contact information for local businesses and services.
SUMMER
When the weather warms and the mountain snows melt away, the Kootenai National Forest comes alive with over 2.2 million acres of public land as a playground. Mountain trails and lakes open up, beautiful wildflowers come in bloom, and wildlife have their young. Libby is the basecamp for the Cabinet Mountains Wilderness Area, 90-mile long Lake Koocanusa, the Northwest Peaks Scenic Area, and the Ten Lakes Scenic Area. There is good access to most of the Forest and plenty of room to get away from it all!
WINTER
Winter in Montana means snow, and lots of it! For those who love to play in the deep powder, the Libby area offers tremendous winter fun. Turner Mountain Ski Area, located just 22 miles from Libby, offers challenging downhill skiing with a beautiful view. Their slogan is "steep, deep and cheap", and Turner definitely lives up to that. It's still fairly undiscovered, so you can escape the crowds and get the cheapest lift tickets around. For those who love snowmobiling, there are hundreds of miles of backcountry roads to sled on in the Kootenai National Forest. Cross-country skiers and ice fishermen also can find solitude on a lake and miles of quiet forest trails to enjoy the outdoors. Those who are a bit on the wild and crazy side will love the antics of the Libby Polar Bear Club. Members take winter-time "swims" in frigid Libby Creek every Sunday from October to April. Plungers have ranged in age from 3 to 61. As long as the ice can be broken on the creek, if it has formed, the group will take their plunge, no matter the temperature.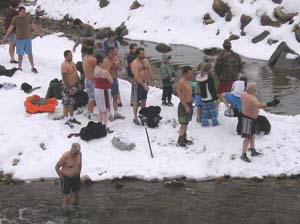 These people must be craaaazzzzzy!
Libby Polar Bear Club