News:
Army Corps opening Libby Dam Campgrounds (posted 5/22/2020)
Blackwell Flats and Dunn Creek Flats open May 22
U.S. Army Corps of Engineers – Libby Dam
U.S. Army Corps of Engineers (USACE) officials at Libby Dam will open Blackwell Flats and Dunn Creek Flats Campgrounds Friday afternoon, May 22, 2020, in time for Memorial Day weekend.

While the campgrounds, boat ramps and day-use areas are open, the Libby Dam Visitor Center and Dam Tours will remain closed until further notice. Special Events have been cancelled or rescheduled for the fall. Picnic Shelters also remain closed, with no reservations available for now. Individual picnic tables are still available.

Read more at: https://www.nws.usace.army.mil/Media/News-Releases/Article/2196288/army-corps-opening-libby-dam-campgrounds/
---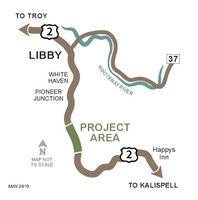 US 2 Swamp Creek East road project

US 2 Swamp Creek East Project update (posted 5/22/2020)
Motorists will soon be driving on a paved surface through the work zone
Montana Department of Transportation
Paving work will continue on the US 2 Swamp Creek East project after the Memorial Day Weekend. The construction crews need a few days of good weather to complete paving. Additional ongoing activities include placing gravel, topsoil operations, and installing guardrail throughout the project area.

What to expect:
• During the day, traffic will be reduced to a single lane and controlled with traffic signals and a pilot car.
• Expect up to 15-minute delays.
• At night and on weekends, traffic will return to two lanes.
• Speed limit is reduced to 35 mph at all times.

The Montana Department of Transportation together with its construction contracting partners continue to take the COVID-19 pandemic very seriously. Construction projects on Montana's roads and bridges are considered an "essential" operation and will continue moving forward as scheduled in 2020. Construction workers will continue several measures to help keep employees, contractors and the public safe during the construction season. Some of the measures include following social distancing and good hygiene guidelines, and not reporting to work if showing symptoms of illness. For more information visit https://covid19.mt.gov/

Project overview
The Montana Department of Transportation is reconstructing five miles of roadway and a bridge over Swamp Creek on US Highway 2, approximately 15 miles southeast of Libby. Construction is anticipated to be completed in fall 2020.

Improvements include:
• Widening the travel lanes to 12 feet.
• Adding 4-foot shoulders on both sides of the roadway.
• Replacing a bridge over Swamp Creek with a wider single-span concrete bridge.
• Repaving the road surface of US 2.
• Using Geofoam blocks as part of the road base to limit the settling of the road.

For more information about the project visit: www.mdt.gov/pubinvolve/swampcreek Email: brandon@rbci.net Call: (406) 465-3350

For current road conditions and traffic updates visit: http://roadreport.mdt.mt.gov/travinfomobile/

---
Governor Bullock announces Phase 2 to begin June 1 (posted 5/21/2020)
14-Day Travel quarantine will lift, businesses open with more capacity, bowling alleys can open
Governor Bullock announced that Montana will move into Phase Two of the Reopening Plan as of June 1st.

Guidance for Phase Two:

Restaurants, bars, breweries, distilleries, and casinos remain in the same operation status as Phase One, but will increase to 75% capacity.

Gyms, indoor fitness classes, pool, and hot tubs can operate at 75% capacity and only in strict physical distancing circumstances, with frequent sanitization practices.

Concert halls, bowling alleys, and other places of assembly may operate with reduced capacity.

The 14-day travel quarantine for out-of-state travelers for non-work related purposes will be lifted June 1st.

Montana National Guard will continue to conduct screenings in airports and train depots and refer anyone with COVID-19 related symptoms to local public health officials.

To support Montana's destination communities, the state will assist with establishing the following protocols:

Surveillance testing of employees.

Enhanced contact tracing resources deployed to these areas as requested by local authorities.

Ability to surge personal protective equipment to impacted health care systems.

Guidelines for operation for business that see high-tourist activity.

Montana's gradual and phased plan to reopen began on April 26 with Phase One which allowed schools, places of worship, main street and retail businesses, and restaurants, breweries, and bars to reopen under social distancing guidelines. Governor Bullock also provided additional guidance to allow gyms, movie theaters, and museums to reopen under the first phase on May 15.

To read the full directive, click here.

---
Changes for Sunburst Foundation in Eureka (posted 4/24/2020)
Foundation splits into two entities, arts programs to continue
The Sunburst Foundation has served the Tobacco Valley area around Eureka in northwest Montana for the past 25 years with the goal of enhancing the lives of community members through three general areas: human services, arts, and education. Over the course of the year, the organization has expanded to having human services offices throughout western Montana.

The organization has recently reorganized. As of April 2020 Sunburst Arts & Education in Eureka has become a separate 501(c)3 entity. The organization is working its best to ensure that all their arts and educational programs and events in the Tobacco Valley will continue unaffected. All plans for 2020 are impacted by possible schedule disruptions dur to COVID-19 coronavirus.

The organization will still be bringing Shakespeare in the Parks, the Missoula Children's Theatre, five performances for the upcoming 2020-21 22nd Performing Arts Series, free high school equivalency tutoring and materials, and more to the Eureka area.

The organization relies on community support to bring opportunities in education and the arts to the Tobacco Valley. If anyone would like to make a donation to support their efforts, checks may be mailed to:

Sunburst Arts & Education
PO Box 2018
Eureka, MT 59917-2018

Season Tickets for the 2020-21 22nd Annual Performing Arts Season are available now.
Tickets at the door are $15/adult, or get 5 entries for $60 by purchasing a season pass.

Season passes may be purchased by contacting mtsunburst@yahoo.com.

For more information call 406-297-0197. Visit their website at Sunburst Foundation

---
Governor Bullock announces Phased Reopening
Wednesday, April 22nd Governor Bullock announced Montana's phased approach to reopening, with changes implemented as soon as this weekend. Read below for the breakdown of Phase 1.

PHASE 1:
As of Sunday, April 26, the stay-at-home order will be lifted.

As of Sunday, April 26, churches can open with maintaining social distancing for non-family members.

As of Monday, April 27, retail stores will be able to reopen with reduced capacity and under measures to ensure physical distancing. Gyms, pools, and hot tubs will remain closed. So will movie theaters, performance theaters, concert halls, bowling alleys, bingo halls and music halls.

As of Monday, April 27, personal care like salons and tattoo parlors will open but customers must be screened for symptoms. People need to wear face masks when possible and stations must be 6 feet apart when possible.

As of Monday, May 4, bars, restaurants, casinos, and breweries can start on-site service if they adhere to strict physical distancing guidelines and under reduced capacity. Breweries have always had an 8 p.m. closing time, and now bars, restaurants and casinos must close by 11:30 p.m. Operations need to have cleaning plans, and employees must be trained on how to properly sanitize things. Surfaces and items must be cleaned between customers. Restaurant capacity must be limited to 50% of normal, and groups must be at least 6 feet away from each other. Self-service buffets are closed, as are drink refills and other self-service operations.

As of Thursday, May 7, all schools have the option to return to in-classroom teaching delivery. Local districts can make their own choices, and many around the state have already said they don't plan to bring students back this year. If schools reopen, guidance from the governor's office suggests a mix of in-person and remote learning, as well as graduations that meet social distancing requirements.

-The 14-day self-quarantine will remain in place for out of state travelers.

-Senior and assisted living facilities must still prohibit visitors, and staff should be screened there daily. Childcare facilities can keep operating.

-Outdoor recreation can open if physical distancing is followed. That includes fishing access and parks. There may be some limited reopening of campgrounds, but it wouldn't be until the third and final phase that campgrounds and group-use facilities fully reopen.

-Organized activities for kids can operate if they can follow social distancing guidelines, but gatherings of 10 or more when social distancing cannot be followed is to be avoided.

FUTURE PHASES:
Note: The governor said there is no timeline yet for moving from phase 1 to phase 2. The Libby Area Chamber will do our best to keep you updated on these changes to come.

PHASE 2: Under the second phase, the size of gatherings can grow to 50, and gyms, pools and hot tubs can open, though vulnerable populations still need to stay home. Other businesses that were already open can increase their capacity of individuals allowed in a shared space.

PHASE 3: In the third phase, there will be no limits on the size of groups that can gather, and vulnerable populations can resume public interactions but still need to take precautions.

Read the full directive here.

PHASE ONE GUIDANCE
GENERAL BUSINESS OPERATING GUIDELINES
All Settings:
• Health assessments must be conducted for all employees at the beginning of each shift.
• In establishments where customers wait in a line, non-household customers should remain physically distanced.
• Waiting areas where adequate physical distancing cannot be maintained must be closed.
• Customers should be encouraged to call for a reservation or an appointment, or establishments should use an online wait listing application.
• Physical distancing of 6 feet must be maintained between non-congregate customers, this may require:
• A reduction in capacity;
• A reduction of seating in service and waiting areas;
• Management of waiting areas and waiting lines; or
• Systems that reduce the amount of contact time between customers and staff.

RESTAURANT / BAR / BREWERY / CASINO GUIDELINES
All Phases (1-3)
• A specific cleaning plan must be implemented, and employees must be trained in proper sanitation practices. Materials will be available on the Montana Department of Public Health and Human Services (DPHHS) food and consumer services website.
• All surfaces occupied must be cleaned between customers, including tables, chairs, booths, and highchairs.
• Table items including, condiments, menus, napkins, and décor, should be removed from the table unless they can be adequately cleaned between customers.
• Menus must be cleaned between customers.
• Growlers and refillable or reusable containers must be cleaned prior to being refilled.
• Gaming machines must be adequately cleaned between customers.

Phase One:
• Capacity must be limited to 50% of normal operating capacity to allow for adequate group spacing.
• Tables must be limited to six people per table.
• Establishments must provide for 6 feet of physical distancing between groups and or tables by:
• Increasing table spacing, removing tables, or marking tables as closed;
• Providing for a physical barrier between tables; or
• Back-to-back booth seating provides adequate separation.
• In-house dining for quick service restaurants should remain closed, if all guidelines can't be met, including the cleaning of every table between customers.
• Sitting or standing at bars or counters is not allowed.
• In bars, drinks and food must be served to customers at a table.
• Self-service buffets must be closed.
• Drink refills are not allowed.
• Self-service cups, straws and lids should be behind a counter and handed to customers
• Self-service condiments should be eliminated.
• Gaming machines that are operational must be separated by 7-foot center to center. Machines must be placed out of service if adequate spacing cannot be assured.

PERSONAL CARE / SERVICES GUIDELINES
Phase One: PERSONAL CARE (SALONS, MASSAGE, BODY ART, ETC.)
• Operations that require close personal contact for an extended period result in exposing staff and customers to greater levels of risk. These situations require additional safety and health precautions.
• Screen customers prior to appointment for symptoms of fever, shortness of breath or a cough. Customers that have any of these symptoms must be rescheduled.
• Utilize a face mask for staff and for customers when practical.
• Stylist / artist / service-provider and customer would be a "station" that would be 6 feet away from other "stations".
• Provide for 6 feet of physical distancing between stations, this may require:
• A reduction in capacity;
• Increasing spacing, removing stations, or marking stations as closed;
• Providing for a physical barrier between stations;
• A reduction of seating in service and waiting areas; or
• Systems that reduce the amount of contact time between customers and staff.
---
Heritage Museum listed on the National Register of Historic Places (posted 4/20/2020)
On March 27, 2020, the unique 46-year old, 12-sided Heritage Museum log building in Libby was approved by the National Park Service for listing on the U. S. National Register of Historic Places.

A community-wide volunteer effort 46 years ago, volunteers were involved in every step of the building's construction. Today volunteers comprise all its continued operations.

Normally, buildings under 50 years of age are not approved for listing. However, in this particular case, the Montana State Historic Preservation Office (SHPO) in Helena worked closely with Libby volunteers to create an application which built a strong case for the building's unique and rare design, and its exceptional historical and cultural importance to the local Libby community. The Museum believes the application was approved because the creation of this extremely rare dodecagonal designed building also represents the story of local community volunteerism at its very best (see background below).

Background: The Museum building was conceived by Doug Porter, upon the death of his father, western landscape painter Roy D. Porter, in 1971. Doug wanted to fulfill his father's dream of a Museum in Libby and needed a place to house his father's paintings and extensive collection of 1800-1900's historical artifacts. The State of Montana issued a Bicentennial Celebration grant of $5,000 for the project. Portions of the project were donated by U.S. Army Corps of Engineers employees at Libby Dam: the building design was donated by Structural Engineer Floyd Lucas; Electrical Engineer John Davidson donated his time to create the electrical system and concrete floor, and served as the first building Chairman. U.S. Forest Service Landscape Architect Wayne Tlusty donated the grounds design. Dozens of local volunteers cut, loaded, and hauled the whole logs (donated by the U.S. Forest Service to Lincoln County, who in turn donated them for the project) to the building site; then others hand-peeled and saddle notched each log by chainsaw. Kyle and Iva Beebe, both in their 80's, peeled over half the logs, hence the name of the Beebe Room in the Museum. Log home builders Dan Emerson and Claude Huckins constructed the log framework for $12,000. The Libby Fire Department donated the security and fire alarm system. Both wooden front doors were built by students in woodshop class at the Libby High School. A local well-driller drilled the well, charging only the cost of the well casings. Local volunteers catalogued, researched, and professionally exhibited the thousands of historical artifacts, prior to opening the Museum in 1978. Today local volunteers continue to dedicate their time and energy to museum maintenance and operations.

The Museum's normal hours of operation are open mid-May to mid-September, Monday through Friday 10AM to 5PM, and Sundays from 1-5PM. Admission is by donation. It is located at 34067 US Hwy 2 in Libby. The Museum is a 501(c)3 non-profit organization.

When the COVID19 restrictions are lifted, the public is invited to attend Board meetings which are scheduled this year at 6 p.m. on Monday evenings: June 15, July 20, August 17, September 21, October 19, and November 16 at the Museum Cookhouse. Volunteers completed the restoration of the Swamp Creek Community Hall last Fall; the log Hall has already been used for a wedding and a wedding reception. The Hall and the open-air outdoor Pavilion are available for meetings, reunions, dances, parties, and other celebrations for only a donation. Call Sherry at (406) 293-9421 if you want to reserve a facility and a date.

Related Links:
www.libbyheritagemuseum.org/ Heritage Museum in Libby, Montana

---
Public comment sought for Museum roof replacement project (posted 4/20/2020)
Comments due by May 30, 2020
Public Notice of Proposed Heritage Museum Roof Replacement Project
Soliciting Public Review and Comment by May 30, 2020

Background and project: The Heritage Museum's 46-year old Rustic Architecture style log building has a 36-year old sheet metal roof that is leaking. The roof's interior 2x4 lath wood framework is wet and rotting due to condensation forming in the winter when interior heat rises into the empty airspace gap between the bottom under-lament and the top cold roofing. The 15,620+ square foot roof consists of 12 pie-shaped sections 50-feet in length (lower roof) and 12 pie-shaped sections 15-feet in length (tower roof). The roof must be removed and replaced down to the original tongue and groove interior ceiling boards which rest on the roof whole log rafters.

Proposed solution: The roof framing will be removed and replaced down to the original tongue and groove boards which rest on the whole log roof rafters. The replacement roof will consist of: 30-year titanium underlayment, 2x4 wood framing, 5/8 OSB (particle board), 2 pound for 5 inch foam-in insulation (into the previous gap where condensation formed), another layer of titanium, 1x wood laid flat, and topped with new brown sheet metal sheeting in Standard Classic Style.

The Heritage Museum Board of Directors met on February 17, 2020, to discuss the proposed roof replacement project and believes it is exempt from the Montana Environmental Policy Act (MEPA) because: 1) it will not significantly affect the quality of the human environment; 2) a significant public controversy does not exist over the project's potential effect on the quality of the human environment; 3) and the project will not affect sensitive environmental or cultural areas or endangered or threatened species and their critical habitats. Therefore, the Heritage Museum Board of Directors believes that an Environmental Assessment and Environmental Impact Statement are not necessary.

Public Comment: Members of the public are invited to comment on the proposed project. Please send comments in writing to: The Heritage Museum, P.O. Box 628, Libby, MT 59923. Comments must be postmarked by May 30, 2020.

Related Links:
www.libbyheritagemuseum.org/ Heritage Museum in Libby, Montana


---
Libby real estate news (posted 4/20/2020)
January through March 2020
Alice Hayes, Team Hayes Realtors LLC
How has the Libby, Troy, & Yaak Market Been in 2020??
January 1, 2020 to March 31, 2020 Real Estate Figures:

SALES
32 Residential SALES: 21 Libby; 10 Troy; 1 Yaak
9 Land SALES: 7 Libby; 2 Troy; 0 Yaak
0 Commercial/Multi-Family SALES

PENDING
23 Residential PENDING: 12 Libby; 6 Troy
8 Land PENDING: 3 Libby; 1 Troy; 2 Yaak
2 Commercial/Multi-Family PENDING

ACTIVES
80 Residential ACTIVES: 39 Libby; 35 Troy; 6 Yaak
150 Land ACTIVES: 80 in Libby; 61 in Troy; 9 in Yaak
21 Comm/Multi-Fam ACTIVES: 14 Libby; 4 Troy; 3 Yaak

2020 started as a very busy year. And then COVID-19 hit and we are having very limited physical contact with clients and the majority of our work is being done from home. Due to the wonders of technology - much of our Client Care can be done on-line and by phone. But, we miss the human contact and anxiously await the return of the opportunity to sit down with our friends and clients and visit, laugh, shake hands, and even hug.

Interest Rates are Truly Amazing!
Now could be a great time to purchase.
As of 3/31/202 - Conforming & FHA Loans:
Per Quicken 30-Year Fixed:
Interest = 2.99%; APR = 3.958%
15-Year Fixed: Interest = 2.625%; APR = 3.088%

TIPS:
1. The buying and selling landscape has changed Buyers might feel that sellers and agents should be rolling out the red carpet for them to look at homes. Please understand that this process might not be as instant as it was last week or even two days ago.
2. The transaction will likely be socially distanced Agents will likely ask buyers to take their own car to meet at showings. If buyers are coming from out of town, encourage them to rent a car for their protection and the protection of their families (and your safety, too!)
3. Now is not the time to try to take advantage Buyers might be tempted to throw out multiple low-ball offers at sellers to see what will stick. Buyers might feel as if they are entitled to a deal during these unusual circumstances. Stop.
4. Delays will inevitably happen Right now, life isn't going according to anyone's plan. Major life events such as graduations, anniversary parties, showers and weddings are being postponed or cancelled. Sadly, even celebrations of life due to a loved one's passing can't be held.
5. Adjust your expectations We're living in unpredictable times. No one has all the answers — and that includes real estate agents. While people are doing their best to obtain information and updates from their company's real estate leadership, local, state and national Realtor associations, along with national, state and local officials, this situation is rapidly changing. What happens today might be drastically different tomorrow.
6. Accept that you might not have all the answers This one is tough. It can be easy to panic at the thought of the unknown. Will things get better after mid-April when many of those "temporary" closures and lockdowns are supposed to end? Those are arbitrary dates and deadlines, and we don't know if they will be extended.

Information courtesy Alice Hayes, Team Hayes Realtors LLC
TEAM HAYES REALTORS LLC
417 Mineral Ave, Suite 1, Libby, Montana, in the Mineral Plaza
Office: 406-293-2725
Cell: (Alice) 406-293-8364, (Jim) 406-293-1926
Text: (Alice) 406-293-8364
Email:
alice@alicehayes.com
jim@alicehayes.com
Website: www.teamhayesrealtors.com

---
Montana nonresident spring turkey and black bear hunting suspended (posted 4/9/2020)
Due to COVID-19 quarantine
Montana Fish, Wildlife & Parks
Following the extension of Montana Gov. Steve Bullock's directive that out of state travelers must quarantine for 14 days, Montana Fish, Wildlife & Parks director Martha Williams has suspended nonresident hunting seasons for spring turkey and black bear until at least April 24, 2020.

On Tuesday, Gov. Bullock extended the mandatory quarantine directive related to COVID-19 through April 24 for travelers arriving in Montana from another state or country. The quarantine directive for out-of-state travelers applies to public outdoor recreation, grocery shopping and other activities. Those entering Montana from other states carry the risk of spreading COVID-19 to Montana residents. Surrounding states are taking similar measures to protect their own citizens and limit the spread of COVID-19.

"We place a high value on the ability to get outside and hunt, both for our residents and visitors. However, suspending the nonresident turkey and black bear seasons for now will keep everyone safer and help all of us remain consistent with Gov. Bullock's directives," Director Williams said.

Spring turkey season, which begins April 11, and spring black bear season, which begins April 15, will still be open to resident hunters; however, travel and social distancing directives need to be followed as hunters make their plans and head into the field.

Nonresidents who wish to return their license will be issued a refund.

For more information related to FWP's response to COVID-19, please look online at fwp.mt.gov.

---
Glacier Park closed to park visitors (posted 3/26/2020)
National Park Service
Glacier National Park is announcing additional modifications to operations in response to guidance from Flathead County, MT, Glacier County, MT, Blackfeet Nation, and the State of Montana. The health and safety of our visitors, employees, volunteers, and partners is our number one priority. The National Park Service (NPS) is working service-wide with federal, state, and local authorities to closely monitor the COVID-19 pandemic.

Effective at 5 pm on March 27, 2020, Glacier National Park will be closed to all park visitors until further notice. There will be no visitor access permitted to the park. US Highway 2 inside the park boundary will remain open. We will notify the public when we resume full operations and provide updates on our website and social media channels.

"The National Park Service listened to the concerns from our state, county, and tribal partners and, based on current health guidance, temporarily closed the park," said Glacier Superintendent Jeff Mow. "We will continue to work with our state, county, and tribal partners as this crisis continues and we will coordinate with them on when it will be safe to reopen the park."
• The NPS encourages people to take advantage of the many digital tools already available to explore Glacier National Park, including:
Glacier online via webcams, audio tours, photo galleries, and videos.

Updates about NPS operations will be posted on www.nps.gov/coronavirus. Please check with www.nps.gov/glac for specific details about park operations.
_______________________________________

Editor's note: Yellowstone and Glacier National Parks closed to the public on Tuesday, March 24th at the strong urging and request of the surrounding gateway communities.

---
Drive-through coronavirus testing in Libby (posted 3/26/2020)
Lincoln County Department of Public Health recently started an appointment-based drive-through coronavirus testing facility in Libby. The facility was set up to streamline the testing process and conserve their limited medical supplies. People must have a health care provider's referral for a test.

Click on this link to read the full details: Lincoln Co. starts drive-through coronavirus testing in Libby By Marian Davidson, nbcmontana.com, March 25, 2020

---
Lincoln County resources for COVID-19 information (posted 3/26/2020)
Below are links to helpful information about the COVID-19 situation in Lincoln County, Montana. Note that the status of things is changing daily and organizations are doing their best to try to keep information current in a quickly evolving situation.

Lincoln County COVID Information Hotline: 1-406-293-6295
Lincoln County Public Health Facebook page
www.lincolnmthealth.com Lincoln County Public Health (Montana)
Lincoln County Emergency Management - Facebook page
Lincoln County, Montana COVID-19 information
KLCB-KTNY Radio, Libby - Facebook page
www.thewesternnews.com The Western News, local newspaper for Libby, Montana
Libby Area Chamber of Commerce - Facebook page
Montana COVID-19 Montana Department of Health and Human Services
Map of current COVID-19 cases in Montana
CDC COVID-19 Information Centers for Disease Control and Prevention (CDC)

---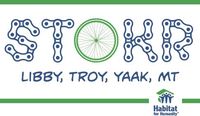 2020 STOKR has been cancelled over concerns with the COVID-19 virus.

2020 STOKR cancelled (posted 3/18/2020)
Annual Scenic Tour of the Kootenai River bike ride and fundraiser for Habitat for Humanity
The STOKR organizers have met with the Habitat board and made the painful decision to cancel the 2020 STOKR due to concerns with the COVID-19 virus. The 26th annual STOKR was scheduled to take place May 9-10 in Libby. All 446 riders have been contacted and given the option to have their checks mailed back, torn up, or the money put towards next year. Anyone with questions or concerns can contact Greg or Susie Rice, stokrmama@gmail.com.

---
Libby lies in the northwest corner of Montana and is nestled in a valley carved by the Kootenai River on the flank of the majestic Cabinet Mountain Range and Wilderness Area. Today about 2,800 people live within Libby proper. The main industries are lumber and wood products, mining, tourism and recreation. The movies "The River Wild" and "Always" were filmed here. Contact the Libby Chamber of Commerce for brochures, info on lodging and events, general area information, and contact information for local businesses and services.
SUMMER
When the weather warms and the mountain snows melt away, the Kootenai National Forest comes alive with over 2.2 million acres of public land as a playground. Mountain trails and lakes open up, beautiful wildflowers come in bloom, and wildlife have their young. Libby is the basecamp for the Cabinet Mountains Wilderness Area, 90-mile long Lake Koocanusa, the Northwest Peaks Scenic Area, and the Ten Lakes Scenic Area. There is good access to most of the Forest and plenty of room to get away from it all!
WINTER
Winter in Montana means snow, and lots of it! For those who love to play in the deep powder, the Libby area offers tremendous winter fun. Turner Mountain Ski Area, located just 22 miles from Libby, offers challenging downhill skiing with a beautiful view. Their slogan is "steep, deep and cheap", and Turner definitely lives up to that. It's still fairly undiscovered, so you can escape the crowds and get the cheapest lift tickets around. For those who love snowmobiling, there are hundreds of miles of backcountry roads to sled on in the Kootenai National Forest. Cross-country skiers and ice fishermen also can find solitude on a lake and miles of quiet forest trails to enjoy the outdoors. Those who are a bit on the wild and crazy side will love the antics of the Libby Polar Bear Club. Members take winter-time "swims" in frigid Libby Creek every Sunday from October to April. Plungers have ranged in age from 3 to 61. As long as the ice can be broken on the creek, if it has formed, the group will take their plunge, no matter the temperature.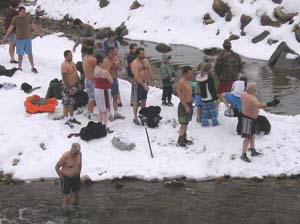 These people must be craaaazzzzzy!
Libby Polar Bear Club