News: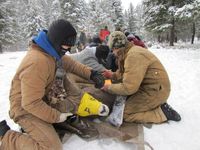 Agency workers and volunteers from the local community collect health samples from bighorn sheep on January 12 on the Woods Ranch Wildlife Management Area near Eureka. Montana Fish, Wildlife & Parks courtesy photo.

Capture and health testing conducted on bighorn sheep herd near Eureka (posted 1/16/17)
Montana Fish, Wildlife & Parks
Montana Fish, Wildlife & Parks (FWP) biologists and volunteers from other agencies and the local community captured and released 32 bighorn sheep on the woods ranch wildlife management area near Eureka. The captured sheep were a mixture of ewes, lambs, and rams. The operation is designed to obtain health information on the population. The sheep are part of the Galton range herd that occupies land in the u. S. And Canada; the Canadians refer to this group as the "Kootenay Trench herd". These sheep are part of a native herd and believed to be similar genetically to the Ural Tweed population along Lake Koocanusa.

The sheep were captured with a large drop net suspended from poles. The sheep are drawn to the site with hay, and then the net is dropped over them. Biologists and volunteers then hobble and blindfold the individual sheep so they can be processed. Ten sheep were captured and processed in the morning, and 22 were processed in the afternoon. Two large rams, one weighing 285 pounds, were captured.

The sheep are tested for respiratory pathogens such as mycoplasma ovipneumoniae, and various bacteria belonging to the pasteurella group. These pathogens can cause pneumonia. Also included in the testing is exposure to respiratory viruses and parasite loads (such as lungworm). Blood, nasal swabs, and tonsil swabs are collected for testing and temperature is monitored. An ear tag is attached to each sheep. The testing is important for monitoring the health of this unique herd of native bighorns. The health information is also important if the sheep are to be used for augmenting other sheep herds.

Additional bighorn sheep herd health operations will be focused on herds in hunting districts 121 (North Clark Fork), 122 (Clark Fork Cutoff), and 101 (Ural-Tweed along Lake Koocanusa (Libby Reservoir)). Bighorns in the Paradise herd (hd 124) were captured last month as part of a statewide research effort to learn more about how diseases function in bighorn sheep populations.

Click on this link for more pictures: Capture and health testing conducted on bighorn sheep herd near Eureka

---
How was Lincoln County Real Estate in 2016? (posted 1/12/17)
Alice Hayes, Loveless Realty, Libby, Montana
January 1, 2016 to December 31, 2016 Current Real Estate figures:

SALES & PENDINGS:
175 Residential SALES:
104 in Libby
36 in Troy
8 in Yaak
6 in Flathead
21 in Sanders

83 Land SALES:
38 in Libby
17 in Troy
11 in Yaak
8 in Flathead
9 in Sanders

5 Commercial SALES:
3 in Libby
2 in Sanders

19 Residential PENDING:
11 in Libby
4 in Troy
1 in Flathead
3 in Sanders

15 Land PENDING:
11 in Libby
4 in Troy

Commercial/M-Family PENDING: 0

ACTIVE LISTINGS:
154 Residential ACTIVES:
69 in Libby
36 in Troy
6 in Yaak
8 in Flathead
35 in Sanders

217 Land ACTIVES:
96 in Libby
67 in Troy
15 in Yaak
20 in Flathead
19 in Sanders

24 Commercial ACTIVE:
16 in Libby
1 in Troy
1 Yaak
1 in Flathead
5 in Sanders

2016 has been a busy year and many people have been able to find that 'just right home' or 'just right piece of land'.
What were the price ranges of SOLDS in 2016???
10K - $150,000 = 71 Sales
150K - $250,000 = 60 Sales
250K - $500,000 = 36 Sales
500K - $800,000 = 3 Sales
800K - $1,500,000 =5

"So How Did Our Market Actually Do? Let's Compare"
1/1—12/31/2015:
143 Residential SOLDS
58 Land SOLDS
6 Commercial SOLDS

1/1—12/31/2014:
157 Residential SOLDS: 53 Land SOLDS: 8 Commercial SOLDS

1/1—12/31/2012:
120 Residential SOLDS
33 Land SOLDS
6 Commercial SOLDS

1/1—12/31/2011:
111 Residential SOLDS
37 Land SOLDS
7 Commercial SOLDS

1/1-12/31/2010:
93 Residential SOLDS
28 Land SOLDS
0 Commercial SOLDS

1/1 – 12/31/2009:
82 Residential SOLDS
33 Land SOLDS
6 Commercial SOLDS

Interest Rates Remain at ALL Time LOWS—
NOW Could be a Great Time to Buy!
As of 12/31/2016 Conforming & FHA Loans:
30- Year Fixed; Interest = 3.78%; APR= 3.81%
15- Year Fixed; Interest = 3.01; APR=3.13%

Cell #'s:
(Alice) 406-293-8364
(Jim) 406-293-1926
Emails:
alice@alicehayes.com
jim@alicehayes.com
Website: www.alicehayes.com
---
EPA announces 'last call' for Libby and Troy residents to participate in cleanup of asbestos at remaining properties (posted 1/12/17)
U.S. Environmental Protection Agency
(Denver, Colo. - Jan. 10, 2017) The U.S. Environmental Protection Agency (EPA) announced today a final opportunity for owners of residential and commercial property in Libby and Troy, Montana to participate in the investigation and cleanup of Libby Amphibole asbestos. EPA expects that less than 10 percent of remaining properties to be investigated are likely to need a cleanup.

Property owners who have not yet participated in an investigation and/or cleanup need to sign access agreements by March 31st 2017. Access agreements have been mailed to property owners and are also available at EPA's Information Center in Libby, 108 E. 9th Street; 406-293 6194.

EPA is providing this final opportunity to ensure the protection of future residents from possible exposures. Property owners who do not participate could become financially responsible for future cleanup. The agency may file a notice of environmental conditions with the Clerk and Recorder's Office of Lincoln County for properties within the Superfund site that have not participated in EPA's program. This property notice would be recorded and maintained by Lincoln County and the State of Montana to inform future owners, lenders and renters that investigation and potentially necessary cleanup work at the property has not been completed.

If necessary, outdoor property cleanups consist of removing contaminated soil and backfilling the area with clean soil. The agency works closely with property owners to help them minimize disturbance as much as possible and to return properties to pre-cleanup conditions. Indoor cleanups involve removing vermiculite-containing insulation from accessible areas inside homes and buildings. Contaminated materials are disposed of at a county landfill. EPA installs new insulation at locations where it is removed.

EPA's risk assessment shows that cleanups have been effective in reducing cancer and non-cancer risks in Libby and Troy. Since 1999, EPA has completed an investigation and/or cleanup at 7,500 of 8,100 private properties identified within the Superfund site. Cleanups took place at 2,447 properties. Air asbestos concentrations today are about 100,000 times lower than when the mine and processing facilities were operating. It is now possible to live and work in Libby and Troy without excessive exposure to asbestos.

For more information on the Libby site visit: www.epa.gov/superfund/libby-asbestos

---
Upcoming Events (posted 12/30/16)
December 31, 2016: New Year's Eve party at Yaak River Tavern. Featuring members of Run Boy Run (Country-Celtic-Bluegrass-Appalachian) and special guests Dave Blackburn and Richard Young. Potluck starts at 6PM, Music starts at 7:30PM, $5 cover. Champagne toast at midnight. For info on area lodging call 406-295-4706.

December 31, 2016: New Year's Eve party at Halfway House Bar & Grill. Featuring Copper Mountain Band Unplugged – Nate Norman & Jacque Jolene. Starts at 9PM, $5 cover. 14891 Bull Lake Road, Troy, 406-295-4358

January 1, 2017: Libby Polar Bears New Year Swim At Riverfront Park, 2:30PM.

January 6, 2017: Cascade Quartet Concert in Eureka at the Lincoln County High School Auditorium, 7PM.

January 8, 2017: Libby Spinning Squares Square Dance "Hobo Dance" Marvin Speck caller, Lorrie Lane cuer. Asa Wood School (wood floor), 700 Idaho Ave in Libby. Admission $6/person, $3 for under 15. Plus at 7PM and Mainstream from 8-10PM.

January 11, 2017: Joey Pipia Presentation of the Kootenai Heritage Council. At the Libby Memorial Event Center. Tickets $15 (presale $12), Students free with a paying adult. Tickets available at Cabinet Books, Libby Chamber of Commerce, Homesteaders Farm & Ranch, Rivermist, Western News, Mountain Meadows, Rocky Mtn Music, in Troy at Booze 'n Bait.

January 17, 2017: Registration starts for spring classes at Flathead Valley Community College Lincoln County Campus. For more info call 406-293-2721.

January 21, 2017: Chili Cookoff/Jerkoff At the Yaak River Tavern

January 21, 2016: 2nd Annual Robert Burns Dinner Four Corners Restaurant in Eureka, 6PM. Tickets are $30/person and must be purchased in advance (last year sold out). Call Sunburst office at 406-297-3435 for more info.

January 21 & 22, 2017: The Second 2nd Annual Bull Lake Ice Fishing Derby Hosted by the Halfway House Bar & Grill. Registration Friday night, Jan 20th. Saturday registration at 7AM, Derby starts at 8AM. Sunday awards and raffle prizes. $20 entry fee. For more information call 406-295-4358.

January 28, 2017: Libby Area Chamber of Commerce Fundraiser – "Wild Montana Nights" Libby Memorial Events Center. Doors open at 5PM, dinner served at 7:30PM. Live and silent Auction. Wear western attire. Get tickets from the Chamber office 406-293-4167.

January 28, 2017: Libby Spinning Squares Western Square Dance Marvin Speck caller, Lorrie Lane cuer. Asa Wood School (wood floor), 700 Idaho Ave in Libby. Admission $6/person, $3 for under 15. Plus at 7PM and Mainstream from 8-10PM.

February 4, 2017: Lincoln County Sno-Kats Fun Run Registration from 9-11AM at 17 Mile. Dinner at 5PM in the VFW Community Room. For more information call Dave, 406-293-8307.

February 10, 2017: Rotary Wine Tasting At the Libby Memorial Event Center. Doors open at 6PM, Tasting starts at 7PM. Tickets available at Venture Inn, Homesteaders, Rivermist, and Orthopedic Rehab. Prior to January 20, tickets $45/individual, $320/table of 8. After January 20, Individual tickets $45, Table of 8 $360.

February 25, 2017: Libby Spinning Squares Mardi Gras Square Dance Adam Christman caller, Justine Litzko cuer. Asa Wood School (wood floor), 700 Idaho Ave in Libby. Admission $6/person, $3 for under 15. Plus at 7PM and Mainstream from 8-10PM.

Related Links:
LibbyMT.com calendar of events

---
2017 National Christmas Tree to come from Kootenai National Forest (posted 12/27/16)
LibbyMT.com
The Kootenai National Forest (KNF) will have the honor of supplying the 47th National Christmas Tree for the U.S. Capitol in Washington D.C. in 2017. This is the second time the KNF has supplied trees for federal grounds at the Capitol – the last time was in 1989. The 2016 National Christmas Tree was an 80 foot Engelmann Spruce that came from the Payette National Forest in Idaho. The requirements for the Christmas tree are that it must be 65 to 85 feet tall.
---
Events in Eureka (posted 12/23/16)
December 24: "A Montana Christmas Carol" A unique Montana adaptation by Morgen Reynolds inspired by Charles Dickens' classic story. At the Creative Arts Center which is co-sponsoring event 2pm Admission by donation. Funds raised support scholarships for youth in the Tobacco Valley.

January 6, 2017: Cascade Quartet brings their lovely sound to the Tobacco Valley in the third concert of the Sunburst Performing Arts Series season. 7pm at LCHS auditorium. $12/adult and students 18 and younger for free.

January 21, 2017: The 2nd Annual Tobacco Valley Robert Burns Dinner at Four Corners Restaurant. Tickets for this event go on sale 12/19. You can mail in your check to our Eureka office or stop by. The $30/person includes a four-course meal, beverage to toast and great entertainment. Last year's Robert Burns Dinner was such a success that we sold out before mid-January so please order your tickets soon.

Are you an artist or artisan interested in learning how to improve your business? Montana Arts Council is taking applications now for their Montana Artrepreneur Program in Lincoln County. For more information, visit their website and submit your online application today: https://art.mt.gov/map

For more information contact:
Sunburst Community Service Foundation
PO Box 1863
Eureka, MT 59917
Rita: 406-297-0197

---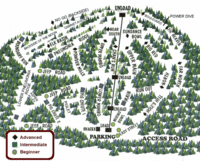 Turner Mountain Ski Area, located 22 miles from Libby.

Turner Mountain Ski Hill opens December 23 for 2016-2017 winter season (posted 12/22/16)
Steep, Deep and Cheap!
Turner Mountain Ski Area is expected to open on Friday, December 23 for their 2016/2017 winter season. They will be open December 23rd & 24th, then closed on Christmas Day. After Christmas, they will be open daily through January 2nd.

Turner is a small, but amazing local ski hill located about 22 miles from Libby, Montana on the Kootenai National Forest in western Montana. It has 22 named runs, 60% of which are Black Diamond. 30% are rated More Difficult, and 10% Beginner. Less than 50% of the runs are groomed. They have one double chair lift that goes from 3,842 feet to the summit at 5952 feet. The vertical drop is 2,110 feet. An adult day pass at Turner costs $37.
The ski area is run by volunteers. The mountain is open to the public for three days a week during the winter season, Friday through Sunday. Hours are 9:30AM to 4PM. They have a base lodge with full service snack bar. Skiers can go pretty much right from the parking lot to the ski lift, no fighting crowds or long waits to get on the chairs. A normal day sees about 100 people. Avid ski enthusiasts can even rent the entire ski hill for a day for special occasions on non-operational days. If you love Black Diamond powder skiing, their slogan pretty much summarizes this treasure of a wonderful local ski hill: "Steep, Deep and Cheap!"

2016 Holiday Schedule:
Open: Dec.23rd and 24th
Closed: Christmas Day
Open Daily Dec.26th thru Jan. 2nd

Lift Ticket Prices
2016/2017 Season

Child 0-6 Years Old – free

7-12 years Junior
Half Day: $15
Day: $20
Season: $260
5-Day Voucher: $80

13-18 Years old
Half Day: $20
Day: $25
Season: $325
5-Day Voucher: $100

Adult
Half Day: $32
Day: $37
Season: $480
5-Day Voucher: $150

Senior 62 years, student with ID & Active Duty Military with ID
Half Day: $25
Day: $30
Season: $390
5-Day Voucher: $120

Family Season Pass (4 persons, 2 Adults+ 2 Children, each additional child $100 each)
$1250

5-day vouchers are only sold through Dec.24th

Gift Certificates, 5-Day vouchers, and season passes are available at:
the office of Bruce Zwang, CPA, 519 California Ave, Libby
Libby Sports Center, 204 West 9th Street, Libby

Directions
Turner Mountain Ski Area is located 22 miles North of Libby, Montana on Pipe Creek Road. Libby is serviced by Amtrak and commercial flights are available into Kalispell/Whitefish, MT, and Spokane, WA.

Distances to Turner
Libby, MT: 22 miles
Spokane, WA: 181 miles
Coeur d'Alene, ID: 150 miles
Missoula, MT: 213 miles
Kalispell, MT: 110 miles
Whitefish, MT: 126 miles
Eureka, MT: 89 miles

Ski Turner Equipment Rentals
Turner rents skis, snowboards, and boots to fit you from tiny tots up to size 15 or 16 boots or so. Also do tuning & hot wax, apparel and accessories. The rental shop is located in the lower level of the lodge. Hot Wax $10 -Tune-ups and p-tex also available.

Ski & Snowboard School
Ski and Snowboard lessons available on Saturdays from 10am and 1pm
Cost: $20 for two hour lesson.
Instructor: Chad Munro

Learn to Ski in 3!
Learn to ski and snowboard at Turner Mountain. It's as easy as 1-2-3
3 – Day Lift Tickets
3 – Daily Equipment Rentals
3 – Two-Hour Lessons
$90 (all ages). Use any Saturdays this season – you choose. Non-tranferrable. For beginners only. Heidi Tauber Learn to Ski/Snowboard Program.

For more information:
Website: www.skiturner.com
24-hour Snow Phone: (406) 293-2468
General information: contact@skiturner.com
Hill Rental information: hillrental@skiturner.com

Related Links:
Steep & Cheap By Justin Franz, Flathead Beacon, Feb. 24, 2016

---
Libby lies in the northwest corner of Montana and is nestled in a valley carved by the Kootenai River on the flank of the majestic Cabinet Mountain Range and Wilderness Area. Today about 2,800 people live within Libby proper. The main industries are lumber and wood products, mining, tourism and recreation. The movies "The River Wild" and "Always" were filmed here. Contact the Libby Chamber of Commerce for brochures, info on lodging and events, general area information, and contact information for local businesses and services.
SUMMER
When the weather warms and the mountain snows melt away, the Kootenai National Forest comes alive with over 2.2 million acres of public land as a playground. Mountain trails and lakes open up, beautiful wildflowers come in bloom, and wildlife have their young. Libby is the basecamp for the Cabinet Mountains Wilderness Area, 90-mile long Lake Koocanusa, the Northwest Peaks Scenic Area, and the Ten Lakes Scenic Area. There is good access to most of the Forest and plenty of room to get away from it all!
WINTER
Winter in Montana means snow, and lots of it! For those who love to play in the deep powder, the Libby area offers tremendous winter fun. Turner Mountain Ski Area, located just 22 miles from Libby, offers challenging downhill skiing with a beautiful view. Their slogan is "steep, deep and cheap", and Turner definitely lives up to that. It's still fairly undiscovered, so you can escape the crowds and get the cheapest lift tickets around. For those who love snowmobiling, there are hundreds of miles of backcountry roads to sled on in the Kootenai National Forest. Cross-country skiers and ice fishermen also can find solitude on a lake and miles of quiet forest trails to enjoy the outdoors. Those who are a bit on the wild and crazy side will love the antics of the Libby Polar Bear Club. Members take winter-time "swims" in frigid Libby Creek every Sunday from October to April. Plungers have ranged in age from 3 to 61. As long as the ice can be broken on the creek, if it has formed, the group will take their plunge, no matter the temperature.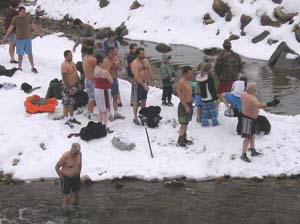 These people must be craaaazzzzzy!
Libby Polar Bear Club