News:
Heritage Museum end-of-season celebration Sept 23 (posted 9/17/17)
Heritage Museum end-of-season celebration Sept 23
The Heritage Museum is holding an end-of-season celebration and ribbon-cutting ceremony this Saturday, September 23, from 10:00 a.m. to 6:00 p.m. The day is packed: there's a pie baking contest in the morning (drop off pies 10:00 a.m. to noon with judging from noon to 1:00 p.m.), working yard exhibits from 10:00 a.m. to 1:00 p.m., outside vendors and cook shack open all day, ribbon cutting of the new pavilion at 1:30 p.m. (and the chance to name the new pavilion), Rural 508 Band from 2:00 to 6:00 p.m., and live speakers, gift shop and museum open all day.

And while you're there, be sure to revisit the outside exhibits. Many have been newlysigned over the summer, with the name and a short description of what the various artifacts were used for. The new signs are a result of a $5000 grant the museum received from the Montana History Foundation to improve information about the outdoor exhibits.

The grant was written by Sherry Turner and implemented by Marge Kroeger, both of whom sit on the Grants committee of the Heritage Museum. Grant work will be completed by next spring, which includes about 120 small black and white signs posted on each artifact. Three large 4'x3' interpretive signs will also be installed telling the history of mining, logging and agriculture in our area. Visitor comments have been positive about the new signs; learning the names of the items and how they were used adds to our historical perspective and appreciation.
Not only is the museum installing informational signs on equipment and buildings, but work is continuing on the Shay steam locomotive, farm equipment has been newly painted in original colors, an additional parking area has been developed, and of course, the new pavilion has been completed, courtesy of volunteers.

This promises to be another fun, family-friendly event, courtesy of the Heritage Museum and the many community volunteers and donors who keep it going.
Related Links:
www.libbyheritagemuseum.com

---
Weyerhaeuser closes lands in western Montana to all public access (posted 9/6/17)
Due to Extreme Forest Fire Danger
Montana Fish, Wildlife & Parks media release
Weyerhaeuser Company today (Tuesday, Sept 5, 2017) announced effective immediately that all its lands in Flathead, Lake, Lincoln, Missoula, Sanders and Ravalli counties in western Montana are closed to public access due to the extreme forest fire danger. The closure will remain in effect until further notice. For further information, please contact the Weyerhaeuser office at 406-751-2400.

---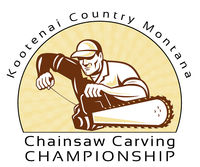 Chainsaw Carving Championship Sept. 15-17

Kootenai River Country 1st International Chainsaw Carving Championship coming to Libby Sept. 15-17, 2017 (posted 8/29/17)
Kootenai Country Montana is bringing 15 of the world's finest chainsaw artists to Libby, Montana to compete for more than $10,000 in total prize money.

The event is scheduled for the weekend of September 15-17, 2017 in Libby. Carvers will work Friday, Saturday, and Sunday morning on their competition pieces with short "quick-carve" breaks. The quick-carve pieces will be available for public auction during the competition. The event will also feature a special Artists' Reception & Auction on Saturday, with special pieces created by the competitors available for bidding and purchase. The competition will be held at the north end of Mineral Avenue in downtown Libby.

The buzz of chainsaws and the smell of fresh sawdust will fill the air in Libby as the world's finest carvers come together to compete for the title of Kootenai Country Montana Chainsaw Carving Champion.

Fifteen of the world's finest chainsaw artists have agreed to come to Libby to test their skills against each other in pursuit of the first-ever Kootenai Country Montana championship. The competitors include carvers from all across the United States, as well as two from the United Kingdom and one from Japan.

The competition will be an intense, three-day affair with the artists carving not only their competition masterpiece, but also engaging in several hour-long "quick carve" events during scheduled breaks.

The competition will be held on the street, allowing the public to watch the artists at work.

The idea for a chainsaw carving contest in Kootenai Country Montana came from Ron Adamson, a sculptor and carver from Libby, who will also be competing in the championship. Adamson approached Paul Bunn, owner/operator of Libby's Venture Inn and Country Inn with the idea in January 2017. Bunn, who started Kootenai Country Montana as a means of introducing the beauty of Libby and the surrounding area to a broader national audience, recognized the potential of a chainsaw event in Libby and immediately embraced the idea.

"Everything we do with Kootenai Country Montana – the magazine, the website, the events we promote – it's all about showing off the special qualities of this place we call home," Bunn said. "A world-class chainsaw carving contest fits perfectly with the cultural heritage of this area. This is, more than anything else, a timber town. It was built by the timber industry. Chainsaw carving is an art form that grew out of that industry and heritage. This championship is an homage to the heritage."

Bunn enlisted veteran carver and contest organizer Steve Backus of Bigshot Wood Carving to help put the contest together. Backus, with more than 35 years of experience in the carving world, immediately went to work lining up the slate of competitors.

To help promote the event throughout the international carving community, Backus brought in veteran carver and show promoters Rick and Liz Boni. The Bonis run the annual Ridgway Rendezvous chainsaw contest in Ridgway, Pennsylvania, one of the biggest and most popular chainsaw events in the world.

"This is an event that will help showcase the natural beauty of Kootenai Country Montana and help to bring more people to our neck of the woods," Bunn said. "What could possibly be more distinctly Montana than chainsaw art? And what could be better than bringing the very best in the world to the world's most beautiful place for a live carving championship? We're sure this will be an event we'll be holding for as long as we can foresee."

For more information contact bob@kootenaicountrymontana.com or call 406-578-4227, or see the website www.carvemontana.com.

Schedule
Friday, Sept. 15, 2017
8:00AM Competitive carving begins
10:45AM – 11:00AM Break
11:00AM – 12:30PM First quick-carve
12:30PM – 1:30PM Lunch break
1:30PM – 6:00PM Competitive carving

Saturday, Sept. 16, 2017
8:00AM Competitive carving
10:45AM – 11:00AM Break
11:00AM – 12:30PM Second quick-carve
12:30PM – 1:30PM Lunch break
1:30PM – 6:00PM Competitive carving
7:00PM – 10:00PM Artists' Reception and Auction – Libby Memorial Events Center

Sunday, Sept. 17, 2017
8:00AM – 11:00AM Last competitive carving session
11:00AM – 11:15PM Break
11:15AM – 12:30PM Final quick-carve
12:30PM – 1:30PM Lunch
1:30PM Award ceremony and auction of competition pieces

---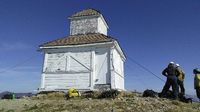 Stahl Lookout was wrapped with fire protective material as a precautionary measure should the Gibralter Ridge Fire move in that direction. Photo by Annora Nelsoa.

Gibralter Ridge Fire update – Aug. 29, 2017 (posted 8/29/17)
Burning near Eureka, Montana - 5,112 acres, 27% contained
The Gibralter Ridge Fire is burning 7 miles east of Eureka, Montana. As of the time of this report, this fire was at 5,112 acres and 27% contained. Structures and residences are threatened by this fire. Residents remain in pre-evacuation and pre-evacuation warning status.

The fire is under the management of RJ McDole (Incident Commander) and Jason Sunell (Incident Commander Trainee) is a Type 3 Incident Management organization. They assumed command of the fire at 6 p.m. on Tuesday August 22. The fire sat at about 3,564 acres at that time. On Thursday (August 24) strong southwest winds pushed the fire about 1500 acres to the northeast. It spotted across the ridge systems and burned together higher on the ridge. It has continued to burn down towards Grave Creek Road which is an effective fuel break. Yesterday (Monday, August 28) a spot fire was found on the west facing slope above Grave Creek; it was dampened with helicopter water drops.

History: The Gibralter Ridge Fire was one of several fires in the greater Eureka, Montana area. These fires were caused by lightning late Monday night (August 7th). The Gibralter Ridge Fire grew overnight to approximately 900 acres and was threatening structures and residences to the east of Eureka, Montana.

Click on this link for more updates: https://inciweb.nwcg.gov/incident/5474/

---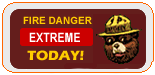 Fire danger is rated Extreme

Hunters and recreationists are urged to be extra careful (posted 8/29/17)
Fire danger is Extreme
U.S. Forest Service
Fire danger in Northwest Montana continues to be extreme. Hot, dry, windy conditions are expected, so wildfire prevention must be the top priority for all early season hunters in Montana.

The Northwest Montana Zone of Fire Management Agencies is asking Montana hunters to help prevent additional fires during this extreme fire season. Upland bird season opens September 1 and archery season opens September 2. Montana Fish, Wildlife and Parks; Montana Department of Natural Resources and Conservation; the National Forests of Northwest Montana; and northwest Montana counties are joining together to urge hunters to exercise extreme caution and to be aware of area closures.

Days are getting shorter, nights are getting cooler, and typically fire season is waning when fall hunts begin. But weather patterns in Northwest Montana are showing no relief from extreme fire danger, and being fire conscious should be a top priority for all hunters heading out to the field.

When the fire danger is rated "extreme", fires of all types start quickly and burn intensely. Forest fuel conditions remain extremely dry and any ignition has the potential to spread quickly. Small fires become large fires much faster than at the "very high" fire danger rating. Spot fires are probable, with long-distance spotting likely. These fires are very difficult to fight and may become very dangerous, often lasting for several days.

Stage II fire restrictions remain in effect for most of Western Montana and the following acts are prohibited:

•Building, maintaining, attending, or using a campfire in any setting.
•Smoking, except within an enclosed vehicle or building, a developed recreation site or
while stopped in an area at least three feet in diameter that is barren or cleared of all flammable materials.
•Woods operations are under "Hoot Owl". This means woods operations including felling, bucking, and skidding of trees, firewood cutting, machine-piling brush, road building, blasting, and welding after 1:00 pm, and there must be a patrol for a minimum of 1 hour after these operations cease. "Hoot Owl" procedures are intended to minimize the potential for a fire start from the use of internal combustion engines.
•Operating motorized vehicles off designated roads and trails.

Hunters and recreational users are urged to be prepared: carry a shovel, bucket, axe, and garden-type weed sprayer full of water in all vehicles; drive only on established roads; take care to ensure that catalytic converters and mufflers are in good repair; and do not stop or park vehicles over grass or brush.

Some areas near active fires are currently closed to access until the fire danger subsides. Hunters should let family members know where they are going, so if a fire starts nearby, a safety net is in place who can let authorities know they are in the area. Do not park in front of a gate, firefighters may need access to that road to respond to a wildland fire.

For more information regarding wildland fire safety, campfires, and fire restrictions on Montana's forested lands in Northwest Montana, please contact your local DNRC, Forest Service, or FWP office, or visit https://www.facebook.com/FlatheadOES for the daily interagency fire fact sheet.

---
Additional Hunter Education classes scheduled for NW Montana (posted 8/29/17)
Montana Fish, Wildlife & Parks (FWP) is offering additional hunter education classes for northwest Montana. Students must be at least 10 years old to register for a hunter education class; there is no maximum age limit. Any person born after January 1, 1985, must show a certificate of completing a hunter education course to purchase a hunting license in Montana. Classes are free of charge. ALL students must register online for hunter education courses. Check FWP's website at fwp.mt.gov under Hunter Education for timely updates. When registering, students should take note of specific information and requirements for each course, which is included in the online posting.

Eureka, at Eureka Middle School:
Classroom – September 5, 11, 12, 14, 18, 19, 21 (7pm-9pm)
Field Day – September 16 (8am-1pm)
Contact – Megan Strom, 406-297-7909

St. Ignatius, at St. Ignatius Church
Classroom – September 7, 8, 11, 12, 13 (6pm-8:30pm)
Field Day – TBA
Contact – Robert Larsson, 406-546-9015

Trego, at Trego School
Classroom – September 11, 18, 19, 21, 25, 26, 28 (7pm-9pm)
Field Day – September 23 (9am-noon)
Contact – Tim Their, 406-882-4697

Columbia Falls, at Columbia Falls High School
Classroom – September 14 (6pm-8pm), 28, October 2, 3, 5, 9, 10, 12, 16 (7pm-9pm)
Field Day – October 14 (8am-4pm)
Contact – John Kropp, 406-250-1963

Bigfork, at Bigfork High School
Classroom – September 20 (7pm-8pm), 25, 27, 29, October 3, 5, 9 (6pm-8pm)
Field Day – October 7 (9am-1pm)
Contact – Rod Day, 406-249-5402

---
Libby lies in the northwest corner of Montana and is nestled in a valley carved by the Kootenai River on the flank of the majestic Cabinet Mountain Range and Wilderness Area. Today about 2,800 people live within Libby proper. The main industries are lumber and wood products, mining, tourism and recreation. The movies "The River Wild" and "Always" were filmed here. Contact the Libby Chamber of Commerce for brochures, info on lodging and events, general area information, and contact information for local businesses and services.
SUMMER
When the weather warms and the mountain snows melt away, the Kootenai National Forest comes alive with over 2.2 million acres of public land as a playground. Mountain trails and lakes open up, beautiful wildflowers come in bloom, and wildlife have their young. Libby is the basecamp for the Cabinet Mountains Wilderness Area, 90-mile long Lake Koocanusa, the Northwest Peaks Scenic Area, and the Ten Lakes Scenic Area. There is good access to most of the Forest and plenty of room to get away from it all!
WINTER
Winter in Montana means snow, and lots of it! For those who love to play in the deep powder, the Libby area offers tremendous winter fun. Turner Mountain Ski Area, located just 22 miles from Libby, offers challenging downhill skiing with a beautiful view. Their slogan is "steep, deep and cheap", and Turner definitely lives up to that. It's still fairly undiscovered, so you can escape the crowds and get the cheapest lift tickets around. For those who love snowmobiling, there are hundreds of miles of backcountry roads to sled on in the Kootenai National Forest. Cross-country skiers and ice fishermen also can find solitude on a lake and miles of quiet forest trails to enjoy the outdoors. Those who are a bit on the wild and crazy side will love the antics of the Libby Polar Bear Club. Members take winter-time "swims" in frigid Libby Creek every Sunday from October to April. Plungers have ranged in age from 3 to 61. As long as the ice can be broken on the creek, if it has formed, the group will take their plunge, no matter the temperature.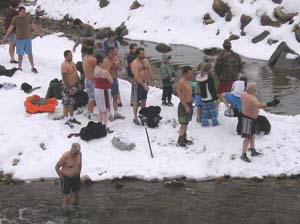 These people must be craaaazzzzzy!
Libby Polar Bear Club