News:
LCC offers Continuing Education Class for youth and adults (posted 3/2/2021)
Flathead Valley Community College's Lincoln County Campus (LCC) is offering a fresh line-up of non-credit classes for adults and youth this spring. Classes are taught be local experts and mostly occur at the LCC campus in Libby.

The March schedule includes these classes:

"Teach Me to Sew" runs Mondays, March 8 to April 19, with separate sessions for specific age groups.

"Little Known Scholarship Opportunities" runs March 16 and 23 for anyone interested in applying for college scholarships.

"Fashion Illustration" meets on Wednesdays, March 17-21, with separate sessions for students ages 14 to 15 and 16-18.

"Make an Infinity Scarf" runs Saturday, March 20 for students ages 14 and older.

"Pottery I" runs Mondays, March 22 to April 26 for adults.

Many additional classes begin in April. For more information and to view the complete schedule of classes offered this spring, visit www.fvcc.edu/lcc and click on "Non-Credit Course Schedule," or contact LCC at (406) 293-2721 or lccinfo@fvcc.edu for assistance.

---
Archery Club shoots in May (posted 3/2/2021)
Libby Archery Club will be hosting two shoots in May.

Traditional Shoot – May 1 & 2
More Info

Fisher River Shootout – May 8 & 9
More Info

Related Links:
Libby Archery Club Facebook page

---
Art & Music events scheduled in Eureka (posted 3/2/2021)
St. Patrick's Day online concert Featuring a variety of local musicians. Free concert sponsored by Sunburst Arts & Education. Donations accepted. Details for the concert will be available mid-March.

Eureka Post Office Art Show Feature artist is Marie Stoeckley. Marie's art is at the Eureka Post office through March 11, 2021, and then moves to the Trego and Fortine post offices through April. If you are interested in purchasing any of Marie's works, contact Sunburst A&E at 406-297-0197 for information.

School Art Shows Sunburst has begun a new program taking themed art shows to Trego and Fortine schools. Each school has paintings by local artists for two weeks, along with materials to offer ideas for teaching across curricula. The most recent show featured images from the Tobacco Valley, including Pinkham School, the Historic Village, downtown Eureka and the Eureka Quilt Show. The next shows will be installed in May.

Sunburst Summer Concert Series Five free community concerts. The series will begin on June 27th. The lineup is still to be announced. Check the Sunburst website, www.sunburstarts.org/ for details on the series.

For more information about these events, contact Sunburst Arts & Education, PO Box 2018, Eureka, MT 59917, 406-297-0197.

---
Hunting & fishing regulations online (posted 3/2/2021)
Montana Fish, Wildlife & Parks has posted regulations for Dear/Elk/Antelope and Moose/Sheep/Goat online at fwp.mt.gov/hunt.

The deadline to apply for deer and elk permits is April 1. Hunters should verify their application prior to submission, as changes after submission will not be permitted. Permits will be printed and mailed to hunters after the drawing.

When making license purchases online, please remember that licenses and carcass tags may be printed from your home printer on 8.5x11-inch paper, if you elect the print at home option. If the print-at-home option is selected, customers will receive an email at the conclusion of their online transaction that includes a weblink to print their licenses and tags. The link is valid for five days. Please be certain that your printer is functional prior to clicking the link in the email.

Alternatively, customers may elect to have FWP print and mail their licenses and tags. License and permit purchases requiring a decal/clip will be mailed within 10 days of purchase or successfully drawing the license.

License replacements/reprints are $5 each. The first replacement can be done at any license provider; subsequent replacements must be done at a FWP office.

---
Montana hunting and fishing licenses on sale (posted 3/2/2021)
Hunting and fishing licenses went on sale March 1st in Montana. Hunters can also start applying for moose, sheep, goat, bison, deer B, elk B, and antelope. Remember to purchase your pre-requisite licenses, i.e. conservation, base hunting, general deer, and/or general elk, depending on the permits or licenses you are applying for. Licenses are available for purchase at any license provider, FWP office and online. Additional information available at fwp.mt.gov/hunt. A helpful hunt planner is available online here.
---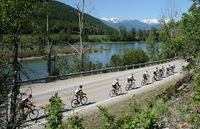 STOKR, the annual Scenic Tour of the Kootenai River bike ride comes to an end after 25 years.

STOKR comes to an end (posted 1/24/2021)
LibbyMT.com
After 25 years, the organizers of STOKR, the Scenic Tour of the Kootenai River bike ride, have decided to end the event. Due to COVID-19 pandemic, they had to cancel the event in 2020. As the pandemic health restriction continued into 2021, they were faced with cancelling again in 2021. They considered a September date, but ultimately decided that, after 25 years, the main organizers were ready to move on with retirement and other things, and it was time to end the Mother's Day weekend event.

STOKR has been a fundraiser for Habitat for Humanity in Libby. It took two STOKRs to build one house, and riders often volunteered to help with the house building each year. STOKR might be over, but the Board will be looking at new fundraising endeavors. Building will continue. There is a house under construction in Woodway Park this summer. And in the even years, the affiliate will still do the renovation program, "A Brush with Kindness."

Below is a message from organizers Susie and Greg Rice:
"Between the pandemic -- which is preventing us from scheduling in May -- and Greg retiring on January 29, we have made the tough decision to end STOKR. Although we do have a web of people who help with the event, it is Greg and I who have pulled it all together for 25 years. The Habitat Board has looked at what it would take to pull it off and doesn't feel they can do it.

There is talk of a gravel grinder/mountain bike event in the fall. If you are interested in the possibility of that type of ride in our beautiful corner of Montana, please email: stokrmama@gmail.com

Thanks to all of you who have participated in STOKR over the years. Fourteen families are safely and affordably sheltered because some crazy bikers came to Libby to go for a ride! Bless you!! If you'd like to come and ride some summer and have time to pound some nails or paint or shingle a roof, let us know and we'll put you to work!"
- Susie and Greg Rice

Related Links:
www.stokr.org STOKR

---
Libby Real Estate news – 2020 in review (posted 1/21/2021)
Alice Hayes, Team Hayes Realtors
2020 started as a very busy year. And then COVID-19 hit and we were having rather limited physical contact with clients, with the majority of our work being done from home. As the year progressed, people became more comfortable with the 'new normal'- and the number of people wanting to move to our area - we saw many of our properties spending very little time on the market - and a number of our long-time listings moving to new owners.

How has the Market been in 2020?
1/1/2020 - 12/31/2020 Real Estate Figures Were:
Residential SALES - 221:
Libby - 143
Troy - 66
Yaak - 12

Land SALES - 130:
80 Libby – 80
Troy – 37
Yaak - 13

Commercial/Multi-Family SALES - 6:
Libby – 5
Troy - 1

Residential PENDING - 27:
Libby – 15
Troy – 12
Yaak - 1

Land PENDING - 24:
Libby – 11
Troy – 9
Yaak - 4

Commercial/Multi-Family PENDING – 0

Residential ACTIVES - 33:
Libby – 21
Troy – 9
Yaak - 3

Land ACTIVES - 109:
Libby – 63
Troy - 42
Yaak - 4

Comm/Multi-Fam ACTIVES - 13:
Libby – 8
Troy – 1
Yaak - 4

Interest rates are truly amazing! Now could be a great time to purchase.
As of 12/31/2020 - Conforming & FHA Loans:
Per Quicken 30-Year Fixed: Interest/2.65%; APR/2.810%
15-Year Fixed: Interest/2.000%; APR/2.356%

With the 'rush to buy' in Montana, our Inventory of Listings is at an all-time low! We are looking for listings to share with our buyers. If you have considered selling your home, we would like to visit with you and give you some ideas of how we can help. And you never know - we just might have a very qualified buyer 'waiting in the wings'.

Contact us for more information:
OFFICE #: 406-293-2725
Alice: 406-293-8364, alice@alicehayes.com
Jim: 406-293-1926, jim@alicehayes.com
www.teamhayesrealtors.com

---
Libby lies in the northwest corner of Montana and is nestled in a valley carved by the Kootenai River on the flank of the majestic Cabinet Mountain Range and Wilderness Area. Today about 2,800 people live within Libby proper. The main industries are lumber and wood products, mining, tourism and recreation. The movies "The River Wild" and "Always" were filmed here. Contact the Libby Chamber of Commerce for brochures, info on lodging and events, general area information, and contact information for local businesses and services.
SUMMER
When the weather warms and the mountain snows melt away, the Kootenai National Forest comes alive with over 2.2 million acres of public land as a playground. Mountain trails and lakes open up, beautiful wildflowers come in bloom, and wildlife have their young. Libby is the basecamp for the Cabinet Mountains Wilderness Area, 90-mile long Lake Koocanusa, the Northwest Peaks Scenic Area, and the Ten Lakes Scenic Area. There is good access to most of the Forest and plenty of room to get away from it all!
WINTER
Winter in Montana means snow, and lots of it! For those who love to play in the deep powder, the Libby area offers tremendous winter fun. Turner Mountain Ski Area, located just 22 miles from Libby, offers challenging downhill skiing with a beautiful view. Their slogan is "steep, deep and cheap", and Turner definitely lives up to that. It's still fairly undiscovered, so you can escape the crowds and get the cheapest lift tickets around. For those who love snowmobiling, there are hundreds of miles of backcountry roads to sled on in the Kootenai National Forest. Cross-country skiers and ice fishermen also can find solitude on a lake and miles of quiet forest trails to enjoy the outdoors. Those who are a bit on the wild and crazy side will love the antics of the Libby Polar Bear Club. Members take winter-time "swims" in frigid Libby Creek every Sunday from October to April. Plungers have ranged in age from 3 to 61. As long as the ice can be broken on the creek, if it has formed, the group will take their plunge, no matter the temperature.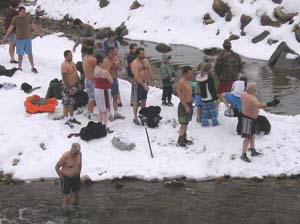 These people must be craaaazzzzzy!
Libby Polar Bear Club