News: 4th of July in Yaak (posted 6/10/2021)
This year the Yaak Community will be reading the Declaration of Independence in front of the Yaak Community Center on the Yaak River Road (mile marker 33) at 2 PM. There is a bike parade that will begin at the Yaak Mercantile at 1 PM and end at the Yaak Community Center in time for the reading.

We believe that this year it is critical to remind our citizens the real reason for the 4th of July holiday by reading our country's most sacred document.

---
Invasive mussels found on 21 boats already this season (posted 5/24/2021)
Montana Fish, Wildlife & Parks
Montana's aquatic invasive species program is preparing for a busy season.

Watercraft inspectors have intercepted 21 mussel-fouled boats so far; the latest boat was stopped at the Broadus watercraft inspection station on Wednesday, May 19. Inspectors found dry and dead mussels on a commercially hauled outboard motorboat from Ohio that was destined for Washington state.

On May 18, an outboard motorboat from Lake Michigan was intercepted at the Wibaux inspection station. The boat owner had recently purchased the used boat and intended to launch in Washington state the next day.

Inspectors conducted a hot water decontamination on each boat before releasing them and notifying officials in Idaho and Washington.

When boat owners follow the practice of "Clean-Drain-Dry" they can prevent the spread of aquatic invasive species.

Invasive zebra and quagga mussels can be transported on boats in the adult or larvae life stage. Adult mussels have hairs called byssall threads that allow them to attach to structures under water, such as boat hulls and motors. Adult mussels can survive out of water for 30 days. Microscopic mussel larvae can float unseen in water found in bilges, ballast tanks and live wells.

Boaters must stop at all watercraft inspections stations they encounter. All watercraft (motorized and non-motorized) coming into Montana from out of state must be inspected. This includes Montana residents returning from a fishing or boating excursion out of state. Failure to stop at inspection stations could result in a fine of up to $500.

Learn more at CleanDrainDryMT.com or call the FWP Aquatic Invasive Species Bureau at 406-444-2440.
---
All boats must stop at all Watercraft Inspection Stations (posted 5/24/2021)
Boats are inspected for aquatic invasive species
Montana Fish, Wildlife & Parks
Memorial Weekend is the unofficial start to summer in Montana and as boaters venture out to our rivers and lakes, please keep in mind the rules aimed at protecting our waters and preventing the spread of aquatic invasive species.

All boats must stop at all open watercraft inspection stations they encounter. Failure to stop at inspection stations could result in a fine of up to $500.

All watercraft coming into Montana from out of state must seek out an inspection prior to launching.

Non-residents transporting watercraft into Montana must purchase a Vessel AIS Prevention Pass before launching. The fee is $30 for motorized and $10 for non-motorized watercraft. The pass is valid until Dec. 31.

All watercraft travelling west across the Continental Divide must be inspected.

All watercraft launching anywhere within the Flathead Basin that were last launched on waters outside of the Flathead Basin must be inspected.

Watercraft leaving Tiber Reservoir must be inspected at an FWP decontamination station.

Montana Fish, Wildlife & Parks and partner agencies operate more than 25 road-side watercraft inspection stations across the state. Typically, boat inspections are brief and include a short interview and check to make sure watercraft are not transporting mud, water, plants or invasive organisms. Larger or more complex boats may require additional time for an inspection.

Watercraft owners can make their inspection quick and easy if they consistently practice Clean, Drain and Dry every time they leave an access area:
- Clean all mud and debris from the watercraft and trailer.
- Pull drain plugs and make sure all compartments, bilges, ballasts and livewells are drained.
- Allow time for watercraft and gear to dry before the next trip.

FWP inspectors and enforcement staff will be working hard to make sure everyone knows the AIS rules and have a safe and fun time on the water.

To find a watercraft inspection station or to learn more, go to CleanDrainDryMT.com or call the FWP Aquatic Invasive Species Bureau at 406-444-2440.
---
Big Game drawing results now available (posted 5/11/2021)
Montana Fish, Wildlife & Parks
The drawings for moose, bighorn sheep, mountain goat and bison licenses are complete. With the new online application process, FWP can complete the drawing much faster than in years past.

There are a few ways to get your drawing results. Visit fwp.mt.gov, click on MyFWP Login in the upper right-hand corner, then click on "Lookup Draw Results, Register for Lists" tab on the left-hand menu, or login to your MyFWP account. You may also sign up for an account at fwp.mt.gov/MyFWP. Applicants may also call any FWP Regional office or the licensing office at 406-444-2950.

Deadline reminders: The deadline to apply for elk B, deer B, and antelope is Tuesday, June 1. All applications must be completed online or at an FWP office. Most FWP offices with license sales are open Monday through Friday, from 8 a.m. to 5 p.m.

Nonresident hunters can sign up between May 15 and June 30 for Alternate's List
Beginning May 15 and running through June 30, nonresident hunters can register their name to the Alternate's List on MyFWP. Every year, Montana Fish, Wildlife & Parks gets several unused nonresident combination licenses (big game, general elk and general deer combination licenses) returned by customers. FWP resells these returned licenses through the Alternate's List.

The Alternate's List is an option for nonresident hunters to express their interest in purchasing one of these returned licenses by registering their name to this listing. A hunter can register to purchase their choice of only one nonresident combination license per year (big game, general elk, or general deer combination licenses). Once the list is randomized in mid-July and a license becomes available, the hunter in the uppermost randomized position on the list will be contacted by email to finalize the purchase of the license, and so on until the returned NR combo licenses are eventually exhausted.

Payment for the license fee is not required to sign up for the Alternate's List. If your randomized position falls at the top of the listing, you will be contacted by email with instructions on how to complete the purchase of the license. Being on this list or obtaining a license from this list has no effect on your existing preference points.

MyFWP also allows you to check where your position lands on this Alternate's List after the randomization process occurs in mid-July. Please be sure to check back after then.

The odds of getting a license from these lists vary greatly from year to year. Refunds and issuance may occur at any time after mid-July, but availability of these licenses increase between early fall and the opening of general hunting season in late October.

For more information, visit http://fwp.mt.gov/hunting/licensedraw/alternatesList.html

---
Libby Dam update - Public meeting planned (posted 4/26/2021)
Virtual public meeting May 13, 2021
Current Koocanusa Reservoir elevation: 2402.80 feet
Current Koocanusa Reservoir inflow: ~7 kcfs
Current Libby Dam outflow: 4.0 kcfs
Current Kootenai River elevation at Bonners Ferry: 1746.08 feet

A Public Meeting is scheduled for Thursday, May 13, 2021.

Libby Dam operations during April will be to gradually raise Lake Koocanusa to an end of month lake elevation of 2409.9 feet, as determined by the April Water Supply Forecast released on April 5, 2021. Libby Dam outflows will remain at 4 kcfs through the end of April.

Short term forecasts for Libby Dam elevations and inflow:
http://www.nwrfc.noaa.gov/river/station/flowplot/flowplot.cgi?lid=LYDM8

Short term forecasts for Libby Dam outflow:
http://www.nwrfc.noaa.gov/river/station/flowplot/flowplot.cgi?lid=KBDM8

Additionally, projected inflows and reservoir operations at Libby Dam through the fall can be found here:
https://www.nwd-wc.usace.army.mil/nws/hh/www/kot_esp.html

The U.S. Army Corps of Engineers is hosting a virtual Libby Dam annual operations public information meeting on Thursday, May 13, 2021 at 7:00-8:30 p.m. MDT (6:00-7:30 p.m. PDT). The Libby Spring Operations Meeting will be hosted by USACE Seattle Public Affairs. The meeting is expected to last about an hour and ½.
Link for webex meeting app:
https://usace1.webex.com/usace1/j.php?MTID=meda01e271dd4c73e7f43c03645344a24

Meeting number: 199 890 9442

Join by video system
Dial 1998909442@usace1.webex.com
You can also dial 207.182.190.20 and enter your meeting number.

Join by phone
+1-844-800-2712 US Toll Free
+1-669-234-1177 US Toll
Access code: 199 890 9442

---
Libby Real Estate news – April 2021 (posted 4/22/2021)
Alice Hayes, Team Hayes Realtors
How has the market been in 2021?
1/1/2021 - 03/31/2021 Real Estate figures were:
46 Residential SALES:
Libby - 33
Troy - 12
Yaak - 1

37 Land SALES: 37
Libby - 17
Troy - 16
Yaak - 4

Commercial/Multi-Family SALES: 0
Libby - 0
Troy - 0

Residential PENDING: 35
Libby - 25
Troy -7
Yaak - 3

Land PENDING: 45
Libby - 19
Troy - 23
Yaak - 3

Commercial/Multi-Family PENDING: 6

Residential ACTIVES: 42
17 Libby
18 Troy
7 Yaak

Land ACTIVES: 70
Libby - 45
Troy - 22
Yaak - 3

Comm/Multi-Fam ACTIVES: 11
Libby - 5
Troy - 2
Yaak - 3

2021 has continued as a busy year - but with the 'rush to buy' in Montana - our Inventory of Listings is at an all-time low! We are looking for Listings to share with our Buyers. If you have considered selling your home, we would like to visit with you and give you some ideas of how we can help. And you never know - we just might have a very qualified buyer or buyers 'waiting in the wings'.

Interest rates are truly amazing! Now could be a great time to purchase.
As of 03/31/2021 - Conforming & FHA Loans:
Per Quicken 30-Year Fixed: Interest/2.63%; APR/3.31%
15-Year Fixed: Interest/2.000%; APR/2.66%

Contact us for more information:
OFFICE #: 406-293-2725
Alice: 406-293-8364, alice@alicehayes.com
Jim: 406-293-1926, jim@alicehayes.com
www.teamhayesrealtors.com
417 Mineral Ave Ste. 1 in the Mineral Plaza
PO Box 276, Libby, MT 59923

---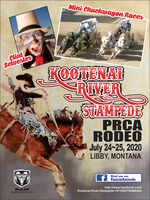 Kootenai River Stampede July 30 & 31 in Libby

2021 Kootenai River Stampede in Libby July 30 & 31 (posted 4/5/2021)
The 2021 Kootenai River Stampede will be held Friday and Saturday, July 30 & 31 in J. Neils Park in Libby, Montana. Formerly known as the Kootenai River Rodeo, the Kootenai River Stampede celebrates 18 years and continues to be Libby's summer tradition. With great entertainment for the whole family, people of all ages will enjoy watching the professional cowboys compete to win! This is a Professional Rodeo Cowboys Association (PRCA) event which includes saddle bronc riding, steer wrestling, team roping, bareback riding, bull riding, ladies breakaway roping, ladies barrel racing, and tie down roping. There will also be a beer garden, food vendors, craft vendors, and kids events.

2021 KRS PRCA Rodeo tickets are on sale now online.
Adults: $14 presale, $18 at gate
Veterans/Seniors 60 and up: $10 presale, $12 at gate
Youth 7-15 years old: $10 presale, $12 at gate
Age 6 and under: free
Click on this link for ticket information.

Find more information on their Facebook page:
https://www.facebook.com/kootenairiverstampede/

Kootenai River Stampede
PO Box 1473
Libby, MT 59923
krslibbymt@gmail.com

---
New ticketed entry system begun to drive Going-to-the-Sun Road (posted 3/31/2021)
Entry reservation tickets will be required to drive on Going-to-the-Sun Road between West Glacier and St. Mary in 2021. Visitors required to wear face masks in park facilities and buildings.
Glacier National Park - National Park Service
Today (Wednesday, March 31, 2021), Glacier National Park announces the decision to implement a Going-to-the-Sun Road temporary ticketed entry system for the 2021 season. Going-to-the-Sun entry reservation tickets will be
available at www.Recreation.gov starting April 29, barring any unforeseen delays.

The system will require visitors to set up an account on www.Recreation.gov and obtain a vehicle entry reservation ticket at ($2 nonrefundable fee) to enter the 50-mile long Going-to-the-Sun Road (GTSR) corridor at the West Glacier and St. Mary entrances between 6 AM and 5 PM from Memorial Day weekend through Labor Day weekend.

Entry reservation tickets will not be required for those with lodging, camping, transportation, or commercial activity within the GTSR corridor. Landowners with property within the GTSR corridor and affiliated tribal members are also not required to have a GTSR entry reservation ticket.

Glacier National Park saw record numbers of visitors in the last few years. This season is predicted to be one of the busiest on record.

"We have the making of a perfect storm this season," said Park Superintendent Jeff Mow. "Not only do we have ongoing COVID-19 mitigations and reduced staffing, but we are also facing construction delays inside and around the park."

In 2020, park officials implemented temporary closures 29 times in 25 days at the park's West Entrance which at times resulted in backups along Highway 2. The ticketed entry system offers visitors increased certainty that they will be able to enter the park while reducing or eliminating the need for closures at the park's west entrance.

"The goal is to maximize access while avoiding congestion that results in temporary closures of park entrance gates," says Mow.

Numbers will be tracked each day and additional entry reservation tickets will be available if there is additional capacity. There will be fewer entry reservation tickets available prior to the full opening of GTSR. When the road opens, the number of entry reservation tickets available will increase. The date for GTSR opening is unknown at this time and subject to weather and plowing progress. The park plans to start plowing GTSR on April 5.

About two-thirds of the entry reservation tickets will be released for 60-days advance purchase on a rolling window, and the remaining entry reservation tickets will be released for 48 hours advance purchase, also on a rolling window. For example, on June 2 a visitor could purchase entry reservation tickets 48 hours in advance for entry on June 4. They could also purchase an entry reservation ticket 60 days in advance for entry on August 2.

Additional information:
• The entrance fee for Glacier National Park is $35.00 per vehicle ($30 for motorcycles) and is good for seven days. The nonrefundable $2.00 GTSR entry reservation ticket is in addition to the entrance fee and is also valid for 7 days. Both are required to drive the Going-to-the-Sun Road. If you hold a valid Interagency Annual/Lifetime Pass or a Glacier National Park Annual Pass, you will only have to purchase the $2.00 nonrefundable GTSR entry reservation ticket.
• Visitors only need one entry reservation ticket per vehicle which will be valid for 7 days.
• Visitors who purchase a GTSR entry reservation ticket will receive an email confirmation from recreation.gov with an attached entry reservation ticket. Print out a copy of your entry reservation ticket or download on your mobile device or on the www.Recreation.gov mobile app prior to arriving at the park. All reservations are non-transferable and considered void if the reservation holder is not in the vehicle upon entering. A photo ID will be required by the reservation holder. If a visitor claims to have a valid Interagency Annual/Lifetime Pass or a Glacier National Park Annual Pass when making the reservation, the pass must also be shown at time of entry.
• GTSR entry reservation tickets are not required for any other portions of the park (for example Many Glacier, Two Medicine, North Fork, Cut Bank, Chief Mountain Highway), but visitors are still subject to the per vehicle entrance fee.
• Vehicles that arrive with reservations within the GTSR corridor such as at a campground, Lake McDonald Lodge, or a chalet do not need a GTSR entry reservation ticket for the dates listed on the reservation, but are subject to the per vehicle entrance fee Visitors who have reservations for commercial services such as a horseback ride, boat ride or guided hike or other permitted special use and commercial use also do not need a GTSR entry reservation ticket but are subject to the per vehicle entrance fee. Visitors must provide a copy of their reservation, along with a photo ID, as proof at the time of entry.
• If a visitor arrives at the West Glacier or St. Mary entrance without a GTSR entry reservation ticket, they will be turned away but can go online at www.Recreation.gov to see if an entry reservation ticket is available for that day. This may be possible if entry reservation tickets are not sold out.
• GTSR entry reservation tickets will not be sold at the park, and are only available online at www.Recreation.gov. Visitors will still be able to pay per vehicle entrance fees at the park.
• A GTSR entry reservation ticket does not guarantee a parking space. Parking will continue to be in demand at popular locations such as Avalanche, Logan Pass and St. Mary Falls areas.

In February, to protect the health of those who live, work, and visit national parks and National Park Service (NPS) facilities, and in support of President Biden's Executive Order on Protecting the Federal Workforce and Requiring Mask-Wearing, the NPS implemented a mask requirement for employees, visitors, partners and contractors. At Glacier National Park, face masks are required in all park buildings and facilities. Masks are also required on NPS-managed lands when physical distancing cannot be maintained, including narrow or busy trails, parking lots, pull-offs and overlooks.

When recreating, park visitors should follow local area and federal health orders, maintain social distance, and avoid high-risk outdoor activities. Please do not visit if you are sick or were recently exposed to COVID-19. Park staff will continue to monitor all park functions to ensure that visitors adhere to CDC guidance for mitigating risks associated with the transmission of COVID-19 and take any additional steps necessary to protect public health.

For more information visit the Glacier National Park website.

---
2020 Tax Day for individuals extended to May 17 (posted 3/17/2021)
Internal Revenue Service (IRS)
WASHINGTON — The Treasury Department and Internal Revenue Service announced today (Wednesday, March 17, 2021) that the federal income tax filing due date for individuals for the 2020 tax year will be automatically extended from April 15, 2021, to May 17, 2021. The IRS will be providing formal guidance in the coming days.

"This continues to be a tough time for many people, and the IRS wants to continue to do everything possible to help taxpayers navigate the unusual circumstances related to the pandemic, while also working on important tax administration responsibilities," said IRS Commissioner Chuck Rettig. "Even with the new deadline, we urge taxpayers to consider filing as soon as possible, especially those who are owed refunds. Filing electronically with direct deposit is the quickest way to get refunds, and it can help some taxpayers more quickly receive any remaining stimulus payments they may be entitled to."

Individual taxpayers can also postpone federal income tax payments for the 2020 tax year due on April 15, 2021, to May 17, 2021, without penalties and interest, regardless of the amount owed. This postponement applies to individual taxpayers, including individuals who pay self-employment tax. Penalties, interest and additions to tax will begin to accrue on any remaining unpaid balances as of May 17, 2021. Individual taxpayers will automatically avoid interest and penalties on the taxes paid by May 17.

Individual taxpayers do not need to file any forms or call the IRS to qualify for this automatic federal tax filing and payment relief. Individual taxpayers who need additional time to file beyond the May 17 deadline can request a filing extension until Oct. 15 by filing Form 4868 through their tax professional, tax software or using the Free File link on IRS.gov. Filing Form 4868 gives taxpayers until October 15 to file their 2020 tax return but does not grant an extension of time to pay taxes due. Taxpayers should pay their federal income tax due by May 17, 2021, to avoid interest and penalties.

The IRS urges taxpayers who are due a refund to file as soon as possible. Most tax refunds associated with e-filed returns are issued within 21 days.

This relief does not apply to estimated tax payments that are due on April 15, 2021. These payments are still due on April 15. Taxes must be paid as taxpayers earn or receive income during the year, either through withholding or estimated tax payments. In general, estimated tax payments are made quarterly to the IRS by people whose income isn't subject to income tax withholding, including self-employment income, interest, dividends, alimony or rental income. Most taxpayers automatically have their taxes withheld from their paychecks and submitted to the IRS by their employer.

State tax returns
The federal tax filing deadline postponement to May 17, 2021, only applies to individual federal income returns and tax (including tax on self-employment income) payments otherwise due April 15, 2021, not state tax payments or deposits or payments of any other type of federal tax. Taxpayers also will need to file income tax returns in 42 states plus the District of Columbia. State filing and payment deadlines vary and are not always the same as the federal filing deadline. The IRS urges taxpayers to check with their state tax agencies for those details.

Source: https://www.irs.gov/newsroom/tax-day-for-individuals-extended-to-may-17-treasury-irs-extend-filing-and-payment-deadline

---
Bears are emerging from winter dens (posted 3/16/2021)
Be bear aware when recreating outdoors - Remove or secure food attractants at residences
Montana Fish, Wildlife & Parks
Bears are emerging from dens with the onset of spring, and people are reminded to "Be Bear Aware."

Bears can be found throughout Montana. In recent years, grizzly bear populations have expanded and bears are sometimes found in historic ranges beyond western Montana.As bears begin foraging for food, Montana Fish, Wildlife & Parks is asking residents to remove or secure food attractants such as garbage, bird feeders and pet food. The most common human-bear conflicts involve unsecured food attractants.

People venturing into the outdoors should "Be Bear Aware" by following these precautionary steps:
- Carry and know how to use bear spray.
- Travel in groups whenever possible and plan to be out in the daylight hours.
- Stay on trails or rural roads.
- Avoid carcass sites and concentrations of ravens and other scavengers.
- Watch for signs of bears such as bear scat, diggings, torn-up logs and turned over rocks, and partly consumed animal carcasses.
- Keep children and pets close.
- Make noise, especially near streams or in thick forest where hearing and visibility is impaired. This can be the key to avoiding encounters. Most bears will avoid humans when they know humans are present.
- Don't approach a bear.

If you are camping in bear country, follow these guidelines:
- Camp away from areas where you see grizzly signs.
- Keep a clean camp at all times. Keep tents and sleeping bags free of food.
- Follow all food storage regulations. Contact the applicable land management agency to learn what food storage rules apply where you're recreating. Hang all food, trash and other odorous items well away from camp and at least 10 feet above ground and 4 feet from any vertical support, or store in a bear-proof container. Livestock feed should be treated the same as human food.

Anglers also need to practice safe behavior in bear country:
- Don't leave fish entrails on shorelines of lakes and streams.
- Sink entrails in deep water.
If you don't properly dispose of entrails you increase danger to yourself and to the next person to use the area.

---
LCC offers Continuing Education Class for youth and adults (posted 3/2/2021)
Flathead Valley Community College's Lincoln County Campus (LCC) is offering a fresh line-up of non-credit classes for adults and youth this spring. Classes are taught be local experts and mostly occur at the LCC campus in Libby.

The March schedule includes these classes:

"Teach Me to Sew" runs Mondays, March 8 to April 19, with separate sessions for specific age groups.

"Little Known Scholarship Opportunities" runs March 16 and 23 for anyone interested in applying for college scholarships.

"Fashion Illustration" meets on Wednesdays, March 17-21, with separate sessions for students ages 14 to 15 and 16-18.

"Make an Infinity Scarf" runs Saturday, March 20 for students ages 14 and older.

"Pottery I" runs Mondays, March 22 to April 26 for adults.

Many additional classes begin in April. For more information and to view the complete schedule of classes offered this spring, visit www.fvcc.edu/lcc and click on "Non-Credit Course Schedule," or contact LCC at (406) 293-2721 or lccinfo@fvcc.edu for assistance.

---
Hunting & fishing regulations online (posted 3/2/2021)
Montana Fish, Wildlife & Parks has posted regulations for Dear/Elk/Antelope and Moose/Sheep/Goat online at fwp.mt.gov/hunt.

The deadline to apply for deer and elk permits is April 1. Hunters should verify their application prior to submission, as changes after submission will not be permitted. Permits will be printed and mailed to hunters after the drawing.

When making license purchases online, please remember that licenses and carcass tags may be printed from your home printer on 8.5x11-inch paper, if you elect the print at home option. If the print-at-home option is selected, customers will receive an email at the conclusion of their online transaction that includes a weblink to print their licenses and tags. The link is valid for five days. Please be certain that your printer is functional prior to clicking the link in the email.

Alternatively, customers may elect to have FWP print and mail their licenses and tags. License and permit purchases requiring a decal/clip will be mailed within 10 days of purchase or successfully drawing the license.

License replacements/reprints are $5 each. The first replacement can be done at any license provider; subsequent replacements must be done at a FWP office.

---
Libby lies in the northwest corner of Montana and is nestled in a valley carved by the Kootenai River on the flank of the majestic Cabinet Mountain Range and Wilderness Area. Today about 2,800 people live within Libby proper. The main industries are lumber and wood products, mining, tourism and recreation. The movies "The River Wild" and "Always" were filmed here. Contact the Libby Chamber of Commerce for brochures, info on lodging and events, general area information, and contact information for local businesses and services.
SUMMER
When the weather warms and the mountain snows melt away, the Kootenai National Forest comes alive with over 2.2 million acres of public land as a playground. Mountain trails and lakes open up, beautiful wildflowers come in bloom, and wildlife have their young. Libby is the basecamp for the Cabinet Mountains Wilderness Area, 90-mile long Lake Koocanusa, the Northwest Peaks Scenic Area, and the Ten Lakes Scenic Area. There is good access to most of the Forest and plenty of room to get away from it all!
WINTER
Winter in Montana means snow, and lots of it! For those who love to play in the deep powder, the Libby area offers tremendous winter fun. Turner Mountain Ski Area, located just 22 miles from Libby, offers challenging downhill skiing with a beautiful view. Their slogan is "steep, deep and cheap", and Turner definitely lives up to that. It's still fairly undiscovered, so you can escape the crowds and get the cheapest lift tickets around. For those who love snowmobiling, there are hundreds of miles of backcountry roads to sled on in the Kootenai National Forest. Cross-country skiers and ice fishermen also can find solitude on a lake and miles of quiet forest trails to enjoy the outdoors. Those who are a bit on the wild and crazy side will love the antics of the Libby Polar Bear Club. Members take winter-time "swims" in frigid Libby Creek every Sunday from October to April. Plungers have ranged in age from 3 to 61. As long as the ice can be broken on the creek, if it has formed, the group will take their plunge, no matter the temperature.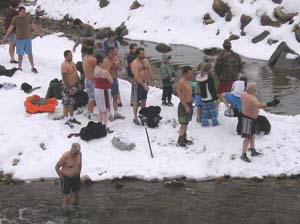 These people must be craaaazzzzzy!
Libby Polar Bear Club