News: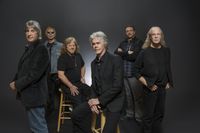 2015 Big Sky Bash July 11th. Tickets go on sale May 1st. This year's event will feature Three Dog Night and local favorite Copper Mountain Band.

2015 Big Sky Bash July 11th (posted 2/15/15)
Will feature Three Dog Night and Copper Mountain Bands in concert
The CARD Foundation is pleased to announce its 5th annual Big Sky Bash concert to benefit the Center for Asbestos Related Disease (CARD). Legendary music icons, Three Dog Night and local favorite Copper Mountain Band will be performing in Libby on Saturday, July 11th, 2015, with gates opening at 6pm, and music playing from 7pm until midnight at J Neils Park.

Legendary music icons, Three Dog Night celebrate their 4th decade, performing to sell-out crowds and bringing along some of the most astonishing chart statistics in popular music including 21 consecutive Top 40 hits, including 3 #1 singles, 11 Top 10's, and 12 straight RIAA Certified Gold LPs.

Perfectly re-creating their larger than life songs with customary impeccable harmonies and exciting arrangements, Three Dog Night will perform their hits including "Mama Told Me (Not To Come)", "Joy to The World", "Black and White", "Shambala", "One", "Liar", "Celebrate" and many more songs that drive their chart and sales success.

Three Dog Night, which is made up of founding members Cory Wells and Danny Hutton on lead vocals, original band mates Jimmy Greenspoon (keyboards) and Michael Allsup (guitar) and completed by Paul Kingery (bass and vocals) and Pat Bautz (drums), now perform for audiences spanning several generations.

Initially brought together in 1968 by Danny Hutton and Cory Wells, Three Dog Night recorded the music of the best (and mostly undiscovered) new songwriters of their time including Harry Nilsson, Randy Newman, Elton John, Laura Nyro, Paul Williams and Hoyt Axton among many others. The group's eclectic taste, combined with their ability to recognize and record hits in a unique, distinctive and appealing style, resulted in Three Dog Night dominating the charts for years. The now-famous name came from a story about Australian hunters who, on cold nights in the outback, sleep with their dogs for warmth. The coldest evenings are known as a "three dog night".

Recently Three Dog Night added new songs to their arsenal with the release of their first double-A sided single in nearly 25 years. These new tracks, "Heart Of Blues" and the a-cappella ballad "Prayer of the Children", are available now in an exclusive online release. See www.threedognight.com for more information.

After more than 40 years together, Three Dog Night continues to grow its fan base and develop new ways of doing business. They maintain an aggressive schedule of concerts at theatres, performing arts centers, fairs, festivals, corporate events, and casinos. Since 1986, they have performed over 2,300 shows including two Super Bowls.

Copper Mountain Band is a high-energy, mainstream, country music group with family roots that lie deep in the history of Montana. Copper Mountain Band appeals to all audiences as they incorporate music from many genres and styles into their performances. They have found a way to give cover tunes a whole new dimension and they have outstanding original material as well. They have also received praise for their rendition of Cher's "Just Like Jesse James". They are a one-of-a-kind group with a fiery passion for their craft. The band plays more than 150 dates a year throughout the US and abroad and continues to build their fan base on their way to the top!

Tickets will go on sale May 1, 2015. Ticket prices will be $25.00 advance purchase and $30.00 at the gate. All proceeds from this event will go to the CARD Foundation, the fundraising arm of CARD, to support CARD in its ongoing efforts to provide healthcare, research and outreach to benefit all people impacted by exposure to Libby Amphibole Asbestos. For more information please call 406-293-9274 ex 132.

---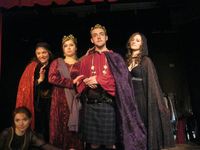 Pitiful Players will perform MacBeth in Troy and Libby in March.

Pitiful Players to perform 'Macbeth' in Troy and Libby in March (posted 2/15/15)
The Pitiful Players will be performing a slightly modified version of William Shakespeare's "Macbeth" in March. There will be performance in Troy and Libby on the following dates:

Saturday, March 7th, 7pm, Lincoln Theater, Troy
Friday March 13th, 7pm, Maki Theatre, Libby
Saturday, March 14th, 7pm, Maki Theatre, Libby

Will might not approve, but the show has been cut down to size with several characters and many long speeches removed. What remains is a fast-paced, entertaining show. But it is still Macbeth, with all the darkness and murders intact. For more information, call Keith Meyers at 406-293 9277.

---
Hunter Education classes scheduled for Eureka and Troy in March (posted 2/15/15)
Hunter Education Classes have been scheduled for a number of communities in northwest Montana. All hunter education classes are free of charge. By state law, anyone born after January 1, 1985, must have completed the Hunter Education Course to buy a hunting license in Montana. To attend class and become certified, students must be at least 11 years old. All students must register online (Register online at fwp.mt.gov, click education) for the courses. When registering, students will note specific information and guidelines for the course included in the online posting. Below is information for Eureka and Troy in Lincoln County. Classes are also upcoming in other towns outside the county in northwest Montana.

Troy: Register online. Classes are held 6-8 p.m. at the Troy High School on March 10, 11, 12, 17, and 18; field course is held Saturday, March 14. Contact: Jim Jones 406-295-4520.

Eureka: Register online now. First night of class is March 9, 7-9 p.m. at the Eureka Middle School Library. Classes continue from 7-9 p.m. on March 16, 17, 19, 23, 24, and 26. Field day is Saturday, March 21. Call Megan Strom 406-297-7909 for more information.

---
Heritage Museum summer season dates (posted 2/15/15)
The Heritage Museum in Libby will open on Saturday, May 30th for the 2015 summer season. They will be open Monday through Saturday from 10-5 and Sundays from 1-5PM. Admission is by donation. Their closing day will be Monday, August 31st. Their Holiday Bazaar is scheduled for Friday, November 6, 5-8 p.m. and Saturday, November 7, 10 a.m-4 p.m. For more information call 406-293-7521, www.libbyheritagemuseum.org

---
Deer & Elk hunting permit applications available January 26 (posted 1/25/15)
Montana Fish, Wildlife & Parks
Montana's new 2015 hunting and fishing year begins March 1. Licenses will go on sale—and applications for resident and nonresident deer and elk hunting permits will be available—Jan. 26.

Deer and elk permit applications and information will also be available online at fwp.mt.gov; click "March 16—Deer & Elk Permits" beginning Monday, Jan. 26, at 9 a.m. The application deadline is March 16.

FWP urges hunters to apply online. "It's fast, convenient and accurate," said Ron Aasheim, FWP spokesman in Helena.

Nonresidents seeking to apply for big game combination, elk combination or deer combination licenses and deer and elk permits for the 2015 fall Montana hunting season can also apply online or download an application from FWP's website. To request an application by mail, write to: Licensing Section; Montana FWP; P.O. Box 200701, Helena MT; 59620-0701; or call: 406-444-2950.

Aasheim said May 1 is the deadline to apply for moose, sheep, goat and bison licenses and June 1 for antlerless deer B and elk B licenses and antelope and antelope B licenses.

Montana's upcoming hunting and fishing license year runs from March 1 to Feb. 29, 2016.

---
Free tax aid for Libby residents available in Kalispell Feb 2 – April 14th (posted 1/25/15)
Libby no longer has the AARP Foundation free tax aide program. Libby residents can still take advantage of free tax preparation help offered in Kalispell by appointment February 2 through April 14, 2015. AARP is offering free tax help to low- and moderate-income taxpayers, especially those age 60 and over. Help is free, individualized, and no strings attached.

Tax preparation specialists will be at the Kalispell Gateway Community Center Monday, Tuesday and Thursdays from 8AM to 4PM. Appointments are required - call 406-407-8355. Please use the southwest entrance of the Gateway West Mall Suite, 1203 Hwy 2 W - Southwest Entrance A - Space 50.

You will need to bring the following documents with you:
- Government issued identification
- Last year's tax return
- Social Security cards or other official documentation for yourself and all dependents
- Checkbook or pre-printed direct deposit information for your reloadable prepaid card showing routing number and direct deposit account number if you want to do a direct deposit of any refund(s).

Income
- W-2 from each employer
- Unemployment compensation statements
- SSA-1099 form showing the total Social Security benefits paid to you for the year, or Form RRB-1099, Tier 1 Railroad Retirement benefits
- 1099 forms reporting interest (1099-INT), dividends (1099-DIV), proceeds from sales (1099-B), as well as documentation showing the original purchase price of your sold assets
- 1099-R form if you received a pension or annuity, especially if you had a portion withheld for income tax purposes
- 1099-MISC form showing any miscellaneous income

Payments
You will need to bring all forms and canceled checks indicating federal and state income tax paid (including quarterly estimated tax payments).

Deductions
Most taxpayers have a choice of taking either a standard deduction or itemizing their deductions. If you have a substantial amount of deductions, you may want to itemize. You will need to bring the following information:
- 1098 form showing any home mortgage interest
- Receipts or canceled checks for medical/dental expenses (including doctor and hospital bills and medical insurance premiums), receipts for prescription medicines, costs of assisted living services and bills for home improvements, such as ramps and railings for people with disabilities
- Receipts for contributions to charity
- Receipts or canceled checks for all tax income and property taxes you paid, as well as records of tax refunds

Credits
- Dependent care provider information (name, employer ID or Social Security number)
- Receipts, canceled checks or 1099 forms related to continuing education

Affordable Care Act (ACA) Information
Be sure to bring relevant documents with you to prove you are in compliance with the ACA. You will need one of the following:
- Documentation proving health care coverage for you, your spouse and all your dependents
- Information indicating that you were covered for at least nine months of the year
- Form 1095-A (which you will receive by Jan. 31, 2015) if you purchased insurance through the Marketplace/Exchange
- Documentation of a Health Care Exemption received from the IRS or the Marketplace/Exchange

Related Links:
AARP Tax Aide program

---
Revett to place Troy Mine on care and maintenance (posted 1/24/15)
Duane Williams, KLCB-KTNY Radio
Due to low metal prices, Revett will place the Troy Mine on care and maintenance. Development work to the I Beds will cease immediately and milling operations will continue through to the end of January.

An orderly shutdown will take place during the month of February with the expectation that development and operations may resume in a more favorable metals price environment. Revett will continue to focus on Rock Creek permitting efforts with the expected issuance of the draft Supplemental Environmental Impact Statement issued for public comment by mid-2015.

John Shanahan, Revett's President and CEO says, "Although this is a difficult decision, it is important to note that redevelopment efforts at Troy have been successful. Unfortunately, at current metal prices, commercial operations are not sustainable in the near term. We believe that in a higher metals price environment, it may be possible to recommence operations at Troy and complete development to the I Beds. We are very proud of the efforts and accomplishments of our operating team during the past two years. Placing the Troy Mine on care and maintenance will conserve cash while we focus on Rock Creek permitting and preserve Troy as a viable deposit for possible future development."

The recently announced "moth balling" of the Troy Revett mine due to market condition will not affect progress with the Montanore mine, according to Jessica Klepfer, spokesperson for Mines Management, owner of the Montanore.

Montanore is continuing to move forward. Price, at this point, has no effect on the project, she told KLCB. "We are very close to getting a Final EIS from the agencies, expected in a couple of weeks, " said Klepfer.

By Duane Williams, KLCB-KTNY Radio, e-mail: klcb@frontiernet.net, www.klcb-ktny.com

---
2015 events in Libby and Eureka (posted 1/24/15)
Mark your calendar
January
Jan 24-25: Ice Fishing Derby-Halfway House/Bull Lake
January 31: ANNUAL CHAMBER FUNDRAISER-Memorial Events Center

February
February 7: First in series of writing workshops presented by Caroline Patterson, Missoula writer and editor. 9:30 - 11:30am Sunburst meeting room, Eureka. Caroline will come to Eureka again in March and April as workshop participants develop their pieces. For more information call Sunburst Community Service Foundation call Rita at 406-297-0197.
February 13: Rebecca Folsom Duo! Fourth concert in this year's Performing Arts Series. 7pm LCHS auditorium, Eureka. $12/adult; students 18 and younger for free. For more information call Sunburst Community Service Foundation call Rita at 406-297-0197.

March
March 7: Irish Fair/Memorial Events Center
March 28: CHC Fundraiser

May
May 1: Rotary Wine Tasting
May 8: Farmer's Market Opens/Chamber Parking Lot- 12pm-5
May 16: Kootenai Kiwanis Family Day in the Park
May 31: Memorial Day

June
June 6: Kootenai Wildlands Firefighter Challenge & FireSafe Challenge
June 20: Incredibull- J Neils Park
June 25-28: Libby Logger Days-J Neils Park

July
July 17-Relay For Life
July 17-18: Kootenai Highland Gathering
July 24-25: Kootenai River Rodeo-J Neils Park

August
August 12: SBA from Helena will be at Chamber Luncheon
August 14-15: Ignite the Nites-Mineral Ave

September
September 11-13: Libby Nordicfest

---
FVCC's Libby Campus to provide financial aid help at College Goal Montana (posted 1/24/15)
Flathead Valley Community College
Flathead Valley Community College's Lincoln County campus in Libby will host College Goal Montana, a program that provides students who want to attend college and their families the opportunity to obtain assistance in applying for financial aid.

Free and open to all higher-education-bound students and their families of all income levels, College Goal Montana is dedicated to guiding students and their families through the paperwork required to apply for financial assistance. Financial aid officers and other qualified professionals will be present to ensure students receive assistance in understanding and completing the necessary paperwork, including the Free Application for Federal Student Aid (FAFSA), to receive financial aid.

The event will take place February 10 from 3 to 7 p.m. at the college's Lincoln County campus in Libby in room 125. Appointments are not required.

Each student and family who attends will need to bring with them their FAFSA personal identification number (PIN)—logon to www.pin.ed.gov to obtain PIN; Social Security numbers; 2014 federal income tax returns (or 2013 federal income tax returns if 2014 returns are not complete); W-2 forms, tribal income or other aid information, such as TANF, child support or other benefits; and additional asset information, including money market funds, stocks and other investments.

For more information, please contact Deb Huisentruit at 406-293-2721, or visit smartaboutcollege.org.

---
Real Estate in Libby, Troy & the Yaak (posted 1/19/15 )
Guest article by Alice L. Hayes, Loveless Realty
The figures of the Current Activity and Past Activity show we are moving forward—not at incredible speeds—but slowly moving ahead.
2014 showed One (1) More Residential SALES than 2013.
2014 showed Land SALES were Three (3) Less than 2013.
2014 showed One (1) More Commercial SALES than 2013.
2013 and 2014 were busy years with a number of our long-time listings moving to new owners.
We are looking forward to keeping the SALES momentum moving.

Interest Rates Remain at ALL Time LOWS—
Inventory Selections Are Growing—
NOW Could be a Great Time to Buy!
As of 1/01/2015 Conforming & FHA Loans:
30- Year Fixed; Interest = 3.81%; APR= 3.89%
15- Year Fixed; Interest = 3.10; APR=3.22%

2014 at a Glance—How Was Lincoln County Real Estate in 2014?

ACTIVE LISTINGS
263 Residential ACTIVES:
105 in Libby
64 in Troy
8 in Yaak
14 in Flathead
72 in Sanders

376 Land ACTIVES:
128 in Libby
107 in Troy
18 in Yaak
27 in Flathead
96 in Sanders

31 Commercial ACTIVE:
14 in Libby
3 in Troy
2 in Yaak
2 in Flathead
10 in Sanders

January 1, 2014—December 31, 2014 Current Real Estate Figures:

SALES & PENDINGS
157 Residential SALES:
99 in Libby
29 in Troy
4 in Yaak
5 in Flathead
20 in Sanders

53 Land SALES:
17 in Libby
18 in Troy
5 in Yaak
1 in Flathead
12 in Sanders

8 Commercial SALES:
5 in Libby
1in Troy
2 in Sanders

22 Residential PENDING:
5 in Libby
5 in Troy
1 in Yaak
2 in Flathead
9 in Sanders

12 Land PENDING:
8 in Libby
3 in Troy
1 in Sanders

2 Commercial/M-Family PENDING:
2 in Libby

So How Did Our Market Actually Do? Let's Compare

January 1 to December 31, 2013
156 Residential SOLDS
56 Land SOLDS
7 Commercial SOLDS

January 1 to December 31, 2012
120 Residential SOLDS
33 Land SOLDS
6 Commercial SOLDS

January 1 to December 31, 2011
111 Residential SOLDS
37 Land SOLDS
7 Commercial SOLDS

January 1 to December 31, 2010
93 Residential SOLDS
28 Land SOLDS
0 Commercial SOLDS

January 1 to December 31, 2009
82 Residential SOLDS
33 Land SOLDS
6 Commercial SOLDS

January 1 to December 31, 2008
98 Residential SOLDS
67 Land SOLDS
11 Commercial SOLDS

For more information contact:
Alice & Jim Hayes, Team Hayes
Loveless Realty
519 W. 9th
Libby, MT 59923
PHONE: 406-293-8364 or 406-293-1926
TEXT: 406-293-8364
EMAIL: alice@alicehayes.com or jim@alicehayes.com
WEBSITE: www.alicehayes.com

Information obtained from Lincoln County MLS.

---
Libby lies in the northwest corner of Montana and is nestled in a valley carved by the Kootenai River on the flank of the majestic Cabinet Mountain Range and Wilderness Area. Today about 2,800 people live within Libby proper. The main industries are lumber and wood products, mining, tourism and recreation. The movies "The River Wild" and "Always" were filmed here. Contact the Libby Chamber of Commerce for brochures, info on lodging and events, general area information, and contact information for local businesses and services.
SUMMER
When the weather warms and the mountain snows melt away, the Kootenai National Forest comes alive with over 2.2 million acres of public land as a playground. Mountain trails and lakes open up, beautiful wildflowers come in bloom, and wildlife have their young. Libby is the basecamp for the Cabinet Mountains Wilderness Area, 90-mile long Lake Koocanusa, the Northwest Peaks Scenic Area, and the Ten Lakes Scenic Area. There is good access to most of the Forest and plenty of room to get away from it all!
WINTER
Winter in Montana means snow, and lots of it! For those who love to play in the deep powder, the Libby area offers tremendous winter fun. Turner Mountain Ski Area, located just 22 miles from Libby, offers challenging downhill skiing with a beautiful view. Their slogan is "steep, deep and cheap", and Turner definitely lives up to that. It's still fairly undiscovered, so you can escape the crowds and get the cheapest lift tickets around. For those who love snowmobiling, there are hundreds of miles of backcountry roads to sled on in the Kootenai National Forest. Cross-country skiers and ice fishermen also can find solitude on a lake and miles of quiet forest trails to enjoy the outdoors. Those who are a bit on the wild and crazy side will love the antics of the Libby Polar Bear Club. Members take winter-time "swims" in frigid Libby Creek every Sunday from October to April. Plungers have ranged in age from 3 to 61. As long as the ice can be broken on the creek, if it has formed, the group will take their plunge, no matter the temperature.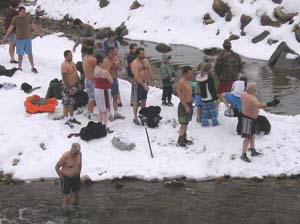 These people must be craaaazzzzzy!
Libby Polar Bear Club