News: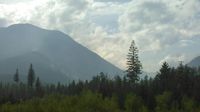 Klatawa fire on Wednesday, Sept. 2nd. Photo courtesy Kootenai National Forest.

Goat Rock Complex update – Sept. 2 (posted 8/2/15)
Kootenai National Forest
Today (Wednesday, Sept. 2) the fires in the Goat Rock Complex continued creeping and smoldering resulting in minimal to no fire growth. Operational resources on the Klatawa fire said that low cloud cover in the afternoon trapped smoke from the heavy smoldering fuels and with the gusty winds of the day smoke pushed down Granite Creek drainage into the valley. This smoke was visible in Libby but not a cause for concern as resources continue observing the fire and will remain on the fire line into the evening.

The low cloud ceiling, wind gusts and hanging smoke created poor conditions for air operations. A new 20-person Type 2 firefighter crew arrived on the ground and conducted chainsaw operations along the Klatawa fire to reinforce fuel breaks. Heavy equipment continues to be used along Berray Mountain to build fire line.

Related Links:
Inciweb – Klatawa fire.
---
Goat Rock Complex update – August 31, 2015 (posted 8/31/15)
Wildfires burning near Libby, Montana
Kootenai National Forest
Monday, August 31, 2015, 7:52PM
There was minimal fire activity today allowing crews to continue installing firelines and other features to protect structures, private property and other valued resources.

Wildland firefighters will continue to check the east edge of the Klatawa fire with helicopters. Crews will also continue line construction and fuelbreak operations while making structure assessments adjacent to the Klatawa fire.

Line construction work will also continue along the south side of the Berray Mountain fire in the Highway 56 corridor.

The area is under a weak ridge with a light southwest wind. A slight warming and drying trend is expected tomorrow. A new weather system is forecasted to move through the fire area on Wednesday. New photos have been posted to Inciweb and can be found at: http://inciweb.nwcg.gov/incident/4564/.

---
Goat Rock Complex Wildfire Update – August 31, 2015 (posted 8/31/15)
Kootenai National Forest
Monday, August 31, 2015
Contact: Public Information Officer: Carmen Thomason, goatrocks2015@gmail.com
Fire Information Phone (406) 293-6783

What: Goat Rock Complex (numerous fires)
Cause: Lightning
Location: Numerous fires located in the Kootenai National Forest, Cabinet Mountains Wilderness and Berray Mountain Area south of Libby, Montana
Jurisdiction: Kootenai National Forest (KNF) Cabinet and Libby Ranger District

Pre-evacuation notices remain in effect for several residents and businesses located west of Highway 2 and immediately east of the Klatawa fire.

Residents are asked to remain vigilant and ready to evacuate in the coming days as warmer weather will increase fire activity. Pre-evacuation residents should have a plan in place to be evacuated if notified by the Sheriff's Office. Cooler weather has influenced fire behavior and lessened the threat of the Klatawa fire. Overall cooler conditions will transition slowly to warmer temperatures over the next week. High temperatures will not be as warm as previous days but will trend upwards as the region remains under the influence of a low pressure system.

A Rocky Mountain Incident Management Team assumed command of several fires on the Kootenai National Forest on August 23 and will manage them as the Goat Rock Complex under the command of Chuck Russell.

The Goat Rock Complex is approximately 6,744 acres and is a collection of the following fires:
Klatawa (KNF): 3,758 acres
Vimy (KNF): 47 acres
Berray Mtn. (KNF): 3,464 acres
Chippewa (KNF): 231 acres
Pine Ridge (KNF): 1 acre
Poplar Point (KNF): 742 acres
Dad (KNF): 44 acres

(Large increases in acreage numbers may be due to increased accessibility to air mapping and intelligence gathering as smoke in the area clears.)

Yesterday's Activities: Precipitation occurred across the area during the afternoon and evening. Anywhere from 1/10 to 1/4 inch of rain fell. Cooler and wetter conditions have decreased fire behavior. Clear air allowed helicopters to make bucket drops on the east side of the Klatawa fire. Some moderate growth on the west side inside the wilderness area did occur.

The Berray Mtn. fire had some isolated tree torching and continued backing but also received precipitation.

Crews continued using equipment to build fire lines and other features around both the Klatawa and Berray Mtn. fires.

Today's Planned Actions: Wildland Firefighters will continue building fuel breaks around both the Klatawa and Berray Mtn. Fires. Crews will be working in Granite Creek on the Klatawa fire and on the southern side of the Berray fire near the Highway 56 corridor.

Incident Command is continuing coordination with the local Sheriff's Offices in Lincoln and Sanders counties and local fire districts to ensure structure protection plans are in place.

Forecasted Weather: A slight warming and drying trend will occur Monday and Tuesday. Windy conditions along the ridgetops are possible. Another system is expected to pass through the area on Wednesday bringing increased chances of showers and cooler temperatures.

Fire Restrictions:
Stage II fire restrictions are in effect for the Libby area. Stage II restrictions include:
1. Building maintaining, attending, or using a fire or campfire.
2. Smoking, except within an enclosed vehicle or building, a developed recreation site or while stopped in an area at least three feet in diameter that is barren or cleared of all flammable materials.
3. The following acts are prohibited from 1:00 p.m. to 1:00 a.m.:
a. Operating any internal combustion engine.
b. Welding, or operating acetylene or other torch with open flame.
c. Using an explosive.
4. A one hour foot patrol in the work area is required following cessation of all activities as identified in #3 above.
5. Operating motorized vehicles off designated roads and trails.

Additional information at http://firerestrictions.us/mt/.

Closures:
For more information on closures, including closed Forest Service Lands listed by Township and Range, please visit the Kootenai National Forest website at http://www.fs.usda.gov/main/kootenai/home or visit Goat Rock Complex on InciWeb at http://inciweb.nwcg.gov/incident/4564/ for a detailed list.
---
Hunter Education classes scheduled (posted 8/31/15)
Students must register online
Montana Fish, Wildlife & Parks
Hunter Education classes have been scheduled for a number of communities in northwest Montana. All hunter education classes are free of charge.

All students must register online (register online at fwp.mt.gov, click education) for the following courses. When registering, students will note specific information and guidelines for the course included in the online posting.

Bigfork: First night of class is Wednesday, September 16, 7-8 p.m. at the Bigfork High School Music Room. The remainder of classes will be held 6-9 p.m. on September 21, 23, 25, 29, and October 1. The field course will be held on Saturday, October 3. Test night is October 5. Call Rod Day (249-5402) for more information or call FWP at 406-752-5501.

Columbia Falls: After registering online, all students must attend a brief, mandatory orientation at the Columbia Falls Fire Department on September 8, between the hours of 6-8 p.m.; students must bring their permission slip with them at that time, and they will receive their manuals and assignments. Classes will be held from 7-9 p.m. at the Columbia Falls High School September 14, 15, 17, 21, 22, 24; field course is Saturday September 26; test night is September 28. For more information, call lead instructor, John Kropp, 406-250-1963.

Eureka: Classes are held 7-9 p.m. at the Eureka Middle School September 8, 14, 15, 17, 21, 22. Field day is Saturday, September 19; test night is September 24. Call Megan Strom at 406-249-6018 for more information.

Kalispell: All students must attend a brief, mandatory orientation on Friday, September 18, 4-8 p.m. at Montana Fish, Wildlife & Parks at 490 North Meridian Road in Kalispell. Students will need to stop in for the brief orientation any time during that period. At the orientation, students will pick up their manuals and receive course instructions. Classes will be held at the Flathead High School from 6-9 p.m. on September 28, 29, 30, and October 1. The field course will be held on Saturday, October 3. Test night is back at the high school on Monday, October 5, from 6-8 p.m. Call FWP (406-752-5501) or Mike Corkish, lead instructor, 406-212-8122.

Olney: Register online now. Classes are held 5:30-8 p.m. on September 28, 29, October 2, 5, and 6; field course and test held Saturday, October 10. Classes are held at the Olney Fire Hall, back entry. For more information, contact Mike West at 406-250-2500.

Trego: Classes held at the Trego School from 7-9 p.m. on September 14, 21, 22, 24, 28, 29; field course is September 26; test night is October 1. Contact: Tim Thier, lead instructor, 406-882-4697.

Trout Creek: First class is September 3 at the Trout Creek Fire Station from 7-9 p.m. Remainder of schedule to be arranged. Contact: Harold Hudson, lead instructor, 406-827-4010.
---
Klatawa Fire Public Meeting in Libby (posted 8/30/15)
Cooler weather lets authorities rescind evacuation order
Maggie Craig, LibbyMT.com
A public meeting was held Saturday evening, August 29, to inform area residents about firefighting efforts on the Goat Rock Complex of fires on the Kootenai National Forest. Of particular interest is the Klatawa Fire, which forced the precautionary evacuation of residents along Lower Granite Lake Road, Granite Creek Road, Willow Road, Prospect Creek Road, Winchester Drive, and Granite Lake Road by 1:00 p.m. Saturday. Pre-evacuation notices were also issued for residents and businesses on the west side of Highway 2 from Pearl Street south to Bear Creek Road. The Type 2 Rocky Mountain Area Incident Management Team (also called Red Team), as well as local officials, were on hand to relay current information.

Team meteorological information indicates a cooling trend for the upcoming week, with daytime temperatures in the 60s, nighttime temperatures in the 40s, and a chance of showers throughout the week.

The Operations Section Chief indicated that this is a historic year for fire in the West, and because of the number and severity of fires, resources such as engines and crews are scarce. That wasn't such a problem until the Klatawa Fire made a run Friday afternoon and burned in thick timber and steep slopes on the east side of Mount Snowy, which was visible from the highway. Saturday's efforts utilized local Forest Service and Libby Volunteer Fire Department engines for precautionary structure protection, and the good news is that Saturday's winds didn't develop as forecast, which was a considerable relief for all concerned. More good news is that 11 engines were scheduled to arrive Saturday night and be on the line Sunday. He thanked the local community for their generous support in the form of heavy equipment to help build fire lines around several fires around the Kootenai Forest.

Sheriff Roby Bowe spoke about Friday night's fire activity which prompted the evacuation and pre-evacuation notices. While the evacuation boundaries may seem overly cautious and unrealistic to residents compared to the location of fire activity, the reason is that the Sheriff's Department and the many volunteers working with it need adequate time to notify everyone, which in this case was about 400 people with pre-evacuation notices. The Sheriff is charged with public safety and is doing his best to protect the public, and he also implored everyone to refrain from "spreading rumors" about evacuations and highway closures...read official press releases for accurate information. He also noted that deputies will be patrolling for looters.

As of Sunday morning, a Sheriff's Office press release stated that evacuated residents may return home but remain on pre-evacuation status. Current information can be found on the Sheriff Office's Facebook page at Lincoln County Sheriff.

Lisa Oedewaldt from Lincoln County Emergency Management reminded everyone that there is a Red Cross shelter set up at the Assembly of God Church on Collins Avenue. Animal Control is handling animal and livestock evacuations. She also urged registration with the county's Code Red system of notification. While everyone listed in the phone book is theoretically registered, numerous address changes have made automatic registration somewhat unreliable. Code Red registration can be found on the county's official web site at Code Red Registration. One can also call Lisa at 406-293-6296.

Kootenai National Forest Supervisor Chris Savage gave a brief history of the fires that have started as a result of three lightning events, which have ultimately resulted in around 70 fires on the forest and around 18,000 acres burned. That acreage number was doubled in the last week alone, which indicates the level of fire activity in the past week. Over 60 fires were extinguished on initial attack. There are three Type 2 teams on the forest (Goat Rock Complex, Northeast Kootenai Complex and the Clark Fork Complex) and with the nature of this fire season and the weather outlook for September, he considers firefighting activities to be a "marathon, not a sprint." And while resources such as crews and engines have been limited, the forest is fortunate to have several helicopters available, and to have the Type 2 teams here.

Incident Commander Chuck Russell commended the community for its local support with equipment on the fire lines and cookies in fire camp. He reiterated the idea that with evacuations, there needs to be plenty of time to get people out safely. The team strives to give accurate information, and would like to give midday updates when possible. There is a lot of fire in the back country but the highest priority is protection of people and structures. And there is no caterer for fire camp, so the team is depending on local restaurants for meals. He called Libby an "engaged community," to applause from the crowd.

After the presentations the audience was invited to ask individual questions of concern.

Related Links:
Inciweb – Goat Rock Complex fire

---
Pre-evacuation Notice for Bull Lake area south of Troy, Montana – Aug. 27, 2015 (posted 8/27/15)
Lincoln County Sheriff's Office
As a precautionary measure due to continuing fire activity on the Clark Fork Fire Complex, specifically the Napoleon and Sawtooth Fires, and after consultation with Hutton's Northern Rockies Wildland Fire Management Team and the Kootenai National Forest; The Lincoln County Sheriff's Office has issued a pre-evacuation notice for the Bull Lake area south of Troy, Montana, bounded by the following : All residences along the Highway 56 corridor south of and including Angel Island along the east and west shore of Bull Lake from mile marker 14.5 to mile marker 20.5 on Highway 56, to include all residences in the Bull Lake Estates and Wilderness View Estates. Portions of this pre-evacuation zone description are within Sanders County and being managed by the Sanders County Sheriff, as both counties are coordinating with the Clark Fork Fire Complex fire management team. Pre-evacuation equals a Stage 1 "yellow" condition and means residents in the affected area should be ready to evacuate in case of increased fire activity. It constitutes an awareness of increased risk, a need to make preparations, and a need to monitor emergency services. Residents should prepare and, if needed, take early precautionary movement to relocate, especially those with special needs, pets, livestock or those needing transportation assistance. It is very important for area residents within the zone to be prepared for notification teams to arrive at their homes beginning Friday, August 28. The teams will provide individual pre-evacuation notification and critical information. Neighbors should contact neighbors and ensure that this information is passed along. Public meetings will be announced. Written information will be posted at Ross Creek Road, Halfway House Bar, and Bull Lake Fire Station Battalion #2 at Angel Island. Residents with questions may contact Lincoln County Emergency Management at 406-293- 6295 or 406-334-0050. Clark Fork Complex fire information may be obtained at 406-847-9974 from 7:00 AM to 9:00 PM.

Sheriff Roby Bowe
Lincoln County Sheriff's Office

---
Temporary closure of Dunn Creek Campground and Boat Ramp (posted 8/27/15)
U.S. Army Corps of Engineers – Libby Dam
LIBBY, MT - Dunn Creek Campground and Boat Ramp will be temporarily closed in September for bank stabilization work and the construction of a in-stream fish habitat project.

The closure is necessary due to the heavy equipment that will be active in Dunn Creek Campground for the project.

The boat dock will be moved downstream out of the way to allow work equipment to use the ramp for access to the river. Large trucks and heavy equipment will be in use and traffic in and out of Dunn Creek by construction crews will be higher than normal.

Alternative camping locations include Blackwell Flats and Alexander Creek. Alternate boat ramps in the area include Osprey Landing and the Downstream Area. For more information, please contact Natural Resource Specialist, Alana Mesenbrink at (406) 293-7751 x 252.

---
Ross Creek Cedars closed to public due to wildfires – Aug. 24, 2015 (posted 8/24/15)
Due to wildfire activity, the Kootenai National Forest has ordered that National Forest System lands, roads, and trails in the vicinity of Ross Creek Cedars have been closed to public use and travel. These restrictions will remain in effect until rescinded. Click here to read the full order: http://www.fs.usda.gov/Internet/FSE_DOCUMENTS/stelprd3851958.pdf

---
Troy Centennial Celebration Sept. 11-13th (posted 8/24/25)
Troy will be hosting their Centennial Celebration Friday, Saturday & Sunday, September 11th, 12th and 13th. The 100th birthday celebration kicks off on Friday at 3:00PM with a flag raising ceremony at the Troy Museum. There will be dining specials, activities, and live music at the Silver Spur and R-Place, and an old-fashioned street dance put on by the Home Bar and VFW. Visit the Troy, MT Centennial Celebration Facebook page for a full list of events.
---
Murphy Lake closed to boating due to fire suppression activities (posted 8/24/15)
Kootenai National Forest
Murphy Lake in its entirety, south of Eureka, in Lincoln County, is being closed to all boating, motorized and non-motorized and all recreation until further notice. The closure is necessary to protect the safety of public and Chinook helicopter pilots while dipping to collect water to fight wild fires on Mount Marston and Mount Barnaby. This lake is within the Kootenai National Forest and is adjacent to the Murphy Lake Ranger District headquarters. Wording in the official order is included below:

"Murphy Lake is closed to all public occupation and recreation including, but not limited to, floating, swimming, wading, and boating. This rule is effective as long as the lake is needed as a source of water for fire suppression efforts."

FWP Warden Captain Lee Anderson, 406-756-1558 is the public contact for this emergency closure.
---
Fall Harvest Festival Sept. 19 at Riverfront Park in Libby (posted 8/13/15)
The Montana Wilderness Association will host a Fall Harvest Festival at the Fred Brown Pavilion in Riverfront Park in Libby on September 19th from 5-9 pm. There will be live music, food, and information about wilderness preservation efforts. The Montana Wilderness Association is doing the Harvest Festival to help celebrate the return of fall and to emphasize the variety and quality of the local community, locally harvested and prepared food, and wild places.

There will be live entertainment from T. Scot Wilburn & the Shut Up -N- Playboys, who play western swing and classic country music, both covers and original tunes. The Harvest Festival will include raffle prizes, crafter demonstrations, face painting, education opportunities, outdoor opportunities, and local food prepared by Mac's Market BBQ and Joanne Linehan. All of the food prepared was purchased from local farmers in Lincoln County and prepared by local businesses and local catering. The $10 entry fee goes to help support local farmers, businesses, and community.

For more information contact Ashley South, Outreach Coordinator, Montana Wilderness Association, (406)-291-2708, asouth@wildmontana.org.

---
Libby lies in the northwest corner of Montana and is nestled in a valley carved by the Kootenai River on the flank of the majestic Cabinet Mountain Range and Wilderness Area. Today about 2,800 people live within Libby proper. The main industries are lumber and wood products, mining, tourism and recreation. The movies "The River Wild" and "Always" were filmed here. Contact the Libby Chamber of Commerce for brochures, info on lodging and events, general area information, and contact information for local businesses and services.
SUMMER
When the weather warms and the mountain snows melt away, the Kootenai National Forest comes alive with over 2.2 million acres of public land as a playground. Mountain trails and lakes open up, beautiful wildflowers come in bloom, and wildlife have their young. Libby is the basecamp for the Cabinet Mountains Wilderness Area, 90-mile long Lake Koocanusa, the Northwest Peaks Scenic Area, and the Ten Lakes Scenic Area. There is good access to most of the Forest and plenty of room to get away from it all!
WINTER
Winter in Montana means snow, and lots of it! For those who love to play in the deep powder, the Libby area offers tremendous winter fun. Turner Mountain Ski Area, located just 22 miles from Libby, offers challenging downhill skiing with a beautiful view. Their slogan is "steep, deep and cheap", and Turner definitely lives up to that. It's still fairly undiscovered, so you can escape the crowds and get the cheapest lift tickets around. For those who love snowmobiling, there are hundreds of miles of backcountry roads to sled on in the Kootenai National Forest. Cross-country skiers and ice fishermen also can find solitude on a lake and miles of quiet forest trails to enjoy the outdoors. Those who are a bit on the wild and crazy side will love the antics of the Libby Polar Bear Club. Members take winter-time "swims" in frigid Libby Creek every Sunday from October to April. Plungers have ranged in age from 3 to 61. As long as the ice can be broken on the creek, if it has formed, the group will take their plunge, no matter the temperature.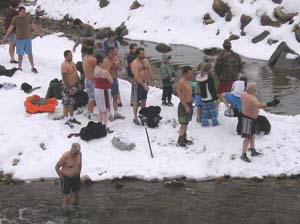 These people must be craaaazzzzzy!
Libby Polar Bear Club