News:
Investigation underway into dead grizzly bear found in the Yaak (posted 11/30/2020)
Montana Fish, Wildlife & Parks
The U.S. Fish and Wildlife Service and Montana Fish, Wildlife & Parks are investigating the death of an adult female grizzly bear in the Yaak in northwest Montana.

The carcass of an adult female bear was located Nov. 20 on Pipe Creek Road approximately four miles south of Yaak. No additional information is available at this time due to the ongoing investigation.

Anyone with possible information is encouraged to call 1-800-TIP-MONT (1-800-847-6668). Callers may remain anonymous and could be eligible for a cash reward.

---
Evaluating 11 bridges that need repair between Libby and Eureka on MT 37 (posted 10/20/2020)
Evaluating 11 bridges that need repair between Libby and Eureka on MT 37
The Montana Department of Transportation (MDT) would like to invite you to an online open house for the MT 37 Bridge Preservation project. MDT is in the early stages of evaluating 11 bridges on MT 37 between Libby and Eureka for needed repairs. MDT and project team members will provide an overview of the project, present anticipated repairs and answer questions. Registration is necessary to participate.

When: Oct 20, 2020 12:00 PM (Noon) or Oct 22, 2020 6:00 PM
Mountain Time (US and Canada)
Topic: MT 37 Bridge Preservation Project Open House

Register in advance for this webinar:
https://mt-gov.zoom.us/webinar/register/WN_mw_-iIcwQ8qUiJEfu2ZwFw

Or an H.323/SIP room system:
H.323: 162.255.37.11 (US West) or 162.255.36.11 (US East)
Meeting ID: 951 6822 9634
Passcode: 975932
SIP: 95168229634@zoomcrc.com
Passcode: 975932

After registering, you will receive a confirmation email containing information about joining the webinar.

For more information contact Brandon Coates, (406) 465-3350, Brandon@RBCI.net

---
Real Estate Market update (posted 10/19/2020)
Guest article by Alice Hayes, Team Hayes Realtors LLC
How has the Market been in 2020?
Real Estate Figures for January 1, 2020 through September 30, 2020
147 Residential SALES: : 99 Libby; 41 Troy; 7 Yaak

73 Land SALES: : 42 Libby; 22 Troy; 9 Yaak

3 Commercial/Multi-Family SALES: : 3 Libby

56 Residential PENDING: : 39 Libby; 17 Troy; 3 Yaak

38 Land PENDING: : 24 Libby; 11 Troy; 3 Yaak
2 Commercial/Multi-Family PENDING:

80 Residential ACTIVES: 37 Libby; 33 Troy; 10 Yaak

147 Land ACTIVES: 83 in Libby; 56 in Troy; 8 in Yaak

17 Commercial/Multi-Fam ACTIVES: 10 Libby; 4 Troy; 3 Yaak

2020 started as a very busy year, and then COVID-19 hit and we were having rather limited physical contact with clients with the majority of our work is being done from home. People are getting more comfortable with wearing masks, maybe gloves, and using hand sanitizer. Is this the 'new normal'??

We are super busy - and many properties spend very little time on the market before they are 'snatched up' - but our inventory is at an all-time low and we are struggling to find suitable homes for our qualified clients. If you have considered selling your home, we would like to visit with you and give you some ideas of what we can offer you. And you never know - we just might have a very qualified buyer 'waiting in the wings'

Interest rates are truly amazing! Now could be a great time to purchase.
As of 9/30/2020 - Conforming & FHA Loans (per Quicken):
30-Year Fixed: Interest/3.080%; APR/3.300%
15-Year Fixed: Interest/2.590%; APR/2.890%

For more information about Libby area real estate, contact Team Hayes Realtors LLC, 417 Mineral Ave, Suite 1, Mineral Plaza, Libby, Montana.
Office Phone: 406-293-2725
(Alice) 406-293-8364, alice@alicehayes.com
(Jim) 406-293-1926, jim@alicehayes.com
Website: www.teamhayesrealtors.com

---



Masks required upon entry

Governor Bullock issues statewide mask mandate for Montana (posted 7/17/2020)
For all persons ages 5 and up in indoor public places, effective until state of emergency is declared over
Montana Governor Bullock issued a statewide mask mandate on Wednesday, July 15, 2020. Executive Orders 2-2020 and 3-2020 declare that a state of emergency exists in Montana due to the global outbreak of COVID-19 Novel Coronavirus. COVID-19 is an easily transmissible, potentially fatal respiratory illness that spreads in the air through droplets from infected persons. COVID-19 is transmissible even by individuals who are not currently showing symptoms of the disease and who do not know they are infected.

The order requires wearing a face covering over the nose and mouth and applies to counties with four or more active cases, effective immediately. The Governor's directive states that use of a fabric covering over the mouth and nose is an effective means of limiting the potential for transmission to others by both symptomatic and asymptomatic individuals infected with the virus. "Recent research suggests that universal use of face coverings in enclosed public spaces would substantially reduce the spread of COVID-19."

It applies to certain indoor business settings that are open to the public and outdoor gatherings with 50 or more people when distancing is not possible.

Face Covering Requirement in Indoor Spaces Open to the Public
Except as provided in section 4 of the Directive, all businesses, government offices, or other persons responsible for indoor spaces open to the public shall require and take reasonable measures to ensure that all employees, contractors, volunteers, customers, or other members of the public wear a face covering that covers their mouth and nose at all times while entering or remaining in any indoor spaces open to the public.
Face coverings shall be provided for all employees and volunteers.
All points of entry open to the public shall have a clearly visible sign posted stating: "Mask or face covering use required for ages five and older."

Face Covering Requirements for Certain Organized Outdoor Activities
Except as provided in section 4 of the Directive, for any organized outdoor activity where social distancing is not possible or is not observed, sponsors shall require and take reasonable measures to ensure that all persons attending an organized outdoor activity wear a face covering that covers their mouth and nose at all times.

This section applies only where the nature of the organized outdoor activity makes it impracticable for all attendees to maintain at least six feet of physical distance from each other, or any organized outdoor activity where attendees are not observing at least six feet of physical distance from others.

At all outdoor gatherings of 50 or more people, whether or not it constitutes an organized outdoor activity, all individuals except those covered by section 4 of this Directive are required to wear face coverings while in attendance where it is impracticable to maintain six feet of physical distance at all times, or whether attendees are not observing at least six feet of physical distance from others.

Exceptions
Businesses, government offices, other persons responsible for indoor spaces open to the public, and sponsors of organized outdoor activities are not required to ensure the following individuals wear face coverings:
Children under the age of five. All children between the ages of two and four, however, are strongly encouraged to wear a face covering in accordance with the provisions of this Directive. Children under the age of two should not wear a face covering.
Persons consuming food or drinks in an establishment that offers food or drinks for sale.
Persons engaged in an activity that makes wearing a face covering impractical or unsafe such as strenuous physical exercise or swimming.
Persons seeking to communicate with someone who is hearing impaired.
Persons giving a speech or engaging in an artistic, cultural, musical, or theatrical performance for an audience, provided the audience is separated by at least six feet of distance.
Persons temporarily removing their face covering for identification purposes.
Persons required to remove face coverings for the purpose of receiving medicalevaluation, diagnosis, or treatment.
Persons who have a medical condition precluding the safe wearing of a face covering.

Enforcement
This Directive is enforceable only against businesses and other persons who are responsible for indoor spaces open to the public, or sponsors of organized outdoor activities as defined in this Directive.

Local public health agencies and law enforcement should focus their enforcement of this Directive on education, providing warnings and education about the risk of transmission, while reserving the imposition of penalties, trespass enforcement, and other formal enforcement mechanisms for only the most egregious, repeat violations that put the public at risk.

Businesses, other persons responsible for indoor spaces open to the public, and sponsors of organized outdoor activities may deny entry, refuse service, or ask to leave any person, except those provided for in section 4 of this Directive, who refuse to wear a face covering. If such a person refuses to wear a face covering and refuses to leave the premises, a peace officer may enforce the State's trespassing laws and any other laws the person may violate.

The state of Montana has had 2,231 confirmed cases of COVID-19 and 35 deaths as of the time of this report. Lincoln County has had 40 confirmed cases and 1 death.

This Directive is effective immediately (July 15, 2020) and expires at the end of the declared state of emergency in Executive Orders 2-2020 and 3-2020.

Cabinet Peaks Medical Center made 'Mask Required Upon Entry' signs and they are available free for Libby Chamber members for pick up at the Libby Area Chamber of Commerce office.

Read the full mask order directive here.

---
Libby lies in the northwest corner of Montana and is nestled in a valley carved by the Kootenai River on the flank of the majestic Cabinet Mountain Range and Wilderness Area. Today about 2,800 people live within Libby proper. The main industries are lumber and wood products, mining, tourism and recreation. The movies "The River Wild" and "Always" were filmed here. Contact the Libby Chamber of Commerce for brochures, info on lodging and events, general area information, and contact information for local businesses and services.
SUMMER
When the weather warms and the mountain snows melt away, the Kootenai National Forest comes alive with over 2.2 million acres of public land as a playground. Mountain trails and lakes open up, beautiful wildflowers come in bloom, and wildlife have their young. Libby is the basecamp for the Cabinet Mountains Wilderness Area, 90-mile long Lake Koocanusa, the Northwest Peaks Scenic Area, and the Ten Lakes Scenic Area. There is good access to most of the Forest and plenty of room to get away from it all!
WINTER
Winter in Montana means snow, and lots of it! For those who love to play in the deep powder, the Libby area offers tremendous winter fun. Turner Mountain Ski Area, located just 22 miles from Libby, offers challenging downhill skiing with a beautiful view. Their slogan is "steep, deep and cheap", and Turner definitely lives up to that. It's still fairly undiscovered, so you can escape the crowds and get the cheapest lift tickets around. For those who love snowmobiling, there are hundreds of miles of backcountry roads to sled on in the Kootenai National Forest. Cross-country skiers and ice fishermen also can find solitude on a lake and miles of quiet forest trails to enjoy the outdoors. Those who are a bit on the wild and crazy side will love the antics of the Libby Polar Bear Club. Members take winter-time "swims" in frigid Libby Creek every Sunday from October to April. Plungers have ranged in age from 3 to 61. As long as the ice can be broken on the creek, if it has formed, the group will take their plunge, no matter the temperature.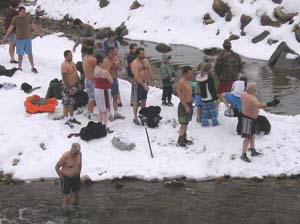 These people must be craaaazzzzzy!
Libby Polar Bear Club