News: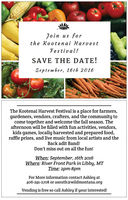 Kootenai Harvest Festival Sept. 16th

Kootenai Harvest Festival Sept. 16th in Libby (posted 8/17/16)
The Kootenai Harvest Festival will take place on Friday, September 16th at the River Front Park in Libby from 2-8PM. The festival is a place for farmers, gardeners, vendors, crafters and the community to come together and welcome the fall season. There will be fun activities, kids games, vendors, locally harvested and prepared food, raffle prizes, and live music from local artists and the Back Adit Band. Vending is free! For more information call Ashley at 406-291-2708 or email asouth@wildmontana.org.
---
Hunter Education Classes offered in Troy & Eureka (posted 8/17/16)
Hunter Education Classes have been scheduled for a number of communities in northwest Montana. All hunter education classes are free of charge.

All students must register online (Register online at fwp.mt.gov, click education) for the following courses. When registering, students will note specific information and guidelines for the course included in the online posting.

Troy: Classes are held August 22, 6-8 p.m.; August 23, 24 at 6-9 p.m.; Field course is on August 25; test is on August 26. Contact lead instructor Jim Jones at 406-295-4520.

Eureka: Classes are held 7-9 p.m. at the Eureka Middle School September 6, 12, 13, 15, 19, 20; Field course is September 17; test night is September 22. Call Megan Strom 406-297-7909 for more information.

---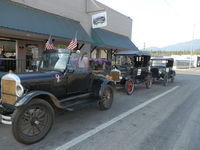 Brews for Benefit will be held on Thursday, August 18th from 5-8 PM at Cabinet Mountain Brewery in Libby. A portion of the proceeds will go to benefit Libby's Heritage Museum antique vehicle fund.

Brews for Benefit Aug. 18 in Libby (posted 8/17/16)
To benefit The Heritage Museum Vehicle Collection
On Thursday, August 18th from 5-8 PM, Cabinet Mountain Brewery in Libby will host a Brews for Benefits fundraiser for The Heritage Museum's antique vehicle fund. $1 from every beer sold will go to the fund which supports the four Model T Fords, as well the 1946 Buffalo Fire Truck and the Hyster Lumber Carrier in the Museum's collection. A selection of these vehicles will be displayed in front of the Brewery during the event. Enjoy a brew and some conversation with others who appreciate these vintage vehicles.

Related Links:
www.libbyheritagemuseum.org The Heritage Museum

---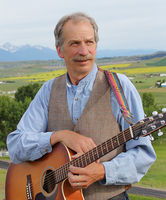 Neal Lewing

Lemonade on the Lawn August 24 in Libby (posted 8/16/16)
'Meagher of the Sword' with Neal Lewing
The Libby Friends of the Library will host the Montana Conversation's program "Meagher of the Sword" with Neal Lewing on Wednesday, August 24, Noon-1:00 PM. This will be the final performance in the Lemonade on the Lawn series at the Lincoln County Library, 220 West 6th St., Libby. The presentation is free and open to the public. Funding for the Montana Conversations program is provided by Humanities Montana through grants from the National Endowment for the Humanities, Montana's Cultural Trust, and private donations.

Thomas Francis Meagher's colorful lifetime of adventure spans two cultures and four continents. Irish rebel leader, escapee from Van Diemen's Land, American orator and statesman, designer of the Irish tricolor flag, distinguished Civil War general, and finally Montana's first territorial governor, his untimely disappearance in Ft. Benton remains an unsolved mystery. This is his story, from folklore, relevant music and his own words.

Neal Lewing is an actor, singer/songwriter, recording artist, playwright, poet, storyteller, author and historian. Managing director of the Port Polson Players theatre, Neal served as Musical Advisor to the Custer Reenactment in Hardin, and a term on the Montana Arts Council. When his band, the Montana ShamRockers, was commissioned to write songs to honor T.F. Meagher, intensive research led all the way to Ireland for the creation of this program.

As always, you are welcome to bring your lunch or buy it there. On the menu will be summer salads and a roll for $5. Lemonade and a cookie are free.

For more information, please call the Lincoln County Library at 406-293-2778.

---



Grizzly bear release. Photos courtesy Debbie Lepo, Forest Service LEO with the Kootenai National Forest.

Grizzly bear relocated into Cabinet Mountains (posted 8/16/16)
Part of on-going grizzly bear population augmentation program
Montana Fish, Wildlife & Parks
Montana Fish, Wildlife & Parks released a young male grizzly bear into the Cabinet Mountains on July 25th. A young male bear, estimated to be about 3-1/2 years old, was captured on the South Fork of the Flathead River and released above Spar Lake on the Kootenai National Forest.

The grizzly bear was captured specifically to be moved to the Cabinet Mountains as part of the on-going grizzly bear population augmentation program. This program is an on-going effort to boost and recover the grizzly bear population in the Cabinet Mountains and is a cooperative effort between Montana Fish, Wildlife & Parks (FWP) and the US Fish and Wildlife Service (USFWS). This bear has no known history of conflict with people.

Under the program, FWP captures bears in backcountry areas of the Northern Continental Divide Ecosystem and USFWS monitors the animals after their release in the Cabinet Mountains. All grizzly bears relocated to the Cabinets are monitored with a radio collar until their collars drop off. The collars utilize the global positioning system (GPS) to gather locations every few hours in order to follow the bear's movements.

For more information, contact Kim Annis, MFWP Cabinet-Yaak Ecosystem Grizzly Bear Specialist, at 406-291-1320.

Photos courtesy Debbie Lepo, Forest Service LEO with the Kootenai National Forest.

---
How Is Lincoln County Real Estate in 2016? (posted 8/16/16)
Guest article by Alice Hayes, Loveless Realty
2015 was a busy year and showed a number of our long time listings moving to new owners. Right now, housing inventory is pretty 'picked over' and inventory selections are low.

January 1, 2016 to August 1, 2016 Current Real Estate figures are:

SALES & PENDINGS:
92 Residential SALES:
57 in Libby
15 in Troy
4 in Yaak
4 in Flathead
12 in Sanders

48 Land SALES:
27 in Libby
7 in Troy
7 in Yaak
4 in Flathead
3 in Sanders

3 Commercial SALES:
2 in Libby
1 in Sanders

44 Residential PENDING:
22 in Libby
11 in Troy
1 in Yaak
3 in Flathead
7 in Sanders

13 Land PENDING:
7 in Libby
1 in Troy
3 in Yaak
1 in Sanders
1 in Flathead

1 Commercial/M-Family PENDING:
1 in Libby

ACTIVE LISTINGS:
225 Residential ACTIVES:
95 in Libby
59 in Troy
13 in Yaak
13 in Flathead
45 in Sanders

283 Land ACTIVES:
99 in Libby
95 in Troy
21 in Yaak
27 in Flathead
41 in Sanders

25 Commercial ACTIVE:
12 in Libby
4 in Troy
1 Yaak
1 in Flathead
7 in Sanders

Information obtained through Lincoln County MLS

"So How Did Our Market Actually Do? Let's Compare"
January 1 to December 31, 2015:
143 Residential SOLDS: 58 Land SOLDS: 6 Commercial SOLDS

January 1 to December 31,2014:
157 Residential SOLDS: 53 Land SOLDS: 8 Commercial SOLDS

January 1 to December 31, 2012:
120 Residential SOLDS: 33 Land SOLDS: 6 Commercial SOLDS

January 1 to December 31, 2011:
111 Residential SOLDS: 37 Land SOLDS: 7 Commercial SOLDS

January 1 to December 31, 2010:
93 Residential SOLDS: 28 Land SOLDS: 0 Commercial SOLDS

January 1 to December 31, 2009:
82 Residential SOLDS: 33 Land SOLDS: 6 Commercial SOLDS

Interest Rates Remain at ALL Time LOWS
NOW Could be a Great Time to Buy
As of August 1, 2016 Conforming & FHA Loans:
30- Year Fixed; Interest = 3.74%; APR= 3.81%
15- Year Fixed; Interest = 3.01; APR=3.13%

If you've given any thoughts to selling your home - we would enjoy visiting with you. There are still some good 'home selling' months left in 2016.

Contact information:
Alice Hayes 406-293-8364, alice@alicehayes.com
Jim Hayes 406-293-1926, jim@alicehayes.com
Website: www.alicehayes.com

---
Upcoming events in Libby (posted 7/18/19)
Libby Christian Church
July 25-28: Swimming Lessons for babies-4th grade and a special class on basic life saving skills for 5th grade on up. Cost is $15 for 4 days.

Saturday, August 27, 2016: 2nd Annual Kootenai Valley Triathlon
Last year over 70 people registered and the spectators, as well as the athletes, had a great time. Pedal, Paddle, Run. Join the FUN!!!

For more information and to register visit libbychristianchurch.com/Events or call 406-293-3747.

---
Libby lies in the northwest corner of Montana and is nestled in a valley carved by the Kootenai River on the flank of the majestic Cabinet Mountain Range and Wilderness Area. Today about 2,800 people live within Libby proper. The main industries are lumber and wood products, mining, tourism and recreation. The movies "The River Wild" and "Always" were filmed here. Contact the Libby Chamber of Commerce for brochures, info on lodging and events, general area information, and contact information for local businesses and services.
SUMMER
When the weather warms and the mountain snows melt away, the Kootenai National Forest comes alive with over 2.2 million acres of public land as a playground. Mountain trails and lakes open up, beautiful wildflowers come in bloom, and wildlife have their young. Libby is the basecamp for the Cabinet Mountains Wilderness Area, 90-mile long Lake Koocanusa, the Northwest Peaks Scenic Area, and the Ten Lakes Scenic Area. There is good access to most of the Forest and plenty of room to get away from it all!
WINTER
Winter in Montana means snow, and lots of it! For those who love to play in the deep powder, the Libby area offers tremendous winter fun. Turner Mountain Ski Area, located just 22 miles from Libby, offers challenging downhill skiing with a beautiful view. Their slogan is "steep, deep and cheap", and Turner definitely lives up to that. It's still fairly undiscovered, so you can escape the crowds and get the cheapest lift tickets around. For those who love snowmobiling, there are hundreds of miles of backcountry roads to sled on in the Kootenai National Forest. Cross-country skiers and ice fishermen also can find solitude on a lake and miles of quiet forest trails to enjoy the outdoors. Those who are a bit on the wild and crazy side will love the antics of the Libby Polar Bear Club. Members take winter-time "swims" in frigid Libby Creek every Sunday from October to April. Plungers have ranged in age from 3 to 61. As long as the ice can be broken on the creek, if it has formed, the group will take their plunge, no matter the temperature.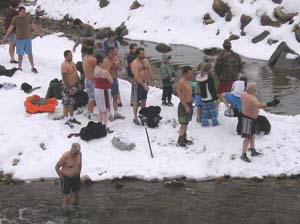 These people must be craaaazzzzzy!
Libby Polar Bear Club