News: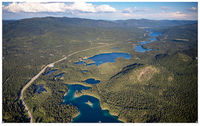 Aerial photo of timberland within the potential Montana Great Outdoors Conservation Project. Photo courtesy Chris Boyer.

Scoping period for potential conservation easement in NW MT (posted 2/13/2022)
Comment period Feb 2 - March 4, 2022
Montana Fish, Wildlife & Park
Montana Fish, Wildlife & Parks is opening a public scoping period for a potential project that would place approximately 113,951 acres of timberland in northwest Montana under a conservation easement and protect working lands, public recreation access, and wildlife habitat.

FWP is working with The Trust for Public Land and landowners SPP Montana, LLC and Green Diamond Resource Company on the potential easement around the Thompson Chain of Lakes in Lincoln, Flathead, and Sanders counties.

If approved, FWP would hold the conservation easement while SPP and Green Diamond would maintain ownership of the land. The easement would preclude development on those lands, protect important wildlife habitat and landscape connectivity, and provide public access and associated recreational opportunities. The U.S. Forest Service Forest Legacy Program, the Habitat Montana program, and grant funding raised by TPL would be likely funding sources if this proposal were to proceed.

A scoping period gives the public a chance to tell FWP what issues and concerns members of the public think should be considered in an environment assessment before the department begins drafting the document.

This potential project, named the Montana Great Outdoors Conservation Project, is similar to other conservation easements on timberlands across the region. The project borders Thompson Chain of Lakes State Park, the 142,000-acre Thompson-Fisher Conservation Easement, and the 100,000-acre U.S. Fish and Wildlife Service's Lost Trail Conservation Area as well as the Kootenai National Forest and Montana Department of Natural Resources and Conservation lands.

The property currently provides abundant public hunting and angling opportunities that would be permanently secured under this proposal.

This project would conserve key winter range and a movement corridor for elk, mule deer, white-tailed deer, and moose. It would provide critical habitat for grizzly bear and Canada lynx, federally threatened species found on the property, and protect streams for the westslope cutthroat trout and Columbia River redband trout, both Montana species of concern.

The 30-day scoping period will begin Feb. 2, 2022 and conclude March 4, 2022.

Comments can be submitted to chammond@mt.gov or Montana Fish, Wildlife & Parks, Chris Hammond, Re: Proposed Conservation Easement, 490 N. Meridian Road, Kalispell, MT, 59901.

Comments received from this preliminary evaluation will help FWP determine public interest, identify potential issues that would require further analysis, and may provide insight for refining the proposal or for developing and analyzing one or more alternatives.

---
Live concerts in Rexford, Montana (posted 2/13/2022)
Below is a list of concerts that will be at Abayance Bay Marina in Rexford, Montana. More information at: abayancebayevents.com

Saturday, July 2: Tim Montana Live Music Concert 7 PM. Come jam with us.
Saturday, July 9: Steve Earle & The Dukes Live Music Concert, 8PM. Foot-stomping folk and country-rock.
Saturday, July 30: Queensryche Live Music Concert, 8PM. Hard rock.
Saturday, August 6: Blues Traveler Live Music Concert, 8PM. Bluesy-rock.
Saturday, August 13: Elle King Live Music Concert, 8:30PM. Pop-and country-tinged retro-rock.
Friday, August 19: Nitty Gritty Dirt Band Live Music Concert, 8PM.
Friday, August 26: BC/DC Live Music Concert, 8PM. High-voltage and twin sounding tribute band.

---
Vehicle reservations for Glacier National Park go online March 2 (posted 2/13/2022)
Glacier National Park announces that vehicle reservations, formerly known as "tickets," required to access Going-to-the-Sun Road (GTSR) and the North Fork area via the Polebridge Entrance Station from May 27 to September 11, 2022 will become available on Recreation.gov starting March 2 at 8 am MST/10 am EST. Other areas of the park can be accessed without a reservation.

This will be the second year of the reservation system pilot, designed to manage high traffic volumes within the park and avoid gridlock. Glacier National Park is consistently the tenth most visited national park in the country. The 2021 reservation system pilot reduced congestion during peak hours and circumvented the need to close vehicle access to GTSR an estimated 35 times. This was achieved despite 2021 visitation numbers currently indicating the second highest visitation on record for the park. Avoiding gridlock also ensured emergency vehicle access and prevented severe vehicle back-ups at the West Entrance.

The North Fork also saw record-setting visitation. By August 2021, visitation to the North Fork was 20% higher than in 2019. In contrast to GTSR, the North Fork is managed as a "wilderness threshold zone" with emphasis on solitude, a sense of history, difficulty of access, and limited support facilities. In order to maintain these values, the park will manage North Fork visitation levels to eliminate the need to temporarily restrict access, improve visitor safety, protect sensitive resources, and provide quality visitor experiences.

The Going-to-the-Sun Road and North Fork vehicle reservations function as two separate reservation systems. Beginning March 2, 2022 at 8 am, vehicle reservations for both areas will be available 120 days in advance on a rolling window. Starting May 26, additional vehicle reservations will also be made available the day before the effective date.

The reservation system will require visitors to set up an account on Recreation.gov and obtain a vehicle reservation ($2 nonrefundable fee). Recreation.gov is the designated partner of 12 federal agencies for making reservations at 4,200 facilities and activities, and over 113,000 individual reservable sites across the country. While they are a close partner, their website is not operated by Glacier National Park.

Visitors may also make a reservation through the Recreation.gov call center. Contacting the call center does not provide an advantage towards securing a reservation but provides an alternative for those who don't have access to the internet or are not as familiar with technology. Call centers are open every day from 8 am to 10 pm MST and the reservation fee remains $2. The following lines are available for callers:
Reservation line (Toll-Free) - (877) 444-6777
Reservation line (International) - (606) 515-6777
Reservation line (TDD) - (877) 833-6777

In addition to the vehicle reservation, each vehicle entering the park is required to have a park pass for any entry point into the park. These passes could include any one of the following: $35 Glacier National Park pass purchased at the gate or online (valid for seven days); Glacier National Park Annual Pass, or America the Beautiful Interagency Pass, including the annual, senior, military, access, volunteer, or 4th grade passes.

Landowners inside the park (and their guests and employees) and tribal members are not required to have a vehicle or service reservation to access GTSR.

Details regarding when and where reservations are needed can be found below:

Going-to-the-Sun Road (GTSR)
One vehicle reservation per vehicle will be required to travel beyond the West Entrance Station and the Camas Entrance Station from 6 am to 4 pm from May 27 to September 11, 2022.

New this year, a vehicle reservation will not be required at the St. Mary Entrance. Once snow removal and road preparations are complete and GTSR opens to vehicle traffic to Logan Pass, vehicle reservations will be required starting at the Rising Sun area, located 5 miles west of the St. Mary Entrance, through September 11, 2022.

The park will offer three-day vehicle reservations for GTSR rather than the seven-day reservation offered in 2021. The $35 Glacier National Park pass remains valid for seven days.

Visitors with lodging, camping, transportation, or commercial activity reservations within the GTSR corridor can use their service reservation receipt for entry in lieu of the $2 vehicle reservation from Recreation.gov. This included reservation only applies to the date of your service reservation.

The fare-free park shuttle will operate in the park this year on GTSR from Apgar Visitor Center to St. Mary Visitor Center. Unlike 2021, the shuttle system will not require a separate reservation and will operate on a first-come, first-served basis.

In addition to Fish Creek and St. Mary campgrounds, Apgar and Sprague Creek campgrounds will require advance reservations. Reservations are available on Recreation.gov on a 6-month rolling basis. At this time, reservable campsites for Apgar and Sprague Creek campgrounds have not been released on Recreation.gov. The park anticipates releasing these sites in late March/early April. Rising Sun and Avalanche campgrounds will remain first-come, first-served. The park anticipates all campgrounds to operate in 2022.

The park is currently working on details for a utility project this summer that may require the west side of Going-to-the-Sun Road to be closed at night, except for emergency vehicles. More details on this project will be forthcoming, but visitors should anticipate nightly closures from Apgar to Lake McDonald Lodge from June to September.

North Fork
New for 2022, one vehicle reservation per vehicle will be required at the Polebridge Entrance Station to visit the North Fork area of the park from 6 am to 6 pm from May 27 to September 11, 2022.
North Fork vehicle reservations will be valid for one day.

The North Fork area does not offer lodging, transportation, or commercial services, and camping is first-come, first-served. Campsites will be assigned at the Polebridge Entrance Station.

Other Park Areas
Vehicle reservations are not required for any other portions of the park (e.g., Many Glacier, Two Medicine, Cut Bank, or Chief Mountain Highway) but visitors are still required to possess a valid park pass.

The park anticipates continued congestion at Two Medicine and Many Glacier valleys. As in past years, entry will be temporarily restricted when these areas reach capacity. Visitors are encouraged to plan their visit outside of peak hours (10 am to 2 pm). Visitors with service reservations (e.g., boat tours, lodging, horseback rides, guided hikes) in these valleys will be permitted entry during temporary restrictions.

---
How was the Real Estate Market in 2021? (posted 1/23/2022)
Guest article by Alice Hayes/Team Hayes Realtors
1/1/2021 - 12/31/2021 Real Estate Figures were:
253 Residential SALES:
169 Libby; 64 Troy; 20 Yaak

184 Land SALES:
90 Libby; 76 Troy; 18 Yaak

15 Comm/Multi-Family SALES:
10 Libby; 3 Troy; 2 Yaak

42 Residential PENDING:
30 Libby; 9 Troy; 3 Yaak

24 Land PENDING:
14 Libby; 8 Troy; 2 Yaak

2 Comm/Multi-Family PENDING:
1 Libby

27 Residential ACTIVES:
16 Libby; 9 Troy; 2 Yaak

49 Land ACTIVES:
27 in Libby; 15 in Troy; 7 in Yaak

8 Comm/Multi-Fam ACTIVES:
6 Libby; 2 Troy; 0 Yaak

Interest rates are Truly Amazing! Now could be a great time to purchase.
As of 12/31/2021 - Conforming & FHA Loans:
Per Quicken
30-Year Fixed: Interest/2.875%; APR/3.843%
15-Year Fixed: Interest/2.625%; APR/3.043%

The buying and selling landscape has changed - and still continues to change.
- We are still in a "Seller's Market" and 'low-ball offers' and taking plenty of time to make up your mind is no longer the case.
- If a buyer is serious about making a purchase - they need to be ready - really, really ready.
- If they have a home to sell, that process needs to already be completed and/or the sale must be very close to closing.
- If you will need to obtain a loan in order to purchase. You will need to have been prequalified and have your pre-qualification document in your hand.
- And then there is the very real possibility of Multi-Offers on the place you wish to purchase. With Low Inventory, Historically Low Interest, and Multiple Buyers - folks are sometimes missing out on the places they wish to buy.
- Delays will inevitably happen. Title companies, lending institutions, and appraisers are overwhelmed and delays are happening.
- We are hoping transactions will run smoother in the New Year - and there is a lot more inventory to choose from.

2021 has been a super busy year - and with the 'rush to buy' in Montana - our Inventory of Listings is at an all-time low! We are looking for listings to share with our Buyers. If you have considered selling your home, we would like to visit with you and give you some ideas of how we can help. And you never know - we just might have a very qualified buyer or buyers 'waiting in the wings'!

TEAM HAYES REALTORS LLC
Contact us for more information:
OFFICE #: 406-293-2725
Alice: 406-293-8364, alice@alicehayes.com
Jim: 406-293-1926, jim@alicehayes.com
www.teamhayesrealtors.com
417 Mineral Ave Ste 1 in the Mineral Plaza, Libby, Montana

---
Libby lies in the northwest corner of Montana and is nestled in a valley carved by the Kootenai River on the flank of the majestic Cabinet Mountain Range and Wilderness Area. Today about 2,800 people live within Libby proper. The main industries are lumber and wood products, mining, tourism and recreation. The movies "The River Wild" and "Always" were filmed here. Contact the Libby Chamber of Commerce for brochures, info on lodging and events, general area information, and contact information for local businesses and services.
SUMMER
When the weather warms and the mountain snows melt away, the Kootenai National Forest comes alive with over 2.2 million acres of public land as a playground. Mountain trails and lakes open up, beautiful wildflowers come in bloom, and wildlife have their young. Libby is the basecamp for the Cabinet Mountains Wilderness Area, 90-mile long Lake Koocanusa, the Northwest Peaks Scenic Area, and the Ten Lakes Scenic Area. There is good access to most of the Forest and plenty of room to get away from it all!
WINTER
Winter in Montana means snow, and lots of it! For those who love to play in the deep powder, the Libby area offers tremendous winter fun. Turner Mountain Ski Area, located just 22 miles from Libby, offers challenging downhill skiing with a beautiful view. Their slogan is "steep, deep and cheap", and Turner definitely lives up to that. It's still fairly undiscovered, so you can escape the crowds and get the cheapest lift tickets around. For those who love snowmobiling, there are hundreds of miles of backcountry roads to sled on in the Kootenai National Forest. Cross-country skiers and ice fishermen also can find solitude on a lake and miles of quiet forest trails to enjoy the outdoors. Those who are a bit on the wild and crazy side will love the antics of the Libby Polar Bear Club. Members take winter-time "swims" in frigid Libby Creek every Sunday from October to April. Plungers have ranged in age from 3 to 61. As long as the ice can be broken on the creek, if it has formed, the group will take their plunge, no matter the temperature.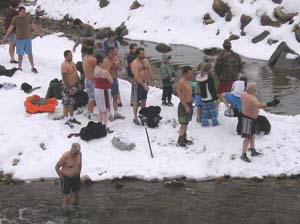 These people must be craaaazzzzzy!
Libby Polar Bear Club