News:
Funeral Services for Jeannie M. Spooner Dec. 12 in Libby
Jeannie M. Spooner, 83, passed away Thursday, December 4, 2014 in Libby. Services will be 11:00 a.m. Friday, December 12, 2014 at St. Joseph Catholic Church in Libby, Montana. Visitation will be 1-8 p.m. Thursday, December 11, 2014 at Schnackenberg & Nelson Funeral Home, 422 W 2nd St, in Libby. Online condolences and memories may be shared by visiting www.schnackenbergfh.com.

Related Links:
Obituary – Jeannie Spooner Snackenberg & Nelson Funeral Home

---
Rosary and funeral service for Stanley Evans Dec. 13 (posted 12/11/14)
Stanley J. Evans, 71, passed away Monday, Dec. 1st in Libby. The rosary and funeral service will be on Saturday, Dec. 13th at 2:00PM at St. Joseph Catholic Church in Libby. Following the service will be a "Celebration of Life and Time to Share" at the Libby Elks Club with a slide presentation. He was principal at Libby High School from 1974 until his retirement in 1998. In lieu of flowers, memorials may be made to WINGS, PO Box 1160, Libby, MT 59923 or Home Option Hospice, 313 Montana Avenue, Libby, MT 59923. Memories and condolence may be shared at www.schnackenbergfh.com.

---
FWP seeks information on 7 whitetail deer bucks killed near Trout Creek (posted 12/10/14)
Montana Fish, Wildlife & Parks
Thompson Falls area Game Warden Troy Hinck responded to a report of seven wasted whitetail bucks west of Trout Creek. The people involved cut off the antlers and wasted the majority of the animals. Anyone with information about this incident is asked to call Warden Hinck at 406-240-2271. Callers can also anonymously report information to 1-800-TIP-MONT. Callers who provide information leading to a conviction may be eligible for a reward.

---
Libby Dam water update – Dec. 11 (posted 12/11/14)
U.S. Army Corps of Engineers – Libby Dam
Current Koocanusa Reservoir elevation: 2426.4 feet
Current Koocanusa Reservoir inflow: ~5.5 kcfs
Current Libby Dam outflow: 25 kcfs
Current Kootenai River elevation at Bonners Ferry: 1754.1 feet

The current outflow from Libby Dam is 25 kcfs. Outflow will decrease to 20 kcfs over two hours beginning at 2200 MST Thursday, 11 December, and then increase back to 25 kcfs at 0700 MST Friday, 12 December. The decrease to 20 kcfs will repeat beginning at 2200 MST Friday night and that flow will be held through the weekend. At 0700 MST on Monday morning, 15 December, outflow will increase to 26.5 kcfs and held at that flow through next week.

Libby Dam is currently drafting the reservoir to provide flood storage space for next spring. The April-August inflow forecast is 6903 KAF, which is 117 percent of the 1981-2010 average. This forecast sets the end of December flood risk management elevation to 2411 feet.

The Northwest River Forecast Center creates daily forecasts for short term projections throughout the Kootenai and Columbia River Basins. These forecasts may be updated multiple times in a day and as conditions change. Links to those forecasts can be found below.

Short term forecasts for Libby Dam elevations and inflows:
http://www.nwrfc.noaa.gov/river/station/flowplot/flowplot.cgi?lid=LYDM8

Short term forecasts for Libby Dam outflow:
http://www.nwrfc.noaa.gov/river/station/flowplot/flowplot.cgi?lid=KBDM8

Additionally, projected inflows and reservoir operations at Libby Dam through next summer can be found here:

http://www.nws.usace.army.mil/About/Offices/Engineering/HydraulicsandHydrology/OperationalProjections.aspx

These modeling results are updated at least monthly and include information on elevations, inflow, and outflow:

Page 1 shows Lake Koocanusa elevation probabilities through next summer
Page 2 shows Libby Dam inflow probabilities through next summer
Page 3 shows Libby Dam outflow probabilities through the summer

---
Libby Archery indoor range open for shooting (posted 12/8/14)
Libby Archery Club's indoor range is now open for club members to shoot compound and traditional archery equipment. The range is located at Lincoln Lanes on Commerce Way in Libby. It is open through March 31, 2015 and is open whenever Lincoln Lanes is open for business.

Shooters must be a member of Libby Archery Club to use the range. Kids age 15 and under must be accompanied by an adult. The fees are minimal and help cover the cost of renting the facility, targets and insurance. Kids age 11 and under can sign up with an adult member and shoot for free. The cost for youths ages 12-17 is $15 for the season. Cost for adults age 18 and over the cost is $30 for the season. The cost includes membership to the Libby Archery Club and range fees for the season. Returning members and new members can sign up at Libby Sports Center.

For those members interested in participating in league shooting, sign-ups will be available at the range. Teams will consist of three members and can be traditional, compound or a combination of both types of equipment. League shooting will be on Tuesdays and Thursdays from 6pm to 9pm and will begin January 25, 2015 and will run for six weeks, ending March 7, 2015.

Libby Archery Club will also be offering a free basic archery instruction class coming in January for anyone interested in learning or improving archery skills. This class is not a hunter's education class. More information on this will be posted at a later date.

For information on shooting, league or free classes, please contact Teri Kelly at 406-293-0911.

---
Lincoln County Real Estate overview (posted 11/18/14)
November 2014
Guest article by Alice L. Hayes, Loveless Realty
2014 at a Glance—How Is Lincoln County Real Estate in 2014?

January 1, 2014 – November 1, 2014 current real estate figures:
ACTIVE LISTINGS
298 Residential ACTIVES:
123 in Libby
73 in Troy
8 in Yaak
13 in Flathead
81 in Sanders

414 Land ACTIVES:
152 in Libby
108 in Troy
24 in Yaak
25 in Flathead
105 in Sanders

37 Commercial ACTIVE:
17 in Libby
5 in Troy
3 in Yaak
2 in Flathead
10 in Sanders

January 1, 2014 to November 1, 2014 Current Real Estate Figures:
SALES & PENDINGS
135 Residential SALES:
87 in Libby
26 in Troy
4 in Yaak
3 in Flathead
15 in Sanders

47 Land SALES:
16 in Libby
18 in Troy
4 in Yaak
9 in Sanders

6 Commercial SALES:
4 in Libby
1 in Troy
1 in Sanders

31 Residential PENDING:
10 in Libby
6 in Troy
1 in Yaak
3 in Flathead
11 in Sanders

15 Land PENDING:
7 in Libby
2 in Troy
1 in Yaak
1 in Flathead
4 in Sanders

1 Commercial/M-Family PENDING:
1 in Sanders

The figures of the Current Activity and Past Activity show we are moving forward—not at incredible speeds—but slowly moving ahead. 2013 showed the most residential SALES since 2007. And 2013 showed Land SALES were almost as high as 2008. So far, 2014 has been a busy year with a number of our long-time listings moving to new owners. We are looking forward to keeping the SALES momentum moving through-out 2014! Information obtained from Lincoln County MLS.

So How Did Our Market Actually Do? Let's Compare
January 1 through December 31, 2013
156 Residential SOLDS
56 Land SOLDS
7 Commercial SOLDS

January 1 through December 31, 2012
120 Residential SOLDS
33 Land SOLDS
6 Commercial SOLDS

January 1 through December 31, 2011
111 Residential SOLDS
37 Land SOLDS
7 Commercial SOLDS

January 1 through December 31, 2010
93 Residential SOLDS
28 Land SOLDS
0 Commercial SOLDS

January 1 through December 31, 2009
82 Residential SOLDS
33 Land SOLDS
6 Commercial SOLDS

January 1 through December 31, 2008
98 Residential SOLDS
67 Land SOLDS
11 Commercial SOLDS

Interest Rates Remain at ALL Time LOWS—
Inventory Selections Are Growing
NOW Could be a Great Time to Buy
As of 11/01/2014 Conforming & FHA Loans:
30- Year Fixed; Interest = 4.06%; APR= 4.13%
15- Year Fixed; Interest = 3.21%; APR=3.34%

ALICE L. HAYES, Broker, LLC, ABR, CRS, GRI
JAMES W. HAYES, Sales, "Properties a Specialty"
PHONE: 406-293-8364; 406-293-1926
Webpage: http://www.alicehayes.com
Loveless Realty - 519 W. 9th - Libby, MT 59923
alice@alicehayes.com
jim@alicehayes.com
---
Holiday Dessert Concert in Libby Dec. 2 (posted 11/18/14)
The Libby High School Band will be having a Holiday dessert concert on Tuesday, Dec. 2nd at the Memorial Center in Libby from 7-8:30 pm.

---
Events in Eureka (posted 11/18/14)
Friday, November 21: 7pm Two Bit Franks concert with Eureka Folk Music Society
Second in Sunburst Performing Arts Series.
$12/adult; students 18 and younger for free.
LCHS Auditorium

Wednesday, December 3: Caroling!
Come join us for this magical afternoon of caroling in downtown Eureka.
Dress warmly and meet us at the corner of Glacier Bank at 4pm. We have song books.

Saturday, December 13: Arab and Islam talk
Come to a talk with Samir Bitar, UM scholar on Arab cultures and Islamic civilization.
Sponsored by Humanities Montana. Glacier Bank Community Room 10:30am
(coffee/tea and muffins served)

For more information about any of these events, please contact Rita at Sunburst Community Service Foundation. 406-297-0197, PO Box 1863, Eureka, MT 59917.

---
Upcoming events at Libby Memorial Center (posted 10/13/14)
Below are upcoming events presented by the Kootenai Heritage Council at the Memorial Center in Libby:

Thursday, November 20, 2014 - Two Bit Franks
7:00 pm
Some of the finest Bluegrass musicians in Montana, Two Bit Franks are John Lowell, Tom Murphy, Russ Smith, Jeff Shouse & Kevin Fabozzi. Two Bit Franks is proud to bring you homegrown original music, classic Bluegrass and some great adaptations to tunes you never imagined.
(KHC Series Event)

Sunday, December 7, 2014 - Tony Smith & Company
7:00 pm
This year Tony has gatered young talent from the community to kick off the Holiday season with old fashioned traditional Christmas music we all grew up enjoying. Admission is by donation to benefit the Libby Memorial Events Center.

Friday, December 26, 2014 - Copper Mountain Band
7:00 pm
Copper Mountain Band is a fresh, high-energy country music group from the great state of Montana. With a fiery passion for their craft and an appeal to all audiences, they incorporate music from many genres and styles into their performances

Tuesday, January 13, 2015 - Jonathan Kingham
7:00 pm
With a soothing blend of folk, pop, country and jazz, Kingham usually comes armed with a huge tub of Red Vines, a quick freestyle wit, and has rapidly become a favorite on the circuit. With a sound that is equally at home in a theater, performance center, or a lunchtime concert on the lawn, Kingham is a versatile and in demand performer.
(KHC Series Event)

Thursday, February 12, 2015 - Rebecca Folsom Band
7:00 pm
Rebecca Folsom's near four-octave range earns her a respectable seat in the same room as vocalists Whitney Houston and Queen's Freddie Mercury. Add in the soulfulness of Etta James, the abandon of Janis Joplin, a touch of folk songstress Joni Mitchell and that is Rebecca.
(KHC Series Event)

Friday, March 27, 2015 – Mud Bay Jugglers and The Tune Stranglers
7:00pm
These two groups will entertain: Born of earth and water twenty-some years ago, the Mud Bay Jugglers evolved into an organized body of arms, legs and hands; a multi-headed being that was guided by the natural belief in egalitarian leadership. This shows up on stage as their cooperative style of direction plays out in their amazing, non-verbal, choreographed performances. Their blend of juggling, physical comedy, dance, and music is as unique as their working style. Recently referred to as "a circus that plays music," the Tune Stranglers have been entertaining audiences across the West since 2003. With a smorgasbord of stringed instruments, washboard and the occasional clarinet, they perform fabulous hot jazz and old-timey music of the 1920's and 30's. If good ole country and bluegrass is what you like, this band can kick up their heels and hoe down 'til the cows come home.
(KHC Series Event)

Related Links:
www.libbymemorialcenter.com Libby Memorial Events Center

---
Libby lies in the northwest corner of Montana and is nestled in a valley carved by the Kootenai River on the flank of the majestic Cabinet Mountain Range and Wilderness Area. Today about 2,800 people live within Libby proper. The main industries are lumber and wood products, mining, tourism and recreation. The movies "The River Wild" and "Always" were filmed here. Contact the Libby Chamber of Commerce for brochures, info on lodging and events, general area information, and contact information for local businesses and services.
SUMMER
When the weather warms and the mountain snows melt away, the Kootenai National Forest comes alive with over 2.2 million acres of public land as a playground. Mountain trails and lakes open up, beautiful wildflowers come in bloom, and wildlife have their young. Libby is the basecamp for the Cabinet Mountains Wilderness Area, 90-mile long Lake Koocanusa, the Northwest Peaks Scenic Area, and the Ten Lakes Scenic Area. There is good access to most of the Forest and plenty of room to get away from it all!
WINTER
Winter in Montana means snow, and lots of it! For those who love to play in the deep powder, the Libby area offers tremendous winter fun. Turner Mountain Ski Area, located just 22 miles from Libby, offers challenging downhill skiing with a beautiful view. Their slogan is "steep, deep and cheap", and Turner definitely lives up to that. It's still fairly undiscovered, so you can escape the crowds and get the cheapest lift tickets around. For those who love snowmobiling, there are hundreds of miles of backcountry roads to sled on in the Kootenai National Forest. Cross-country skiers and ice fishermen also can find solitude on a lake and miles of quiet forest trails to enjoy the outdoors. Those who are a bit on the wild and crazy side will love the antics of the Libby Polar Bear Club. Members take winter-time "swims" in frigid Libby Creek every Sunday from October to April. Plungers have ranged in age from 3 to 61. As long as the ice can be broken on the creek, if it has formed, the group will take their plunge, no matter the temperature.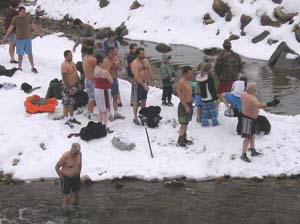 These people must be craaaazzzzzy!
Libby Polar Bear Club