News:
Birds of Prey Day at Libby Dam April 28 (posted 4/24/18)
LIBBY – Libby Dam will host the 7th annual Birds of Prey event on Saturday, April 28, 2018. The event runs from 10AM to 1:30PM.

New this year, visitors will learn about Beauty the bald eagle, whose story has been told in an award-winning science book for children. Beauty was nursed back to health by licensed wildlife rehabilitator Janie Veltkamp of Birds of Prey Northwest. Beauty was found in Alaska with half her real beak missing. Veltkamp worked with an engineer and a dentist to create a 3-D printed prosthetic beak for Beauty. After being fitted with the prosthetic, Beauty is now able to feed and drink by herself, and her own beak is slowly regenerating. Janie Veltkamp's award-winning book about the story is entitled "Beauty and the Beak."

During the day, visitors will be able to:
• See the live hawks, owls and eagles and talk with wildlife rehabilitators.
• View digitally printed prosthetic beaks created by a dentist and an engineer for wildlife.
• Visit with author Janie Veltkamp and see her award-winning book "Beauty and the Beak"
• Birds on perches may be viewed anytime between 10am and 1:30pm.
• Short talks will be given about specific birds at 30 minute intervals.

There will be other presentations inside and outside of the visitor center between 10:00AM and 2:00PM.

This family-friendly event has expanded to include informational booths and activities:
• Bear Aware! Bear safety with Montana Fish, Wildlife & Parks.
• Information on boating safety and invasive species boat inspections.
• Lincoln County Conservation District with information on Fire-wise best practices for landowners.

Visitors are invited to bring a picnic and binoculars and stay the day while watching for eagles, osprey and other wildlife above and around the dam.

There is no charge for this event and no reservations are necessary. Libby Dam Visitor Center is located at 260 Souse Gulch Road.

For more information, contact the Libby Dam Visitor Center (406) 293-5577.
Find Libby Dam on Facebook at http://www.facebook.com/LibbyDamMT

---
Bears emerging from dens across Northwest Montana (posted 4/24/18)
Residents reminded to remove food attractants to avoid conflicts
Montana Fish, Wildlife & Parks
Bears are emerging from dens across northwest Montana and residents are reminded to remove food attractants from their properties to avoid conflicts.

Montana is home to grizzly bears and black bears that roam the mountains and valley floors from spring through late fall before denning in wintertime. Starting in mid-March, bears begin emerging and move to lower-elevation areas seeking food.

Montana Fish, Wildlife & Parks encourages residents to "Be Bear Aware" and remove attractants every spring by April 1.

"With this year's above-average snowpack, bears are coming out of their dens and digging out from several feet of snow. There's no place for them to go but down toward the valley floor to feed," said Tim Manley, FWP Region 1 Grizzly Bear Management Specialist.

Residents are asked to remove or secure food attractants such as garbage and bird feeders and bird seed. Chicken and livestock should be properly secured with electric fencing or inside a closed shed with a door.

In Montana, it is illegal to intentionally feed deer and other ungulates, mountain lions, and bears. This includes putting out grain, deer blocks, mineral blocks, sunflower seeds, meat scraps and other food. Feeding animals leads to food conditioning, which increases the chances of a conflict and the removal of that animal.

Montana's spring black bear hunting season begins April 15. Hunters are required to pass a "black bear identification test" before purchasing a black bear hunting license. The free test is available online at http://www.fwp.mt.gov/education/hunter/bearID/.
Visit http://www.fwp.mt.gov for tips and tools on using bear spray, safe recreating and access to bear-resistant products. Contact FWP at 752-5501 to report any conflicts.
Common Bear Attractants
• Chickens & livestock
• Bird feeders & bird seed
• Deer blocks
• Garbage
• Beehives
• Fruit trees
• Pet food
• Barbecue grills

FAQ
Q. Are bears naturally aggressive toward humans?
A. No. Bears are usually solitary animals and act shy. They are typically non-confrontational unless they are surprised or feel threatened for themselves or their cubs. If you see a bear, stop and respect its need for space and try to leave the area.

Q. How good is a bear's sense of smell?
A. A bear's sense of smell is seven times greater than a bloodhound's and hundreds of times more sensitive than a domestic dog's. Bears can smell food more than a mile away.

Q. What do bears like to eat?
A. Grizzly bears are omnivores, so their diet can vary widely. They commonly eat seeds, berries, roots, grasses, deer, elk, fish, dead animals and insects.

Q. How many bears live in northwest Montana?
A. Northwest Montana is home to the largest population of grizzly bears in the lower 48 states with more than 1,000. The black bear population is much larger with approximately one bear per square mile.

Q. What are the safest ways to recreate in bear country?
A. Whether you are hiking, camping, mountain biking or hunting, you should always take safety precautions to avoid encountering a black bear or grizzly bear.
• Always carry bear spray and know how to use it.
• Never approach a bear. Respect its space and move away.
• Travel in groups of three or more people whenever possible and plan to be out only in the daylight hours.
• Make your presence known by talking or other means, especially when near streams or in thick forest where visibility is low. This can be the key to avoiding encounters. Most bears will avoid humans when they know humans are present.
• Don't approach a bear; respect their space and move off.
• When camping, always secure food attractants, whether it's in a bear-safe container or by hanging all food, trash and other odorous items well away from camp and at least 10 feet above ground and 4 feet from any vertical support. Keep a clean camp at all times. Never cook or eat in your tent.
• When hunting, immediately field dress the animal and move the carcass at least 100 yards from the gut pile.
• When mountain biking, slow speeds around sharp corners and in densely forested areas.
---
Drawing results for Deer, Elk permits available April 23 (posted 4/23/18)
Moose, sheep, goat permit applications due May 1
Montana Fish, Wildlife and Parks
Montana Fish, Wildlife and Parks will conduct the 2018 deer and elk permit drawing the week of April 23.

Results will be available after the drawing is complete. The drawing was initially set to happen this week, but to ensure a mistake-free drawing, FWP licensing staff is taking time this week to run a mock drawing and double-check application data.

To see results online, applicants must have a MyFWP account. To sign up for an account visit fwp.mt.gov/myfwp.

For questions about drawing or other licensing issues, call (406) 444-2950.

Upcoming application deadlines
• Moose, sheep and goat permits – May 1
• Antlerless elk and deer, and antelope – June 1
---
Yaak WINGS benefit May 5th (posted 4/15/18)
The Yaak Community is hosting their annual WINGS Benefit at the Yaak River Tavern on Saturday, May 5, 2018. 100% of the proceeds will go to Lincoln County WINGS, a not-for-profit organization that offers individuals and families in Lincoln County financial assistance during cancer treatment. A silent auction and bucket raffle will start at 2:00PM under the big white tent next to the Tavern. A Mexican themed dinner will be available starting at 5PM for $10 per person. The live auction featuring local artisans, craftsman, and regional products will begin at 6:30PM.

---
Libby lies in the northwest corner of Montana and is nestled in a valley carved by the Kootenai River on the flank of the majestic Cabinet Mountain Range and Wilderness Area. Today about 2,800 people live within Libby proper. The main industries are lumber and wood products, mining, tourism and recreation. The movies "The River Wild" and "Always" were filmed here. Contact the Libby Chamber of Commerce for brochures, info on lodging and events, general area information, and contact information for local businesses and services.
SUMMER
When the weather warms and the mountain snows melt away, the Kootenai National Forest comes alive with over 2.2 million acres of public land as a playground. Mountain trails and lakes open up, beautiful wildflowers come in bloom, and wildlife have their young. Libby is the basecamp for the Cabinet Mountains Wilderness Area, 90-mile long Lake Koocanusa, the Northwest Peaks Scenic Area, and the Ten Lakes Scenic Area. There is good access to most of the Forest and plenty of room to get away from it all!
WINTER
Winter in Montana means snow, and lots of it! For those who love to play in the deep powder, the Libby area offers tremendous winter fun. Turner Mountain Ski Area, located just 22 miles from Libby, offers challenging downhill skiing with a beautiful view. Their slogan is "steep, deep and cheap", and Turner definitely lives up to that. It's still fairly undiscovered, so you can escape the crowds and get the cheapest lift tickets around. For those who love snowmobiling, there are hundreds of miles of backcountry roads to sled on in the Kootenai National Forest. Cross-country skiers and ice fishermen also can find solitude on a lake and miles of quiet forest trails to enjoy the outdoors. Those who are a bit on the wild and crazy side will love the antics of the Libby Polar Bear Club. Members take winter-time "swims" in frigid Libby Creek every Sunday from October to April. Plungers have ranged in age from 3 to 61. As long as the ice can be broken on the creek, if it has formed, the group will take their plunge, no matter the temperature.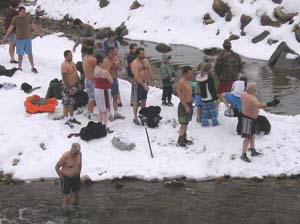 These people must be craaaazzzzzy!
Libby Polar Bear Club