News:
Decision on appointing new County Commissioner postponed (posted 7/29/14)
To replace resigning Ron Downey
Duane Williams, KLCB-KTNY Radio
The Lincoln County Commissioners were to name a replacement Tuesday morning for resigning Ron Downey. However the Commissioners have postponed the controversial appointment until 3pm Wednesday.

It appears the selection is between four "good" candidates, but Commissioner Mike Cole said he was not ready to make a decision. The selection of the appointee is by the currently seated Commissioners.

The controversy stems from the question of whether the replacement should be by appointment, or by public election. The county's legal council has indicated it should be by appointment.
_______________________________________

By Duane Williams, KLCB-KTNY Radio, e-mail: klcb@frontiernet.net, www.klcb-ktny.com

Editor's Note: The Board of Commissioners is the Executive Authority for Lincoln County. The Board consists of three members, each of whom represents a portion of the county. All Commissioners are elected by all county voters and serve a six-year term. Commissioner Downey was elected to represent District 2, the Troy area of the county.

---
Caution urged while paving project underway in Libby (posted 7/29/14)
Duane Williams, KLCB-KTNY Radio
The City is having the streets prepped for paving and people need to slow down and be cautious of the drops.

Not all the intersections and patch areas are marked. According to the City, it will take two to three weeks to get all the paving and patching done. They hope to be paving in town on Wednesday, July 30th.
__________________________________________

By Duane Williams, KLCB-KTNY Radio, e-mail: klcb@frontiernet.net, www.klcb-ktny.com

---
Libby City Council moves forward with new ordinances (posted 7/23/14)
Downtown business sidewalk encroachment and open containers
Duane Williams, KLCB-KTNY Radio
On Monday, July 21, 2014, the Libby City Council passed on second reading, Ordinance 1849 and 1850.

Ordinance 18-49 deals with sidewalk encroachment by downtown businesses using the sidewalk to display merchandise or to provide outside dining on the sidewalk. The ordinance now requires a permit and an accompanying annual fee, for use of the sidewalk, and based on the square footage used for enclosed cafes, on the sidewalk. The fee is yet to be determined. That determination will be made by the ordinance committee and referred to the council. For final determination. The ordinance specifically addresses sidewalk cafes. Smoking is prohibited in sidewalk café areas. Serving of alcohol is limited only to those seated at tables. Food, alcoholic and non-alcoholic beverages must be served in glass containers. Sale of alcohol in sidewalk establishments will not be permitted after 9:30pm. The area must be fenced by a minimum four foot fence.

Ordinance 18-50 provides for enforcement of the open container ordinance on private property such as privately –owned parking lots open for public parking. Outdoor venues such as sidewalk cafes, open air restaurants and outside taverns adjacent to the licensed business serving food and alcoholic beverages would be exempt.
______________________________________

By Duane Williams, KLCB-KTNY Radio, e-mail: klcb@frontiernet.net, www.klcb-ktny.com.

---
Blood Drives in Troy, Rexford and Libby (posted 7/22/14)
The American Red Cross has put out a call for blood and platelet donors to help alleviate a potential looming blood shortage for medical needs. All blood types are needed. Eligible donors with types O negative, B negative and A negative blood are especially needed at this time. Type O negative is the universal blood type and can be transfused to anyone who needs blood. Types A negative and B negative can be transfused to Rh positive or negative patients. There is also an urgent need for platelet donations. Platelets – a key clotting component of blood often needed by cancer patients, burn victims and bone marrow recipients – must be transfused within five days of donation, so it's important to have a steady supply of platelets on hand.

Upcoming Blood Drives in northwest Montana:
Troy: Friday, July 25, 2014
10:00 AM - 2:30 PM: Troy Kootenai Senior Community, Kootenai Senior Center 304 3rd St

Rexford: Thursday, July 31, 2014
1:00 PM - 5:15 PM: West Kootenai Community Church, 5910 West Kootenai Road

Libby: Thursday, August 21, 2014
11:30 AM - 5:30 PM: VFW, 114 West 2nd Street

How to Donate Blood
Call 1-800-RED CROSS (1-800-733-2767) or visit redcrossblood.org to make an appointment or for more information. All blood types are needed to ensure a reliable supply for patients. A blood donor card or driver's license, or two other forms of identification are required at check-in. Individuals who are 17 years of age (16 with parental permission in some states), weigh at least 110 pounds and are in generally good health may be eligible to donate blood. High school students and other donors 18 years of age and younger also have to meet certain height and weight requirements.

About the American Red Cross
The American Red Cross shelters, feeds and provides emotional support to victims of disasters; supplies about 40 percent of the nation's blood; teaches skills that save lives; provides international humanitarian aid; and supports military members and their families. The Red Cross is a not-for-profit organization that depends on volunteers and the generosity of the American public to perform its mission. For more information, please visit redcross.org or on Twitter at @RedCross.
---
Cotillion Dance Class offered in Libby Sept 15-20 (posted 7/22/14)
The National League of Junior Cotillions North Idaho Chapter will be at Libby Ballet at Asa Wood School for a dance session for youth 5th-12th grades. Must have at least 16 students to be able to have the program, maximum class size is 20 students (10 girls and 10 boys). Class will be from 4:30-6PM Monday-Friday that week. Dances that will be taught include waltz, foxtrot, swing, cha cha, and popular line dance steps. Young ladies learn how to follow a gentleman's lead and boys learn to be confident in escorting their partners through refreshment lines, receiving lines, seating them properly, assisting with refreshments, doors, coats and more. Many of these dance lesson skills also translate into life skills in respect for everyday life. Boys will wear navy or black suit jackets and ties (can be provided if necessary) and girls wear knee length or longer skirts or dresses (leggings may be used with shorter dresses for modesty in dance). Tuition cost is $210 which includes books, name tags, refreshments at every meeting, correspondence materials, certificates, prizes for contests, dance cards, gloves for girls, corsages and boutonnieres for the ball. For more information and to sign up, call Janelle Starr at bjrstarr@gmail.com or locally call Christine Wilkinson at 406-293-3313.

---
Libby lies in the northwest corner of Montana and is nestled in a valley carved by the Kootenai River on the flank of the majestic Cabinet Mountain Range and Wilderness Area. Today about 2,800 people live within Libby proper. The main industries are lumber and wood products, mining, tourism and recreation. The movies "The River Wild" and "Always" were filmed here. Contact the Libby Chamber of Commerce for brochures, info on lodging and events, general area information, and contact information for local businesses and services.
SUMMER
When the weather warms and the mountain snows melt away, the Kootenai National Forest comes alive with over 2.2 million acres of public land as a playground. Mountain trails and lakes open up, beautiful wildflowers come in bloom, and wildlife have their young. Libby is the basecamp for the Cabinet Mountains Wilderness Area, 90-mile long Lake Koocanusa, the Northwest Peaks Scenic Area, and the Ten Lakes Scenic Area. There is good access to most of the Forest and plenty of room to get away from it all!
WINTER
Winter in Montana means snow, and lots of it! For those who love to play in the deep powder, the Libby area offers tremendous winter fun. Turner Mountain Ski Area, located just 22 miles from Libby, offers challenging downhill skiing with a beautiful view. Their slogan is "steep, deep and cheap", and Turner definitely lives up to that. It's still fairly undiscovered, so you can escape the crowds and get the cheapest lift tickets around. For those who love snowmobiling, there are hundreds of miles of backcountry roads to sled on in the Kootenai National Forest. Cross-country skiers and ice fishermen also can find solitude on a lake and miles of quiet forest trails to enjoy the outdoors. Those who are a bit on the wild and crazy side will love the antics of the Libby Polar Bear Club. Members take winter-time "swims" in frigid Libby Creek every Sunday from October to April. Plungers have ranged in age from 3 to 61. As long as the ice can be broken on the creek, if it has formed, the group will take their plunge, no matter the temperature.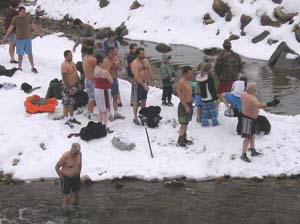 These people must be craaaazzzzzy!
Libby Polar Bear Club