News:
Libby Christian Church offers Vacation Bible School in June (posted 5/29/16)
Libby Christian Church offers Vacation Bible School in June
Libby Christian Church is offering Vacation Bible School the week of June 13-16. They have sessions for youth from preschool age through 7th grade.

VACATION BIBLE SCHOOL June 13-16 (9am-noon)
Bible lessons, crafts, snacks, singing, dancing, and games are all included for kids ages 4 years old and those who've completed K-3rd grades. Breakfast and lunch with be available.

EXPERIENCE THE ADVENTURE June 13-16 (9am-noon)
(part of Vacation Bible School)
June 13-16 (9am-noon) For kids who've completed 4th-7th grades.
Every day the kids go on an exciting excursion like hiking, rafting, shooting targets, etc. They get to have fun with friends, are led by competent adults, and learn good things about God.

For more information and to register online visit libbychristianchurch.com.


---
Libby Dam Visitor Center opens for summer operations Memorial Day Weekend (posted 5/28/16)
The Libby Dam Visitor Center will open for summer operations May 27, Memorial Day Weekend. Hours are 9:30 a.m. to 6:00 p.m., daily through September 5, 2016, Labor Day Weekend.

Libby Dam tours are limited through June 7. Tours are available at 10 a.m., Noon and, 2 and 4 p.m., May 27, 28, 29 and 30. No tours are available May 31, June 1, 2, 3, 6 and 7. The visitor center will still open those days 9:30 a.m. to 6:00 p.m.

The 7-day-a-week summer tour schedule will begin June 8 with 4 tours a day at 10 a.m., Noon and, 2 and 4 p.m. Anyone wishing to go on a tour must arrive 15 minutes before the tour starts to register. Photo identification is required. Tours last about an hour and involve 1.5 miles of walking on concrete, indoors and outdoors. Tours can be canceled due to weather or operational reasons.

The Souse Gulch Day use area is now open daily 9 a.m. to 9 p.m. For picnic shelter reservations, questions about tour availability or other Libby Dam recreational opportunities call the Libby Dam Visitor Center at 406-293-5577 or visit the center at 260 Souse Gulch Road, Libby, MT, 59923.

U.S. Army Corps of Engineers Rangers would like to remind folks to be safe when recreating on and around the water and always remember to wear your lifejacket! When life jackets are worn, nobody mourns. For more information visit http://www.bobber.info or www.pleasewearit.com.
---
The Heritage Museum opens June 4 (posted 5/28/16)
Opening Day at The Heritage Museum is an eagerly anticipated annual event. This year, the Museum will host the celebration on Saturday, June 4th, from 10:00-5:00. As always, the entire family will find something of interest in the presentations and demonstrations both inside and outside throughout the day. There will be learning experiences such as gold panning and ham radio operations, food and fun for all. Smokey Bear will be visiting from 11:00 to 1:00, and there will be face painting, so be sure to bring the kids!

At 10:30 AM, Dr. Pat Neils will present "Dunn Creek Nell: The Life and Legend of Libby's very own Wild West Woman." Is it true that Dunn Creek Nell came from a family of fortune and was well educated? Is it true that she forced conductors to stop the commuter train for her at gun point? Is it true that she had 14 husbands, killed some of them, and buried them behind her cabin up Dunn Creek? Based on many hours of research and interviews, Neils will explore, and try to unravel the facts and fiction that have surrounded this enigmatic, and seemingly cantankerous and contrary character.

Everett Nelson will present "The History of the J. Neils Boarding Houses and Mill Row" at 11:30 AM. In addition to his experience living on Mill Row, Mr. Nelson will tell about the Rayome family as managers of the boarding houses.

In the Swamp Creek Community Hall, there will be music and dancing. From 10:00 to 11:00, enjoy the music of Lee Tonner, Mike Powell, Carol Cady, Patty Leonard and Tim Harcourt. From 11:00 to 12:00, the Spinning Squares will be kicking up their heels square dancing for your entertainment. The noon hour will feature For God and Country, followed by the Libby High School jazz group, Back in 5, from 1:00-2:00. Pasture Pickin' commences at 2 PM.

Enjoy lunch in the historic Sylvanite cookhouse. Jeff Gruber will be grilling burgers, onions and hot dogs and there will be various home baked desserts available.

At 1:00 PM, Carlene Erlandson will present the History of Quilts. Using quilts from her own collection as well as a few from the Museum, she will share her knowledge of quilt patterns and fabrics from the late 1880's to more current times.

The Museum's four Model T Fords will be out and about throughout the day. For $10, you'll have the opportunity to dress in vintage accessories and have your photo taken in a Model T. A raffle will be held that day to benefit the Model T Fund. The prize is a large framed photo of Upper Flower Creek by Kaya Hardgrove. Tickets are $1 each or 6 for $5.

Between 10:00 and 2:00, stop by the Shay shed to visit with volunteers who have been working on the locomotive. They'll bring you up to date on the progress and share plans for the future.

After receiving requests for many years, the Museum will open a new exhibit on the history of the W.R. Grace vermiculite mine and subsequent asbestos contamination. The highlight of the exhibit will be personal perspectives of a variety of people sharing their experiences through video-taped interviews. Clips of these interviews can be selected for viewing on touch-screen computers. Some of these people worked for W.R. Grace; some have asbestos-related disease or had family members who were affected. Others are the physicians who diagnosed and treated the illnesses. Still others just live and work here and have their own viewpoint. This exhibit was made possible through grants from Humanities Montana, the Center for Asbestos Related Disease, the Lincoln County Community Foundation and private donations.

Beginning opening day and continuing through the month of June, the Kootenai Valley Quilt Guild will display their beautiful quilts in the Tower Gallery. The gallery will house a changing exhibit throughout the summer with artwork from the Libby Fine Arts Group in July and photographs in August.

The Heritage Museum will be open through August 31st, Monday-Saturday, 10:00-5:00 and Sunday, 1:00-5:00. Admission is by donation. The Heritage Museum is run completely by volunteers. If you are interested in volunteering, please call the Museum at 406-293-7521.

Related Links:
www.libbyheritagemuseum.org The Heritage Museum, Libby, Montana

---
Muzzle Loading & Primitive Skills for Women – June 4 & 5 (posted 4/27/16)
In Thompson Falls
Montana Fish, Wildlife & Parks
Montana Fish, Wildlife & Parks' Becoming an Outdoors-Woman program is sponsoring a Muzzle Loading and Primitive Skills weekend workshop near Thompson Falls on June 4 & 5. Participants will experience an 1800's style mountain man camp and learn to shoot a muzzle loader, throw tomahawks, start a fire with flint and steel and learn about Dutch oven cooking.

The registration fee of $85 includes 2 nights camping and some meals. A limited number of spaces are available to sleep in a teepee, lean-to or wall tent for an additional $15.

The workshop will be held 8 miles west of Thompson Falls. To register or for more information contact BOW event coordinator Ginger Ward at 406-827-4597. The Registration forms are available on the FWP website at fwp.mt.gov ; click "Becoming an Outdoors Woman", under the Education tab. The registration deadline is May 28th.

---
Archery License will be required to apply for 2017 (posted 4/27/16)
Montana Fish, Wildlife & Parks
Starting in 2017 the purchase of a bow and arrow license will be required prior to applying for any Archery only permit.

To purchase a bow and arrow license an individual must meet one of the following requirements:
• show completion of a bowhunter education course
• show proof of purchase of a previous years bow and arrow license from Montana or another state
• sign an affidavit that they have previously purchased a bow and arrow license in Montana or another state

First time archers need to plan ahead so that they have the prerequisite bowhunter education certificate in order to apply for 2017 archery only drawings. The first drawing deadline is March 15 each year.

Bowhunter education classes are offered around the state until July 31st of each year. Please visit: http://fwp.mt.gov/education/hunter/getCertificate.html to register for a bowhunter education course.



---
Libby lies in the northwest corner of Montana and is nestled in a valley carved by the Kootenai River on the flank of the majestic Cabinet Mountain Range and Wilderness Area. Today about 2,800 people live within Libby proper. The main industries are lumber and wood products, mining, tourism and recreation. The movies "The River Wild" and "Always" were filmed here. Contact the Libby Chamber of Commerce for brochures, info on lodging and events, general area information, and contact information for local businesses and services.
SUMMER
When the weather warms and the mountain snows melt away, the Kootenai National Forest comes alive with over 2.2 million acres of public land as a playground. Mountain trails and lakes open up, beautiful wildflowers come in bloom, and wildlife have their young. Libby is the basecamp for the Cabinet Mountains Wilderness Area, 90-mile long Lake Koocanusa, the Northwest Peaks Scenic Area, and the Ten Lakes Scenic Area. There is good access to most of the Forest and plenty of room to get away from it all!
WINTER
Winter in Montana means snow, and lots of it! For those who love to play in the deep powder, the Libby area offers tremendous winter fun. Turner Mountain Ski Area, located just 22 miles from Libby, offers challenging downhill skiing with a beautiful view. Their slogan is "steep, deep and cheap", and Turner definitely lives up to that. It's still fairly undiscovered, so you can escape the crowds and get the cheapest lift tickets around. For those who love snowmobiling, there are hundreds of miles of backcountry roads to sled on in the Kootenai National Forest. Cross-country skiers and ice fishermen also can find solitude on a lake and miles of quiet forest trails to enjoy the outdoors. Those who are a bit on the wild and crazy side will love the antics of the Libby Polar Bear Club. Members take winter-time "swims" in frigid Libby Creek every Sunday from October to April. Plungers have ranged in age from 3 to 61. As long as the ice can be broken on the creek, if it has formed, the group will take their plunge, no matter the temperature.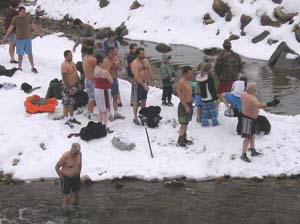 These people must be craaaazzzzzy!
Libby Polar Bear Club