News:
Free Community Thanksgiving Day Dinner Nov. 23 in Libby (posted 11/15/17)
Everyone is welcome to come to a free community Thanksgiving Dinner on Thursday, Nov. 23, from 2:00-4:00 PM at the VFW in Libby. The dinner is sponsored by Libby area churches. Sign up to help or to donate food or for expenses. Delivery is available for the homebound. Call if you need a ride. For more information call 406-293-3705 or 406-293-7866.

---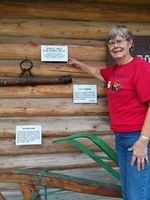 Museum volunteer Marge Kroeger has been working all summer with the Museumís Exhibits, Archives, and Buildings & Grounds Committees to research historical descriptions for 120 of the Museumís outdoor artifacts. Photo courtesy The Heritage Museum.

New signs installed at the Heritage Museum in Libby (posted 10/25/17)
The Heritage Museum
Thanks to a grant from the Montana History Foundation (MHF), headquartered in Helena, the Heritage Museum in Libby has 72 new signs installed for their outdoor artifacts. A total of 45 additional signs are planned to be installed before the Museum re-opening in the Spring 2018.

Museum volunteer Marge Kroeger has been working all summer with the Museumís Exhibits, Archives, and Buildings & Grounds Committees to research historical descriptions for 120 of the Museumís outdoor artifacts. Only a couple of the Museumís old outdoor wooden, paper, and glass signs remained and they were beyond repair. Now thanks to the grant from MHF, visitors can read the name and a description for each artifact. The new signs are printed and laminated on weather-resistant aluminum solid core composite.

This new signage greatly enhances each visitorís knowledge of Libbyís rich history and offers them a more complete and meaningful experience when they visit the Museum grounds. Thanks to the new signage some visitors who were born and raised in Libby, and visited the Museum this summer, discovered items which they knew were used by their parents, grandparents, or great-grandparents.

The Montana History Foundation is a 501(c)(3) charitable foundation that raises money and provides funding for history and preservation projects across Montana. Established in 1985, the Montana History Foundation seeks to preserve the legacy of Montanaís past. With an eye on the future, the Foundationís central goal is to generate public support to save the rich cultural heritage and historic resources of Montana.

Related Links:
http://www.libbyheritagemuseum.org The Heritage Museum, Libby, Montana

---
Libby lies in the northwest corner of Montana and is nestled in a valley carved by the Kootenai River on the flank of the majestic Cabinet Mountain Range and Wilderness Area. Today about 2,800 people live within Libby proper. The main industries are lumber and wood products, mining, tourism and recreation. The movies "The River Wild" and "Always" were filmed here. Contact the Libby Chamber of Commerce for brochures, info on lodging and events, general area information, and contact information for local businesses and services.
SUMMER
When the weather warms and the mountain snows melt away, the Kootenai National Forest comes alive with over 2.2 million acres of public land as a playground. Mountain trails and lakes open up, beautiful wildflowers come in bloom, and wildlife have their young. Libby is the basecamp for the Cabinet Mountains Wilderness Area, 90-mile long Lake Koocanusa, the Northwest Peaks Scenic Area, and the Ten Lakes Scenic Area. There is good access to most of the Forest and plenty of room to get away from it all!
WINTER
Winter in Montana means snow, and lots of it! For those who love to play in the deep powder, the Libby area offers tremendous winter fun. Turner Mountain Ski Area, located just 22 miles from Libby, offers challenging downhill skiing with a beautiful view. Their slogan is "steep, deep and cheap", and Turner definitely lives up to that. It's still fairly undiscovered, so you can escape the crowds and get the cheapest lift tickets around. For those who love snowmobiling, there are hundreds of miles of backcountry roads to sled on in the Kootenai National Forest. Cross-country skiers and ice fishermen also can find solitude on a lake and miles of quiet forest trails to enjoy the outdoors. Those who are a bit on the wild and crazy side will love the antics of the Libby Polar Bear Club. Members take winter-time "swims" in frigid Libby Creek every Sunday from October to April. Plungers have ranged in age from 3 to 61. As long as the ice can be broken on the creek, if it has formed, the group will take their plunge, no matter the temperature.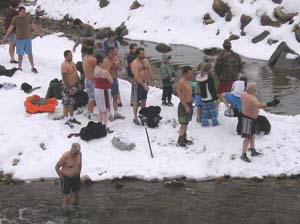 These people must be craaaazzzzzy!
Libby Polar Bear Club