News:
Libby Real Estate news - July 2021 (posted 8/2/2021)
Team Hayes Realtors LLC
How has the market been in 2021?
1/1/2021 - 06/30/2021 Real Estate Figures Were:

111 Residential SALES:
76 Libby; 28 Troy; 7 Yaak

98 Land SALES:
50 Libby; 40 Troy; 8 Yaak

4 Commercial/Multi-Family SALES:
3 Libby; 1 Troy

55 Residential PENDING:
34 Libby; 14 Troy; 7 Yaak

42 Land PENDING: 17 Libby; 21 Troy; 4 Yaak

6 Commercial/Multi-Family PENDING

54 Residential ACTIVES:
30 Libby; 16 Troy; 8 Yaak

70 Land ACTIVES: 50 in Libby; 16 in Troy; 5 in Yaak

19 Comm/Multi-Fam ACTIVES: 14 Libby; 5 Troy; 0 Yaak

2021 has continued as a 'wild' year - but with the 'rush to buy' in Montana - our Inventory of Listings is at an all time low! We are looking for listings to share with our Buyers. If you have considered selling your home, we would like to visit with you and give you some ideas of how we can help. And you never know - we just might have a very qualified buyer or buyers 'waiting in the wings'.

Interest Rates are truly amazing! Now could be a great time to purchase.
As of 06/30/2021 - Conforming & FHA Loans:
Per Quicken
30-Year Fixed: Interest/2.750%; APR/2.925%
15-Year Fixed: Interest/1.990%; APR/2.306%

TEAM HAYES REALTORS LLC, 417 MINERAL AVE, SUITE 1, IN THE MINERAL PLAZA
OFFICE #: 406-293-2725
Cell #'s: (Alice) 406-293-8364 (Jim) 406-293-1926

Emails:
alice@alicehayes.com
jim@alicehayes.com
Website: www.teamhayesrealtors.com

---
Stimson Lumber Company land closure (posted 7/31/2021)
Bruce Rowland, Stimson Area Woodlands Manager-Montana
Stimson Lumber Company is committed to protecting its forest resources and to the recreating public's safety. The ongoing drought and hot summer temperatures have substantially increased the risk of wildfire, leading to making the difficult decision to close all of Stimson's Inland Region timberlands to public access and recreation, effective August 2, 2021.

The public's use of open Stimson roads and walk-in access to our privately-owned timberlands in northern Idaho, western Montana and Eastern Washington is being closed due to the extreme risk. Stimson will regularly evaluate the situation but anticipate the closure will last until wetting rains reduce the hazard later in the season.

For inquiries about the closure, contact our office in Coeur d'Alene, Idaho at (208) 762-6559. Additional information on the company's public access program can be found at https://www.stimsonlumber.com/

Stimson Lumber Company is a family-owned forest products company based in Portland, Oregon. The firm owns over 600,000 acres of timberland in the Pacific Northwest and is a leading producer of forest products in the U. S.

---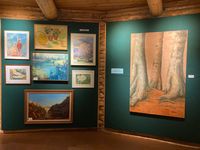 Art Show

Heritage Museum features artwork by local artists (posted 7/31/2021)
Artwork by local artists, Joey Barnes, Patty Rambo, Terrel Jones and Jonna White, is on display in the Tower Gallery of The Heritage Museum in Libby through Sunday, August 15th. The Museum is open Monday-Saturday, 10:00 a.m. - 5:00 p.m. and Sunday, 1:00 - 5:00 p.m.
---
Libby Riverfront Blues Festival scheduled for August 14, 2021
One-day event planned for 2021
Organizers have announced plans for a one-day event for the Riverfront Blues Festival on Saturday, August 14, 2021. They are still working on the line-up. Anyone interested can email watkinsjg1@gmail.com. More information will be posted on the event Facebook page as it comes available: www.facebook.com/RiverfrontBluesFestival. Phone contact: (406) 291-0185. Organizers commented they hope to go back to the two-day event for 2022.

Related Links:
www.riverfrontbluesfestival.com Along the banks of the Kootenai River in Libby, Montana

---
Invasive mussels found on 21 boats already this season (posted 5/24/2021)
Montana Fish, Wildlife & Parks
Montana's aquatic invasive species program is preparing for a busy season.

Watercraft inspectors have intercepted 21 mussel-fouled boats so far; the latest boat was stopped at the Broadus watercraft inspection station on Wednesday, May 19. Inspectors found dry and dead mussels on a commercially hauled outboard motorboat from Ohio that was destined for Washington state.

On May 18, an outboard motorboat from Lake Michigan was intercepted at the Wibaux inspection station. The boat owner had recently purchased the used boat and intended to launch in Washington state the next day.

Inspectors conducted a hot water decontamination on each boat before releasing them and notifying officials in Idaho and Washington.

When boat owners follow the practice of "Clean-Drain-Dry" they can prevent the spread of aquatic invasive species.

Invasive zebra and quagga mussels can be transported on boats in the adult or larvae life stage. Adult mussels have hairs called byssall threads that allow them to attach to structures under water, such as boat hulls and motors. Adult mussels can survive out of water for 30 days. Microscopic mussel larvae can float unseen in water found in bilges, ballast tanks and live wells.

Boaters must stop at all watercraft inspections stations they encounter. All watercraft (motorized and non-motorized) coming into Montana from out of state must be inspected. This includes Montana residents returning from a fishing or boating excursion out of state. Failure to stop at inspection stations could result in a fine of up to $500.

Learn more at CleanDrainDryMT.com or call the FWP Aquatic Invasive Species Bureau at 406-444-2440.
---
All boats must stop at all Watercraft Inspection Stations (posted 5/24/2021)
Boats are inspected for aquatic invasive species
Montana Fish, Wildlife & Parks
Memorial Weekend is the unofficial start to summer in Montana and as boaters venture out to our rivers and lakes, please keep in mind the rules aimed at protecting our waters and preventing the spread of aquatic invasive species.

All boats must stop at all open watercraft inspection stations they encounter. Failure to stop at inspection stations could result in a fine of up to $500.

All watercraft coming into Montana from out of state must seek out an inspection prior to launching.

Non-residents transporting watercraft into Montana must purchase a Vessel AIS Prevention Pass before launching. The fee is $30 for motorized and $10 for non-motorized watercraft. The pass is valid until Dec. 31.

All watercraft travelling west across the Continental Divide must be inspected.

All watercraft launching anywhere within the Flathead Basin that were last launched on waters outside of the Flathead Basin must be inspected.

Watercraft leaving Tiber Reservoir must be inspected at an FWP decontamination station.

Montana Fish, Wildlife & Parks and partner agencies operate more than 25 road-side watercraft inspection stations across the state. Typically, boat inspections are brief and include a short interview and check to make sure watercraft are not transporting mud, water, plants or invasive organisms. Larger or more complex boats may require additional time for an inspection.

Watercraft owners can make their inspection quick and easy if they consistently practice Clean, Drain and Dry every time they leave an access area:
- Clean all mud and debris from the watercraft and trailer.
- Pull drain plugs and make sure all compartments, bilges, ballasts and livewells are drained.
- Allow time for watercraft and gear to dry before the next trip.

FWP inspectors and enforcement staff will be working hard to make sure everyone knows the AIS rules and have a safe and fun time on the water.

To find a watercraft inspection station or to learn more, go to CleanDrainDryMT.com or call the FWP Aquatic Invasive Species Bureau at 406-444-2440.
---
Big Game drawing results now available (posted 5/11/2021)
Montana Fish, Wildlife & Parks
The drawings for moose, bighorn sheep, mountain goat and bison licenses are complete. With the new online application process, FWP can complete the drawing much faster than in years past.

There are a few ways to get your drawing results. Visit fwp.mt.gov, click on MyFWP Login in the upper right-hand corner, then click on "Lookup Draw Results, Register for Lists" tab on the left-hand menu, or login to your MyFWP account. You may also sign up for an account at fwp.mt.gov/MyFWP. Applicants may also call any FWP Regional office or the licensing office at 406-444-2950.

Deadline reminders: The deadline to apply for elk B, deer B, and antelope is Tuesday, June 1. All applications must be completed online or at an FWP office. Most FWP offices with license sales are open Monday through Friday, from 8 a.m. to 5 p.m.

Nonresident hunters can sign up between May 15 and June 30 for Alternate's List
Beginning May 15 and running through June 30, nonresident hunters can register their name to the Alternate's List on MyFWP. Every year, Montana Fish, Wildlife & Parks gets several unused nonresident combination licenses (big game, general elk and general deer combination licenses) returned by customers. FWP resells these returned licenses through the Alternate's List.

The Alternate's List is an option for nonresident hunters to express their interest in purchasing one of these returned licenses by registering their name to this listing. A hunter can register to purchase their choice of only one nonresident combination license per year (big game, general elk, or general deer combination licenses). Once the list is randomized in mid-July and a license becomes available, the hunter in the uppermost randomized position on the list will be contacted by email to finalize the purchase of the license, and so on until the returned NR combo licenses are eventually exhausted.

Payment for the license fee is not required to sign up for the Alternate's List. If your randomized position falls at the top of the listing, you will be contacted by email with instructions on how to complete the purchase of the license. Being on this list or obtaining a license from this list has no effect on your existing preference points.

MyFWP also allows you to check where your position lands on this Alternate's List after the randomization process occurs in mid-July. Please be sure to check back after then.

The odds of getting a license from these lists vary greatly from year to year. Refunds and issuance may occur at any time after mid-July, but availability of these licenses increase between early fall and the opening of general hunting season in late October.

For more information, visit http://fwp.mt.gov/hunting/licensedraw/alternatesList.html

---
Libby lies in the northwest corner of Montana and is nestled in a valley carved by the Kootenai River on the flank of the majestic Cabinet Mountain Range and Wilderness Area. Today about 2,800 people live within Libby proper. The main industries are lumber and wood products, mining, tourism and recreation. The movies "The River Wild" and "Always" were filmed here. Contact the Libby Chamber of Commerce for brochures, info on lodging and events, general area information, and contact information for local businesses and services.
SUMMER
When the weather warms and the mountain snows melt away, the Kootenai National Forest comes alive with over 2.2 million acres of public land as a playground. Mountain trails and lakes open up, beautiful wildflowers come in bloom, and wildlife have their young. Libby is the basecamp for the Cabinet Mountains Wilderness Area, 90-mile long Lake Koocanusa, the Northwest Peaks Scenic Area, and the Ten Lakes Scenic Area. There is good access to most of the Forest and plenty of room to get away from it all!
WINTER
Winter in Montana means snow, and lots of it! For those who love to play in the deep powder, the Libby area offers tremendous winter fun. Turner Mountain Ski Area, located just 22 miles from Libby, offers challenging downhill skiing with a beautiful view. Their slogan is "steep, deep and cheap", and Turner definitely lives up to that. It's still fairly undiscovered, so you can escape the crowds and get the cheapest lift tickets around. For those who love snowmobiling, there are hundreds of miles of backcountry roads to sled on in the Kootenai National Forest. Cross-country skiers and ice fishermen also can find solitude on a lake and miles of quiet forest trails to enjoy the outdoors. Those who are a bit on the wild and crazy side will love the antics of the Libby Polar Bear Club. Members take winter-time "swims" in frigid Libby Creek every Sunday from October to April. Plungers have ranged in age from 3 to 61. As long as the ice can be broken on the creek, if it has formed, the group will take their plunge, no matter the temperature.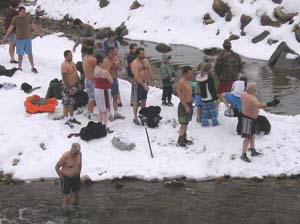 These people must be craaaazzzzzy!
Libby Polar Bear Club