News:
Play with Purpose Soccer Clinic August 9 (posted 7/30/17)
Play with Purpose Soccer Clinic will be held on Wednesday, August 9 from 9AM to 12:30PM at J. Neil's Park and then transportation back to Libby Christian Church for lunch. The Clinic is for kids 4 years old through 4th grade. Register online at: libbychristianchurch.com/events.
For more information contact Matt Warner 406-293-3747 or matt@libbychristianchurch.com.

---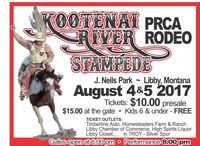 Kootenai River Stampede PRCA Rodeo August 4 & 5, 2017 in Libby

Kootenai River Stampede - PRCA Rodeo August 4 & 5 (posted 7/29/17)
The Kootenai River Stampede PRCA Rodeo will be held on August 4 & 5 in Libby. Gates open at 6:00PM at J. Neils Park. The performance starts at 8:00PM. Tickets are $10 Presale, $15 at the Gate ~ Kids 6 and under free. Tickets available at the Libby Area Chamber of Commerce, Timberline Auto, Homesteaders Farm & Ranch, High Spirits Liquor, Libby Closet. In Troy, tickets available from the Silver Spur.

Find them on Facebook here

---




Fire Danger Very High

Fire danger moves to Very High (posted 7/14/17)
Interagency Fire
Interagency Fire Officials made the decision this morning (Friday, July 14, 2017) to raise the Fire Danger Level from "High" to "Very High". When the fire danger is "Very High", fires will start easily from most causes. The fires will spread rapidly and have a quick increase in intensity, right after ignition. Small fires can quickly become large fires and exhibit extreme fire intensity, such as long-distance spotting and fire whirls. These fires can be difficult to control and will often become much larger and longer-lasting fires.

Hot, and mostly dry weather will continue through the weekend, with thunderstorms expected tonight into Saturday across all of western Montana. On Sunday, a cold front passage may lead to critical fire weather conditions in northwest Montana as winds become breezy and the relative humidity's drop.

Elevating the fire danger enhances public awareness that wildfire probability increases as temperatures rise and vegetation dries out. Since July 1 there have been a total of 69 reported wildfires in the area; many were lightning caused; with over half being human-caused. As the numbers reveal, human-caused fires are a contributing factor to the overall fire danger situation.

At this time, campfires are banned on Weyerhaeuser property lands in Flathead, Lake, Lincoln, Missoula, Sanders and Ravalli counties due to very high fire danger. Interagency Fire Officials will continue to monitor conditions, and look closely at the number of human caused fire starts to determine if fire restrictions need to be ordered and put in place in the greater Flathead area.

While recreating in the Flathead, please stay on designated roads and never park on dry brush or grass, as exhaust pipes and vehicle undercarriages can be very hot and easily start a wildfire. Please check spark arrestors on off-road vehicles, chain saws and other equipment with internal-combustion engines to ensure they are in working order. Never leaving a campfire unattended, and making sure they are completely extinguished before leaving is something expected of every recreationist.

Additionally, an interagency fire information line has been established in order to streamline calls, share facts and serve the public during fire season. The Office of Emergency Services Information Line is 406-758-2111, and the Interagency Fire Fact Sheet can be found at: https://www.facebook.com/FlatheadOES . Fact sheets will be updated as needed during the fire season.

---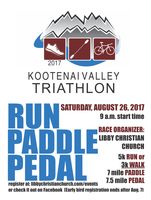 2017 Kootenai Valley Triathlon August 26th

2017 Kootenai Valley Triathlon August 26 (posted 7/5/17)
The 2017 Kootenai Valley Triathlon will be held on Saturday, August 26, 2017. The event is being organized by Libby Christian Church. Events are RUN, PADDLE, PEDAL. 5K Run or 3K Walk, 7 Mile Paddle, 7.5 Mile Pedalve. Start time is 9AM. Early Bird registration ends after August 7. Register or more information at http://www.libbychristianchurch/events or find it on Facebook.

---
Two female grizzly bears captured in the Yaak (posted 6/28/17)
Relocated bears feeding on lawns near residences
Montana Fish, Wildlife & Parks
On June 20, 2017, Montana Fish, Wildlife & Parks (FWP) captured two 2.5-year old grizzly bear siblings in the upper Yaak River area after the bears were seen grazing on lawns at several residences, and accessed songbird feeders. These siblings were previously captured in the Creston Valley area of British Columbia, Canada after being seen near residences on June 5, 2017. Canadian conservation officers captured and relocated the bears in British Columbia near the Montana border to prevent conflict with humans in the Creston area. Canadian researchers fitted one of the females with a GPS tracking collar.

The decision was made to split up the siblings and put as much landscape as possible between them. This technique of splitting up siblings has worked in the past for reducing potential conflict with people. British Columbia offered to take back the female that was collared in Canada, therefore that female was relocated back to British Columbia in White Creek, a tributary of the St. Mary's River, on June 22 and will continue to be monitored by researchers in British Columbia. The second female was fitted with a GPS collar and released in upper Spread Creek, Montana, on June 21. This female will be monitored by FWP.

Montana Fish, Wildlife & Parks encourages residents to remove songbird feeders and other bear attractants during the months that bears are awake.

For more information, contact Kim Annis, FWP Cabinet-Yaak Bear Management Specialist, at 406-293-4161 or 406-291-1320.

---
Libby lies in the northwest corner of Montana and is nestled in a valley carved by the Kootenai River on the flank of the majestic Cabinet Mountain Range and Wilderness Area. Today about 2,800 people live within Libby proper. The main industries are lumber and wood products, mining, tourism and recreation. The movies "The River Wild" and "Always" were filmed here. Contact the Libby Chamber of Commerce for brochures, info on lodging and events, general area information, and contact information for local businesses and services.
SUMMER
When the weather warms and the mountain snows melt away, the Kootenai National Forest comes alive with over 2.2 million acres of public land as a playground. Mountain trails and lakes open up, beautiful wildflowers come in bloom, and wildlife have their young. Libby is the basecamp for the Cabinet Mountains Wilderness Area, 90-mile long Lake Koocanusa, the Northwest Peaks Scenic Area, and the Ten Lakes Scenic Area. There is good access to most of the Forest and plenty of room to get away from it all!
WINTER
Winter in Montana means snow, and lots of it! For those who love to play in the deep powder, the Libby area offers tremendous winter fun. Turner Mountain Ski Area, located just 22 miles from Libby, offers challenging downhill skiing with a beautiful view. Their slogan is "steep, deep and cheap", and Turner definitely lives up to that. It's still fairly undiscovered, so you can escape the crowds and get the cheapest lift tickets around. For those who love snowmobiling, there are hundreds of miles of backcountry roads to sled on in the Kootenai National Forest. Cross-country skiers and ice fishermen also can find solitude on a lake and miles of quiet forest trails to enjoy the outdoors. Those who are a bit on the wild and crazy side will love the antics of the Libby Polar Bear Club. Members take winter-time "swims" in frigid Libby Creek every Sunday from October to April. Plungers have ranged in age from 3 to 61. As long as the ice can be broken on the creek, if it has formed, the group will take their plunge, no matter the temperature.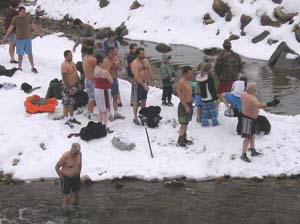 These people must be craaaazzzzzy!
Libby Polar Bear Club