News:
Museum Holiday Bazaar Nov. 3 (posted 11/2/2023)
The Heritage Museum
This year, The Heritage Museum will host its annual Holiday Bazaar Friday, Nov. 3rd from 4 to 7 PM and Saturday, Nov. 4th from 10 AM to 4 PM. This well-known event gives you an early start on Thanksgiving and Christmas shopping for handcrafted items and homemade edibles. You can shop amid the festive ambience to select those perfect gifts from a wide array of choices. There will be candies, baked goods, quilts & wall-hangings, bags, needlecrafts, woodcrafts, metal art, jewelry, soaps, knives, hot cocoa bombs, Christmas & home decor, leather crafts, resin & glass art and so much more. In addition to the handcrafted items, the Museum's table will be filled with merchandise and gift certificates that have been generously donated for this fundraiser by local businesses and friends of the Museum. 100% of the money earned at this table goes directly to the Museum. The goal is to cover the yearly insurance premium and help with the winter utilities. Please note that the Museum no longer accepts credit cards. Purchases made from the Museum table, Gift Shop and Tower Gallery can be paid by cash or check. Individual Bazaar vendors may be able to accept credit cards for purchase, but that will vary from vendor to vendor.

There will be a Silent Auction. The auction opens Friday, Nov. 3rd at 4:00 PM and ends, Saturday, Nov. 4th at 3:00 PM. Auction items include three locally made quilts, one made by the late Connie Malyevac and two made by a friend of the Museum. Come see what's on the auction block! Speaking of quilts, The Kootenai Valley Quilt Guild will be showing Fall and Christmas themed quilts in the Tower Gallery. Some may be offered for sale. Don't miss this delightful seasonal display!

For every purchase you make at the Bazaar, you'll receive a ticket. Add your name and phone number and drop it in the basket for your chance to win a special Customer Appreciation prize!

In the cookhouse located at the end of the parking lot, we'll be serving chili and homemade potato soup on Friday night. Save room for a slice of pie! Our busy bakers will have a variety of flavors to choose from. Come straight from work and have dinner before or after you shop. On Saturday, Tiffany's Catering will be in the cookhouse serving her delicious Beef Stew, Loaded Nachos and other tasty goodies.

While at the Bazaar, you will have the opportunity to buy tickets for the Holiday Raffle. Edward Jones has generously donated our 1st Prize of $500 cash. 2nd Prize is a gift certificate for Brunch for Two at The Venture, donated by the Venture Inn and Restaurant. 3rd Prize is a basketful of goods donated by the Holiday Bazaar vendors. Tickets are $1 each, 6 for $5 or a book of 12 for $10. The drawing will take place at 3:00 PM on Saturday, Dec. 16th during the Winter Expo at the Museum. You need not be present to win.

Related Links:
www.libbyheritagemuseum.com Libby, Montana

---
US 2 Rockfall Stability construction complete (posted 8/24/2023)
Montana Department of Transportation
The Montana Department of Transportation (MDT) and HiTech Rockfall announce the completion of the Rockfall Stability project on US Highway 2 (US 2).

This summer, crews completed rock scaling and installation of rockfall mitigation structures between Troy and Libby on US 2. This project aimed to enhance roadway safety by repairing the existing rockfall structure and removing potentially hazardous and unstable rock material. In addition, work included cleaning out the roadside ditch.

"We are pleased to have this project completed. The rockfall mitigation work enhances roadway safety features for drivers, and extends the service life of the highway," John Schmidt, MDT Missoula District Construction Engineer, said. "We appreciated everyone's support and patience as we finished this project."

MDT and Hi-Tech Rockfall crews began roadwork in April of 2023. Construction was completed in August. "Rockfall mitigation is vital work to protect our roadways and drivers throughout the mountainous terrain in Montana," Chris Reid, with Hi-Tech Rockfall, said.

MDT values public feedback and is grateful for drivers' understanding throughout travel delays. For more information or a map of the project area, please check out the project webpage: https://mdt.mt.gov/pubinvolve/us2slopestability/.

---
Conservation license required to access most state lands (posted 7/10/2023)
Montana Fish, Wildlife & Parks
Working with the 68th Legislature, Montana Fish, Wildlife and Parks (FWP) and the Montana Department of Natural Resources and Conservation (DNRC) simplified licensing requirements on state lands as part of Governor Gianforte's Red Tape Relief Task Force.

The two agencies consolidated the conservation license and state lands recreational use license into one annual conservation license, supporting the maintenance of places like fishing access sites (FAS), wildlife management areas (WMA). On Montana school trust lands, conservation license sales will help fund Montana schools and other state institutions.

Effective July 1, Montanans who access state lands will be required to have a conservation license. Hunters, trappers, and anglers in Montana who have purchased licenses and tags this year already possess this license.

"Fishing access sites and wildlife management areas represent some of the most amazing outdoor recreation opportunities we have in Montana. Access to all these sites for a small annual fee is a tremendous bargain," said Montana Fish, Wildlife & Parks Director Dustin Temple. "By requiring an annual conservation license for everyone 12 and older who uses these sites, we're ensuring the cost of maintenance is shared by all users, not just hunters, anglers, and trappers."

Increased use on FAS and WMA sites has led to increased maintenance costs. Much of the increased use is from people who come to these sites to enjoy outdoor recreation, not necessarily to hunt, fish, or trap. With the requirement of a conservation license for everyone, that cost of maintenance is shared by all users.

On Montana state trust lands, the conservation license replaces the required State Lands Recreational Use License for general recreation on legally accessible state trust lands that are not otherwise closed or restricted. Recreational use fees are part of the revenue generated from state trust lands and help fund Montana schools and other state institutions.

"Conservation license purchases help fund Montana schools," said Montana DNRC Director Amanda Kaster. "State trust lands are working lands and now it is even easier for residents and visitors alike who recreate on state-managed lands to do their part to support the education of Montana's students."

Hunters, anglers, and trappers are already required to purchase a conservation license along with their hunting and fishing licenses from FWP. However, for those people who enjoy recreation on any of Montana's more than 330 FAS and 77 WMA sites, wildlife habitat protection areas, or legally accessible state trust lands, and don't already buy a hunting or fishing license, they will need to have a conservation license to access those lands. These licenses, which cost $8 for residents, $4 for resident youth ages 12 to 17 and seniors 62 and older, and $10 for nonresidents can be purchased at any FWP office or online at ols.fwp.mt.gov/.

A Special Recreation Use License is still required for trapping, commercial or concentrated recreation, outfitting, or special events on state trust land. Information on access and licensing for special recreation on state trust land is available at dnrc.mt.gov/recreation.

Montana State Parks do not require a conservation license.

---
Libby lies in the northwest corner of Montana and is nestled in a valley carved by the Kootenai River on the flank of the majestic Cabinet Mountain Range and Wilderness Area. Today about 2,800 people live within Libby proper. The main industries are lumber and wood products, mining, tourism and recreation. The movies "The River Wild" and "Always" were filmed here. Contact the Libby Chamber of Commerce for brochures, info on lodging and events, general area information, and contact information for local businesses and services.
SUMMER
When the weather warms and the mountain snows melt away, the Kootenai National Forest comes alive with over 2.2 million acres of public land as a playground. Mountain trails and lakes open up, beautiful wildflowers come in bloom, and wildlife have their young. Libby is the basecamp for the Cabinet Mountains Wilderness Area, 90-mile long Lake Koocanusa, the Northwest Peaks Scenic Area, and the Ten Lakes Scenic Area. There is good access to most of the Forest and plenty of room to get away from it all!
WINTER
Winter in Montana means snow, and lots of it! For those who love to play in the deep powder, the Libby area offers tremendous winter fun. Turner Mountain Ski Area, located just 22 miles from Libby, offers challenging downhill skiing with a beautiful view. Their slogan is "steep, deep and cheap", and Turner definitely lives up to that. It's still fairly undiscovered, so you can escape the crowds and get the cheapest lift tickets around. For those who love snowmobiling, there are hundreds of miles of backcountry roads to sled on in the Kootenai National Forest. Cross-country skiers and ice fishermen also can find solitude on a lake and miles of quiet forest trails to enjoy the outdoors. Those who are a bit on the wild and crazy side will love the antics of the Libby Polar Bear Club. Members take winter-time "swims" in frigid Libby Creek every Sunday from October to April. Plungers have ranged in age from 3 to 61. As long as the ice can be broken on the creek, if it has formed, the group will take their plunge, no matter the temperature.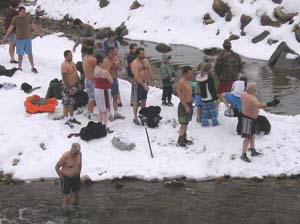 These people must be craaaazzzzzy!
Libby Polar Bear Club