News:
Mud Bay Jugglers in Eureka on March 26th and in Libby March 27th (posted 3/20/15)
Juggling fire!
The Mud Bay Jugglers and Tune Stranglers will be in Eureka at the Lincoln County High School Auditorium on Thursday, March 26th. This is the last concert for the Sunburst 2014-2015 season. Tickers are $12 for adults, students 18 and younger are free.

The Mud Bay Jugglers are hitting the stage at the Libby Memorial Events Center the next day on Friday, March 27th at 7:00pm. They are superb jugglers and comedians. This will be the last 2014-2015 season event at the Libby Memorial Events Center. Ticket prices are $15 at the door, $12 presale, students accompanied by an adult are free. Tickets can be purchased in Libby at Cabinet Books, Chamber of Commerce, Homesteaders, Rivermist, Western News, Mountain Meadow, Rocky Mountain Music. Tickets can be purchased in Troy at Hot Club and Booze'n Bait.

---
Easter Sunrise Service in Troy April 5th (posted 3/20/15)
The Troy Ministerial Alliance is hosting Easter Sunrise Service at the Roosevelt Park Pavilion alongside the beautiful Kootenai River on Sunday, April 5th. Services will begin at 7:00 am. All are welcome. For more info contact Craig Pierce, Pastor, Door of Hope Church in Troy, 406-295-3504.

---
Kootenai River watershed stream improvement meetings in March (posted 3/15/15)
In Eureka, Troy and Libby
The Kootenai River Network is holding community meetings in Lincoln County in March to find out priorities and stream improvement projects for watershed restoration in the Montana section of Kootenai watershed. Meetings will be in Eureka, Troy and in Libby.

The purpose of the community meetings is to develop a locally-based approach to stream improvement for the Montana section of the Kootenai watershed. Participants will have an opportunity to share concerns and ideas, to identify voluntary projects to restore streams, and to learn about issues identified in local streams. The information and ideas gathered at these meetings will be used to develop a community-based watershed restoration plan and direct funding for projects.

Community meetings will be held at the following times and locations:
Monday, March 23, Eureka: At the Lincoln Electric Cooperative in Eureka from 6 to 7:30PM
Wednesday, March 25, Troy: At the Kootenai Senior Center in Troy from 6 to 7:30PM
Thursday, March 26, Libby: At the First National Bank in Libby from 6 to 7:30PM

These meetings are free and open to all who are interested. The meetings are likely to be of particular interest to landowners with stream frontage, those with businesses connected to streams or that rely on water, people interested in fish or wildlife, and those who recreate in or near streams.

The Kootenai River Network (KRN) is hosting these meetings. The Kootenai River Network is a cooperative, non-profit organization founded in 1991 and dedicated to the protection, use, and restoration of water resources through private and public partnerships and education. KRN works in the entire Kootenai watershed, in Montana, Idaho and British Columbia. The watershed has many tributary rivers and streams including the Yaak River, Lake Creek, Fisher River, Libby Creek, Grave Creek, Therriault Creek, and the Tobacco River.

Contact the Kootenai River Network for further information at 406-551-0432 or at kootenaiwrp@gmail.com. More information is available at www.kootenairivernetwork.org.

---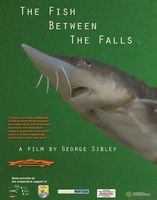 A documentary by George Sibley

'The Fish Between the Falls' premiers March 25th in Libby (posted 3/15/15)
Ten thousand years ago Kootenai people painted pictures of white sturgeon on the rocks above the lake where they lived. These impressive fish, the largest and one of the oldest in North America, were an important part of the tribe's diet and the inspiration for their elegant sturgeon-nosed canoes. Now, dikes and dams have changed the river system so much that sturgeon no longer successfully reproduce, but the people whose culture is bound up with these fish and the people who control the river today are working together to restore the Kootenai River White Sturgeon to their ancestral home.

On Wednesday, March 25 at 7:00 p.m., The Fish Between the Falls, a documentary by George Sibley, will be shown at the K.W. Maki Theater, 724 Louisiana Ave in Libby. This premier is co-sponsored by The Heritage Museum in Libby and Hometown Humanities.

George Sibley, joined by Greg Hoffman - Libby Dam Fish Biologist, and Ryan Silvester from Libby's office of Montana Fish, Wildlife and Parks, will answer questions following the hour-long movie. Refreshments will be served after the film.

---
Easter Eggstravaganza Egg Hunt April 4th in Libby (posted 3/15/15)
Youngsters age 1 to 11 are invited to participate in Libby Christian Church's Easter Eggstravaganza Egg Hunt on Saturday, April 4th. The egg hunt will be at the Church, 100 Kootenai River Road, from 11AM to Noon. There will be prizes, candy and thousands of eggs! Grand Prizes are bikes donated by Bad Medicine Bike Shop. For more information call 406-293-3747.

---
Two support groups offered in Libby (posted 3/10/15)
One for Depression and another for those with Asbestos Related Disease
Two support groups are offered from 'Into the Light' at Libby Christian Church in Libby. The Depression Support Group is held the 2nd Monday of each month from noon to 1PM. The Asbestos Related Disease Support Group meets the 3rd Monday of each month from noon to 1PM, starting March 16th. Both are open to the community and are held at the Church, 100 Kootenai River Road. The groups offer a spiritual approach to regaining and maintaining health. Call Liz Erickson (RN) at 406-293-3747 for more information.
---
Libby area real estate update – March 2015 (posted 3/8/15)
Guest article by Alice L. Hayes, Loveless Realty
The figures of the Current Activity and Past Activity show we are moving forward. The beautiful spring like weather in February has made people begin to think about selling and buying real estate.

In 2014 there was one more Residential SALES than 2013; Land SALES were three less than 2013, and there was one more Commercial SALES than 2013.
We are looking forward to keeping the SALES momentum moving through-out 2015!

2015—How is Lincoln County Real Estate Progressing in the New Year?

January 1, 2015 — March 1, 2015 Current Real Estate Figures:
SALES & PENDINGS
11 Residential SALES:
5 in Libby; 3 in Troy;
3 in Sanders

5 Land SALES:
1 in Libby; 4 in Troy

2 Commercial SALES:
2 in Libby

26 Residential PENDING:
10 in Libby; 6 in Troy; 1 in Yaak; 2 in Flathead; 7 in Sanders

15 Land PENDING:
8 in Libby; 1 in Troy; 1 in Yaak; 1 in Flathead; 4 in Sanders
0 Commercial/M-Family PENDING:

ACTIVE LISTINGS
266 Residential ACTIVES:
102 in Libby; 70 in Troy; 7 in Yaak; 17 in Flathead;
70 in Sanders

378 Land ACTIVES:
128 in Libby; 102 in Troy; 16 in Yaak; 32 in Flathead; 100 in Sanders

37 Commercial ACTIVE:
19 in Libby; 3 in Troy; 3 in Yaak; 2 in Flathead;
10 in Sanders

So How Did Our Market Actually Do? Let's Compare

January 1-December 31, 2014
157 Residential SOLDS
53 Land SOLDS
8 Commercial SOLDS

January 1-December 31, 2013
156 Residential SOLDS
56 Land SOLDS
7 Commercial SOLDS

January 1-December 31, 2012
120 Residential SOLDS
33 Land SOLDS
6 Commercial SOLDS

January 1-December 31, 2011
111 Residential SOLDS
37 Land SOLDS
7 Commercial SOLDS

January 1-December 31, 2010
93 Residential SOLDS
28 Land SOLDS
0 Commercial SOLDS

January 1-December 31, 2009
82 Residential SOLDS
33 Land SOLDS
6 Commercial SOLDS

Interest Rates Remain at ALL Time LOWS. Inventory selections are growing. NOW could be a great time to buy!
As of 3/01/2015 Conforming & FHA Loans:
30-Year Fixed; Interest = 3.25%; APR= 3.99%
5-Year Fixed; Interest = 2.75%; APR=3.67%
Information obtained from Lincoln County MLS.

ALICE L. HAYES, Broker, LLC, ABR, CRS, GRI
JAMES W. HAYES, Sales, "Properties a Specialty"
PHONE: 406-293-8364; 406-293-1926
alice@alicehayes.com
jim@alicehayes.com
Webpage: http://www.alicehayes.com
Loveless Realty - 519 W. 9th - Libby, Montana

---
Troy Mine winds down and awaits SEIS from Forest Service (posted 3/4/15)
Duane Williams, KLCB-KTNY Radio
Monday, March 2, announced that the transition to care and maintenance at the Troy Mine has been successfully completed during February.

Mining operations ceased at the end of January and an orderly transition of milling operations to care and maintenance occurred during February, 2015.

A care and maintenance team consisting of eight Troy Mine employees is now in place.

The Troy Mine continues to report a strong safety record while winding down operations and transitioning to care and maintenance having now completed nearly two and a half years without a lost time accident or reportable injury.

According to John Shanahan, Revett's President and CEO, it remains focused on the advancement and completion of permitting the Rock Creek project.

The U.S. Forest Service has circulated the Draft Supplemental Environmental Impact Statement (SEIS) to co-operating agencies for review and expects that the SEIS will be issued in the second quarter of this year for public comment, 2015.
_______________________________________________

By Duane Williams, KLCB-KTNY Radio, e-mail: klcb@frontiernet.net, www.klcb-ktny.com

---
Hunters' bear identification training required (posted 3/4/15)
Montana Fish, Wildlife & Parks reminds all black bear hunters of the responsibility to avoid mistakenly shooting a grizzly bear during the state's upcoming spring black bear hunt. Montana's spring black bear hunting season begins April 15.

Before first-time bear hunters can purchase a black bear hunting license, they must be certified by successfully completing FWP's bear identification training. FWP offers a bear identification training course on its website under the Education tab at fwp.mt.gov. Click "Hunter Education," and then "Bear Identification Program".

FWP urges bear hunters to take advantage of the free bear identification training and to ensure they have the required certification before purchasing a hunting license. There are multiple ways to obtain and take the test—go online or pick up a mail-in test from any FWP office. Bear identification tests can also be obtained by writing to: FWP Bear Test, 1420 E. 6th Ave., Helena, MT 59620-0701.

Hunters may purchase black bear hunting licenses online at fwp.mt.gov, at FWP license providers, or download and print a paper license application and mail it to FWP. Licenses issued through the mail may take two weeks to process.

---
Online hunter education available to adults (posted 3/4/15)
Montana Fish, Wildlife & Parks offers hunter education on the Internet to anyone 18 years and older.

State law requires anyone born after Jan. 1, 1985 to take a hunter education course and complete a field course before purchasing a hunting license in Montana. The $25 online course allows adults to take the required hunter education course at their convenience.

Following the online coursework, students must sign up for a scheduled field day. There are field days available throughout Montana every spring and fall.

For more information go to the FWP website at fwp.mt.gov. Click on the Education tab and then click "Hunter Education".

---
Shooting Range Development Grant deadline May 1 (posted 3/4/15)
Funds help build and improve public shooting ranges in Montana
Montana Fish, Wildlife & Parks reminds shooting range enthusiasts that the deadline to apply for range development grants is May 1.

Montana's Shooting Range Grant Program, administered by FWP, provides funding to private shooting clubs, organizations, local governments and school districts to build and improve public shooting ranges throughout the state.

To learn more about the Shooting Range Grant Program, and for a grant application, go to the FWP website at fwp.mt.gov, click on the Recreation page and look under Shooting Ranges. Or, call FWP at: 406-444-9947.

Completed Shooting Range Grant applications may be mailed to: Montana Fish, Wildlife & Parks, attn: Shooting Range Grant, Communication and Education Bureau, 1420 East Sixth Ave., PO Box 200701, Helena, MT 59620.

---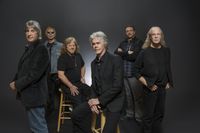 2015 Big Sky Bash July 11th. Tickets go on sale May 1st. This year's event will feature Three Dog Night and local favorite Copper Mountain Band.

2015 Big Sky Bash July 11th (posted 2/15/15)
Will feature Three Dog Night and Copper Mountain Bands in concert
The CARD Foundation is pleased to announce its 5th annual Big Sky Bash concert to benefit the Center for Asbestos Related Disease (CARD). Legendary music icons, Three Dog Night and local favorite Copper Mountain Band will be performing in Libby on Saturday, July 11th, 2015, with gates opening at 6pm, and music playing from 7pm until midnight at J Neils Park.

Legendary music icons, Three Dog Night celebrate their 4th decade, performing to sell-out crowds and bringing along some of the most astonishing chart statistics in popular music including 21 consecutive Top 40 hits, including 3 #1 singles, 11 Top 10's, and 12 straight RIAA Certified Gold LPs.

Perfectly re-creating their larger than life songs with customary impeccable harmonies and exciting arrangements, Three Dog Night will perform their hits including "Mama Told Me (Not To Come)", "Joy to The World", "Black and White", "Shambala", "One", "Liar", "Celebrate" and many more songs that drive their chart and sales success.

Three Dog Night, which is made up of founding members Cory Wells and Danny Hutton on lead vocals, original band mates Jimmy Greenspoon (keyboards) and Michael Allsup (guitar) and completed by Paul Kingery (bass and vocals) and Pat Bautz (drums), now perform for audiences spanning several generations.

Initially brought together in 1968 by Danny Hutton and Cory Wells, Three Dog Night recorded the music of the best (and mostly undiscovered) new songwriters of their time including Harry Nilsson, Randy Newman, Elton John, Laura Nyro, Paul Williams and Hoyt Axton among many others. The group's eclectic taste, combined with their ability to recognize and record hits in a unique, distinctive and appealing style, resulted in Three Dog Night dominating the charts for years. The now-famous name came from a story about Australian hunters who, on cold nights in the outback, sleep with their dogs for warmth. The coldest evenings are known as a "three dog night".

Recently Three Dog Night added new songs to their arsenal with the release of their first double-A sided single in nearly 25 years. These new tracks, "Heart Of Blues" and the a-cappella ballad "Prayer of the Children", are available now in an exclusive online release. See www.threedognight.com for more information.

After more than 40 years together, Three Dog Night continues to grow its fan base and develop new ways of doing business. They maintain an aggressive schedule of concerts at theatres, performing arts centers, fairs, festivals, corporate events, and casinos. Since 1986, they have performed over 2,300 shows including two Super Bowls.

Copper Mountain Band is a high-energy, mainstream, country music group with family roots that lie deep in the history of Montana. Copper Mountain Band appeals to all audiences as they incorporate music from many genres and styles into their performances. They have found a way to give cover tunes a whole new dimension and they have outstanding original material as well. They have also received praise for their rendition of Cher's "Just Like Jesse James". They are a one-of-a-kind group with a fiery passion for their craft. The band plays more than 150 dates a year throughout the US and abroad and continues to build their fan base on their way to the top!

Tickets will go on sale May 1, 2015. Ticket prices will be $25.00 advance purchase and $30.00 at the gate. All proceeds from this event will go to the CARD Foundation, the fundraising arm of CARD, to support CARD in its ongoing efforts to provide healthcare, research and outreach to benefit all people impacted by exposure to Libby Amphibole Asbestos. For more information please call 406-293-9274 ex 132.

---
Libby lies in the northwest corner of Montana and is nestled in a valley carved by the Kootenai River on the flank of the majestic Cabinet Mountain Range and Wilderness Area. Today about 2,800 people live within Libby proper. The main industries are lumber and wood products, mining, tourism and recreation. The movies "The River Wild" and "Always" were filmed here. Contact the Libby Chamber of Commerce for brochures, info on lodging and events, general area information, and contact information for local businesses and services.
SUMMER
When the weather warms and the mountain snows melt away, the Kootenai National Forest comes alive with over 2.2 million acres of public land as a playground. Mountain trails and lakes open up, beautiful wildflowers come in bloom, and wildlife have their young. Libby is the basecamp for the Cabinet Mountains Wilderness Area, 90-mile long Lake Koocanusa, the Northwest Peaks Scenic Area, and the Ten Lakes Scenic Area. There is good access to most of the Forest and plenty of room to get away from it all!
WINTER
Winter in Montana means snow, and lots of it! For those who love to play in the deep powder, the Libby area offers tremendous winter fun. Turner Mountain Ski Area, located just 22 miles from Libby, offers challenging downhill skiing with a beautiful view. Their slogan is "steep, deep and cheap", and Turner definitely lives up to that. It's still fairly undiscovered, so you can escape the crowds and get the cheapest lift tickets around. For those who love snowmobiling, there are hundreds of miles of backcountry roads to sled on in the Kootenai National Forest. Cross-country skiers and ice fishermen also can find solitude on a lake and miles of quiet forest trails to enjoy the outdoors. Those who are a bit on the wild and crazy side will love the antics of the Libby Polar Bear Club. Members take winter-time "swims" in frigid Libby Creek every Sunday from October to April. Plungers have ranged in age from 3 to 61. As long as the ice can be broken on the creek, if it has formed, the group will take their plunge, no matter the temperature.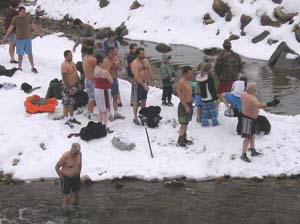 These people must be craaaazzzzzy!
Libby Polar Bear Club