News:
The Heritage Museum Opening Day celebration June 3 (posted 5/29/17)
The Heritage Museum
Opening Day at The Heritage Museum in Libby is an eagerly anticipated annual event. This year, the Museum will host the celebration on Saturday, June 3th, from 10:00AM-5:00PM. As always, the entire family will find something of interest in the presentations and demonstrations both inside and outside throughout the day. There will be learning experiences such as gold panning and ham radio operations, food and fun for all. There will be activities for all ages make sure to bring the kiddos.

The Beebe Room will be having speakers throughout the day. Make sure to stop in and check out our Live actor Greg Smith!

10:30 AM Montana Forest Workers in World War - presented by Jerry Akin
Members of the 20th Engineers Regiment assisted French foresters with logging, lumber manufacturing, railroad tie production, and more. Based on his grandfather's journal, Jerry Akin will give a presentation on the contribution of this regiment to the WWI effort.

11:30 AM A Visit with an 1879 American Fur Company Trader - presented by Greg Smith
This "Living History" presentation brings you back in time to 1879. The stories of James W. Schultz will be told through the fictitious character of Jim Deakins as he takes part in the hunting of the last great bison herds or recalls the adventures of the Blackfeet and their enemy, the Crow.

12:30 PM World War I and the Libby Home Front - presented by Jeff Gruber
With America's entry into the "Great War," there were many committees and organizations that formed locally to help support the boys in Europe. Libby citizens who played significant roles – both in Europe and at home – will be highlighted.

In the Swamp Creek Community Hall, there will be music and dancing. From 10:00 to 11:00AM, enjoy the music of Lee Tonner, Mike Powell, Carol Cady, Patty Leonard and Tim Harcourt. From 11:00 to 12:00, the Spinning Squares will be kicking up their heels square dancing for your entertainment

Enjoy lunch in the historic Sylvanite Cookhouse. Jason Beach will be grilling burgers, onions and hot dogs and there will be various home baked desserts available.

The Museum's four Model T Fords will be out and about throughout the day. A raffle will be held that day to benefit the Model T Fund. There are 3 prizes. One is a large framed photo of two mountain sheep by Bob Stickney, $75 gift certificate to NAPA, and a $20 gift certificate to Quick Lube for an oil change. Tickets are $1 each or 6 for $5.

Between 10:00AM and 2:00PM, stop by the Shay shed to visit with volunteers who have been working on the locomotive. They'll bring you up to date on the progress and share plans for the future.

A new exhibit opening this season commemorates the 100th anniversary of United States' entry into World War I. Twelve men from Lincoln County lost their lives in the Great War. This exhibit is one of three "companion exhibits" which all relate to WWI.

Another exhibit will make its debut this season. As has been reported in the local news, the National Christmas Tree will come from the Kootenai National Forest this year. The new Montana Tannenbaum exhibit features the three National Christmas Trees that have come from Montana in the past, including two from right here in our forest in 1958 and 1989. Representatives from the Forest Service will be at the Museum from 10:00-3:00 on Opening Day and visitors will have the opportunity to make Christmas ornaments that will be sent to Washington, D.C. along with the tree. Smokey Bear will be here from 10AM to noon.

Beginning opening day and continuing through the month of June, the Kootenai Valley Quilt Guild will display their beautiful quilts in the Tower Gallery. The gallery will house a changing exhibit throughout the summer with artwork from the Libby Fine Arts Group in July and photographs in August.

The Heritage Museum will be open through September 30th, Monday-Saturday, 10:00-5:00 and Sunday, 1:00-5:00. Admission is by donation. The Heritage Museum is run completely by volunteers. If you are interested in volunteering, please call the Museum at 406-293-7521.

Related Links:
www.libbyheritagemuseum.org

---
'A Visit With An 1879 American Fur Company Trader' June 3 (posted 5/29/17)
With Greg Smith at The Heritage Museum in Libby
The Heritage Museum
The Heritage Museum in Libby will host the Montana Conversations program, "A Visit With An 1879 American Fur Company Trader," a living history performance with Greg Smith on Saturday, June 3. The program will be part of the Opening Day festivities at the Museum that day.

Greg Smith's presentation will begin at 11:30 AM in the Museum's Beebe Room. The presentation is free and open to the public. Funding for the Montana Conversations program is provided by Humanities Montana through grants from the National Endowment for the Humanities, Montana's Cultural Trust, and private donations.

Smith brings to life the adventures and stories of James W. Schultz through the fictitious character of Jim Deakins. The year is 1879 and through Jim Deakins you will take part in the hunting of the last of the great bison herds. You will share in the adventures of the Blackfeet and their enemy the Crow. You will be told stories of that "foolishness" called Yellowstone National Park. Finally, Jim Deakins will share a powerful gift given by the Blackfoot medicine warrior Red Eagle. So come on along and join Jim Deakins in the year 1879!

Greg Smith lives in Bozeman, Montana, and was for almost 20 years a Ranger Naturalist and Backcountry Ranger in Glacier National Park. A longtime believer in the power of education, he now works with kids and adults throughout the region in the capacity of storyteller and naturalist/historian. In his spare time, Greg enjoys trail running, backpacking, Nordic skiing, and is especially fond of traveling the world on his bike.

For more information, please call The Heritage Museum at 406-293-7521.

Related Links:
www.libbyheritagemuseum.org

---
Man has encounter with mountain lion near Libby (posted 5/29/17)
Montana Fish, Wildlife & Parks
Montana Fish, Wildlife & Parks
On the morning of Saturday, May 27, FWP Game Wardens received a report of a man receiving minor injuries from an encounter with a mountain lion near Boundary Mountain North of Libby. The encounter occurred Friday morning, May 26.

The individual told investigators he was bent over hooking up a chain to drag out a log he'd cut for firewood when he was struck from the side and knocked into a tree. He said he swung at the animal with his arm striking it, and it ran off. He got up and ran to his truck and saw a mountain lion walking back towards the vehicle. He scared the lion off with his truck.

Game Wardens and USFS law enforcement personnel met the man at the scene and verified he had superficial scratches to the side of his face and stomach. The individual did not seek medical attention for his wounds. Hounds trained to track mountain lions were brought to the scene and "hit" on a scent, but after several hours tracking up the mountain they were unable to find or tree the lion. At 11 p.m. the search was called off. The hot dry conditions and the length of time from when the incident was reported made tracking a challenge.

Wardens placed a trail camera at the encounter site and there have been no images of a lion returning to the area over the weekend. No further action is planned at this time.

While encounters with mountain lions are rare, when they do occur it is often a young lion. Male lions can have a home range of up to 150 square miles.

Outdoor recreationists should be aware that mountain lions are common across northwest Montana. Hikers should travel in groups and carry pepper spray to deter lions as well as bears. Keep children close. If a lion threatens, experts say to make your image large and fight back if attacked. FWP asks people to report any encounters with mountain lions or any unnatural behavior displayed by mountain lions as soon as possible.

For more information on living with lions, please visit the FWP website at:
http://fwp.mt.gov/recreation/safety/wildlife/lion/lionBehave.html

---
Troy High School 100th Year Anniversary celebration June 30 – July 2 (posted 5/29/17)
Troy High School is celebrating its 100 Year Anniversary from June 30 to July 2, 2017. For more information contact Diane Holden, holdendiane73@gmail.com.

---
Makers Fun Factory Vacation Bible School June 12-15 (posted 5/29/17)
Libby Christian Church is offering Makers Fun Factory Vacation Bible School June 12-15 from 9am-noon. There will be Bible lessons, crafts, snacks, singing, dancing, and games all included for kids ages 4 & 5 years old and those who have completed grades K-3rd. For kids who have completed grades 4th -7th, there will also be some opportunities for adventures like rafting, target shooting and more. Sign up to help in the church lobby. Register children on-line at:
https://libbycc.churchcenteronline.com/registrations/events/67408

---
Lincoln County Real Estate update (posted 4/21/17)
Alice Hayes, Loveless Realty, Libby, Montana
January 1, 2017 to April 1, 2017 Current Real Estate figures:

SALES & PENDINGS:
26 Residential SALES:
15 in Libby
8 in Troy
3 in Sanders

6 Land SALES
5 in Libby
1 in Troy

0 Commercial SALES

28 Residential PENDING:
19 in Libby
2 in Troy
1 in Flathead
6 in Sanders

10 Land PENDING:
6 in Libby
1 in Troy
2 in Yaak
1 in Sanders

4 Commercial/M-Family PENDING:
3 in Libby
1 Troy

ACTIVE LISTINGS:
143 Residential ACTIVES:
58 in Libby
41 in Troy
7 in Yaak
3 in Flathead
34 in Sanders

193 Land ACTIVES:
102 in Libby
55 in Troy
14 in Yaak
1 in Flathead
21 in Sanders

31 Commercial ACTIVE:
21 in Libby
2 in Troy
2 in Flathead
6 in Sanders

2017 is starting as a busy year – and we are looking forward to helping Buyers and Sellers realize their 'dreams'.

"So How Did Our Market Actually Do? Let's Compare"
January 1 – December 31, 2016:
175 Residential SOLDS: 83 Land SOLDS: 5 Commercial SOLDS

January 1 – December 31, 2015:
143 Residential SOLDS: 58 Land SOLDS: 6 Commercial SOLDS

January 1 – December 31, 2014:
157 Residential SOLDS: 53 Land SOLDS: 8 Commercial SOLDS

January 1 – December 31, 2012:
120 Residential SOLDS: 33 Land SOLDS: 6 Commercial SOLDS

January 1 – December 31, 2011:
111 Residential SOLDS: 37 Land SOLDS: 7 Commercial SOLDS

January 1 – December 31, 2010:
93 Residential SOLDS: 28 Land SOLDS: 0 Commercial SOLDS

Interest Rates Remain LOW—NOW Could be a Great Time to Buy!
As of 04/01/2017 Conforming & FHA Loans & VA Loans:
30-Year Fixed, Interest = 4.125%; APR= 4.142%
30-Year Fixed VA Loans, Interest = 3.750%; APR=3.868%
15-Year Fixed, Interest = 3.375%; APR=3.450%

Information obtained through Lincoln County MLS

Alice Hayes: 406-293-8364, alice@alicehayes.com

Jim Hayes: 406-293-1926, jim@alicehayes.com

Website: www.alicehayes.com
---
Public comment sought on invasive mussels (posted 2/28/17)
Montana Fish, Wildlife & Parks
Montana Fish, Wildlife & Parks (FWP) needs your voice in the fight against invasive mussels! New rules aimed at stopping the spread are out for comment:

http://musselresponse.mt.gov

FWP seeks comment on rules aimed at invasive mussels [ http://musselresponse.mt.gov/News/ArtMID/55695/ArticleID/5760/FWP-seeks-comment-on-rules-aimed-at-invasive-mussels]

Montana Fish, Wildlife & Parks is seeking comment on proposed amendments [ http://fwp.mt.gov/news/publicNotices/rules/pn_0224.html ] to rules that outline new regulations needed in the battle to contain, detect and prevent the risk of spreading invasive mussels and other aquatic invasive species to other state waters.

Invasive mussel larvae were detected for the first time in Montana in October 2016 in Tiber Reservoir - and "suspect" detections turned up in Canyon Ferry Reservoir, the Missouri River below Toston Dam, and the Milk River.

The discovery triggered a natural resource emergency in Montana and led to several recommended strategies to manage the threat of invasive mussels spreading to other areas.

The proposed rule amendments outline several new regulations.

Learn more at musselresponse.mt.gov >> [http://musselresponse.mt.gov/News/ArtMID/55695/ArticleID/5760/FWP-seeks-comment-on-rules-aimed-at-invasive-mussels]

---
Libby lies in the northwest corner of Montana and is nestled in a valley carved by the Kootenai River on the flank of the majestic Cabinet Mountain Range and Wilderness Area. Today about 2,800 people live within Libby proper. The main industries are lumber and wood products, mining, tourism and recreation. The movies "The River Wild" and "Always" were filmed here. Contact the Libby Chamber of Commerce for brochures, info on lodging and events, general area information, and contact information for local businesses and services.
SUMMER
When the weather warms and the mountain snows melt away, the Kootenai National Forest comes alive with over 2.2 million acres of public land as a playground. Mountain trails and lakes open up, beautiful wildflowers come in bloom, and wildlife have their young. Libby is the basecamp for the Cabinet Mountains Wilderness Area, 90-mile long Lake Koocanusa, the Northwest Peaks Scenic Area, and the Ten Lakes Scenic Area. There is good access to most of the Forest and plenty of room to get away from it all!
WINTER
Winter in Montana means snow, and lots of it! For those who love to play in the deep powder, the Libby area offers tremendous winter fun. Turner Mountain Ski Area, located just 22 miles from Libby, offers challenging downhill skiing with a beautiful view. Their slogan is "steep, deep and cheap", and Turner definitely lives up to that. It's still fairly undiscovered, so you can escape the crowds and get the cheapest lift tickets around. For those who love snowmobiling, there are hundreds of miles of backcountry roads to sled on in the Kootenai National Forest. Cross-country skiers and ice fishermen also can find solitude on a lake and miles of quiet forest trails to enjoy the outdoors. Those who are a bit on the wild and crazy side will love the antics of the Libby Polar Bear Club. Members take winter-time "swims" in frigid Libby Creek every Sunday from October to April. Plungers have ranged in age from 3 to 61. As long as the ice can be broken on the creek, if it has formed, the group will take their plunge, no matter the temperature.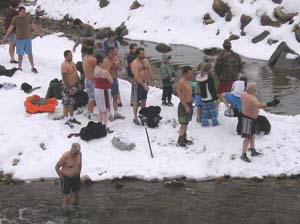 These people must be craaaazzzzzy!
Libby Polar Bear Club