News:
Public comment sought on invasive mussels (posted 2/28/17)
Montana Fish, Wildlife & Parks
Montana Fish, Wildlife & Parks (FWP) needs your voice in the fight against invasive mussels! New rules aimed at stopping the spread are out for comment:

http://musselresponse.mt.gov

FWP seeks comment on rules aimed at invasive mussels [ http://musselresponse.mt.gov/News/ArtMID/55695/ArticleID/5760/FWP-seeks-comment-on-rules-aimed-at-invasive-mussels]

Montana Fish, Wildlife & Parks is seeking comment on proposed amendments [ http://fwp.mt.gov/news/publicNotices/rules/pn_0224.html ] to rules that outline new regulations needed in the battle to contain, detect and prevent the risk of spreading invasive mussels and other aquatic invasive species to other state waters.

Invasive mussel larvae were detected for the first time in Montana in October 2016 in Tiber Reservoir - and "suspect" detections turned up in Canyon Ferry Reservoir, the Missouri River below Toston Dam, and the Milk River.

The discovery triggered a natural resource emergency in Montana and led to several recommended strategies to manage the threat of invasive mussels spreading to other areas.

The proposed rule amendments outline several new regulations.

Learn more at musselresponse.mt.gov >> [http://musselresponse.mt.gov/News/ArtMID/55695/ArticleID/5760/FWP-seeks-comment-on-rules-aimed-at-invasive-mussels]

---
Reminder of new bow and arrow license requirements (posted 2/11/17)
Montana Fish, Wildlife & Parks
This year, hunters will be required to purchase a Montana bow and arrow license prior to applying for any archery only permit.

To purchase a bow and arrow license an individual must meet one of the following requirements:

- Show completion of a bowhunter education course show proof of purchase of a previous years bow and arrow license from Montana or another state

- Sign an affidavit that they have previously purchased a bow and arrow license in Montana or another state.

First time archers needed to have planned ahead to have the prerequisite bowhunter education certificate in order to apply for 2017 archery-only drawings. The first drawing deadline is March 15.

Montana FWP Bowhunter education classes are offered around the state. Please visit: http://fwp.mt.gov/education/hunter to register for a bowhunter education course.

---
Hunter Education classes scheduled for Bigfork, Eureka, Somers, Trout Creek, Whitefish, and Kalispell (posted 2/11/17)
Montana Fish, Wildlife & Parks
Spring Hunter Education Classes have been scheduled for a number of communities in northwest Montana. All hunter education classes are free of charge. By state law, anyone born after January 1, 1985, must have completed the Hunter Education Course to buy a hunting license in Montana. A student must be at least 10 years old to take the course.

All students must register online at the FWP website: fwp.mt.gov; click education, then click hunter education. Detailed instructions will be found at each class site.

Somers: All students must attend an orientation on February 27 at Somers Middle School from 3:30 to 5 p.m. Students must attend the entire session. Classes then continue on March 13, 14, 15, and 16 from 3:30-6:30 p.m. Field day is scheduled for Saturday, March 18. Contact West Plummer at: 406-250-3437.

Trout Creek: First class is February 20 from 7-9 p.m. at the Trout Creek Fire Station. The schedule for the remainder of the course will be determined at that time. Contact is Harold Hudson, 406-827-4010.

Whitefish: Classes held at the Whitefish Middle School 6-9 p.m. on March 6, 7, 9, 10; field course is held on Saturday, March 11. Contact is Ron Nail,406-862-4509.

Eureka: Held at the Eureka Middle School. Orientation is February 27, 7-9 p.m. Classes held 7-9 p.m. on March 6, 7, 9, 13 and 14; field course set for Saturday, March 11 and test night is Thursday, March 16. Contact: Megan Strom, 406-249-6018.

Bigfork: All classes held at the Bigfork High School music room. Orientation is March 22, 7-8 p.m. Classes are held on March 27, 28, 29, 30, and 31; field course is held on Saturday April 1; test night is April 3. Contact: Rod Day, 406-249-5402

Kalispell: Orientation and material pickup is scheduled for Monday April 3, from 4 p.m. to 8 p.m. at Montana Fish Wildlife & Parks headquarters on North Meridian Road. Students will need to stop in for the brief orientation any time during that four hour period. At the orientation, students will pick up their manuals and receive course instructions. Classes will be held at the Flathead High School from 6-9 p.m. on April 10, 11, 12, and 13; field day is Saturday April 15 at the Flathead Valley Trap Club. Test night is back at the high school on Monday, April 17, from 6-8 p.m. Call FWP (752-5501) or Mike Corkish, lead instructor, 406-212-8122.
---
How was Lincoln County Real Estate in 2016? (posted 1/12/17)
Alice Hayes, Loveless Realty, Libby, Montana
January 1, 2016 to December 31, 2016 Current Real Estate figures:

SALES & PENDINGS:
175 Residential SALES:
104 in Libby
36 in Troy
8 in Yaak
6 in Flathead
21 in Sanders

83 Land SALES:
38 in Libby
17 in Troy
11 in Yaak
8 in Flathead
9 in Sanders

5 Commercial SALES:
3 in Libby
2 in Sanders

19 Residential PENDING:
11 in Libby
4 in Troy
1 in Flathead
3 in Sanders

15 Land PENDING:
11 in Libby
4 in Troy

Commercial/M-Family PENDING: 0

ACTIVE LISTINGS:
154 Residential ACTIVES:
69 in Libby
36 in Troy
6 in Yaak
8 in Flathead
35 in Sanders

217 Land ACTIVES:
96 in Libby
67 in Troy
15 in Yaak
20 in Flathead
19 in Sanders

24 Commercial ACTIVE:
16 in Libby
1 in Troy
1 Yaak
1 in Flathead
5 in Sanders

2016 has been a busy year and many people have been able to find that 'just right home' or 'just right piece of land'.
What were the price ranges of SOLDS in 2016???
10K - $150,000 = 71 Sales
150K - $250,000 = 60 Sales
250K - $500,000 = 36 Sales
500K - $800,000 = 3 Sales
800K - $1,500,000 =5

"So How Did Our Market Actually Do? Let's Compare"
1/1—12/31/2015:
143 Residential SOLDS
58 Land SOLDS
6 Commercial SOLDS

1/1—12/31/2014:
157 Residential SOLDS: 53 Land SOLDS: 8 Commercial SOLDS

1/1—12/31/2012:
120 Residential SOLDS
33 Land SOLDS
6 Commercial SOLDS

1/1—12/31/2011:
111 Residential SOLDS
37 Land SOLDS
7 Commercial SOLDS

1/1-12/31/2010:
93 Residential SOLDS
28 Land SOLDS
0 Commercial SOLDS

1/1 – 12/31/2009:
82 Residential SOLDS
33 Land SOLDS
6 Commercial SOLDS

Interest Rates Remain at ALL Time LOWS—
NOW Could be a Great Time to Buy!
As of 12/31/2016 Conforming & FHA Loans:
30- Year Fixed; Interest = 3.78%; APR= 3.81%
15- Year Fixed; Interest = 3.01; APR=3.13%

Cell #'s:
(Alice) 406-293-8364
(Jim) 406-293-1926
Emails:
alice@alicehayes.com
jim@alicehayes.com
Website: www.alicehayes.com
---
EPA announces 'last call' for Libby and Troy residents to participate in cleanup of asbestos at remaining properties (posted 1/12/17)
U.S. Environmental Protection Agency
(Denver, Colo. - Jan. 10, 2017) The U.S. Environmental Protection Agency (EPA) announced today a final opportunity for owners of residential and commercial property in Libby and Troy, Montana to participate in the investigation and cleanup of Libby Amphibole asbestos. EPA expects that less than 10 percent of remaining properties to be investigated are likely to need a cleanup.

Property owners who have not yet participated in an investigation and/or cleanup need to sign access agreements by March 31st 2017. Access agreements have been mailed to property owners and are also available at EPA's Information Center in Libby, 108 E. 9th Street; 406-293 6194.

EPA is providing this final opportunity to ensure the protection of future residents from possible exposures. Property owners who do not participate could become financially responsible for future cleanup. The agency may file a notice of environmental conditions with the Clerk and Recorder's Office of Lincoln County for properties within the Superfund site that have not participated in EPA's program. This property notice would be recorded and maintained by Lincoln County and the State of Montana to inform future owners, lenders and renters that investigation and potentially necessary cleanup work at the property has not been completed.

If necessary, outdoor property cleanups consist of removing contaminated soil and backfilling the area with clean soil. The agency works closely with property owners to help them minimize disturbance as much as possible and to return properties to pre-cleanup conditions. Indoor cleanups involve removing vermiculite-containing insulation from accessible areas inside homes and buildings. Contaminated materials are disposed of at a county landfill. EPA installs new insulation at locations where it is removed.

EPA's risk assessment shows that cleanups have been effective in reducing cancer and non-cancer risks in Libby and Troy. Since 1999, EPA has completed an investigation and/or cleanup at 7,500 of 8,100 private properties identified within the Superfund site. Cleanups took place at 2,447 properties. Air asbestos concentrations today are about 100,000 times lower than when the mine and processing facilities were operating. It is now possible to live and work in Libby and Troy without excessive exposure to asbestos.

For more information on the Libby site visit: www.epa.gov/superfund/libby-asbestos

---
Libby lies in the northwest corner of Montana and is nestled in a valley carved by the Kootenai River on the flank of the majestic Cabinet Mountain Range and Wilderness Area. Today about 2,800 people live within Libby proper. The main industries are lumber and wood products, mining, tourism and recreation. The movies "The River Wild" and "Always" were filmed here. Contact the Libby Chamber of Commerce for brochures, info on lodging and events, general area information, and contact information for local businesses and services.
SUMMER
When the weather warms and the mountain snows melt away, the Kootenai National Forest comes alive with over 2.2 million acres of public land as a playground. Mountain trails and lakes open up, beautiful wildflowers come in bloom, and wildlife have their young. Libby is the basecamp for the Cabinet Mountains Wilderness Area, 90-mile long Lake Koocanusa, the Northwest Peaks Scenic Area, and the Ten Lakes Scenic Area. There is good access to most of the Forest and plenty of room to get away from it all!
WINTER
Winter in Montana means snow, and lots of it! For those who love to play in the deep powder, the Libby area offers tremendous winter fun. Turner Mountain Ski Area, located just 22 miles from Libby, offers challenging downhill skiing with a beautiful view. Their slogan is "steep, deep and cheap", and Turner definitely lives up to that. It's still fairly undiscovered, so you can escape the crowds and get the cheapest lift tickets around. For those who love snowmobiling, there are hundreds of miles of backcountry roads to sled on in the Kootenai National Forest. Cross-country skiers and ice fishermen also can find solitude on a lake and miles of quiet forest trails to enjoy the outdoors. Those who are a bit on the wild and crazy side will love the antics of the Libby Polar Bear Club. Members take winter-time "swims" in frigid Libby Creek every Sunday from October to April. Plungers have ranged in age from 3 to 61. As long as the ice can be broken on the creek, if it has formed, the group will take their plunge, no matter the temperature.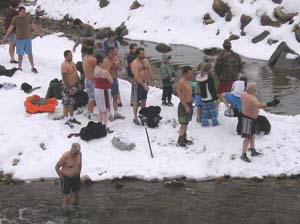 These people must be craaaazzzzzy!
Libby Polar Bear Club