News:
Caller ID Spoofing (posted 8/27/14)
Caller faking phone numbers for spam phone calls
Dawn Ballou, Editor, LibbyMT.com
Earlier this week we received an angry phone call from a woman who said she was tired of receiving phone calls two or three times a day from "Libby" and what she claimed was our business phone number. The calls were spam for credit card offers and other things. She insisted we stop calling her.

The problem for both of us is that we aren't the ones calling her.

Most everyone gets these kinds of recorded and live sales pitches every day. The puzzling part of this one is that the called insisted our phone number and business name were what was displayed in the Caller ID.

Since we aren't making these calls, we want to make our readers aware that there are companies and devices that allow people to mask or change their Caller ID number that comes up on the recipient's phone display. It's called "Caller ID Spoofing," and can have serious consequences for anyone not aware this is possible and is tricked into giving out personal information over the phone to a scammer.

Spoofing the Caller ID number is not illegal in the United States, except for in cases where fraud occurs. Federal Communications Commission (FCC) rules prohibit telemarketers from blocking Caller ID information and require them to pass accurate caller ID numbers. However, for calls done for pranks, amusement, or revenge, it is perfectly legal to alter the Caller ID number.

A quick Google search will reveal a host of companies that offer special phone cards to do this service with them, for a fee. Their websites explaining the service give a number of flimsy, but plausible, excuses why someone might want to hide their real phone number: to get their teenager to answer the phone from their parent; professionals wanting to call patients but don't want their real cell phone number to get out; pranksters wanting to pull one over on a friend; law enforcement uses. The process is as easy as punching in three phone numbers: your own number, the number you wish to call, and the number you want to show up on the phone Caller ID display when the call is made. Any 10 digit number can be used. Not only will the number show up, but also the name registered for that number would automatically appear. Voices can be altered to male or female during the call. Spoofcards can be purchased online and are relatively cheap for 60 minutes and up to 8-hours worth of spoof calling time for under $100. For those using voice over IP, faking Caller ID is as easy as editing a configuration file on the computer.

There may be some people who need this service for legitimate purposes, but clearly this technology is being used be crooks wanting to mask unsolicited sales calls and get around the Do Not Call legislation and the fines for unsolicited sales calls.

Unsuspecting victims who rely on the Caller ID number to screen their calls will answer a recognized number and potentially fall for the pitch of a slick salesperson or con artist to give out confidential information. More sinister uses include stalking and a whole host of identify theft purposes.

A big concern is people being tricked by calls appearing to come from their bank, credit card company or a government agency and persuading victims to give up their personal identity and financial information that a thief can use to empty their bank account, open a new account, apply for loans or obtain credit cards. Imagine a phone call with the Caller ID showing up as your local bank or credit union in Libby and the representative says they are verifying account information and just need you to answer a few quick questions (social security number, mother's maiden name, account pin number…) Minutes later your account is cleaned out.

An online article on the topic of Caller ID spoofing tells of another variation where a victim receives a phone call claiming they missed jury duty and asks for their Social Security number. The call seems legitimate because the Caller ID displays the number for the local courthouse.

Imagine a call coming in appearing to be from the Lincoln County Sheriff's Office and a kind "detective" claiming to be working on a fraud protection incident they've uncovered with you as the possible target and they just want to verify your social security number and bank accounts "for your protection"…

At the federal level, the Truth in Caller ID Act of 2009 offers some protections for traditional telephone and voice over internet protocol (VOIP), but does make exceptions for use for certain law-enforcement purposes. Callers are also still allowed to preserve their anonymity by choosing to block all outgoing caller ID information on their phone lines. A number of states have also begun to pass their own laws under deceptive trade practices and consumer fraud acts. These laws still only prohibit Caller ID spoofing for fraud purposes. Uses by individuals for amusement or revenge is still legal.

If you have caller ID and receive a call from a telemarketer without the required caller ID information, and you suspect that Caller ID information has been falsified, or you think the rules for protecting the privacy of your telephone number have been violated, you can file a complaint with the Federal Communications Commission (FCC). You can file your complaint electronically using the on-line complaint Form 1088 found on the FCC Web site at www.fcc.gov/cgb/complaints.html. You can also file your complaint by e-mailing fccinfo@fcc.gov; calling 1-888-CALL-FCC (1-888-225-5322) voice or 1-888-TELL-FCC (1-888-835-5322) TTY; faxing 1-866-418-0232; or writing to:
Federal Communications Commission
Consumer & Governmental Affairs Bureau
Consumer Inquiries and Complaints Division
445 12th Street, SW
Washington, D.C. 20554

How to protect yourself:
1. Never give out personal information such as your Social Security Number, driver's license number, credit card account information or bank account information over the phone. Banks, credit card companies and government offices typically do not call over the phone to confirm this information. They do this via mail.

2. If you think the call is legitimate, call the organization back yourself using a phone number you obtain from an independent source you get yourself. Don't use the number they give you as their contact number, ask that could reroute you to an accomplice in the scheme. Look the phone number up in the phone book or get it off your official paperwork from that company and call back to verify the person and request for your confidential information.

3. Report suspicious phone calls to local law enforcement and any local organization that appears to have their number being used for fraudulent purposes. While there is little that law enforcement and the individual business can do to stop the calls, they can at least alert citizens and customers that the scam is happening and to be wary of suspicious phone calls.
________________________________

For those wanting to research more on this topic, the following keywords provide links to a lot of good articles and reports: Caller-ID spoofing, Caller-ID Fraud, Caller-ID masking, Identity Spoofing, Anti-Spoofing Legislation, Truth in Caller ID Act of 2009.

Related Links:
Caller ID Spoofing - (Wikipedia)
Caller ID and Spoofing - Federal Communications Commission (FCC)
calleridspoofing.info
---
Online registration open for some Northwest Montana Hunter Education classes (posted 8/27/14)
Montana Fish, Wildlife & Parks
Online registration is now open for Hunter Education classes across northwest Montana. All registration for Hunter Education Classes in northwest Montana is through the FWP website online. Register online at fwp.mt.gov; click Hunter Ed Schedule and follow directions to register. See link: http://fwp.mt.gov/education/hunter/hunterEd.html. All class details will be found online. Here are schedules for communities in the northwest Montana area:

Eureka, Trego and West Kootenai areas: The Eureka session will begin on Monday, September 8th at 7:00 pm at the Eureka Middle School Library. Remaining classes will take place 7-9 p.m. on September 15, 16, 18, 22, 23 and 25. A field day will take place on Saturday September 20th.

The Trego session will begin on Monday, September 15th at 7:00 pm at the Trego School. Remaining classes will take place on September 22, 23, 25, 29, 30 and October 2nd. A field day will take place on Saturday September 27th.

The West Kootenai class will begin 7 p.m. on Monday September 22nd at the West Kootenai Community Church. Remaining classes will be held on September 29, 30, October 2, 6, 7, and 9. The field day will take place on Saturday October 4th.

Parents are encouraged to attend the first evening's class for a discussion on responsibilities. Students must attend all classes in order to be certified. Subjects to be taught include proper gun handling, hunter ethics, wildlife management and identification, game care, and survival. Anyone with questions can call Ron Hvizdak (406-889-3791) for the Eureka class, Tim Their (406-882-4697) for the Trego class, and Lee Ressler (406-889-3810) or Jerry Gingerich (406-291-7618) for the West Kootenai class.

Classes in Libby and Ronan are underway or completed.

Anyone born after Jan. 1, 1985, must complete a hunter education course before buying a hunting license in Montana. Only individuals 11 years of age or older at the day of sign-up may be certified upon successfully completing the course. Eleven year olds turning 12 by January 16, 2014 are eligible to hunt the 2013 season upon certification. The course is free of charge.
---
Lemonade on the Lawn Aug. 27 (posted 8/25/14)
Friends of the Library
Friends of the Library will host the final Lemonade on the Lawn on Wednesday, August 27 at noon. "Beyond Help" with Lee Tonner and friends will provide musical entertainment. This group is always a crowd pleaser with their bluegrass, Irish and other favorites.

You're welcome to bring your lunch, or you can buy it there. The Servant Team from Christ Lutheran Church will be serving a pulled pork sandwich and coleslaw for $5.00. As always, Friends of the Library will provide free lemonade and a cookie.

Friends of the Library is appreciative of everyone who supported Lemonade on the Lawn this year.

---
Libby hospital implements workforce reduction (posted 8/25/14)
Reducing costs and improving efficiencies
Duane Williams, KLCB-KTNY Radio
A total of eight positions within five departments have been affected by a targeted reduction in workforce at Cabinet Peaks Medical Center. Some employees were required to reduce their hours, while others were laid off.

Bruce Whitfield, CEO at the local medical center, asserted health systems throughout Montana and across the nation have been forced to reduce costs to address the rapidly changing healthcare environment, which includes a shift to more outpatient services and declining reimbursement.

Whitfield continued this difficult decision was not reached easily, but the change is necessary for Cabinet Peaks Medical Center to continue to provide quality, compassionate care to the community.

A significant amount of time has been spent focusing efforts on ways to reduce cost of care and improve efficiencies in operations. "A targeted reduction of our work force was still in order," continued Whitfield.
___________________________________________

By Duane Williams, KLCB-KTNY Radio, e-mail: klcb@frontiernet.net, www.klcb-ktny.com

---
FVCC offers Online Manufacturing Programs (posted 8/25/14)
Flathead Valley Community College
Starting this fall, Northwest Montana residents can earn an online Certificate of Technical Science in three different advanced manufacturing programs. The one-semester programs include electronics technician, machinist technician and industrial maintenance.

"This marks the evolution of manufacturing education at FVCC," said Advanced Manufacturing Specialist Dan Leatzow, Ph.D. "We are leading the charge, taking manufacturing education to the next level for the state of Montana. This puts us on equal footing with other nationally and internationally-recognized manufacturing programs."

According to Leatzow, offering these entry-level programs will benefit students, particularly in rural communities.

"Offering these programs online will prevent the stress of having to relocate to complete these certificates," he said. "This way, students can stay in their communities, work and be with their families."

As part of the Strengthening Workforce Alignment in Montana's Manufacturing and Energy Industries Trade Adjustment Assistance Community College and Career Training Grants Program Grant Agreement #TC-25034-13-60-A-30 Consortium grant, students throughout Montana will be able enroll at their local two-year colleges and access FVCC's online manufacturing programs. FVCC will collaborate with assessment centers in Havre, Helena and Billings to provide students across the state the ability to complete the certificates' hands-on work requirements in their local communities.

Those who complete the online certificates will have the opportunity to continue their studies on the FVCC Kalispell campus. The college offers a two-semester Certificate of Applied Science in all three programs and a two-year Associate of Applied Science in electronics technician and machinist technician.

For more information, contact FVCC Navigators Jori Bullemer at 406-756-3905 or jbullemer@fvcc.edu or Will Richards at 406-756-4862 or wrichards@fvcc.edu.

---
Tentative agreement reached on County tax overpayments (posted 8/21/14)
Duane Williams, KLCB-KTNY Radio
Lincoln County and the Revett Mining Company have reached a tentative agreement concerning Revett's overpayment of Net and Gross Proceeds taxes. The metal mines taxes are paid on the value of minerals mined at the Troy Mine during a production year. The overpayment of these taxes goes back to Revett's Troy Mine production from 2010 to 2012. The mine is currently accessing their ore body through a new adit, is not processing ore, and a tax reduction on production was therefore not possible.

The agreement includes Revett granting the County an easement on the road to maintain public access to areas important to recreationalists when the mine finishes operations in the distant future. Lincoln County has agreed to do road maintenance and repair work on the access road to the mine up to an amount that Revett has overpaid their Proceeds taxes.

For several years, taxes for property owners within Lincoln County were miscalculated above the legal maximums. The County Commissioners are reducing taxes for the next few years for property owners as a way of paying back taxpayers those over-charges. The overpayment of Revett's property taxes is separate from the Net and Gross Proceeds taxes, and Revett will be treated the same way as all taxpayers with regards to its property taxes.
_____________________________________________

By Duane Williams, KLCB-KTNY Radio, e-mail: klcb@frontiernet.net, www.klcb-ktny.com

---
Drowning victim identified (posted 8/18/14)
Anthony Joseph Bachman of Missoula, Montana
Duane Williams, KLCB-KTNY Radio
Anthony Joseph Bachman, age 62, of Missoula, drown after falling off of the bow of a moving pontoon boat on Middle Thompson Lake, across from Logan State Park, about 45 miles southeast of Libby about 6:10 pm Saturday, August 16th.

Witnesses aboard the boat attempted to rescue Bachman, but were unsuccessful. Initial indications are that alcohol consumption was a major contributing factor to this accident.

The body of the victim has not been recovered from about 160 feet of water. The search for Bachman continued until dark Saturday night, resumed all day Sunday and the search is again active today (Monday, August 18th). Divers, dog teams, and sonar equipment have been on scene.

Members of Lincoln County Sheriff's Office, Fisher River Valley Fire & Rescue, David Thompson Search and Rescue, Montana Fish Wildlife and Parks and Flathead County Sheriff's Office responded. Flathead County Sheriff's 'Air-1' helicopter responded. Alert Helicopter was placed on standby.

The accident is being jointly investigated by the Lincoln County Sheriff's Office and Montana Fish Wildlife and Parks.
_________________________________________

By Duane Williams, KLCB-KTNY Radio, e-mail: klcb@frontiernet.net, www.klcb-ktny.com

---
Drowning accident claims man in Middle Thompson Lake (posted 8/18/14)
Duane Williams, KLCB-KTNY Radio
Saturday (August 16), about 6:10 pm, an adult male drown after falling off of a boat on Middle Thompson Lake, across from Logan State Park, about 45 miles southeast of Libby.

Lincoln County Sheriff's Office, Fisher River Valley Fire & Rescue, David Thompson Search and Rescue, Montana Fish Wildlife and Parks and Flathead County Sheriff's Office responded.

The body of the victim has not been recovered. Divers and sonar equipment are on scene.

The name of the deceased is being withheld pending notification of family.
_______________________________________

By Duane Williams, KLCB-KTNY Radio, e-mail: klcb@frontiernet.net, www.klcb-ktny.com

---
Quilt Show 2014 Sept. 12-14 in Libby (posted 8/12/14)
During Nordicfest
Everyone is invited to view this year's Quilt Show September 12-14th during Nordicfest. The show will be in the former Asa Wood Elementary School, 700 Idaho Avenue. Join Quilter of the Year Kayley Robertson. There will be a quilt raffle, baked goods, country store, and quilt basket. Admission is free.

Quilt Show Hours:
Friday, Sept. 12 – Noon to 6:00 p.m.
Saturday, Sept. 13 – Noon to 6:00 p.m.
Sunday, Sept. 14 – Noon to 4:00 p.m.

---
MT Landowners granted new wolf tool (posted 8/7/14)
Montana Fish, Wildlife & Parks
The Montana Fish & Wildlife Commission recently adopted rules and an annual wolf quota completing the process necessary to allow private landowners to take a limited number of wolves per year that potentially threaten livestock, domestic dogs or human safety.

The rule was adopted to comply with Senate Bill 200, a new state law passed by the Montana Legislature last year.

The annual quota allows landowners or their agents to take up to 100 wolves a year without a hunting license. The statewide quota for this effort will be examined in four 25-wolf increments. Each time the number of wolves taken nears 25, 50, and 75, the commission must approve the next increment toward the 100-wolf quota.

"This approach offers another tool landowners can use if it's needed," said Jeff Hagener, director of Montana Fish, Wildlife & Parks in Helena. "One of our top priorities is to minimize livestock losses and we're continuing to make a positive impact there."

Montana's verified wolf population remained stable last year at minimum of 627 wolves, compared to 625 in 2012.

The rule, which doesn't apply to public lands, comes as confirmed wolf depredations on livestock took a significant drop in 2013 and follows a trend of fewer overall agency control actions.

Confirmed livestock depredations due to wolves in 2013 were down 27 percent from 2012 loses. Cattle losses were the lowest recorded in the past seven years and reflect a general decline in wolf depredations that began in 2009.

A variety of nonlethal predation deterrents are also employed in Montana in cooperation with landowners to reduce the risk of wolf attacks. FWP collaborates with landowner communities on range-rider projects and with individual landowners to provide fladry—a century's old technique of attaching colorful flags or fabric on fence lines to flap in the breeze to keep wolves at bay—and advice on keeping wolves out of livestock areas.

In all, 75 wolves were removed via lethal control in 2013, down from 108 in 2012. Of the 75 wolves removed for livestock depredations, eight were taken by private citizens with permits to take offending wolves or under Montana's defense of property laws.

Landowners also have the right to take wolves in the act of attacking livestock without affecting the 100-animal quota.

Related Links:
Montana Fish, Wildlife & Parks - Learn about Montana's wolf population.
Wolf Watch - By Cat Urbigkit

---
Astronomy presentation August 29th in Libby (posted 8/5/14)
Duane Williams, KLCB-KTNY Radio
The Astronomy Club invites the public to a special presentation on Friday, August 29th, at 7 pm, in the Fireside Room of the Venture Inn, in Libby. Mike Herr, retired NASA Senior Engineer, will be displaying what he often presents at a planetarium. The topics will cover planets, the moon, constellations with Greek/Roman stories, nebulae, galaxies - a mix of everything with a focus on what attendees find of most interest.

Herr was last employed at the Naval Air Warfare Center, Weapons Department, China Lake, California. His experience includes being an engineer, and sometimes manager on such projects as the Mars Pathfinder, the Space Shuttle Escape System, the E-2C personal survival ensemble, the P-3C escape system integration as well as development and testing a variety of parachute, recovery, weapon retardation and crew escape systems. All of which require a very intimate understanding of the science behind our solar system.
______________________________________

By Duane Williams, KLCB-KTNY Radio, e-mail: klcb@frontiernet.net, www.klcb-ktny.com

---
Libby lies in the northwest corner of Montana and is nestled in a valley carved by the Kootenai River on the flank of the majestic Cabinet Mountain Range and Wilderness Area. Today about 2,800 people live within Libby proper. The main industries are lumber and wood products, mining, tourism and recreation. The movies "The River Wild" and "Always" were filmed here. Contact the Libby Chamber of Commerce for brochures, info on lodging and events, general area information, and contact information for local businesses and services.
SUMMER
When the weather warms and the mountain snows melt away, the Kootenai National Forest comes alive with over 2.2 million acres of public land as a playground. Mountain trails and lakes open up, beautiful wildflowers come in bloom, and wildlife have their young. Libby is the basecamp for the Cabinet Mountains Wilderness Area, 90-mile long Lake Koocanusa, the Northwest Peaks Scenic Area, and the Ten Lakes Scenic Area. There is good access to most of the Forest and plenty of room to get away from it all!
WINTER
Winter in Montana means snow, and lots of it! For those who love to play in the deep powder, the Libby area offers tremendous winter fun. Turner Mountain Ski Area, located just 22 miles from Libby, offers challenging downhill skiing with a beautiful view. Their slogan is "steep, deep and cheap", and Turner definitely lives up to that. It's still fairly undiscovered, so you can escape the crowds and get the cheapest lift tickets around. For those who love snowmobiling, there are hundreds of miles of backcountry roads to sled on in the Kootenai National Forest. Cross-country skiers and ice fishermen also can find solitude on a lake and miles of quiet forest trails to enjoy the outdoors. Those who are a bit on the wild and crazy side will love the antics of the Libby Polar Bear Club. Members take winter-time "swims" in frigid Libby Creek every Sunday from October to April. Plungers have ranged in age from 3 to 61. As long as the ice can be broken on the creek, if it has formed, the group will take their plunge, no matter the temperature.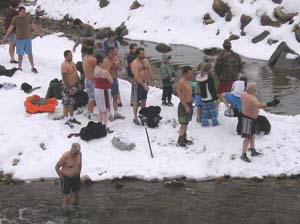 These people must be craaaazzzzzy!
Libby Polar Bear Club