News:
Blood Drives in Libby and Eureka (posted 10/13/14)
The American Red Cross reminds eligible donors that it's never too late – or too early – to make blood donation a lifelong habit.

Many blood donors report making their first blood donation while in high school. High school and college students account for about 20 percent of all blood donations to the Red Cross. Individuals can begin donating at 17 years old, or 16 in some states, and continue to donate as long as they meet eligibility requirements.

Blood donations often decline during the winter holidays when school is not in session. The Red Cross is offering 16- to 24-year-old students currently enrolled in school a way to help overcome this seasonal decline and have a chance to win a college scholarship. Students who sponsor a successful blood drive between Dec. 15, 2014, and Jan. 15, 2015, through the Leaders Save Lives program will be entered to win a college scholarship and will receive a gift card. More information is available at www.redcrossblood.org/leaderssavelives.

Donors are needed year-round, particularly those with types O negative, A negative and B negative blood. Those who attempt to donate in October will be entered to win a $5,000 Visa gift card, courtesy of Suburban Propane.

To make an appointment to donate blood, eligible donors are encouraged to download the new Red Cross Blood Donor App from app stores or text BLOODAPP to 90999 to receive a download link, visit redcrossblood.org or call 1-800-RED CROSS (1-800-733-2767).

How to donate blood
Simply download the American Red Cross Blood Donor App, visit redcrossblood.org or call 1-800-RED CROSS (1-800-733-2767) to make an appointment or for more information. All blood types are needed to ensure a reliable supply for patients. A blood donor card or driver's license or two other forms of identification are required at check-in. Individuals who are 17 years of age (16 with parental consent in some states), weigh at least 110 pounds and are in generally good health may be eligible to donate blood. High school students and other donors 18 years of age and younger also have to meet certain height and weight requirements.

About the American Red Cross
The American Red Cross shelters, feeds and provides emotional support to victims of disasters; supplies about 40 percent of the nation's blood; teaches skills that save lives; provides international humanitarian aid; and supports military members and their families. The Red Cross is a not-for-profit organization that depends on volunteers and the generosity of the American public to perform its mission. For more information, please visit their website or visit on Twitter at @RedCross.

Upcoming blood drives in Lincoln County:
Libby: Thursday, October 16, 2014
11:30 a.m. - 5:30 p.m., VFW, 114 West 2nd Street

Eureka: Tuesday, October 28, 2014
12 p.m. - 5 p.m., The Church of Jesus Christ of Latter-day Saints, 1005 Osloski Road


---
Youth-Only Deer Hunt Oct. 16-17 (posted 10/13/14)
Montana Fish, Wildlife & Parks
Montana's annual youth-only deer hunt is set for Oct 16-17.

The two-day special season is open to properly licensed youngsters ages 12 to 15 who've passed a hunter safety course. Additionally, 11-year-olds who passed hunter safety may hunt if they'll be 12 by Jan. 16, 2015.

The youth hunt is typically scheduled during the public schools' two-day vacation in October, which is scheduled for Oct. 16-17 this year.

This puts youth rifle hunters in the field during the final days of Montana's archery season.

"Archers and our young hunters need to be aware of the overlapping seasons and plan accordingly," Aasheim said.

Young hunters must wear hunter orange and follow all hunting district regulations, which may limit them to certain species or require a special permit.

To participate, youth hunters must be accompanied by a non-hunting adult 18 years of age or older.

---
Hunters must expect to see bears (posted 10/13/14)
Montana Fish, Wildlife & Parks
With Montana's hunting season underway, remember that slow moving, quiet and camouflaged hunters will be sharing the landscape with the state's even stealthier bears that may be stalking similar prey.

It may not be an encounter one hopes for, but all hunters must be aware there is that potential.

Grizzly bears are found throughout western Montana, not just the Rocky Mountain Front, Bob Marshall Wilderness complex and the Yellowstone ecosystem. Black bears also range widely across the state.

---
Bear Spray—carry it and know how to use it (posted 10/13/14)
Montana Fish, Wildlife & Parks
The Interagency Grizzly Bear Committee recommends the use of bear spray and urges hunters to learn other bear-aware safety measures.

Hunters in bear country need to:
- Carry bear spray and know how to use it.
- Hunt with a partner, leave detailed plans with someone and check-in periodically.
- Pay attention to fresh bear sign. Look for bear tracks, scat, and concentrations of natural foods.
- Use caution when hunting areas that have evidence of bear activity or areas with scavenging birds such as magpies, ravens or crows.

Click on this link for a video on how to use bear spray: http://www.youtube.com/watch?v=sTj8ETG_MQo

---
Upcoming events at Libby Memorial Center (posted 10/13/14)
Below are upcoming events presented by the Kootenai Heritage Council at the Memorial Center in Libby:

Thursday, November 20, 2014 - Two Bit Franks
7:00 pm
Some of the finest Bluegrass musicians in Montana, Two Bit Franks are John Lowell, Tom Murphy, Russ Smith, Jeff Shouse & Kevin Fabozzi. Two Bit Franks is proud to bring you homegrown original music, classic Bluegrass and some great adaptations to tunes you never imagined.
(KHC Series Event)

Sunday, December 7, 2014 - Tony Smith & Company
7:00 pm
This year Tony has gatered young talent from the community to kick off the Holiday season with old fashioned traditional Christmas music we all grew up enjoying. Admission is by donation to benefit the Libby Memorial Events Center.

Friday, December 26, 2014 - Copper Mountain Band
7:00 pm
Copper Mountain Band is a fresh, high-energy country music group from the great state of Montana. With a fiery passion for their craft and an appeal to all audiences, they incorporate music from many genres and styles into their performances

Tuesday, January 13, 2015 - Jonathan Kingham
7:00 pm
With a soothing blend of folk, pop, country and jazz, Kingham usually comes armed with a huge tub of Red Vines, a quick freestyle wit, and has rapidly become a favorite on the circuit. With a sound that is equally at home in a theater, performance center, or a lunchtime concert on the lawn, Kingham is a versatile and in demand performer.
(KHC Series Event)

Thursday, February 12, 2015 - Rebecca Folsom Band
7:00 pm
Rebecca Folsom's near four-octave range earns her a respectable seat in the same room as vocalists Whitney Houston and Queen's Freddie Mercury. Add in the soulfulness of Etta James, the abandon of Janis Joplin, a touch of folk songstress Joni Mitchell and that is Rebecca.
(KHC Series Event)

Friday, March 27, 2015 – Mud Bay Jugglers and The Tune Stranglers
7:00pm
These two groups will entertain: Born of earth and water twenty-some years ago, the Mud Bay Jugglers evolved into an organized body of arms, legs and hands; a multi-headed being that was guided by the natural belief in egalitarian leadership. This shows up on stage as their cooperative style of direction plays out in their amazing, non-verbal, choreographed performances. Their blend of juggling, physical comedy, dance, and music is as unique as their working style. Recently referred to as "a circus that plays music," the Tune Stranglers have been entertaining audiences across the West since 2003. With a smorgasbord of stringed instruments, washboard and the occasional clarinet, they perform fabulous hot jazz and old-timey music of the 1920's and 30's. If good ole country and bluegrass is what you like, this band can kick up their heels and hoe down 'til the cows come home.
(KHC Series Event)

Related Links:
www.libbymemorialcenter.com Libby Memorial Events Center

---
Eureka events (posted 10/13/14)
Wednesday, October 15: Montana Repertory Theater "Once Upon a Time in Ancient Greece" 12:30 Lincoln County High School auditorium

Friday, November 7: Sunburst's annual Toast of the Town Come enjoy this fabulous evening of wine, friends, silent auction and great food. Four Corners Restaurant 5:30. $15/first beverage and your very own wine cup designed by Karin Lamb.

For more information call 406-297-0197 or mail
Sunburst Community Service Foundation
PO Box 1863
Eureka, MT 59917

---
Lincoln County Real Estate (posted 9/1/14)
Local area market activity
Alice Hayes, Loveless Realty
January 1, 2014 – September 1, 2014 current real estate figures:

SALES & PENDINGS:
99 Residential SALES:
63 in Libby, 20 in Troy, 2 in Yaak
1 in Flathead, 13 in Sanders
40 Land SALES:
13 in Libby, 15 in Troy, 4 in Yaak, 8 in Sanders
4 Commercial SALES:
3 in Libby, 1 in Flathead

30 Residential PENDING:
12 in Libby, 6 in Troy, 3 in Yaak
1 in Flathead, 8 in Sanders
13 Land PENDING:
7 in Libby, 3 in Troy
3 in Sanders
1 Commercial/M-Family PENDING:
1 in Troy

ACTIVE LISTINGS
330 Residential ACTIVES:
133 in Libby, 82 in Troy, 9 in Yaak
15 in Flathead, 91 in Sanders
419 Land ACTIVES:
150 in Libby, 110 in Troy, 23 in Yaak
27 in Flathead, 109 in Sanders
37 Commercial ACTIVE:
19 in Libby, 5 in Troy, 3 in Yaak
2 in Flathead, 8 in Sanders

Market Comparison:
January 1 - December 31, 2013:
156 Residential SOLDS
56 Land SOLDS
7 Commercial SOLDS

January 1 – December 31, 2012:
120 Residential SOLDS
33 Land SOLDS
6 Commercial SOLDS

January 1 – December 31, 2011:
111 Residential SOLDS
37 Land SOLDS
7 Commercial SOLDS

January 1 – December 31, 2010:
93 Residential SOLDS
28 Land SOLDS
0 Commercial SOLDS

January 1 – December 31, 2009:
82 Residential SOLDS
33 Land SOLDS
6 Commercial SOLDS

January 1 – December 31, 2008:
98 Residential SOLDS
67 Land SOLDS
11 Commercial SOLDS

As of 09/01/2014 Conforming & FHA Loans:
30- Year Fixed: Interest = 4.14%, APR= 4.22%
15- Year Fixed: Interest = 3.29%, APR=3.41%

For more information contact:
Alice & Jim Hayes, Team Hayes
Loveless Realty
519 W. 9th
Libby, MT 59923
PHONE: 406-293-8364 or 406-293-1926
TEXT: 406-293-8364
EMAIL: alice@alicehayes.com or jim@alicehayes.com
WEBSITE: www.alicehayes.com
---
Libby lies in the northwest corner of Montana and is nestled in a valley carved by the Kootenai River on the flank of the majestic Cabinet Mountain Range and Wilderness Area. Today about 2,800 people live within Libby proper. The main industries are lumber and wood products, mining, tourism and recreation. The movies "The River Wild" and "Always" were filmed here. Contact the Libby Chamber of Commerce for brochures, info on lodging and events, general area information, and contact information for local businesses and services.
SUMMER
When the weather warms and the mountain snows melt away, the Kootenai National Forest comes alive with over 2.2 million acres of public land as a playground. Mountain trails and lakes open up, beautiful wildflowers come in bloom, and wildlife have their young. Libby is the basecamp for the Cabinet Mountains Wilderness Area, 90-mile long Lake Koocanusa, the Northwest Peaks Scenic Area, and the Ten Lakes Scenic Area. There is good access to most of the Forest and plenty of room to get away from it all!
WINTER
Winter in Montana means snow, and lots of it! For those who love to play in the deep powder, the Libby area offers tremendous winter fun. Turner Mountain Ski Area, located just 22 miles from Libby, offers challenging downhill skiing with a beautiful view. Their slogan is "steep, deep and cheap", and Turner definitely lives up to that. It's still fairly undiscovered, so you can escape the crowds and get the cheapest lift tickets around. For those who love snowmobiling, there are hundreds of miles of backcountry roads to sled on in the Kootenai National Forest. Cross-country skiers and ice fishermen also can find solitude on a lake and miles of quiet forest trails to enjoy the outdoors. Those who are a bit on the wild and crazy side will love the antics of the Libby Polar Bear Club. Members take winter-time "swims" in frigid Libby Creek every Sunday from October to April. Plungers have ranged in age from 3 to 61. As long as the ice can be broken on the creek, if it has formed, the group will take their plunge, no matter the temperature.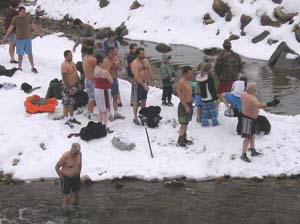 These people must be craaaazzzzzy!
Libby Polar Bear Club