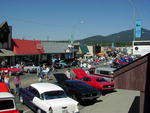 Each August, the Igniters Car Club holds their annual car show on the streets of Libby. The Igniters Car Club of Libby was established in 1961, making it the oldest active Car Club in Montana.
The car show is ALWAYS the 3rd weekend in August. It is an OPEN car show to all makes and model of vehicles.
Registration is on Friday from 3:00 pm to 8:00 pm and on Saturday morning from 8:00 am to noon downtown on Mineral Avenue.
Friday is registration, cruising, poker run, flame-thrower contest and neon contest. Saturday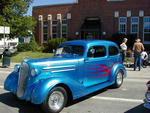 is the formal car show day with awards and the burn-out afterwards. The burn-out contest is always Saturday after the car show.
The burn-out will be held at the Libby Millpond Motocross Park. Directions: From Libby, take US Highway 2 South, turn left (east) approximately 300 feet past the Town Pump.
A dance will be held at the Memorial Center, with the band to be announced.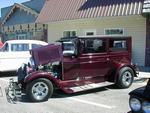 This event has grown each year. The show features categories for Best of Show, People's Choice, Most Improved and other categories for specific types and vintages of automobiles and motorcycles. Vehicles are lined up along Mineral Avenue allowing people to wander on the street viewing the vehicles and talk with the owners
Categories of Judging and Awards
Truck Classes
A. Antique Truck Stock 1940 & Older
B. Antique Truck Modified 1940 & Older
C. Classic Truck Stock 1941–1959
D. Classic Truck Modified 1941–1959
E. Late Great Truck Stock 1960–1979
F. Late Great Truck Modified 1960–1979
G. Late Model Truck Stock 1980–1999
H. Late Model Truck Modified 1980–1999
I. Truck Stock 2000–Present
J. Truck Modified 2000–Present
K. Motorcycle Stock
L. Motorcycle Modified
Car Classes
M. Special Interest
N. Antique Car Stock 1940 & Older
O. Street Rod 1948 & Older
P. Classic Car Stock 1941–1959
Q. Classic Car Modified 1941–1959
R. Custom Car 1949–1975
S. Rat Rod
T. Late Great Car Stock 1960–1979
U. Late Great Car Modified 1960–1979
V. Late Model Car Stock 1980–1999
W. Late Model Car Modified 1980–1999
X. Sports Compact (Imports & Tuners)
Y. Sports Car
Z. Muscle Car 2000–Present
Please remember to bring PROOF OF CURRENT INSURANCE for every vehicle you will be entering.
2016 SCHEDULE
(2017 will be similar)

Thursday, August 18, 2016
• High Stakes Poker Run–100% Payout
• Registration...The Mint Bar 4:00pm
• Start...The Mint Bar 4:00pm
• End...Treasure Mountain Casino 7:00pm
• BBQ and Live Entertainment 8:00pm–12:00am
Friday, August 19, 2016
• Car Show Registration...Mineral Avenue 1:00pm–7:30pm. REGISTRATION WILL CLOSE AT 7:30PM SHARP. NO LATE ENTRIES FOR THE FRIDAY NIGHT CRUISE AFTER THE 7:30PM REGISTRATION DEADLINE.
• Poker Run...Mineral Avenue (Registration Table) 3:00pm–7:30pm ($5 per hand)
• Friday Night Cruise...Mineral Avenue 6:00pm–9:00pm
• Neon Lights & Flame Throwers...Mineral Avenue 9:00pm
Saturday, August 20, 2016
• Car Show Registration...Mineral Avenue 8:00am–12:00pm
• Car Show...Mineral Avenue 9:00am–3:00pm
• Poker Walk...Mineral Avenue (Registration Table) 10:00am–1:00pm ($5 per hand)
• Awards Ceremony & Pedal Car Drawing...3:00pm
• Burnout Contest...Millpond Motocross Park 5:00pm
• Live Music by Smash Hit Carnival...Memorial Center 9:00pm ($10 per person)
To complete the registration process, download the official Igniters "Ignite The Nites" Registration Form. Once completed in its entirety, please sign and date the form and return it with your fees as indicated on the application. If you need further assistance, contact the Club at info@igniterscarclub.com.

We advise you get your motel reservations early!
Local Lodging
For more information
Igniters Car Club
170 Hogan Drive
P.O. Box 611
Libby, MT 59923
info@igniterscarclub.com
Darren Short
406-283-1062
doubledrace@yahoo.com
Marge Kroeger, Secretary
406-293-3584
lmkroeger@frontiernet.net
libbyigniterscarclub@gmail.com

For more information about the Libby area, or to have literature mailed to you, contact the Libby Chamber of Commerce, 406-293-4167.