The Kootenai National Forest contains 2.2 million acres of public land for the outdoor enthusiast. Ranges of high, craggy peaks mark the Forest with Snowshoe Peak in the Cabinet Mountains Wilderness at 8,738 feet, the highest point. The Whitefish Range, Purcell Mountains, Bitterroot Range, Salish Mountains and Cabinet Mountains are all part of the rugged terrain radiating from the river valleys. In the north-central part of the Forest, the land is more open with gently rolling timbered hills lying in the shadows of the Whitefish Range.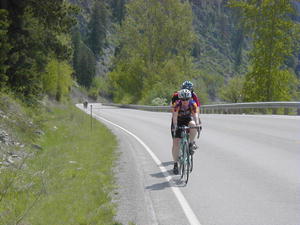 The Forest is dominated by two major rivers: the Kootenai and Clark Fork, along with several smaller rivers and their tributaries. Two dams on the Clark Fork have created the Cabinet Gorge and Noxon Reservoirs within the Forest boundary. Highway 200 parallels these reservoirs as it crosses the Forest. The Kootenai River is bridled by Libby Dam, creating Lake Koocanusa, a 90-mile-long reservoir reaching into Canada. Lake Koocanusa, 16 miles north of Libby, is almost totally encompassed by Forest land with Highway 37 following the east shore to Rexford, and a Forest road along the west shore to within a few miles of Canada. These roads offer wonderful mountain biking opportunities on roads that don't receive a high amount of traffic.
The Yaak, Fisher, Tobacco, Bull, and Vermillion Rivers are smaller rivers within the confines of the Forest. There are 141 lakes located within the Forest boundaries that range from small alpine lakes to 1,240-acre Bull Lake.
CABINET MOUNTAINS WILDERNESS (more)
94,360 acres. This wilderness area contains mountainous, rugged terrain that runs north/south through the center of the Kootenai National Forest. High mountain peaks, notably Snowshoe, A Peak, and others ranging from 7,618 feet to 8,738 feet, provide a scenic backdrop for Libby and the surrounding area. More than 20 trails leading into the Wilderness give access to dozens of small lakes, ridgetop panoramas, and alpine meadows.
TEN LAKES SCENIC AREA (more)
15,700 acres. Ten Lakes offers unparalleled scenery and solitude. With the Canadian border on one side, the Ten Lakes Area is dominated by a high ridge of the Whitefish Mountains. Alpine glaciers carved deep scallops, or cirques, and high, rim-rocked
basins which shelter numerous area lakes.
NORTHWEST PEAKS SCENIC AREA (more)
19,100 acres - close to both the Canadian and Idaho borders, is reached by Forest roads extending from U.S. Highway 2 and State Highway 508. As part of the Selkirk Range, lofty peaks and deep valleys provide primitive recreation opportunities.
ROSS CREEK SCENIC AREA (more)
100 acres. Reached by 4 miles of Forest road from State Highway 56, the area is a grove of ancient Western Red Cedar trees growing along the banks of Ross Creek. A self-guided nature trail forms a winding loop through the grove, providing views of many cedars that are 8 feet in diameter and 175 feet tall.
WATERFALLS (more)
Kootenai Falls on the Kootenai River, adjacent to U.S. Highway 2 between Libby and Troy, is a major scenic attraction. The placid river which carries water volumes ranging from 3,500 cfs to 30,000 cfs, suddenly gathers momentum, surging first
through China Rapids and then over Kootenai Falls, dropping 90 feet in less than a mile. The main falls is 30 feet high. Other falls on the Forest include Yaak, West Fork Yaak, Vermillion, Little North Fork, Pinkham, Sutton, Ten Mile, Turner, Falls
Creek, and Ross Creek.
NATIONAL RECREATION TRAILS (more)
There are five National Recreation Trails on the Forest with a combined mileage of approximately 70 miles.
DEVELOPED CAMPGROUNDS (more)
There are 40 Forest Service campgrounds throughout the Forest. Campground use is most popular in July and August but most sites are open as soon as they are snow-free in the spring. Many remain open through the fall hunting season.
BIRDS
191 species recorded; a checklist is available. Some of the more regularly occurring species include pileated, hairy, and downy woodpeckers; belted kingfisher; Bohemian and cedar waxwings; pygmy and great horned owls; common loon; many duck species; grouse; jays; hummingbirds; bluebirds, and chickadees. Bald Eagles, osprey, and Harlequin ducks can be seen seasonally.
MAMMALS
The Forest has a great diversity of animals that range from moose to mice. Elk, mule and whitetail deer, mountain goats, bighorn sheep, moose, black bear, mountain lion, grizzly bear, coyote, weasel, mink, wolverine, beaver, otter, porcupine, skunk, snowshoe hare, mountain cottontail, pika, bobcat, and lynx are a partial listing of the game and non-game species residing within the Forest boundaries.
FISH
Rivers, streams, and lakes on the Forest support populations of rainbow, westslope, cutthroat, and brook trout; kokanee salmon; mountain whitefish; sturgeon; ling; perch; bass; and sunfish.
OTHER RECREATION ACTIVITIES
Biking: There are miles of back-country roads and trails available for mountain biking. Check with the Forest Service for any special resstrictions for the area in which you wish to ride. Click here for a link to the Kootenai River Trail along US Hwy 2 between Libby and Troy (5.5 mile dirt trail between the Kootenai River Road and the Swinging Bridge along the Kootenai River).
Boating: Power boating with ramps on all the larger lakes and reservoirs.
Camping: 40 campgrounds, 696 units. Open mid-April through September; some year-round. (more)
Fishing: Good fishing in streams and lakes. Montana's record small mouth bass was caught on a Forest lake. Koocanusa Reservoir is an excellent kokanee salmon fishery. (more)
Floating: Parts of the Kootenai, Fisher, and Yaak Rivers should present no problem to experienced floaters in canoes, rafts, or boats.
Hiking, backpacking: 1,440 miles of trails. Over 300,000 acres of unroaded backcountry are available to recreationists. (more)
Hunting: Elk, deer, black bear, mountain sheep, mountain goat, moose, grouse, and water fowl.
Lookout Rental: For those who would like to enjoy a mountain top experience, six lookouts are available to rent on a recreation basis. (more)
Misc: Huckleberry picking; mushroom gathering.
ORV - Off-Highway Vehicle Use
U. S. Forest Service and BLM lands provide trail-riding opportunities for off-highway vehicles (OHV), such as motorcycles and ATV's. For trail information contact the Forest Service Office or BLM office closest to the area where you plan to use your ATV. All OHV's used for recreation on public lands must be registered and display a
current OHV decal. A non-resident using an OHV that is not registered in a nonresident's home state must purchase a nonresident temporary-use permit. Permits are available from any Fish Wildlife and Parks office. Off-highway vehicles (OHVs) include motorcycles, all-terrain vehicles (ATVs), quadricycles, dune buggies, amphibious vehicles and air cushion vehicles. Trails are maintained by local clubs or government agencies with grant money provided by FWP. OHV funds are derived from OHV gas tax refund and decal fees. For information about trail riding areas contact the local Forest Service or BLM office for a travel plan map. Contact FWP at 406-444-7317 for more information. (Snowmobiles are not OHVs.)
Registration
Off-highway vehicles operating on public land for recreational purposes must be registered and display decals. OHVs must be registered at the County Treasurers office in the county where the owner resides. Registrations expire December 31 of each year. OHVs that are properly registered in another state may operate in Montana for up to 30 consecutive days. Non-residents with OHVs that are not registered may purchase a temporary use permit that is valid for the calendar year. Permits are $5.
Skiing: Downhill skiing on Turner Mountain, 5,952 feet elevation, with a 2,400-foot vertical rise, 5,600-foot T-Bar lift, is located 22 miles from Libby. Cross-country skiing with groomed trails and unlimited opportunities is offered on numerous backcountry roads. (more)
Snowmobiling: Over 350 miles of groomed snowmobile trails. (more)
Swimming: Most lower elevation lakes are nice for swimming; several of the larger lakes and reservoirs have developed beaches with picnic tables, shelters, and toilets.
For further information contact:
Kootenai National Forest
506 US Highway 2 West
Libby, MT 59923
(406) 293-6211
http://www.fs.fed.us/r1/kootenai/
---
Outdoor Clubs
& Organizations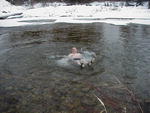 Kootenai Ridge Riders
ATV Club
PO Box 959
Libby, MT 59923
www.kootenairidgeriders.org
directors@kootenairidgeriders.org
Cabinet Backcountry Horsemen
Lincoln County SnoKats
Snowmobile Club
1001 HWY 37 North
Libby, MT 59923
Contact: Randy Remp, Pres.
Cabinet Ridge Riders
Snowmobile Club
PO Box 1477
Trout Creek, MT 59874
Contact: David Schopp
406-827-9996
Kootenai Stargazers
Astronomy Club
Libby Achery Club
promotes the sport of archery and bowhunting in south Lincoln County with an emphasis on safety, ethical hunting and family fun. We are affiliated with Montana Bowhunters Association. We sponsor two 3D shoots a year, a traditional shoot in May and in June a shoot for compound and traditional shooters. For more information on the shoots or how to join the club, contact Teri Kelly 406-293-2900, Email: libbyarcheryclubmt@yahoo.com