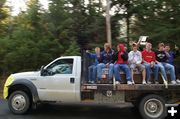 Soccer Champs

State champion Logger soccer team victory ride through Libby.


State Champs
by Kootenai Valley Record
November 13, 2008

Members of the state champion Logger soccer team take a victorious ride through Libby last week. The boys won 2-1 in an overtime shootout at Billings Central on Saturday, Nov. 1.
_______________________________________

Editorís Note: See the November 10, 2008 edition of the Kootenai Valley Record for the printed version of this story. The Kootenai Valley Record publishes once a week, on Monday, in Libby, Montana. They are a locally owned community newspaper, located at 403 Mineral Avenue in Libby. For in-county and out-of-county subscription information, call 406-293-2424, or e-mail kvrecord@gmail.com.