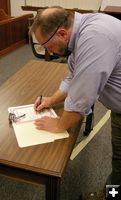 Tony Berget signs oath

Tony Berget signs his oath of office after being sworn in as county commissioner. Photo by Kootenai Valley Record.


Berget takes office as commissioner
by Brent Shrum, Kootenai Valley Record
November 20, 2008

Libby has a new county commissioner but is minus a mayor.

Tony Berget, who won the election for District 1 commissioner on Nov. 4, was sworn in last Wednesday following the resignation of Commissioner Rita Windom. Berget turned in his own resignation as mayor earlier in the day.

Windom's term was set to expire at the end of the year. She submitted her resignation in August but rescinded it in September after the remaining two commissioners, John Konzen of Troy and Marianne Roose of Eureka, were unable to agree on a replacement. In accordance with state law, the county Republican Party central committee turned in three names – Berget, Jerry Okonski and Alvin Benitz – as candidates to serve until January. Roose moved to appoint Berget, who had edged Okonski by 42 votes in a six-way race for the Republican nomination in the June primary. Konzen declined to second the motion, however. He recommended postponing an appointment until after the general election, in which Okonski was running a write-in campaign against Berget.

Windom verbally withdrew her resignation and said she would stay in office until Nov. 15, rather than Sept. 30 as she had originally planned. Eight days after Berget defeated Okonski 5,433 to 2,422 in the general election, Windom turned in a new letter of resignation effective the same day on the condition that Berget be sworn into office that afternoon.

"It is my desire that this position not stand vacant until the end of December," Windom wrote. "If the Board of Commissioners does not act upon filling the vacancy today, then this resignation is null and void and I will complete my term of office."

Roose moved to appoint Berget, and Konzen seconded the motion.

"I clearly think the electorate has spoken, and I think it's a good process we went through and congratulate Tony," Konzen said.

Konzen said later that he didn't second Roose's motion to appoint Berget in September because of the ongoing write-in campaign being waged by Okonski.

"Had the resignation occurred in June, after the primary, there wouldn't have been an issue," he said. "But after somebody filed for it, we had a campaign going on."

Berget was first elected mayor in 1997 and won re-election in 2001 and 2005. As the senior member of the city council, Charlene Leckrone will serve as acting mayor until the council makes an appointment to fill the vacancy until next year's election.
_______________________________________

Editor's Note: See the November 18, 2008 edition of the Kootenai Valley Record for the printed version of this story. The Kootenai Valley Record publishes once a week, now on Tuesday, in Libby, Montana. They are a locally owned community newspaper, located at 403 Mineral Avenue in Libby. For in-county and out-of-county subscription information, call 406-293-2424, or e-mail kvrecord@gmail.com.