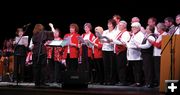 Combined Choir

Singers from several area churches perform in a combined choir. Photo by Kootenai Valley Record.



Scroll down for more photos.


Sonshine Concert
by Kootenai Valley Record
February 26, 2008

Singers and musicans from member churches of the Libby Ministerial Association performed at the winter 2008 Sonshine Concert on Sunday, Feb. 17, at the Memorial Center.

A free-will offering was taken at the door with proceeds going to the Ministerial Associationís Emergency Assistance Outreach Fund.

Photos by Kootenai Valley Record
_________________________________________

Editorís Note: See the February 25, 2008 edition of the Kootenai Valley Record for the printed version of this story. The Kootenai Valley Record publishes once a week, on Monday, in Libby, Montana. They are a locally owned community newspaper, located at 403 Mineral Avenue in Libby. For in-county and out-of-county subscription information, call 406-293-2424, or e-mail kvrecord@gmail.com.